The St. Louis Blues' 2022-23 season was a shocking disappointment for fans and management alike, leading to the team becoming sellers at the trade deadline and ultimately finishing in a draft lottery position outside the playoffs. So, who bears the blames for the team's failings? And who succeeded despite the team's struggles? That's what we'll look to identify in our 2022-23 Blues' Report Cards series.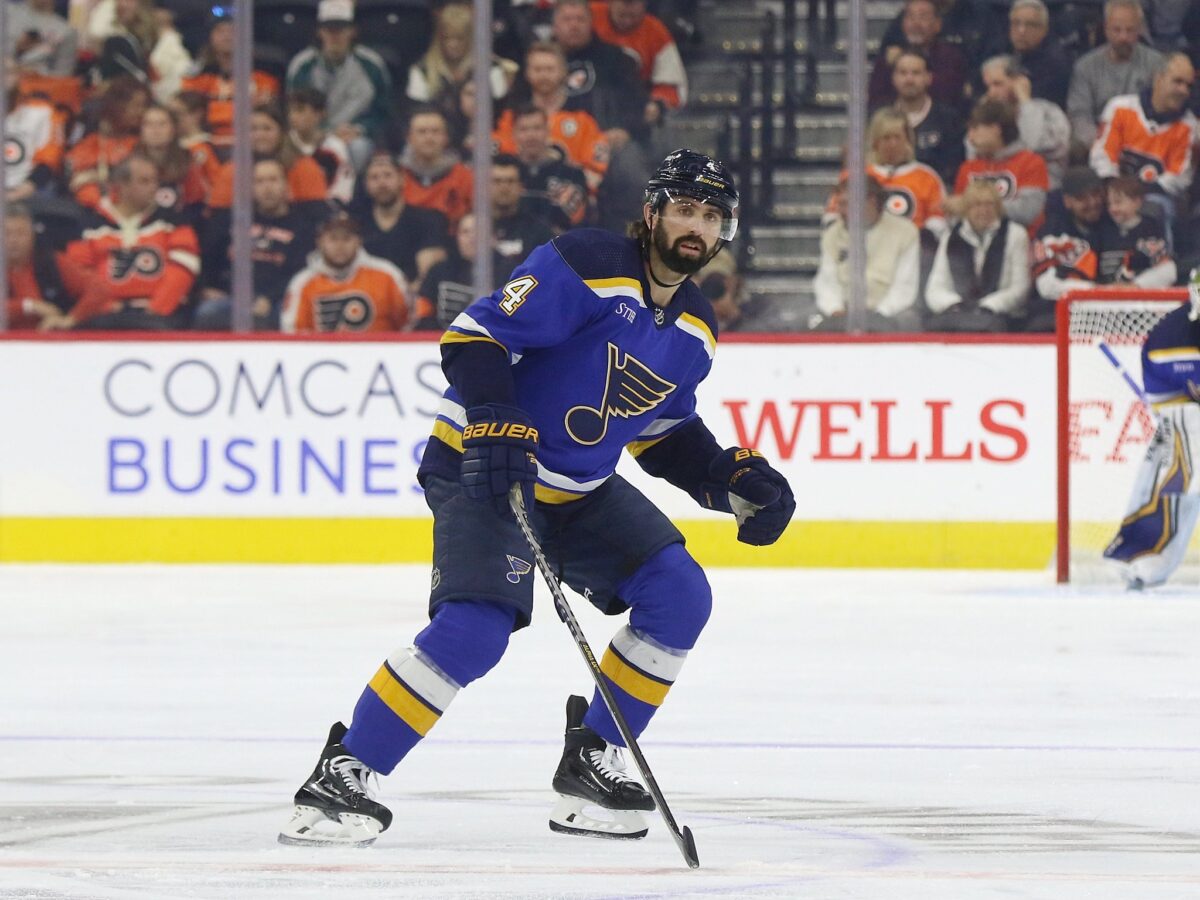 It was the first season for Nick Leddy on his four-year contract with the Blues. He signed it early in the summer of last year after being traded by the Detroit Red Wings to the Blues at the 2022 Trade Deadline. It felt like a desperate move by general manager Doug Armstrong to bolster the blue line. He essentially chose Leddy over re-signing David Perron, which feels like a mistake. Let's discuss how the 2022-23 season went for Leddy.
What Went Right: Durability
Leddy has been durable for the majority of his 13-year career. He played 75 games in 2021-22 and 78 games in 2022-23. It's good that he was dependable and didn't miss much time, but the line is drawn there. Plenty of numbers suggest that the 2022-23 season wasn't great for him, but I'll get into that soon. Overall, the Blues were able to rely on his durability in a season where several defensemen missed time.
Related: Blues 2022-23 Report Cards: Pavel Buchnevich
---
Latest News & Highlights
---
The last time Leddy played in exactly 78 games was the 2014-15 season with the New York Islanders. The difference is that he had 37 points as opposed to the 23 points he had in 2022-23. His offense has slowed down for several seasons, and his defensive game is not great either.
What Went Wrong: Most of His Numbers
The Hockey Reference analytics suggest that he struggled about as much as every other Blues defenseman. The Blues didn't rely on his offense whatsoever. He had a huge drop-off in offensive zone starts as well at 35.9 percent. It was 56.5 percent in 2021-22. He had an expected goals against (xGA) of 69.9 and an expected goals for (xGF) of 56.8. His expected plus/minus was minus-13.2, a career worst. Several numbers suggest that Leddy's defense was as bad as expected and his offense didn't make up for it. In years past, his offense made up for it.
For example, Leddy had an xGA of 73.9 in 2015-16, but his xGF was 70.6, allowing his expected plus/minus to be minus-3.2 when it could have been far worse. The bottom line is that Leddy is exactly who I thought he was. A smooth skater with little-to-no defensive prowess and a middling offensive game. I will never understand Armstrong's decision to give him a four-year deal. It set the blue line back, leaving them less salary cap flexibility than before.
Key Stats
43.5 Corsi-For percentage (lowest of his career)
Plus-4 (third amongst Blues defensemen)
21 even-strength assists (most since 2017-18 season)
Final Grade: F
The trend continues for Blues defensemen. Leddy is the fifth Blues defenseman to receive an 'F' grade in our 2022-23 report card series. The others were Torey Krug, Colton Parayko, Marco Scandella, and Justin Faulk. This unit was worse than expected and that's saying a ton. The expectations weren't high for this group. Leddy didn't produce much offense and his defense was bad. It's as simple as that.
What's Next for Leddy?
He has three more seasons left at a cap hit of $4 million. There's a chance that he's moved, but it's highly unlikely. The Blues need to move a blueliner off the books, but Krug and Scandella feel more likely to be dealt than Leddy or Parayko. They need to find a way to not have Leddy playing high-leverage minutes, but the cap situation will make that more difficult. I also think the Blues organization views him as more valuable than I do. They put themselves in a tough spot with the Leddy contract. There is no disputing that.