The St. Louis Blues' 2022-23 season was a shocking disappointment for fans and management alike, leading to the team becoming sellers at the trade deadline and ultimately finishing in a draft lottery position outside the playoffs. So, who bears the blames for the team's failings? And who succeeded despite the team's struggles? That's what we'll look to identify in our 2022-23 Blues' Report Cards series.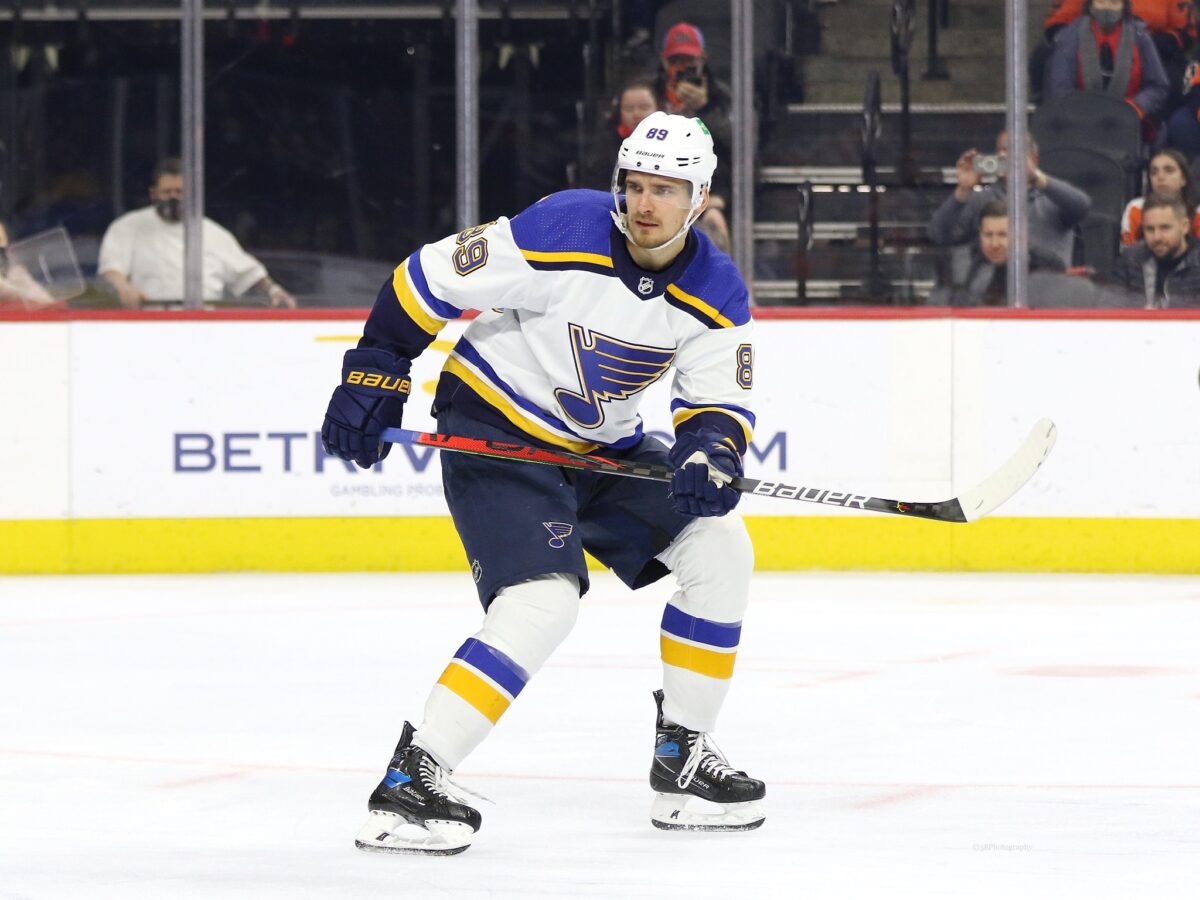 Blues forward Pavel Buchnevich was one of the brightest spots and positive notes to be taken away from this year. His offensive production and all-around game shone on a nightly basis and will be one that is heavily relied upon as a key member of the lineup each game. The franchise pillar will be looked at as a guiding member to the young players as the next generation continues to rise through the ranks and the team makes its way from a team bounced from the playoffs to Stanley Cup contenders once again.
What Went Right: Offensive Production
Buchnevich was arguably the most impactful forward on the Blues roster this past season. Though he finished second on the team in points scored, the Russian forward was dynamic and impactful scoring at over a point-per-game pace with 67 points in 63 games (1.06 points per game). If Buchnevich were able to stay healthy this season, his point pace projected him to finish the year with a career-high 87 points in 82 games. The point total would have tied William Nylander of the Toronto Maple Leafs for 20th in the NHL. The Blues and Buchnevich have truly found themselves in a wonderful pact that showed up each night that he suited up.
Related: St. Louis Blues 2023 Offseason To-Do List
---
Latest News & Highlights
---
The Blues may have also found their short-term solution to the question of who will be playing the second-line center position next season. Though it was a small sample size, his offensive production and willingness to be flexible and adaptive to help the overall direction of the team is a very good thing for the Blues as they continue to work through their salary cap struggles.
What Went Wrong: Health
This season, like 2021-22, was another year that Buchnevich failed to stay healthy and complete a full season. While only 116 players appeared in a full 82-game season, he has yet to appear in a full season in the NHL throughout his career. This past season, he experienced five separate occasions where he was held out of games due to injuries, three of which were due to his lower body. The forward has done wonders for the team's offense and all-around play in the last two years but will need to do more to stay healthy and compete in as many games as he possibly can moving forward. 
Key Stats:
1.06 points per game
21.1 shooting percentage
21 points on power play – career high
19:27 average time on ice – career high
Final Grade: A
This past season was, for all intents and purposes, a thrilling success for Buchnevich. Despite his injury-riddled season, he maintained above a point-per-game pace, even after switching from a spot on the wing to the center position. As previously mentioned, he was 64-150 in the faceoff dot, he showed great strength at the center position but will need to continue to progress in some of the defensive areas of the game.
What's Next For Buchnevich?
To date, Buchnevich has scored 56 goals and 143 points over 136 regular season games for the Blues. His two seasons in St. Louis have been impressive and exactly what fans were envisioning and more upon his arrival. Looking ahead to the future, he will remain in the club's top-six, but where specifically is the true question.
After the departure of former team captain Ryan O'Reilly, the Blues opted to use him as their second-line center rather than on the wing as they had previously been using him. With a salary cap crunch limiting the team to low-cost options, Buchnevich may enter the 2023-24 season as their second-line center once again. Once they opted to make the positional switch on March 9, he managed six goals and 13 points in 15 games, a 71-point pace over 82 games. Whether he continues to play down the middle or on the wing, Buchnevich will be looked at to be a key member of the team's offense and leader of the group.