On April 17 the Edmonton Oilers were beaten 4-3 by the Los Angeles Kings at Rogers Place in Game 1 of their best-of-seven Stanley Cup Playoffs first round series. 
That playoff-opening loss inspired The Hockey Writers to look back at the prior five times that Edmonton rallied to win a postseason series after dropping Game 1 at home.  
Sure enough, Edmonton went on to take the series in six games; winning Game 2, then dropping Game 3 before three straight victories to close out the Kings.
So now that the Oilers find themselves trailing 2-1 in the second round after being walloped 5-1 by the Vegas Golden Knights at Rogers Place on Monday (May 8), there would seem to be only one logical thing to do: revisit the prior five times the Oilers have rallied to win a playoff series after falling behind 2-1. 
The odds weren't on Edmonton's side in Round 1 (before its comeback against L.A., Edmonton had won 45.5% of series that began with a home ice loss) and they're stacked even higher this time (Edmonton has gone to a series victory just 38.5% of the time when it trails 2-1). 
But as most recent times show, this is by no means too big of a mountain to climb. So as the Oilers lick their wounds and look to rebound in Game 4 at Rogers Place on Wednesday (May 10), here's some history they can draw upon. 
1990 Smythe Division Semi-Final – Oilers vs. Jets 
Edmonton's first-ever rally from a 2-1 series deficit would also be its first-ever rally from a 3-1 series deficit. The Oilers were pushed to the brink after dropping Game 4 in double overtime when Jets' blueliner Dave Ellett scored on the powerplay to send Winnipeg Arena into a rapture. 
Back home at Northlands Coliseum for Game 5, the Oilers fell behind 3-1 midway through the second period before beginning their historic comeback with three straight goals to win 4-3. From that point on, the Oilers never trailed again in the series, winning Game 6 back in Winnipeg and finishing the Jets off with a dominating 4-1 win at Northlands in Game 7. 
1990 Campbell Conference Final – Oilers vs. Blackhawks 
Less than a month after their stirring comeback against Winnipeg, the Oilers again found themselves trailing a series 2-1, this time to Chicago in the conference final. 
The Blackhawks escaped Edmonton with a split in the first two games, then pummelled the Oilers 5-1 in Game 3 at Chicago Stadium. Refusing to let his team fall behind 3-1 again, Oilers captain Mark Messier factored on all Oilers' scoring with two goals and two assists in a 4-2 Game 4 victory. The Oilers took the series lead with a 4-3 win at home in Game 5, then blitzed the Blackhawks 8-4 at Chicago Stadium to wrap up the series in six games. 
1998 Western Conference First Round – Oilers vs. Avalanche 
For the second instance in franchise history the Oilers came back to win a series they trailed 3-1, they stunned Colorado 25 years ago by outscoring the Avalanche 9-0 over the final two hours, 43 minutes, and 40 seconds of the series. 
Related: Revisiting the Oilers' Stunning 1998 Playoff Upset of the Avalanche 
Edmonton actually took the initial lead in the series, stealing Game 1 with three unanswered goals in the third period to win 3-2 in Denver. But the heavily favored Avalanche responded with three straight victories, culminating with a 3-1 result at Edmonton Coliseum in Game 4. 
---
Latest News & Highlights
---
Things looked bleak for the Oilers in Game 5, which they trailed 1-0 going into the third period at McNichols Sports Arena before scoring three times in the third period, capped off by two late goals by unsung hero Mike Grier. The Oilers then won Game 6 2-0 at home and eliminated the Avalanche with a 4-0 win in Game 7 in Denver. 
2006 Western Conference Semi-Finals – Oilers vs. Sharks 
After dropping Games 1 and 2 by identical 2-1 scores in San Jose, the Oilers got themselves off the mat when Shawn Horcoff scored in triple-overtime to give the Oilers a 3-2 win in Game 3 at Rexall Place.  
Riding the momentum from that gripping victory, Edmonton erased an early 2-0 deficit in Game 2 to win 6-3. The Oilers then beat Sharks 6-3 in Game 5 at HP Pavilion and returned home where they clinched the series with a shutout victory, 2-0, in Game 6. 
2023 Western Conference First Round – Oilers vs. Kings 
Acknowledging recency bias, Edmonton's Game 4 victory against the Kings just a couple weeks ago just might be one of the great comebacks in franchise playoff history. 
Already down in the series 2-1, the Oilers fell behind 3-0 with a listless opening period at Crypto.com Arena. Edmonton bounced back with three second-period goals to tie the game 3-3 after 40 minutes. And while L.A. retook the lead early in the third, Evander Kane's late goal sent the game to overtime, where Zack Hyman scored to even the series.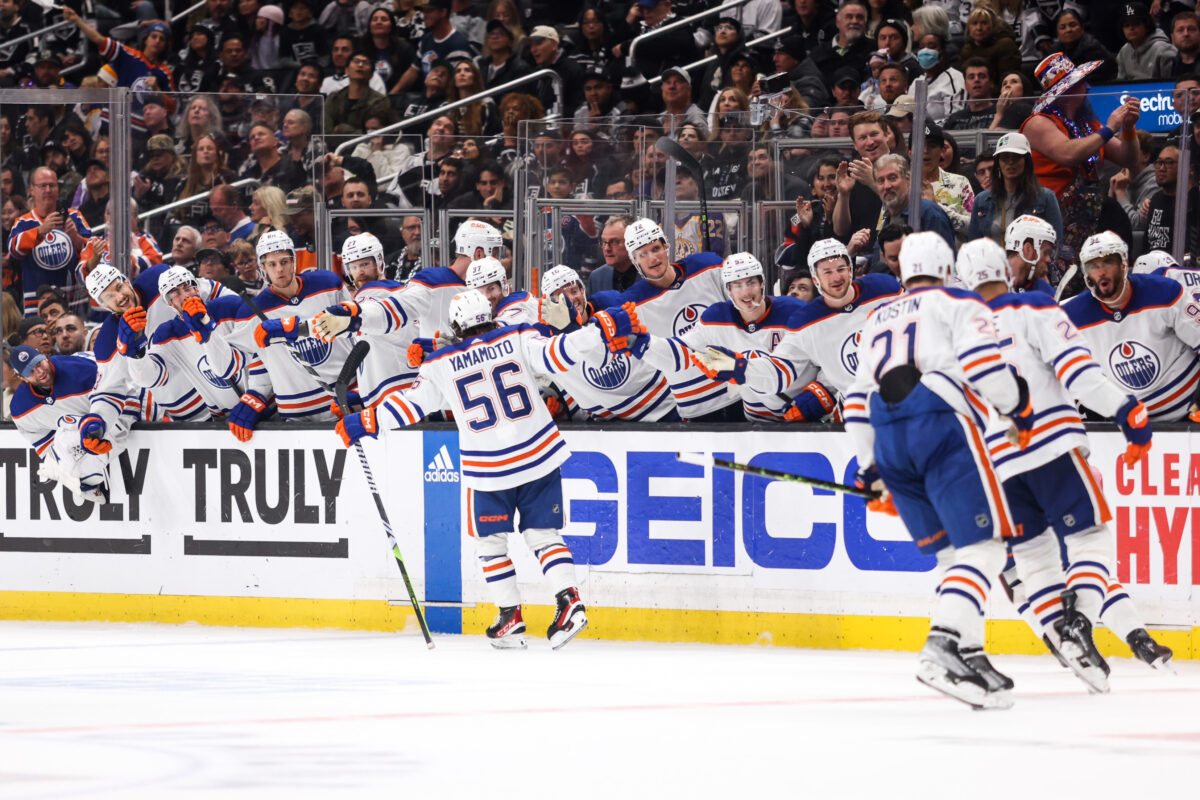 The Oilers prevailed in Game 5 back at Rogers Place, 6-3. Then Kailer Yamamoto became an Edmonton legend when he scored the series-winning goal with just 3:03 remaining in the third period of Game 6, a 5-4 Oilers triumph at Crypto.com Arena on April 29.
Now the Oilers attempt to rally from a 2-1 series deficit twice in the same playoff year for just the second time in their history. The first time, of course, led to the fifth and most recent time Edmonton won the Stanley Cup, in 1990. Nervous fans in Oil Country hope that's a good omen.