The New York Rangers have only just completed one third of their season, but it feels like a season's worth of events have occurred thus far. With 19 of their 56 games completed, this 2020-21 season has not been kind to the Rangers, but that is not a circumstance unique to this team.  
Standing still with a 7-9-3 record, 17 points lands them sixth lowest in the brutal MassMutual East Division. By now, expectations of a Stanley Cup run should be entirely dissipated, if they hadn't been already. That is not what this season is about, anyways. Or the next one. But with one-third of the season results in — what are the main observations?
Well, the offense is inconsistent, big names disappear game to game, and it seems like fans never know which Rangers will come out of the gate. The team had games in which they exceeded collective expectations, but also had plenty of low points and frustratingly flat starts. Lapses in their mental game, lack of focus, injuries, and absences have all been characteristics of the Rangers this season, but there are upsides developing right before our eyes, too. 
A Few Forwards of the New York Rangers
Mika Zibanejad is still working towards being the threat he once was last season. Needless to reiterate, this is a massive contrast from his 2019-20 production. Even worse, the team knew they were in desperate need of a more reliable face-off guy. The job was up for grabs for Zibanejad, who fared decently well on the dot last season. This part of his game is suffering too, however. He collected six points in his 18 games thus far.
The Zibanejad situation is quite perplexing and the lingering impact of his COVID-19 contraction certainly brings up questions. Should the veteran be a health scratch? We've seen this tactic deployed by head coach David Quinn many times in the past, and it has worked — whether the player is scratched prior to a game, for example, Pavel Buchnevich a handful of times last season, or mid-game like Chris Kreider after an offensive zone blunder. 
Speaking of Buchnevich, he has been a pleasant surprise thus far. He isn't on a tear, but he had an eye-popping training camp and was able to translate those positives over to the regular season. Could it be the contract-year phenomenon at play or simply the 25-year-old stepping into his game? The rest of the season might determine that. The Russian-born forward has 13 points in 18 games, which included one shorthanded goal and one game-winning goal.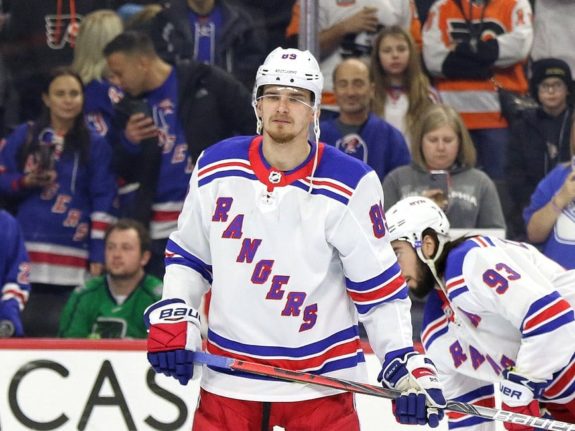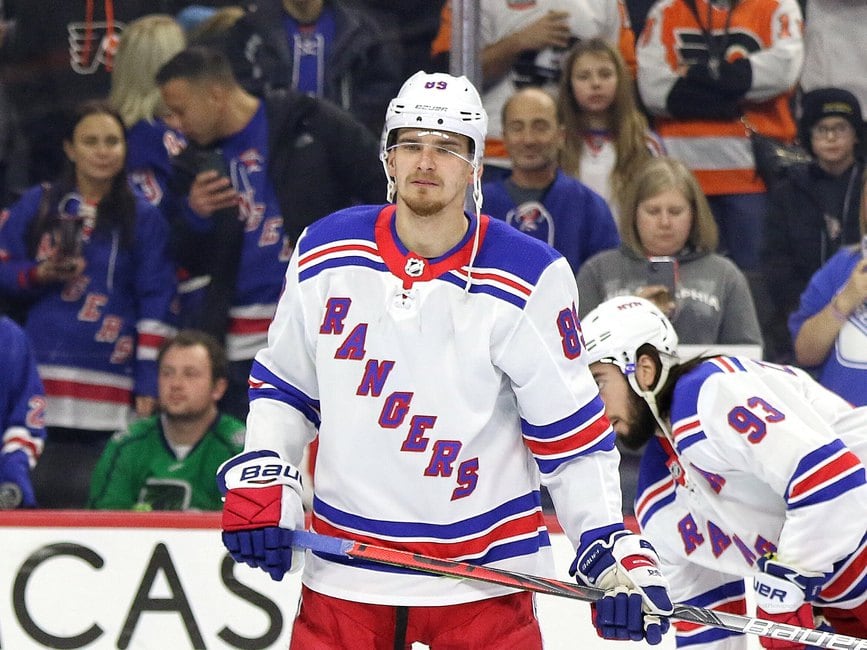 Chris Kreider had some very fantastic games this season, but he also dropped off in games after his key performances. This is not historically atypical of the winger, but if he is making a strong bid for captaincy, this would be the thorn in his side. The veteran has 11 points in 19 games.
Young Julien Gauthier picked up his first NHL goal and then his second this season. His game is also striving to be one that encompasses more than just relying on his speed and obstructive size. He seems more comfortable laying hits. He has also managed to up his shooting percentage (S%) — for a bottom-six player, his 5.9 S% is just around the typical range for a grinder. 
The Defense of the New York Rangers
Ryan Lindgren is the go-to physicality guy, especially against the more gritty teams. But he is not a one trick pony. The 23-year-old added more to his game all around for this season — you can tell. The Lindgren-Adam Fox defensive pairing is one of the true bright spots for the Blueshirts. 
The two, who were paired last season but also back in their days with the US National Team Development Program (2014-2016), have been able to recreate the magic this season, too. Fox is doing wonderfully well on an individual level. An extremely intelligent defender with a flare for offense, he sure is one special player for the Rangers, and is incredibly integral player within the young defensive core.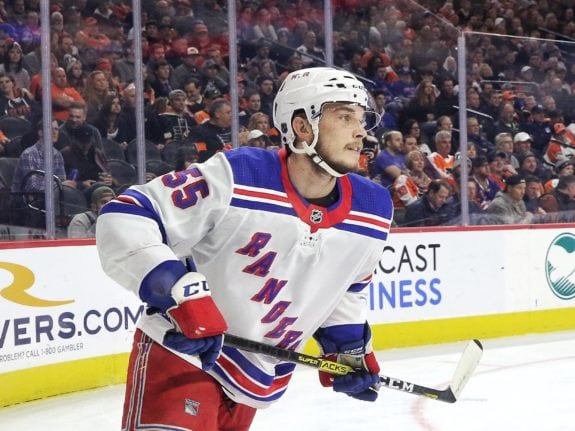 Freshman K'Andre Miller displays his obvious talent for the most part, despite some rookie blunders and bad periods. Keeping in mind that he jumped right from the college level to the NHL, Miller appears to be the total package, wrapped up in a large, 6-foot-5 frame. The blueliner has the rest of the season ahead of him, given he is exempt from injury or rejoining the COVID-19 list. All signs point towards Miller being a part of the Rangers' backbone. With a humble four points in 15 games, his upside goes beyond offensive instincts and puck-moving skills.
The Identity of the New York Rangers
The Rangers are not a hard team to play against just yet. They crush the Boston Bruins 6-2 one night but fall 4-1 painfully short two days later. Sure, it's the Bruins. Of course they would not allow themselves to fall twice to wildcard team, but the Rangers did not exactly give themselves a fair shot to compete Sunday afternoon. From the start the team came out lackluster.
The team needs a stronger net-front player. The forecheck needs to be more aggressive — in fact, they need to be more aggressive in all three zones, while being smart about it, of course. With the two-way style of Jesper Fast gone, the Rangers have not exactly filled that hole, which can cause some concern, especially as the young skill develop. 
There's plenty of areas to work on for the squad, and improvement of these areas will help shape and build their identity in the league. The Blueshirts' power play is still too ineffective. The extra man advantage, which is occasionally a reward for their work-in-progress physicality, goes to waste all too often. This is one reason it seems the defense is finding its identity quicker than the rest of the roster. The good news is, there is still more than half of the season to go, and who knows what can happen. 
---
---
Rachel is a graduate of the University of Pittsburgh. She can be followed on Twitter @RachelNHL.