Top prospect for the 2021 NHL Entry Draft and Edmonton Oil Kings forward Dylan Guenther is off to a blistering start to the 2020-21 Western Hockey League (WHL) season. Montreal Canadiens prospect Cole Caufield records his second hat trick of the season in a big win for Wisconsin. Vegas Golden Knights prospect Pavel Dorofeyev recorded his first AHL goal in his second game of the season.
Guenther Off to Hot Start to WHL Season
The 2020-21 WHL season kicked off on Friday and top prospect for the 2021 NHL Entry Draft Dylan Guenther has gotten off to a hot start. The Edmonton Oil Kings winger recorded two goals and two assists in Friday's 7-1 victory over the Lethbridge Hurricanes. He followed that up with two goals and one assist the next night in their 7-2 victory over Lethbridge. That gives the Edmonton, AB-native four goals and three assists for seven points in his first two games played.
THW analyzed Guenther's skillset in his 5 WHL Players to Watch article for the 2021 NHL Entry Draft earlier this year.
One of the biggest standouts about Guenther is his elite hockey sense at both ends of the ice. He reads the play so incredibly well. Defensively, he knows when to take a chance, spring forward, and pick off a pass, or when to hang back and take away a passing lane. Offensively, he reads defenders so well and knows where to find his teammates, setting up plays with regularity. He's a player that never takes his foot off the gas, even without the puck. You can tell he's hungry for his team to win and he's always hungry to have the puck on his stick.
During the 2019-20 season Guenther led all 2003-born forwards in scoring with an impressive 26 goals and 33 assists for 59 points in 58 games played. He was awarded the Jim Piggott Trophy for WHL Rookie of the Year. With the WHL season delayed this year, he played a few games on loan with the Sherwood Park Crusaders of the Alberta Junior Hockey League. In four games played he recorded three goals and two assists for five points. He is one of the top forwards available in this year's draft and this hot start will only help his draft stock.
Caufield Records Hat Trick for Wisconsin
Canadiens prospect Cole Caufield does one thing exceptionally well and that's put the puck in the back of the net. He was at it again on Saturday night, recording his second hat trick and fifth multi-goal game of the season in Wisconsin's 7-0 victory over Ohio State. He's now recorded at least one goal in 10 of his last 13 games played, scoring 15 goals in the span. He currently leads the NCAA in both goals for and total points and it's not even close. His 22 goals are six more than the next highest skater and his 42 points tops the list. Caufield and Edmonton Oilers prospect Dylan Holloway have formed a dynamic duo in Wisconsin and have been almost unstoppable this season. He has 11 goals and 22 assists for 33 points in 18 games played.
Drafted 15th overall in the 2019 NHL Entry Draft, he spent the 2019-20 season as a freshman with Wisconsin amassing 19 goals and 17 assists for 36 points in 36 games played. Caufield also won a gold medal with Team USA at the 2021 World Junior Championship. He recorded two goals and three assists for five points in seven games played. He was Big Ten Rookie of the Year and Scoring Champion during the 2019-20 season, so it's no a surprise he will be challenging for the NCAA scoring title this season.
Dorofeyev Records First AHL Goal
Golden Knights' prospect Pavel Dorofeyev had his KHL contract terminated after he signed an entry-level contract with the team in January. The Russian forward was drafted 79th overall by the Golden Knights in the 2019 NHL Entry Draft. He spent the 2019-20 season in the KHL playing for Metallurg Magnitogorsk. He amassed four goals and three assists for seven points in 48 games played, and represented Russia at the 2020 World Junior Championship, in which he recorded three goals and one assist for four points in seven games played. Dorofeyev walked away with a silver medal after Russia lost to Canada in the finals.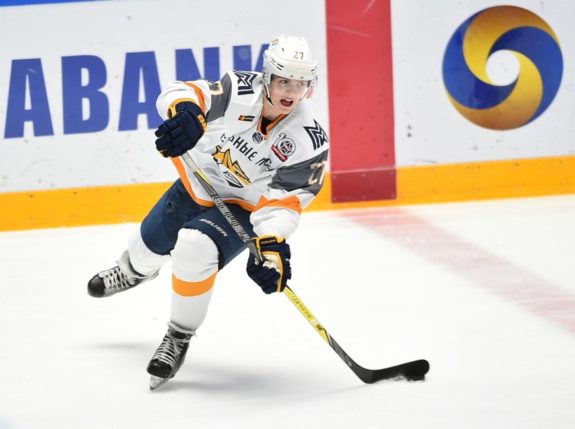 In his second gamed with the Henderson Silver Knights he recorded his first AHL goal in their 4-2 victory over the San Diego Gulls. He now has one goal and one assist in two games played. This season, Dorofeyev struggled to break back into the KHL, having only played one game with Traktor Chelyabinsk. Instead, he has spent the majority of the season in Russia's second division, the VHL, in which he recorded eight goals and nine assists for 17 points in 36 games played.
---
---