Jesper Fast's game is built on intelligence and awareness rather than stick skills and play making. But during his current seven-game scoring streak, his intuition has given him top-six production. Over the course of those seven games, starting with a visit to Tampa Bay on March 8, he's tied for second in New York Rangers scoring with nine points and has found his scoring touch almost exclusively at even strength.
Quickie, as he's been dubbed, has achieved a career-high in goals on the strength of this run. But whether or not that scoring will factor into his role with the Rangers in the future is to be determined.
Helping Fast's Production
At times, an increase in scoring directly correlates to an increase in ice time (see J.T. Miller in Tampa Bay), and that has been true for Fast. On the season, he's averaged 14:51 per game and 12:56 at even strength, with effectively no power play time. But, preceding the start of the streak, dating back to the game against the Montreal Canadiens on Feb. 22, Fast has seen a nice uptick in his playing time.
Since the Canadiens game, Fast has averaged 16:37 per night and 14:29 at even strength with, as always, no impactful power play time. The beginning of his increase in playing time, though starting weeks before the streak, marked the initial uptick in production. He had a  three-game point streak that started on Feb. 24 and five of his career-high 13 goals have come in those 14 games.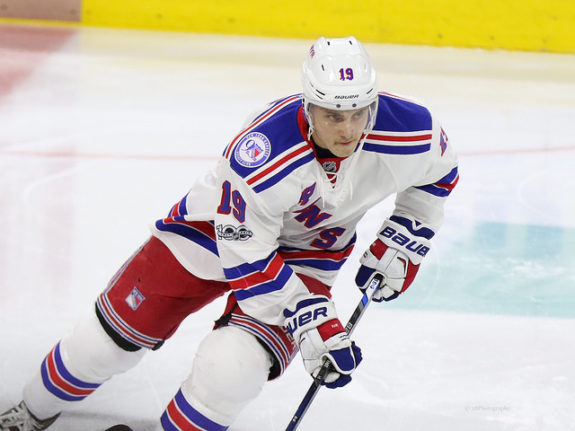 Quickie's increase in time is a byproduct of the Rick Nash and Michael Grabner trades, as they opened up two spots on the top nine. As such, it would be inaccurate to say that his play warranted more ice time with talented players or that there would be any expectation of such production. However, Fast deserves plenty of credit for taking advantage of the opportunity and posting a career pace with the promotion.
Perhaps more important than ice time, is the fact that he's playing with the Rangers' top skaters. He's had moments of increased production when moving up the lineup in the past and did it again during his three-point performance against the Flyers on Thursday. He, Chris Kreider and Mika Zibanejad have played well together and the trio gets the most out of Fast's positioning and intelligence. Plus, he's having to defend less.
"I think we're just working for each other,'' Kreider said. "We're not overthinking it too much, just moving off of each other and trying to make our plays and keeping it simple… When you're playing with the puck, it's a lot easier. It's easy to defend if you don't have to defend, right?''
Fast's Damage at Five-on-Five
While Fast is second in points over his scoring streak, he actually leads the team in even-strength points with eight. He has no points on the power play and only a single shorthanded assist. While Zibanejad and Kreider have had the same total productivity, neither has more than six points at even strength.
Production at five-on-five is a good sign for a streaky player, regardless of linemates or time on ice. That's particularly true for guys who can do it without sacrificing their defensive play, and Fast was a plus-2 with a Corsi for of 61.1% against the Flyers. Certainly, an offensive zone start percentage of 73.3 helps that but a strong shot share combined with point production are indicators that Fast can be a more productive player than he has been.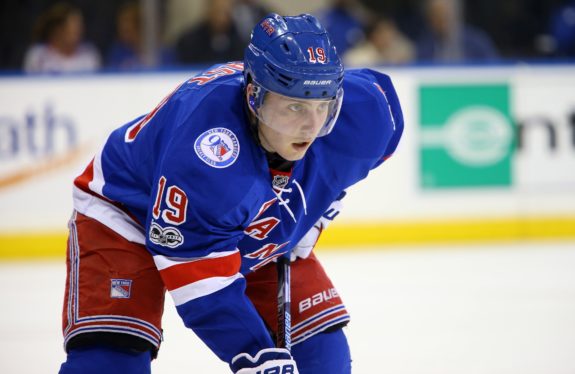 It is also worth noting that though he's not racking up points on the man advantage, he is riding a shooting percentage (SH%) of 30 over the last seven games and 27.8 dating back to Feb. 22. So while he's capitalizing on opportunities, he's not getting a high volume of them. With that and his lack of career scoring, it's fair to assume that Fast won't continue this pace even if his uptick in productivity to close the season bodes well for the future.
Fast Must Keep Defense-First Mindset

Known for his defensive prowess, perhaps it's unfair to nitpick Fast's game when he makes a mistake. But, as his scoring rate is ascending, the 26-year-old Swede would be unwise to pressure himself into being more of a scorer.
Aggression on the forecheck leads to more goals for, sure. But, as the Nutivaara goal shows, getting caught too deep can leave you exposed defensively. Quickie is a solid skater but not explosive enough to cover ground when he gets caught out of position, so breaks in awareness are hard to make up for. This goal is an exception, obviously, but should serve as a warning.
Fast has made a career of leaning on the conservative side and approaching every situation with defensive responsibility in mind. He'll rightfully get the benefit of the doubt from both the coaching staff and the fanbase in this regard but defense-first should always be his approach.
Will Fast be a Scorer in the Future?
The question, moving forward, is whether or not the Rangers can count on Fast as a 15-goal guy who can play with more skilled teammates on a third line consistently or if this small sample is an anomaly. A singular mistake aside, Fast remains a tremendous defensive player, and there's no doubt that he'll thrive in a checking role. If he can do a bit more than that, the three-year, $5.55 million contract he signed in July will prove to be even more valuable.
General manager Jeff Gorton and head coach Alain Vigneault — assuming he's still in New York next year — should be wary of making assumptions based on a small sample when building next season's roster, however. They'll need to look no further than across the river to the New Jersey Devils to find that anomalous production can be fleeting.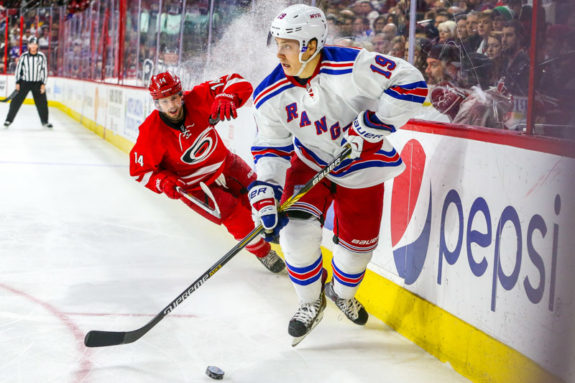 Brian Gibbons, who had never scored more than five goals in a season before this year, was a major contributor to the Devils' hot start. Through 23 games, he more than doubled his previous best mark with 11 goals but had an unsustainable SH% of 33.3.
Since then, in 28 games, he has just one goal and a total of 11 points while playing fourth-line minutes at even strength. If he's going to be in New Jersey's future plans, it's the low production numbers that they'll expect and build around, not the early-season scoring spurt.
This isn't to say that Gibbons is comparable to Fast (though they're used similarly) but rather, that he serves as a case study for how historically high productivity can be fleeting. Quickie has carved out a nice role as a bottom-six, defensively savvy player who has enough touch to pot a few when needed to move up in the lineup.
Some teams perform well with checkers in their top-nine, depending on how they're structured, but if we're going to expect Fast to take ownership of a top-six role, he'll have to maintain production through the remainder of this season and the start of the next.