Watching New Jersey Devils phenom Jack Hughes lead his team back from a two-goal deficit for a thrilling overtime victory over the New York Rangers on Jan. 7 should give the Blueshirts some reason for optimism – but also at least some cause for dread.
The Devils' wunderkind, the first overall pick in the 2019 NHL Draft, is light years ahead of the No. 1 pick in 2020 – that being Rangers left wing Alexis Lafreniere, who like Hughes was advertised as a future star and the top prospect of his draft class.
Unlike Hughes, Lafreniere has been unable to carve out a development path to stardom, showing through his 2 1/2 NHL seasons glimpses of his talent but ultimately being unable to sustain an upward trajectory. Why has that happened and what does that mean for the 21-year-old, who becomes a restricted free agent this summer? The answer is probably anything but simple.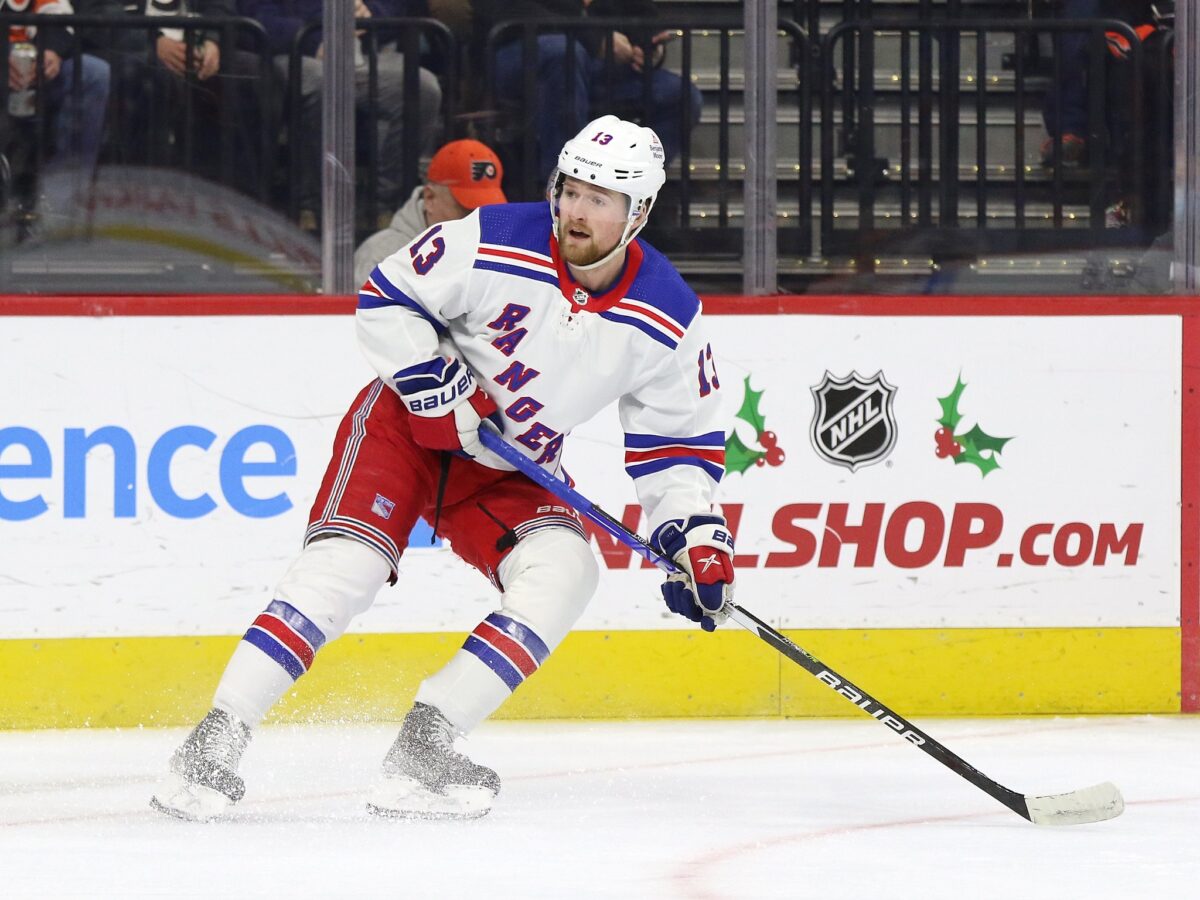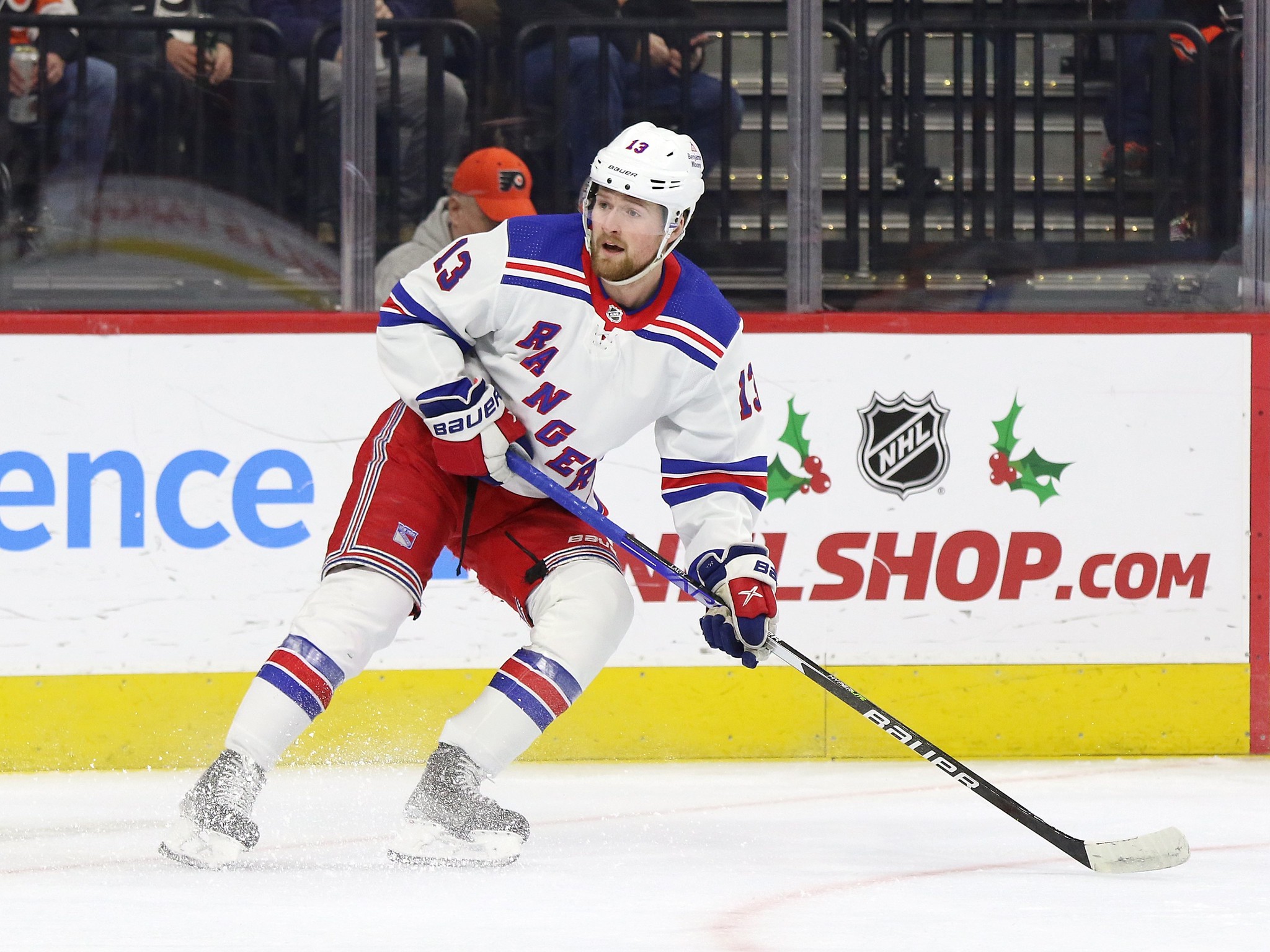 It's too early for the impatient crowd to declare Lafreniere a bust simply because he wasn't Connor McDavid or Austin Matthews or Sidney Crosby right out of the gate – Lafreniere, after all, was never billed as a generational prospect, no matter what it says on Twitter these days. At the same time, those who are certain that the Quebec native is a superstar-in-waiting might not have a leg to stand on at this point, either.
What everyone can be sure about is that Lafreniere's career has so far been wanting. It's true that his first season was a pandemic-altered one that robbed him of a much-needed training camp, and that COVID-19 continued to play havoc with the NHL after that. However, blaming Lafreniere's bumpy road solely on the coronavirus amounts to a cop-out. Numerous other players taken in that draft, such as third overall selection Tim Stutzle of the Ottawa Senators and No. 4 pick Lucas Raymond of the Detroit Red Wings, appear to be on their way to the elite status befitting their draft positions.
Why hasn't Lafreniere? At this point, there's a myriad of potential reasons. Let's take a look at some of them.
1. Hughes Had More Time Than Lafreniere to Struggle as a Rookie
Hughes looked mostly lost in his first season of 2019-20, managing only seven goals and 14 assists while posting a minus-26 rating in 71 games. Yet it appears that rough experience has only benefited him. Through that season, the teenager learned what playing and succeeding in the NHL entailed, and what it felt like to be unprepared for that. Following the season, Hughes hit the weights hard, adding 14 pounds of muscle to push his weight to 180.
---
Latest News & Highlights
---
The result? A better performance in the pandemic-stunted 56-game 2020-21 season, when Hughes posted 11 goals, 20 assists and a minus-3 rating. In the next two seasons, he took off: 56 points in 49 games of an injury-shortened 2021-22 campaign, and then 2022-23, in which his 26 goals in 41 games place him in the top 10 in the league. Hughes' 21 even-strength goals are the second-most in the NHL, and he's a plus-14 for the rising young Devils, a dynamo on the ice that's become a threat to take over every game. In fact, that's just what he did over a just-completed five-game goal streak, during which he scored eight goals with two assists.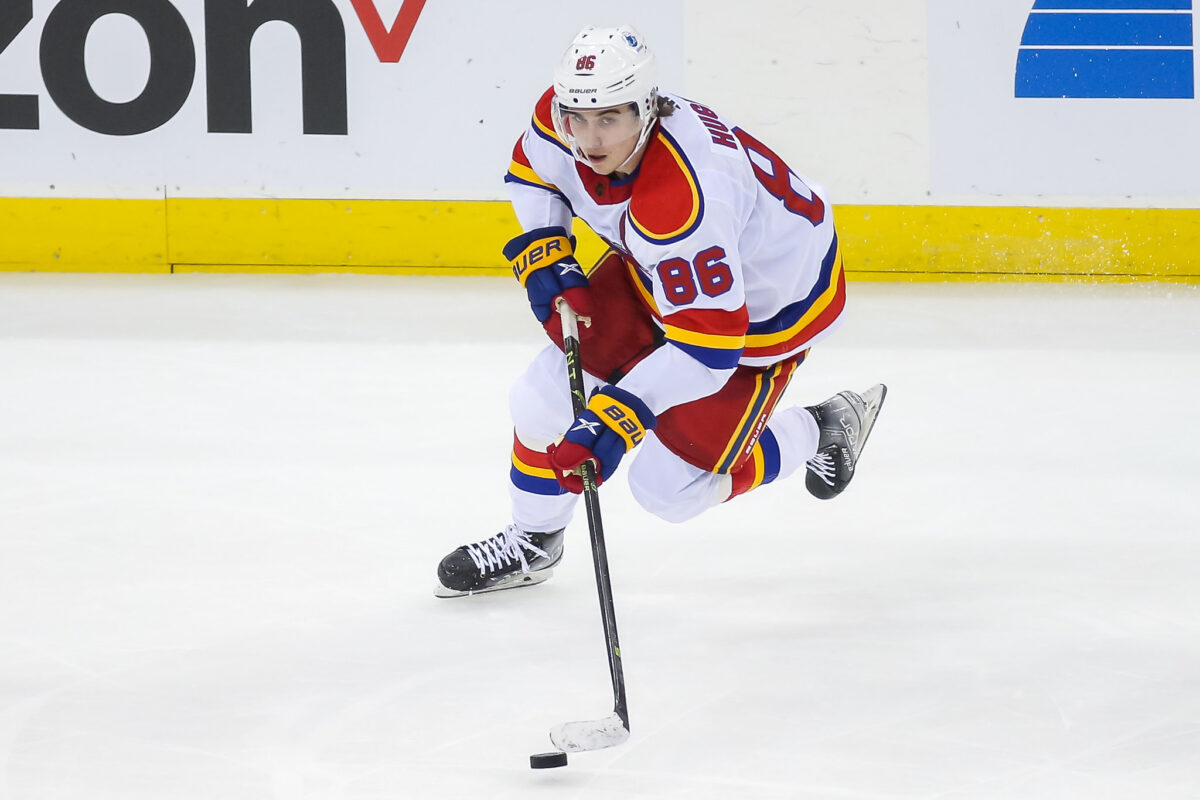 Two of them came against the Rangers after the Devils had fallen behind 3-1 in the second period before they went on to a 4-3 victory in OT. In contrast, the enduring image of Lafreniere from that game was a botched centering feed to Filip Chytil on the rush before he collided with Devils center Yegor Sharangovich, springing Damon Severson to go the other way for the winning tally.
In comparison to Hughes, Lafreniere didn't go through the same magnitude of tough times as a first-year player. With only 56 games to Hughes' 71, it seems clear that the 2020-21 season couldn't have ended at a worse time for Lafreniere, who had been coming on somewhat at the end. Five of Lafreniere's 12 goals came in the final 12 games, and the then-rookie was displaying more confidence and awareness on the ice.
It's of course impossible to know just how much the abbreviated season affected Lafreniere going forward. Another 25 games, which would have amounted to a full season, could have been invaluable. Hughes' first season was shut down early, but he got 15 more games than Lafreniere did as a rookie.
Whatever the case, Lafreniere has totaled 36 goals and 34 assists in 176 career games. He has five goals and 13 assists this season.
2. The Rangers May Be Mismanaging Lafreniere's Early Career
As such, it's impossible not to compare the differing approaches to young players of the Devils and Rangers. Hughes – and other high-end Devils prospects such Jesper Bratt, Nico Hischier and Dawson Mercer – have mostly been thrown into the fire, allowed to endure the ups and downs on the road to becoming stars. Hughes has logged time on the power play since his rookie season, when he scored four times with the man advantage, and has received steadily increasing total ice time: From 15:52 in 2019-20, to 19:04 in his second season, to 19:34 the next season and 20:01 in 2022-23.
While Lafreniere's minutes have also increased, it's not in the same league as Hughes: He went from 13:53 to 13:59 as a sophomore to 14:55 this season. Furthermore, Lafreniere is almost unbelievably still searching for his first career power-play goal, a major function of playing just over 210 career minutes with the Rangers on the man advantage. Hughes has played at least 140 minutes on the power play in every season and should easily exceed 200 for the first time in 2022-23.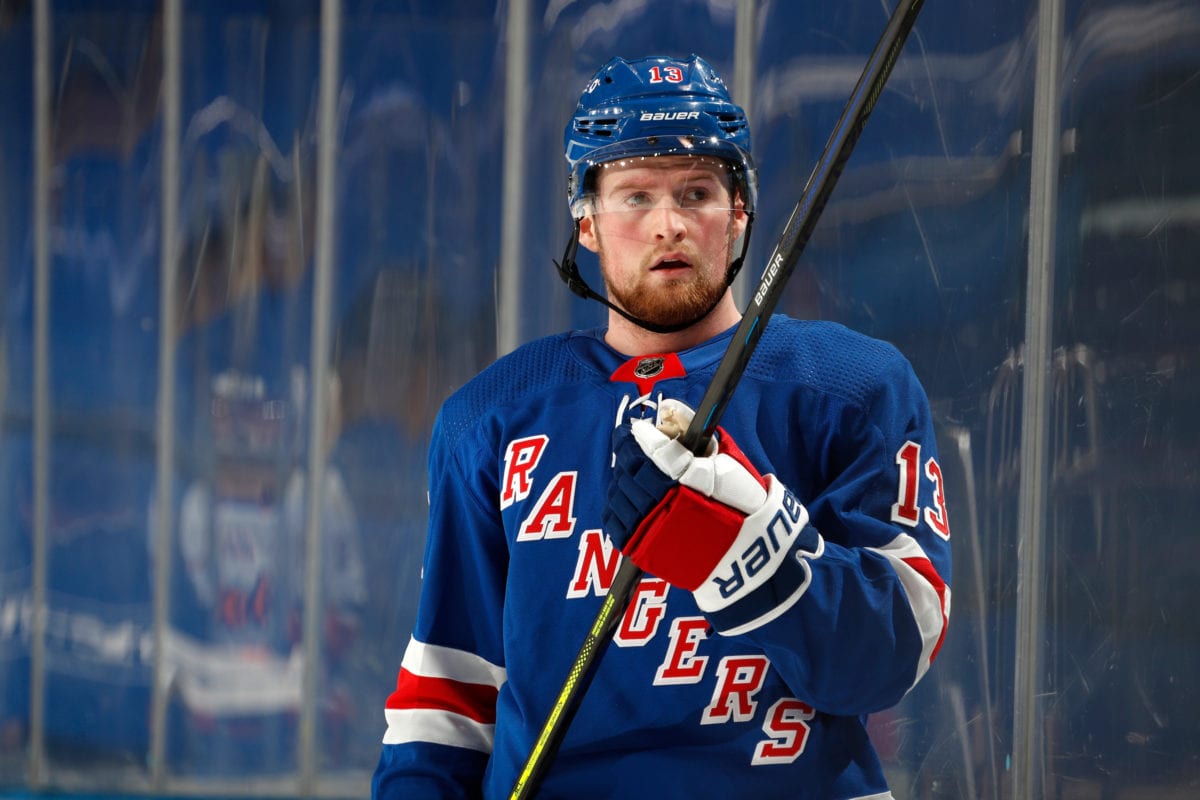 All of that calls into question the Rangers' usage of their prized young left wing. The Blueshirts went at their rebuild differently that the Devils did theirs, retaining forward Chris Kreider in February 2020 after adding superstar left wing Artemi Panarin as a free agent the previous summer. The idea, supposedly, was to shield the highly-regarded kids that were flowing into the organization at that point from too much responsibility too soon, in theory allowing them to grow with less pressure to produce immediately.
It was a noble idea, and the signings of Panarin and Kreider to long-term contracts came before the Rangers won the 2020 draft lottery and the chance to select Lafreniere first overall. Yet the presence of two in-their-prime stars who play the same position as Lafreniere may ultimately be hurting him, as he's blocked from a spot in the top six at his natural position for the foreseeable future.
The situation is more nuanced than that, however. With the Rangers making a quick return to contention last season, recording 110 points and reaching the Eastern Conference Final, Lafreniere and other young players seem to have become an afterthought at times. "Shielding the kids to allow them to grow" has been replaced with the unofficial "young players need to earn their time" narrative at certain points.
The latter approach is a Catch-22, and coach Gerard Gallant and the front office have to know it. Earning top-six minutes from the bottom two forward units is difficult, given the fact the young players aren't always going to benefit from playing with other high-end skill players and sometimes, have little continuity among the forward units on which they play. Failing to impress from those bottom six alignments, in turn, prevents them from moving up. And while the "Kid Line" concept was a revelation in last season's playoffs, it's probably not a long-term formula for the success of its members.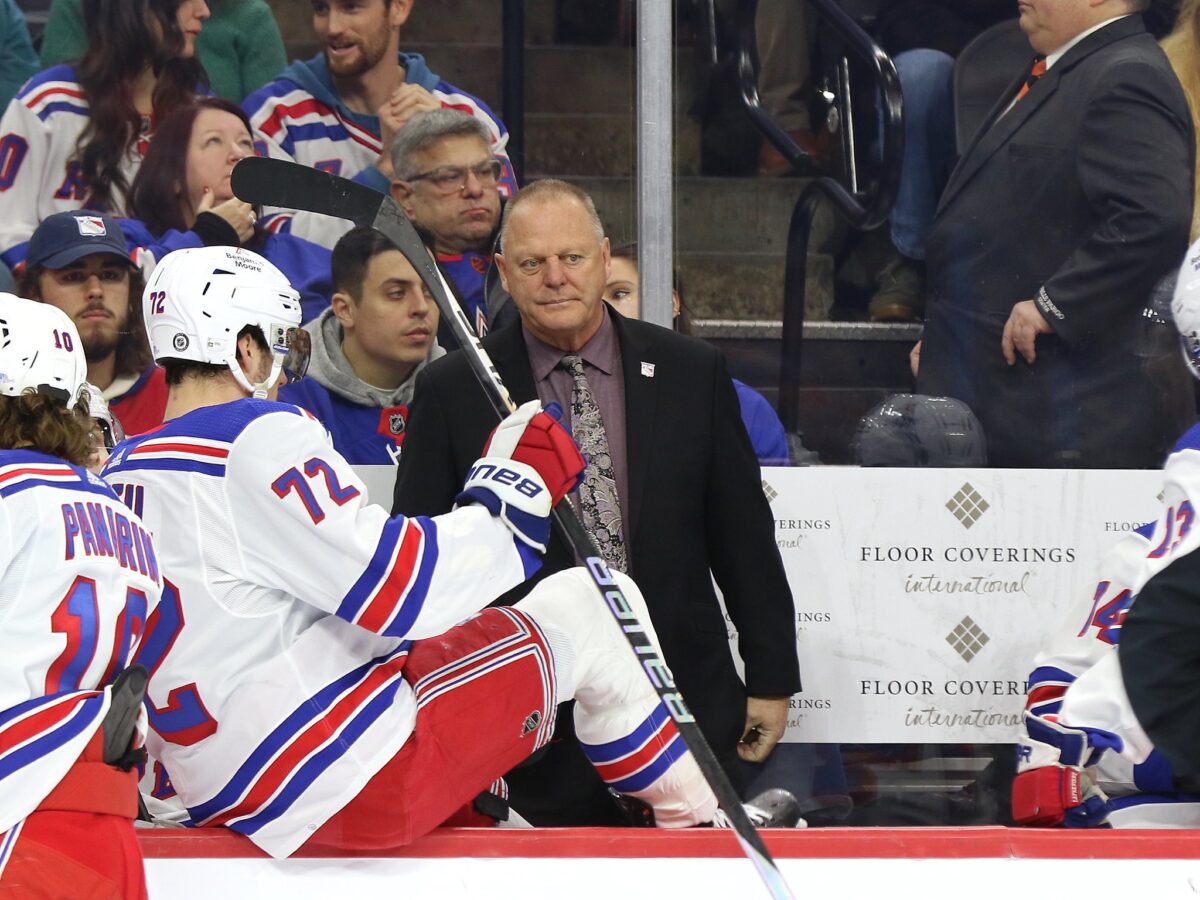 Though the development arc for every player is again different, the slow development of not just Lafreniere but fellow young forwards Chytil, Kaapo Kakko and Vitali Kravtsov should at the very least give the organization pause over how it's handling its ostensible future up front.
3. Lafreniere's Skill Set Could Require More Time to Emerge Than Hughes' Did
Even while Hughes battled to make his way in the NHL early on, he had his wheels. A high-octane player with straight-line speed and the ability to make quick and deceptive cuts in the mold of Chicago Blackhawks forward Patrick Kane, Hughes was able to fall back on that raw talent – elite skating ability – while he waited for his hockey awareness and conditioning to catch up.
No one is going to confuse Lafreniere's skating with that of Hughes. While he's shown a promising ability to find seams in the defense in front of the opponent's net to receive passes that lead to prime scoring opportunities, Lafreniere simply doesn't play at NHL speed at this point. He's not a powerful skater who attacks the net the way someone like young teammate Julien Gauthier does, which is a problem given that Lafreniere lacks Hughes' lateral elusiveness.
Related: 3 New York Rangers Trading Partners for Alexis Lafreniere
What elevated Lafreniere to the status of slam-dunk No. 1 draft prospect in 2020 – a status that Hughes didn't enjoy, given the rise of eventual No. 2 pick Kakko leading up to the 2019 draft – was his supposedly exceptional on-ice vision and hockey sense. Neither of those are going to stand a chance at the NHL level if Lafreniere can't create time and space to employ them. This isn't a small matter – Panarin, who's built his exception career on his ability to see scoring plays develop before they happen, wasn't much of a factor against the Carolina Hurricanes in the second round of the playoffs last season because the Hurricanes worked to eliminate the time and space Panarin needs to deliver his pinpoint passes.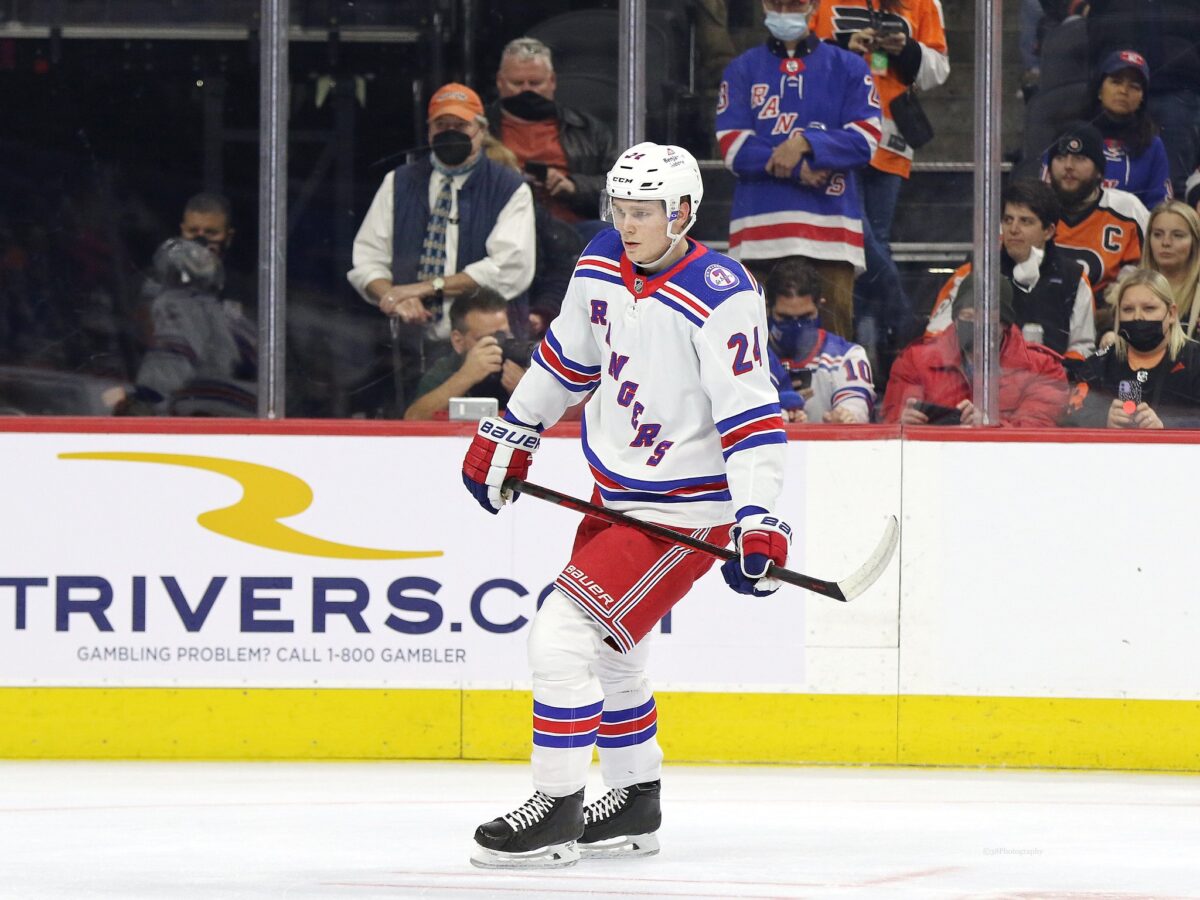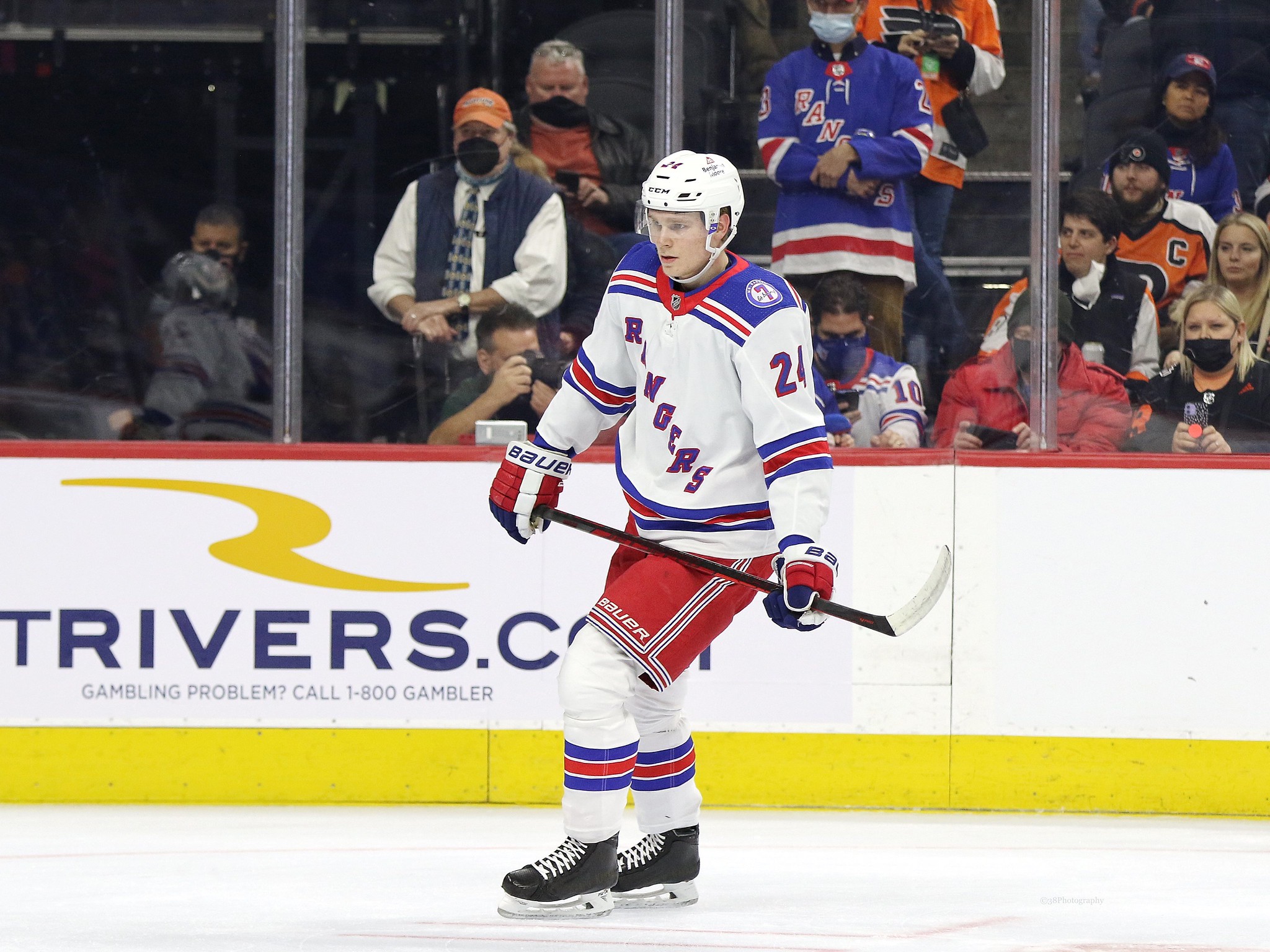 It's possible that Lafreniere's game is a complex one that he's still trying to figure out how to harness at the highest level – a game which allowed him to essentially break the Quebec Major Junior Hockey League with 297 points in 173 games over three seasons. That performance was reminiscent of Crosby's, who like Lafreniere played for Rimouski Oceanic in the QMJHL and recorded 303 points in 121 contests for them.
The shared junior experience led to some drawing of unfair comparisons between the skill sets and ceilings of Lafreniere and Crosby, which no one's doing anymore. If there is indeed world-class talent in Lafreniere, however, there might be one more reason why he's been unable to extract it to this point …
4. Lafreniere Needs to Be Fully Dedicated to His Craft
Perhaps hockey success has come too easily for Lafreniere, and he figured there was no need to change what he did to ascend to the top of his NHL draft class. Perhaps what he's doing now will eventually lead to success at the NHL level. It's fair, though, to question whether Lafreniere needs to put in more work, the way Hughes realized he had to after a difficult debut season.
The speculation that Lafreniere isn't doing what he needs to off the ice is just that, but there aren't any stories floating around about an intense offseason workout program, either. Perhaps he would benefit from spending some time around Kreider, whose summer preparation for the season has become renown within the organization and around the league.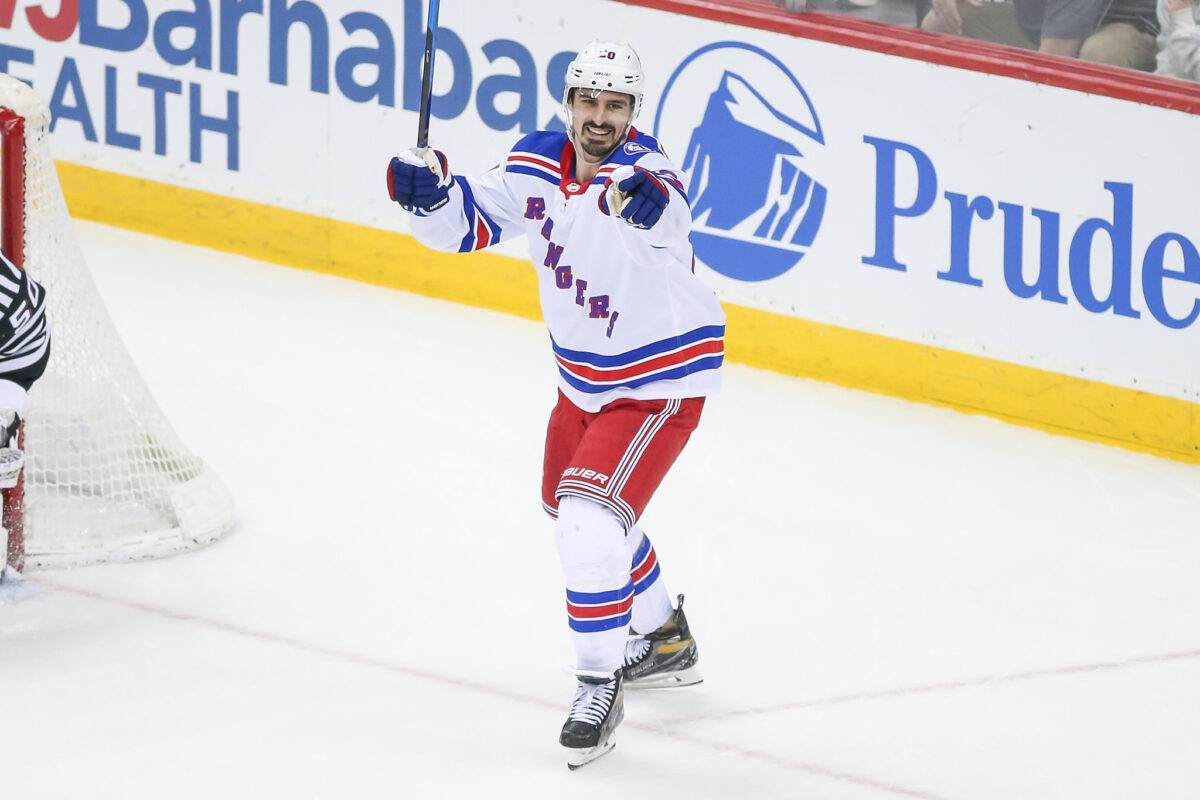 The Rangers have to hope Lafreniere is fully committed to his craft, because he could be facing two major obstacles to overcome. Kreider, like Hughes, was already an elite skater when he entered the NHL. In addition to Lafreniere potentially needing to raise his fitness level, he might require work with a skating coach who can bring that part of his game up to speed, so to speak. It would mean putting in long hours to correct flaws that could be playing a big part in holding back the potential of a No. 1 overall pick.
Rangers Have to Prioritize Getting Lafreniere on Track
Maybe none of the above is valid, and Lafreniere is on his way up, albeit very slowly. Maybe all of it has played a role in the halting start to Lafreniere's career and there's no one answer for why he's been unable to approximate the progress Hughes has made across the Hudson River.
What does seem certain is that things won't go right for Lafreniere if the Rangers don't make his advancement an organizational priority. Dropping the "young players need to earn their ice" thinking seems like a good place to start. Nearly three seasons into his career, Lafreniere requires space to fail and learn and grow in key situations the way Hughes and others have been allowed to do. Ending the unspoken ban on Lafreniere receiving significant power-play time needs to end, too, as Gallant's devotion to a star-laden top PP unit isn't serving the future well – and the Blueshirts are only 15th in the league in power-play percentage as it is.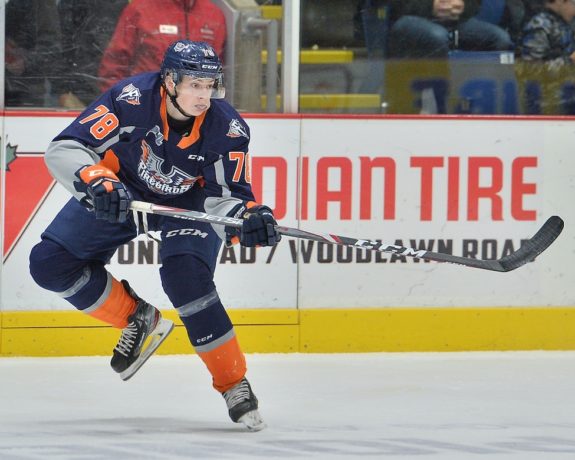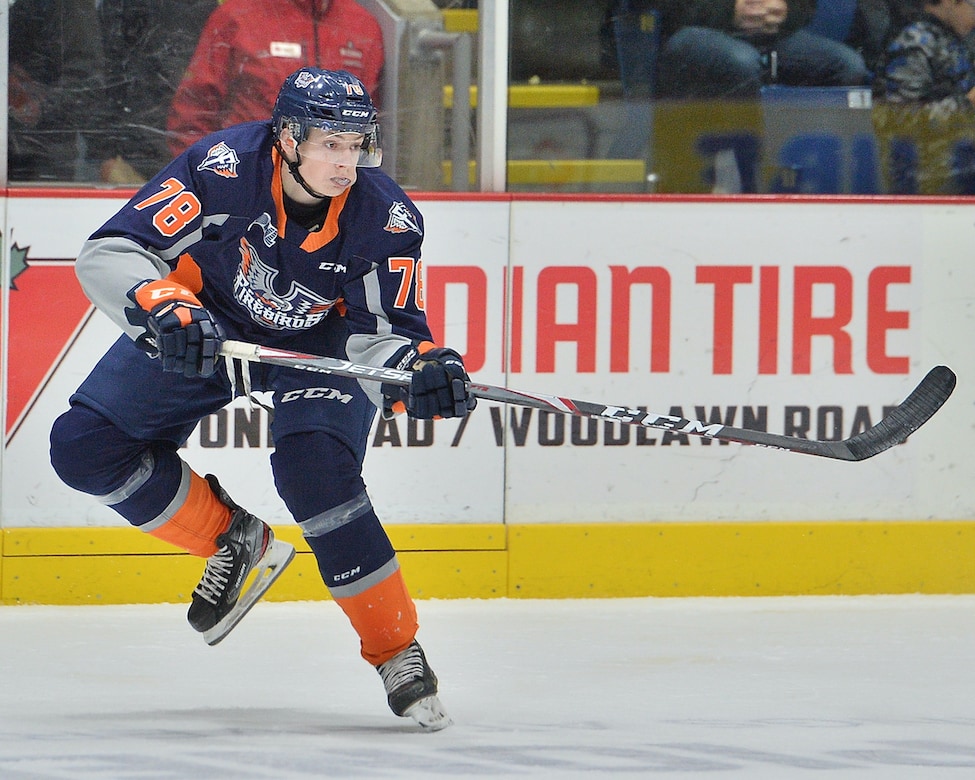 Likewise, Lafreniere should make it known to the club that he's willing to do whatever is necessary to fulfill his considerable promise. He needs to do it for himself, too – with Kakko showing signs of being on the rise, Kravtsov beginning to get comfortable and exciting winger Brennan Othmann on the way, possibly by next season, competition for forward spots on the roster might begin to get very tight very quickly. It's a situation the Rangers couldn't have anticipated in October 2020, when they drafted Lafreniere and thought they had their own No. 1 overall young star to match the kid who had joined the area rival Devils the previous year.
With his entry-level contract expiring after this season, the urgency is there for Lafreniere and his Rangers future. The two sides need to manage that together, starting now.