The 2017 NHL Entry Draft was an exciting one for the New York Rangers as they had their highest draft pick since 2004. It was also the first time New York had a first-round pick since 2012. The Rangers acquired the seventh overall selection from the Arizona Coyotes, along with Tony DeAngelo, in exchange for Derek Stepan and Antti Raanta.
New York selected center Lias Andersson with that draft pick and he was expected to be a big part of the team's future. However, the relationship between him and the Rangers unraveled dramatically and it's important for the organization to learn from that situation as they look to develop several skilled young players, including Alexis Lafreniere and Kaapo Kakko.
Andersson's Stint With the Rangers
Andersson was expected to make an instant impact, with an opportunity to play in the NHL during the 2017-18 season. Many analysts considered him a safe pick who would likely be a good NHL player despite having less upside than some of the other top prospects.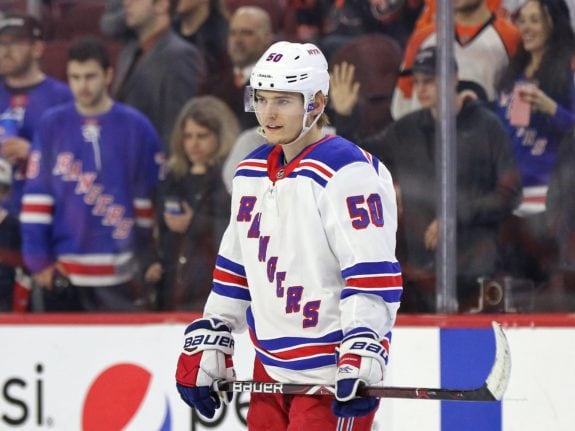 Although he had an opportunity to make New York's roster after training camp, Andersson spent the majority of the 2017-18 season with the Hartford Wolf Pack of the AHL, where he showed promise, finishing with five goals and nine assists in 25 games. He was rewarded with an opportunity to play with the Rangers for their final seven games of the season. He scored the first goal of his NHL career and added an assist in those seven games.
The following season Andersson was sent back to the Wolf Pack after failing to impress the team during training camp. However, he once again earned an opportunity with the Rangers but was unable to play up to the team's expectations. He struggled defensively and did not produce offensively. He bounced back and forth between the Blueshirts' fourth line and Hartford, finishing with just two goals and four assists in 42 games.
Andersson began last season well, as he looked much more confident in the preseason and made the team's opening day roster. However, he began the season on the team's fourth line and, once again, played poorly. He looked lost, struggling at both ends of the ice, and was outplayed by Brett Howden and defenseman-turned-forward Brendan Smith.
He had no goals and just one assist in 17 games before the Rangers decided to send him back to the Wolf Pack. He refused to go and demanded a trade, which was granted during the 2020 NHL Entry Draft when he was dealt to the Los Angeles Kings in exchange for a second-round pick. New York used that pick to draft winger Will Cuylle.
Mistakes Made With Andersson
Both the Rangers and Andersson were to blame for his short, frustrating and dysfunctional stint with the team. As soon as he was drafted there were a few red flags, including analysts saying that his ceiling wasn't as high as many of the prospects yet to be drafted and comparing him to Jesper Fast. While Fast is a very valuable defensive forward, he was a sixth-round pick and it's far from ideal to draft a player with his limited offensive abilities so early in the first round. However, Rangers' Director of Player Personnel Gordie Clark said "[Andersson] does not lack confidence."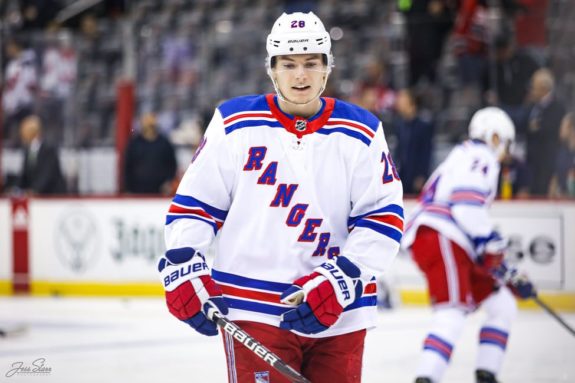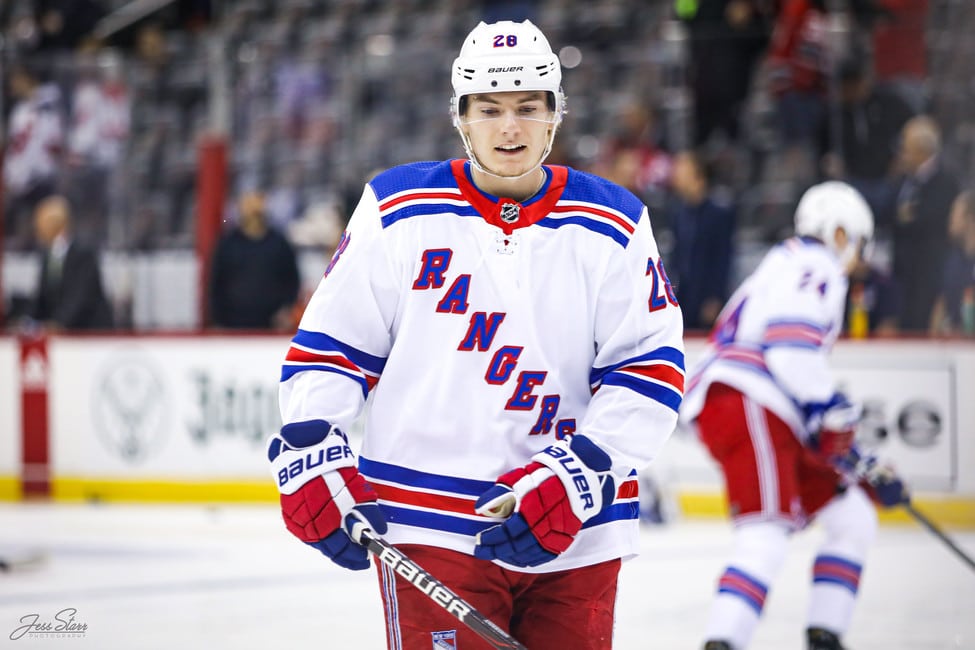 Despite Clark's praise of Andersson, the team did not show much confidence in him as he spent most of his time with New York on the fourth line alongside players like Smith, Greg McKegg, and Micheal Haley. Last season, Andersson looked anything but confident as he averaged just 9:32 in time on ice per game and struggled at both ends of the ice. He and the Rangers would likely have both benefitted had the team allowed him to develop with the Wolf Pack as one of their top centers.
The Rangers rushed Andersson and it showed. At no point during his time with the Rangers did he play like he belonged in the NHL nor did he appear mentally prepared to handle playing on the Blueshirts' fourth line and being sent back to Hartford multiple times. New York cannot afford to make the same mistakes with any more top prospects.
Moving Forward
It's difficult to view Andersson's stint with the Rangers as anything but a failure, but fortunately, the Blueshirts are loaded with skilled prospects and talented young players. In recent seasons, they have put many young players in a position to succeed by allowing them to develop before calling them up, including Igor Shesterkin and Ryan Lindgren. Both looked excellent last season.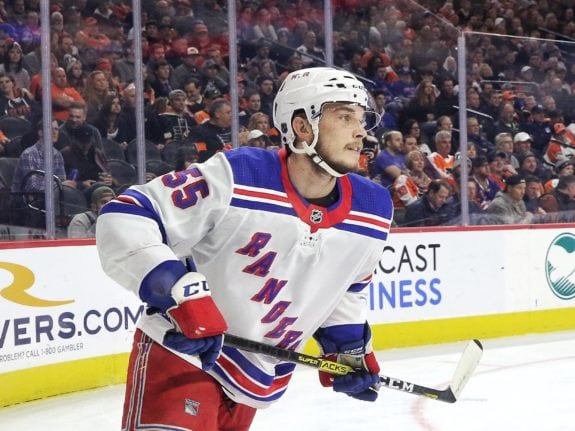 In addition to giving prospects more time to develop, the Blueshirts have played many of their top prospects together. Last season the Rangers paired rookie defensemen Lindgren and Adam Fox together and the results were fantastic, as the two became the team's top defense pair. They also played young forwards Kakko and Filip Chytil together at times last season and this season Chytil is expected to center a line with Lafreniere. Andersson never had the opportunity to play with such skilled linemates.
---
Latest Rangers Content:
---
The Blueshirts also plan on having prized prospect K'Andre Miller in their lineup to begin this season and he is expected to play with Jacob Trouba, who is talented enough to take some of the pressure off Miller.
The development of Miller, Kakko, Lafreniere, Vitali Kravtsov and other prized prospects will determine the future of the team. The Rangers must show that they've learned from their mistakes with Andersson and prove they can successfully develop these young players over the coming seasons in order to become a legitimate Stanley Cup contender.
---
---