The New York Rangers will once again enter the season as one of the youngest teams in the National Hockey League, if not the youngest, by time the 2020-21 rosters are finalized. 
The organization also secured nine players from the 2020 Entry Draft earlier this month to fortify their pipeline of young talent. The results of meticulous strategizing by general manager Jeff Gorton and president John Davidson could soon be on full display as prospects in their pool stride closer to their NHL debuts. 
With the Rangers organization shedding years off their roster, the timing could not be better for a group of young talent to make the leap to the NHL. Most prospects from the 2017 NHL Entry Draft are on the verge of cracking the roster, as most have participated in Rangers' training camps during their time on college teams and in European leagues.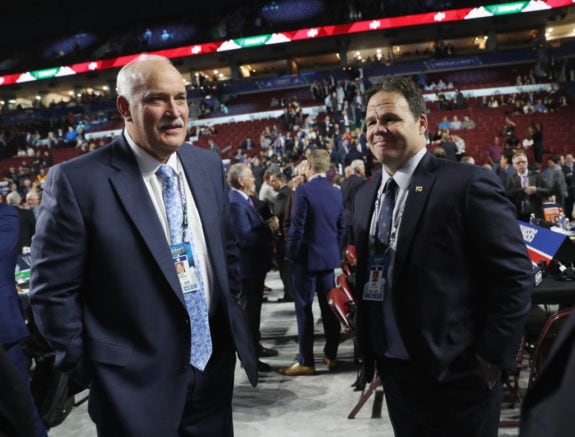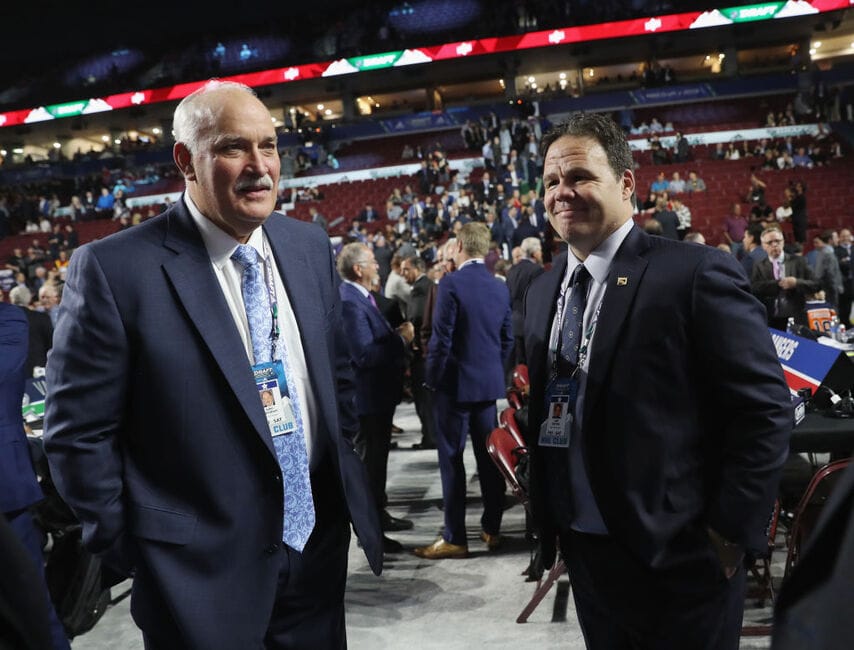 Just within their grasp, the Rangers organization has a handful of highly praised skaters with a vast inventory of accolades. Even more assuring, was the fact that some prospects had joined or are joining the Rangers' minor league affiliate in the American Hockey League, the Hartford Wolf Pack. In the impending years, the club should see the following premier prospects join the Rangers full time. 
The 22-year-olds:
The Rangers are already familiar with 22-year-old defensemen Adam Fox, Libor Hajek, Ryan Lindgren and centerman Brett Howden. This group could be a trio that develops together in the organization for a long time to come. 
Fox and Lindgren were primarily partnered together and complemented each other very nicely with their left-right handedness. 
Hajek, conversely, struggled his first two years in the big leagues. Paired with veteran Marc Staal and occasionally Jacob Trouba, Hajek fell victim to creating turnovers in the offensive zone quite often. 
Related: Forgotten Ranger Libor Hajek Can Contribute Next Season
But with any developing player subject to the learning curve of the NHL, he should be given imminent opportunities to clean up his game. 
Howden, who is coming off an underwhelming start in the league still has time to find a way to produce. Thus far he has been a bottom-six presence but should not be counted out either; Howden is a player highly regarded by head coach David Quinn. In this age group, there is another young and talented forward moving closer to being a Ranger.
The 21-year-olds:
Morgan Barron (6th Round, 174th Overall – 2017)
On the horizon is 6-foot-2 skilled centerman nabbed by the Blueshirts a few years back. The power forward hailing from Nova Scotia will be a long-awaited addition when he is recalled for his NHL debut.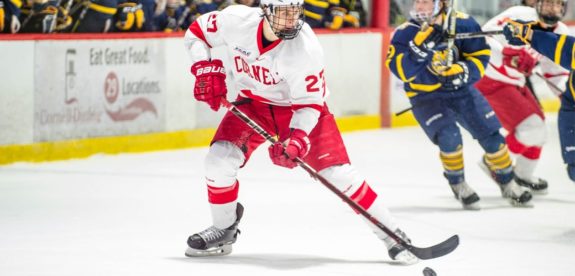 Barron most recently spent his time playing for Cornell's hockey team and is set to skate with the Wolf Pack this upcoming season. In 98 total college games, he had 84 points, 34 of those were goals. He even became a 2019-20 finalist for the Hobey Baker Award, given to the best player in the National Collegiate Athletic Association. 
Barron's game shows a fierce awareness on the ice and he exemplifies a great deal of leadership at a young age. Barron could be a player who does it all for New York — blocking shots and wearing down defenders all while producing offense reliably. 
The 20-year-olds:
In this group of 20-year-olds, we have only seen one play with the Rangers. Filip Chytil played 144 games in the NHL skating with the Rangers and has shown glimpses of developing into a strong forward. Despite Chytil's headstart with the team, there are several exciting players who are on their way to the NHL. 
K'Andre Miller (1st Round, 22nd Overall – 2018)
The 6-foot-5 left-handed defenseman is a highly anticipated blueliner and will join the Wolf Pack this upcoming year, bringing him one step closer to being a Blueshirt.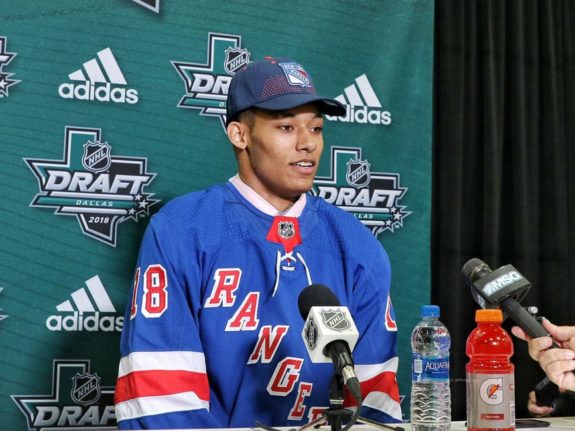 Miller has two years of collegiate hockey under his belt where he played for the University of Wisconsin. 
Miller notably combines speed and strength in his game, two main facets of the visionary Rangers identity. He also brings other covetable intagibles to the team, he is known for his proficient leadership and work ethic. 
Nils Lundkvist (1st Round, 28th Overall – 2018)
Swedish-born defender Lundkvist became a member of the organization when he was drafted not long at all after Miller. Although he is a smaller skater, Lundkvist plays an aggressive game, being one of the leading defensemen with shots on goal in the Swedish Hockey League (SHL).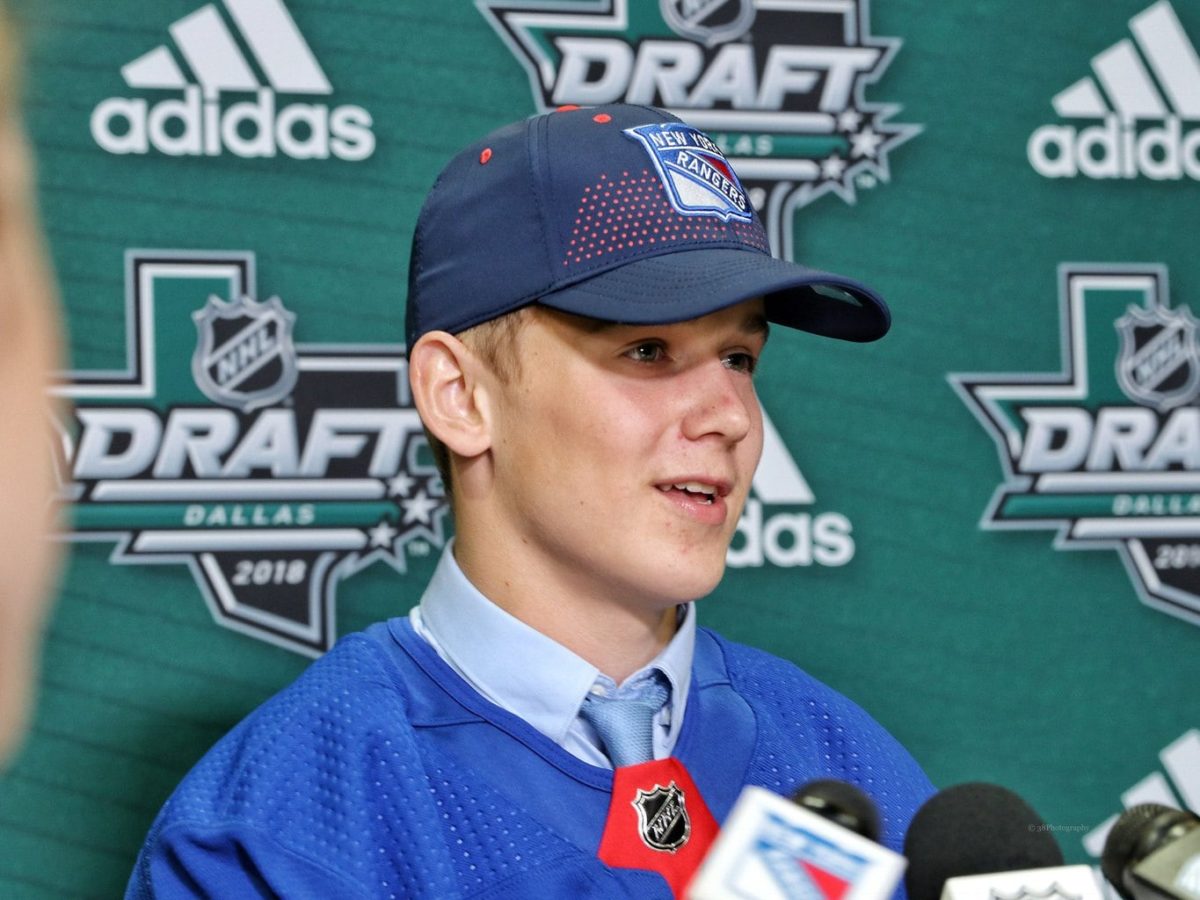 An assertive style of play is something the Rangers could certainly use, especially coming from the blue line. Also named the 2020 SHL Player of the Year, his passing skills and on-ice smarts set the smaller defender apart.
Vitali Kravtsov (1st Round, 9th Overall – 2018)
Kravtsov, a large left-shot winger, is another highly anticipated piece of the Rangers' young group. With scoring ability from multiple parts of the ice and speed, Kravtsov appears capable to develop into a top-six forward role and is one of the names closer to an NHL debut.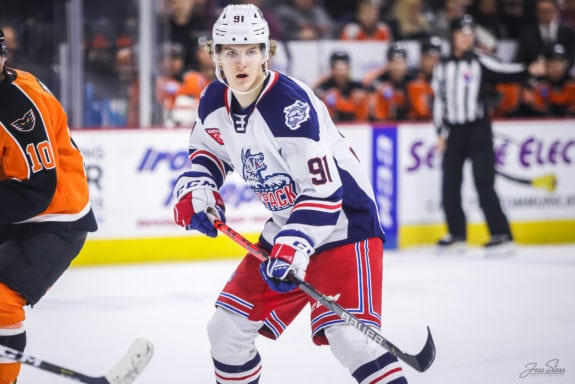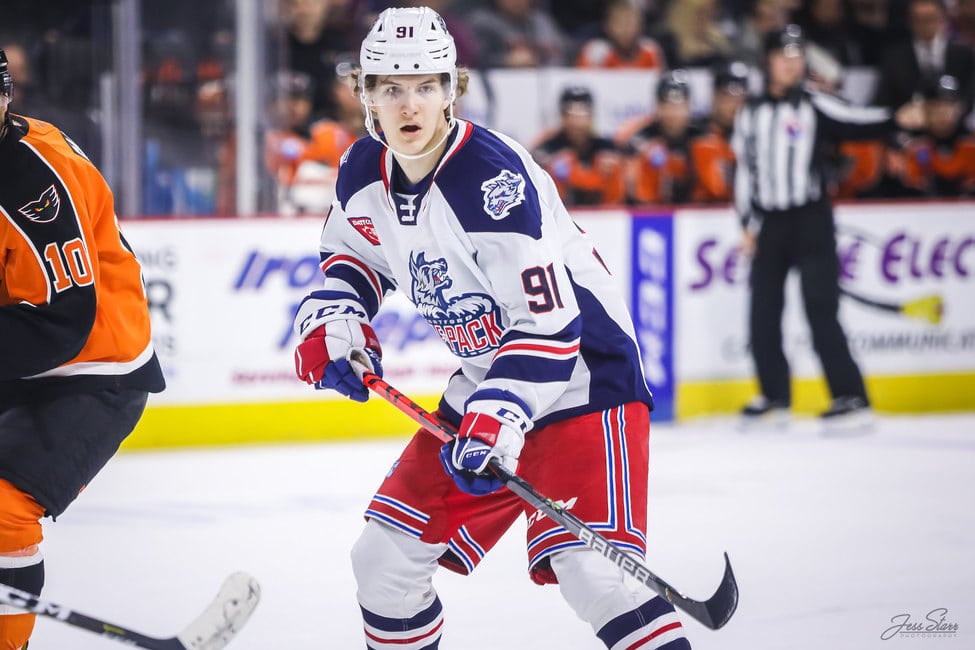 His talent does not go unrecognized — he was named the 2017-18 best rookie in the KHL. His awareness and backchecking ability will make him a valuable tool for the team, especially when he becomes more comfortable using his 6-foot-4 frame. 
Related: Rangers Top Prospect Kravtsov Thriving With Traktor
He has primarily been competing in Russian leagues but also skated with the Wolf Pack in the past year and collected 15 points in 39 games. 
Under 20:
The Rangers had recent luck in the NHL draft lottery, being awarded the second overall selection in 2019 and the first overall in 2020. Kaapo Kakko, the second overall pick from 2019 jumped right into the NHL but fell short of the high expectations placed on him.
Only a 19-year-old, Kakko has time to develop alongside the young group he competed with last season. In addition to Kakko, there are numerous up-and-coming names developing in various leagues.
Alexis Lafrenière (1st Round, 1st Overall – 2020)
Lafrenière, a name that does not require an introduction to followers of the NHL, officially became a part of the Rangers organization Oct. 12 when he signed his entry-level contract.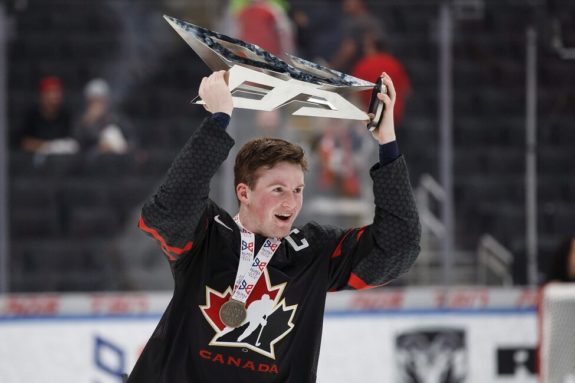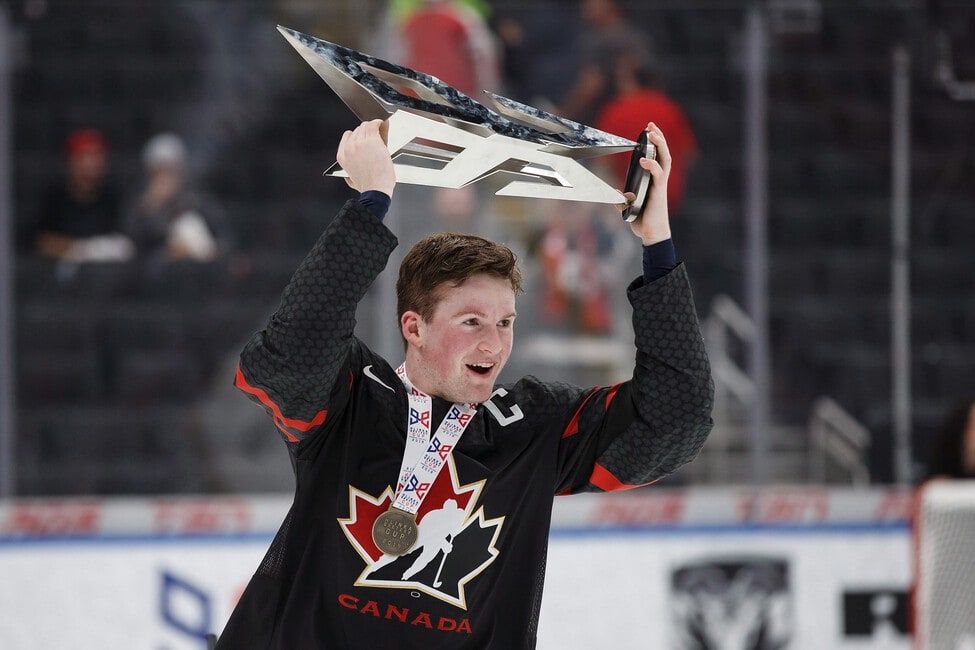 At just 19 years old, the immensely talented Lafrenière has been compared to the likes of Sidney Crosby and Nathan MacKinnon.
The gifted winger will be a valuable piece of the top two lines for the Rangers for hopefully a long time to come. Since being a member of the Rimouski Océanic team, Lafrenière registered an astonishing 297 points in 173 matches.
Braden Schneider (1st Round, 19th Overall – 2020)
Although the selection of the 19-year-old defenseman caught most off guard, the right-handed shooter could be a big name on Broadway some day.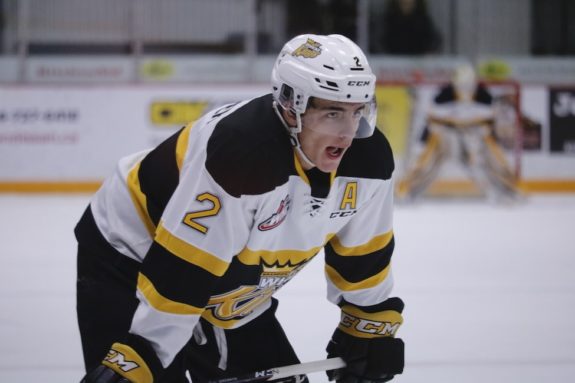 Despite being quite the physical presence with ample grittiness he does not take unnecessary penalties — somewhat of a refreshing change compared to the pattern some Rangers have fallen into over the past few years.
He appears to have all tools to develop into a top-pair shutdown defenseman which will be a vital role to fill in the upcoming years. 
Karl Henriksson (2nd Round, 58th Overall – 2019)
The Rangers acquired the 19-year-old Swedish forward who does not have as many eyes on him as some other names but is talented nonetheless. As exhibited in the SHL as one of the top players, his offensive touch, ability to apply pressure and quickness seem to be qualities that will transfer over to the NHL. 
Henriksson is yet another prospect within the organization who is widely credited for his hockey IQ and constantly being smart when handling the puck. Despite clocking in at 5-foot-9 Henriksson plays well in the defensive zone and can be relied upon at both ends of the ice.
He will remain in the SHL for this year, working into a larger role in a better league. His most recent stint playing for Frölunda resulted in 41 points in 26 games. The vision is for Henriksson to be a top-six forward as a member of the Rangers in a few years.
William Cuylle (2nd Round, 60th Overall – 2020)
With scoring ability from multiple parts of the ice and zero hesitation to use his 6-foot-3 build, the 18-year-old left-shot winger will be a physical force when he is ready to join the Rangers. Cuylle is cited for his quick release and upper body strength.
He is on track to continue with the Windsor Spitfires of the Ontario Hockey League for his third year where he has already collected 83 points in 125 games. 
Zachary Jones (3rd Round, 68th Overall – 2019)
Jones is a 19-year-old defenseman who's smooth skating and quick hands make him stand out as a defender. At 5-foot-10 the Virginia-born will enter his sophomore year at the University of Massachusetts-Amherst following an impressive freshman year recording 23 points in 32 games.
At the conclusion of the 2018-19 season, Jones was awarded the "Rookie of the Year" title while playing in the U.S. Hockey League. His offensive game was reportedly always present but he was able to quickly refine his defensive instincts resulting in a more polished play.
Once Jones adds more strength and masters all aspects of defending, he could be a large part of shutting down the opposition and key on the power play.
---
---