Vitali Kravtsov has used the COVID-19 shutdown as a time to make significant improvements to his game. He's skating better, generating more shots on goal and scoring at a pretty high pace. Kravtsov already has as many goals in 11 games this season in the KHL than he did in 39 games in the AHL before the shutdown.
Related: Mike Richter – Rangers' Legendary, Cup-Winning Goaltender
After struggling with Rangers' affiliate Hartford Wolf Pack in the pandemic shortened 2019-20 season, the Rangers decided to loan him out to Traktor — he didn't do well over there either. He was even demoted to Chelmut of the VHL, Russia's second-tier league, or Tier2. Chelmut plays out of the city of Chelyabinsk, just like Traktor.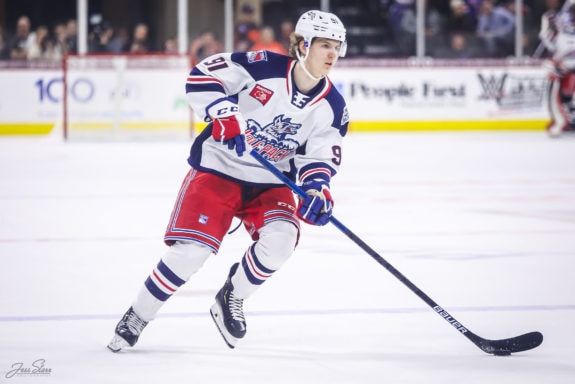 The 20-year-old from Vladivostok, Russia only had six goals and 15 points in 39 games with the Wolf Pack and was a minus-4. While overseas, he only recorded three points in 11 games with Traktor, and he only recorded two points in three games with Chelmut. Since the Rangers' 2019-20 training camp, he bounced back and forth from the AHL where he had just one assist in five games and even became a healthy scratch; he was then sent to the KHL, VHL and then came back again to Hartford — all in one season, or partial season. At the time of the shutdown, it seemed both he and the Rangers were dazed and confused, and his future with the club was uncertain at best.
Scoring Streak and Prospects List
Kravtsov was the Rangers' first-round pick in the 2018 NHL Entry Draft (ninth overall). He recorded seven points in the team's first seven games with the help of a four-game goal-scoring streak in which he had five snipes. This prompted the Rangers to have him at the top of their Sept. 21 prospects list. Kravtsov probably had his best game since being drafted on Sept. 17 where he scored two goals, with a game-high six shots on goal and was plus-2. He also netted what turned out to be the game-winning goal, unassisted, in Traktor's 3-1 victory over Vityaz.
What Changed?
According to KHL reporter Gillian Kemmerer, in an interview with Anthony Scultore of Forever Blueshirts; there's been a change in Kravtsov's attitude and approach to the game since his return to Russia. Kemmerer said, "Vitali Kravtsov has arrived with a renewed work ethic and hunger that has not gone unnoticed by his teammates. There is an unspoken acknowledgment that this is a make-or-break season. He is a consistent figure on Traktor's top line, and is benefiting from the presence of veteran Sergei Kalinin in the locker room."
Plus, his skating has improved, which is helping him create more open space, as you can see in the video. Traktor teammates have commented that he's not dilly-dallying so much with the puck. He's being much more formidable on the forecheck and looking to go more from point A to B instead of trying to zig-zag too much. This has made for more quality scoring chances and goals. He looks much stronger on the puck while being a better skater away from it.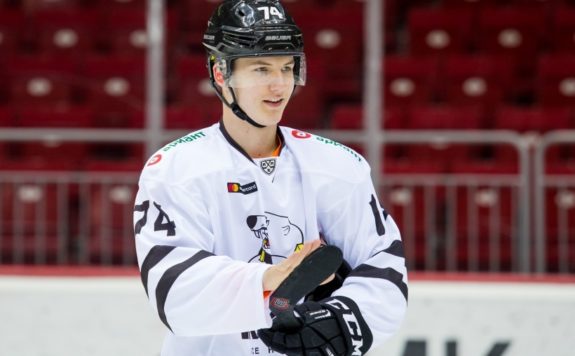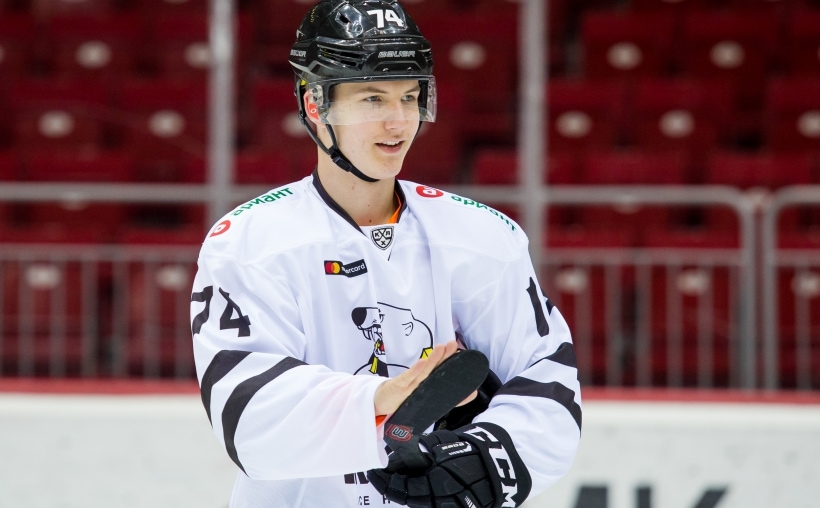 Kemmerer, who's one of the KHL's top reporters said, "Aside from the regular Traktor routine, he pulls up Rangers' workouts on his phone and is logging extra gym time." She went on to say, "Players who have known him for years see the change in his work ethic, but also his mentality. One teammate commented that he seems to put less unproductive levels of his pressure on himself. The results are (thus far) self-evident in his numbers."
Related: Kovalev & the Rangers: Eventful, Successful & Disappointing
Kravtsov has slowed down a bit lately and hasn't scored a goal in the last four games. However, he's still leading the team in points, with eight in 11 games. As the Rangers continue their rebuild and prepare to enter the NHL Draft with the No. 1 pick, it appears the future is looking brighter every day. They've got two young goalies poised to have breakout seasons and MVP candidate to lead the way, and tons of prospects to be thrilled about. Kravtsov is at the top of that list, and if he keeps up the hard work and improves his game, he should be able to crack the squad sooner rather than later.
VHL Stats courtesy of Dobber Prospects
---
---