The addition of Taylor Hall for the 2020-21 season was an obvious signing regardless of fit for a Buffalo Sabres franchise that has not seen playoff success in nearly a decade. And while there are still issues with the roster that haven't been addressed, it would be overly skeptical to claim the Hall acquisition an extraordinary out-reach. Any opportunity to acquire an impactful, high-end free agent should be embraced with open arms. Ultimately, exceptionally talented players are the engine of a team's success, and they are few and far between in today's NHL landscape.
Related: Top 10 Nicest Current NHL Jerseys
With the added spotlight comes great pressure for Ralph Krueger and his staff, who now face the challenge of translating a stacked forward rotation on paper into digits in the win column. Fans will only know how the staff juggles this responsibility with time, but needless to say, their options are boundless.
Lineup #1: The Ideal Balance
| | | |
| --- | --- | --- |
| Left Wing | Center | Right Wing |
| Taylor Hall | Jack Eichel | Tage Thompson |
| Jeff Skinner | Eric Staal | Dylan Cozens |
| Victor Olofsson | Cody Eakin | Sam Reinhart |
| Zemgus Girgensons | Curtis Lazar | Kyle Okposo |
This rendition of the Sabres' forwards offers three lines that are capable of taking over a game. Cozens gets a nice mentorship opportunity in playing alongside Staal, who still has the ability to have a two-way influence on the game at 35 years-old. The young prospect will undoubtedly center his own line in the near future, but in the meantime, Cozens has expressed genuine interest in playing alongside the six-time all-star and champion. (from 'Sabres top prospect Dylan Cozens ready to learn from Eric Staal,' Buffalo News, 09/28/2020)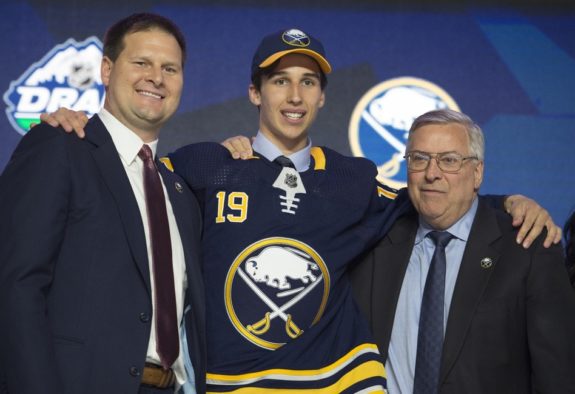 Eakin gets a legitimate chance to show critics that his sub-par productivity last season was a fluke (15 points over 49 games played) by playing with Reinhart to his right and Olofsson to his left.
Finally, Thompson on first-line duty is a big step for a young prospect, but he should flourish sharing the ice with two of the NHL's best distributors. The 22-year-old has the ability to find the back of the net and should have little to no pressure with Hall presumably attracting the attention of most opponents on a given night.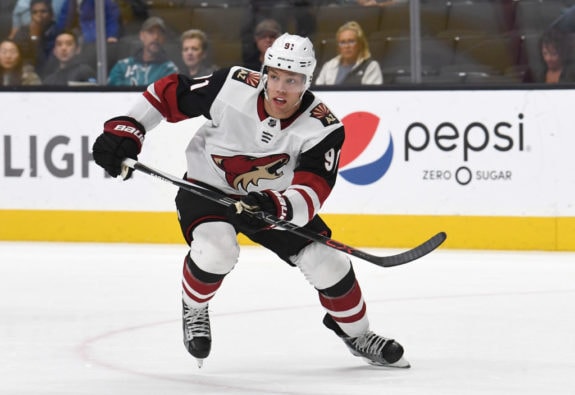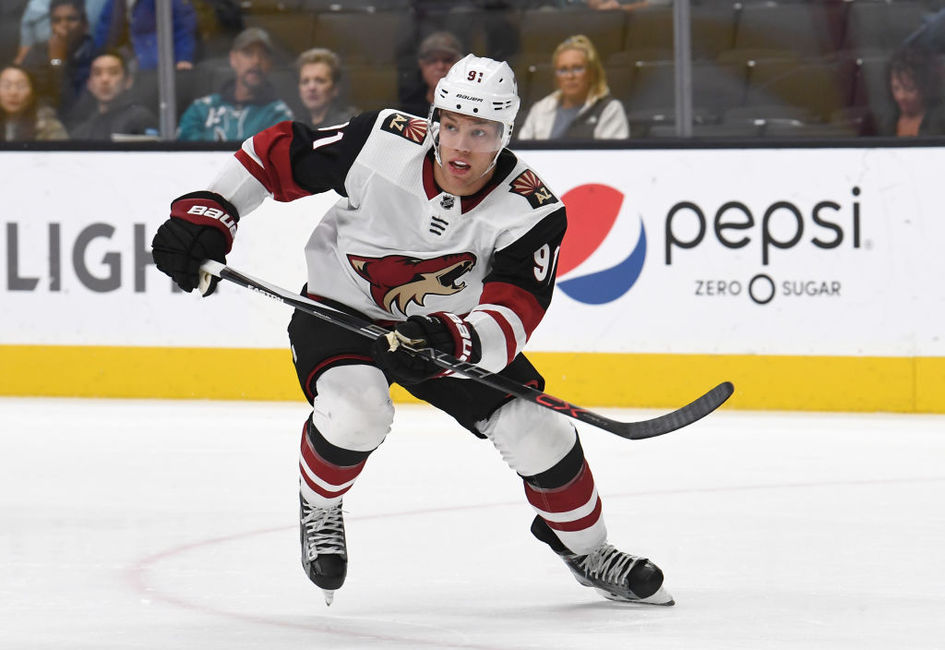 Skinner and Olofsson can potentially swap spots depending on the team's needs, and whether or not the team wants to evenly spread the wealth between lines. Regardless, that notion seems unlikely given Skinner's over-qualified contract worth $72 million through 2026-27. Speaking of contracts…
Lineup #2: Contractual Obligations
| | | |
| --- | --- | --- |
| Left Wing | Center | Right Wing |
| Hall | Eichel | Reinhart |
| Skinner | Staal | Olofsson |
| Thompson | Eakin | Cozens |
| Girgensons | Lazar | Okposo |
The most notable differences in this lineup involve proven skaters with subsequently larger contracts getting the benefit of the doubt with regards to their stance in the rotation. This combination of lines seems more rational to start the season barring any major exceptions occurring in training camp. Young prospects in Thompson and Cozens would have to heavily outperform their veteran linemates in the top-six and earn their stripes.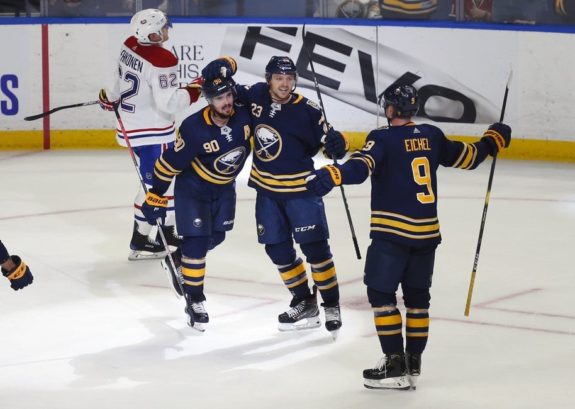 The fourth line in this scenario remains the same, and the top-six becomes a traditional one-two punch that most winning teams employ. The third line isn't weak, per se, but it would be an inexperienced combination that could act as an erratic spark plug; wherein the highlights are Picasso on skates to viewers but are evenly matched with clumsy lows that can take the team out of a game. Once again, the effectiveness of the third-line will largely depend on the type of season Eakin is able to produce.
Eichel gets to play alongside Reinhart again; the duo played a total of 1069 minutes together last season and synergize well on and off the ice.
Lineup #3: The Traditional Rotation
| | | |
| --- | --- | --- |
| Left Wing | Center | Right Wing |
| Hall | Eichel | Olofsson |
| Skinner | Staal | Reinhart |
| Rieder | Eakin | Cozens |
| Girgensons | Lazar | Okposo |
Hall and Eichel remain a pairing throughout because it seems almost certain that will be the dynamic duo manning the first-line with the support of Krueger. In addition, barring an immense resurgence in Eakin's game or a significant drop-off in Staal's, it's safe to say the center pecking order is already established.
The swapping of Reinhart and Olofsson in this scenario creates a dynamic first-line with Olofsson potentially reaping major benefits. Coming off a season with 22 goals, that number would almost certainly elevate with the addition of Hall to the left side.
Related: The Best NHL Goalies of the 1990s
Skinner gets to play with Reinhart on the second line and would give the Toronto-native some much-needed comfort after a rocky 2019-20 season. While it's irrational to assume he'll score 40 goals without Eichel as his center, the left-winger can still produce appropriately when he's matched up with qualified line-mates, as he's proven in the past.
The Sabres Have Holes in the Roster to Fill
Sabres fans can and probably should ride this Hall acquisition high but must eventually come down to Earth and ask themselves; did the team address a core need towards Stanley Cup contention? In my estimation prior to the beginning of the off-season, the team needed to prioritize upgrading their goaltending position depth and improve their ability to kill penalties (an abysmal 75.6% penalty-killing percentage in 2019-20 may have been the differentiating factor in playoff qualification).
Needless to say, there's still work to be done with plenty of wiggle room left in the offseason. At the very least, the Sabres thus far can boast an exceptional forward lineup that will attract the eyes of casual hockey fans and loyalists alike.
---
---