General manager Kevyn Adams fixed the Buffalo Sabres' most glaring need of the last two seasons with one decisive trade. In acquiring Eric Staal from the Minnesota Wild, the team now has a bonafide second-line centre.
Related: Remembering an Old Friend: Buffalo's Memorial Auditorium
While the team still needs scoring in the top-six, there is another area that requires immediate attention. The duo of Linus Ullmark and Carter Hutton have simply not been good enough in net.
Hutton Not Providing Proper Leadership
Hutton's 2019-20 season was abominable. He suffered through a condition known as convergence insufficiency, he struggled to track the puck and sunk the Sabres during a personal 13-game losing streak. Outside of that stretch, he has a .903 save percentage (SV%) and a 3.09 goals-against average (GAA) in his two-season career with the Sabres.
His analytics paint a more damning picture. Evolving Hockey's goals saved above expected (GSAx) tracks how many goals a goaltender prevents based on the quality of the shots. A positive number means they saved more than expected. A negative number means they allowed more than they should have. Among goaltenders who played at least 500 minutes in 2018-19, John Gibson of the Anaheim Ducks led the league with 26.9 GSAx. Hutton finished 54th of 64 qualifying goalies with a -13.19 GSAx.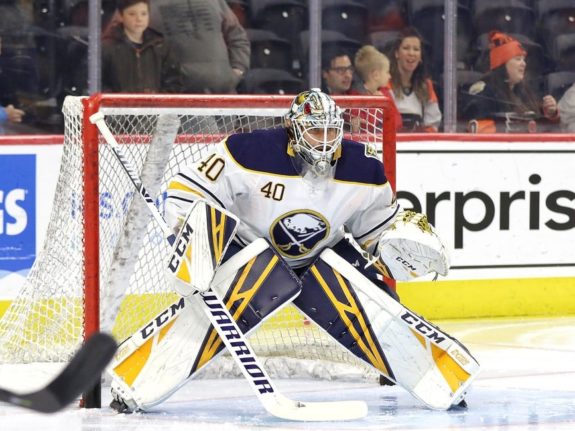 In 2019-20, the Winnipeg Jets' Connor Hellebuyck paced the league with a 19.86 GSAx. Hutton finished 57th out of 63 goaltenders with a -13.49 GSAx. He played in 19 fewer games last season but still allowed more expected goals than the previous season. An abomination, indeed.
The Delta Fenwick save percentage (dFSv%) measures the difference between a goalie's save percentage and what it should have been based on the quality of shots. In 2018-19, Hutton finished 45th of 64 goaltenders with a -.61dFSv% (.61 lower than it should have been – a sizeable difference). In 2019-20, he was 56th of 63 with a -1.07dFSv%. That is miles below what was expected of him when he was signed with the club and played a large part in the Sabres missing the playoffs in a season when over 77 percent of the league qualified.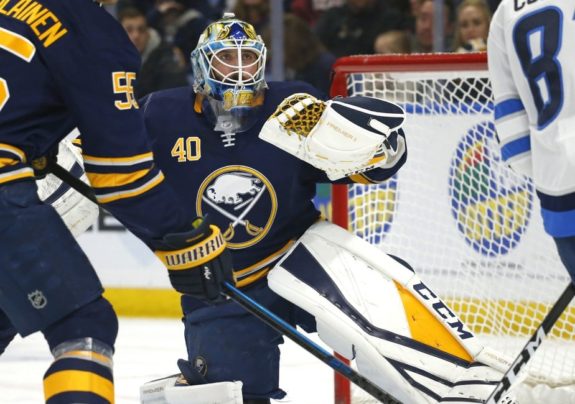 Hutton is considered a great teammate and leader. I'm sure he is a good person and a voice "in the room", but the fact is, the organization needs more antagonistic winners and fewer benevolent nice guys who unfortunately can't get the job done.
It may not popular to move on from a veteran leader, but the best leaders lead by example. Unfortunately, Hutton hasn't been able to lift his team. He has had some bright spots, but the most consistent story on Hutton has been how he has kept the Sabres from finding another level.
Ullmark Not Reaching the Heights Hoped For
Drafted in the sixth round of the 2012 Entry Draft (163rd overall), Ullmark garnered interest from Sabres fans as a potential future starter. In 2017-18 with the Rochester Americans, he appeared in 44 games with a .922 SV%. He also appeared in five games for the Sabres that season and had a .935 SV%, both positive signs.
In the last two seasons, he finally earned his chance to own the Sabres' net. In 2018-19, he was 59th of 64 goaltenders with a -17.4 GSAx. He was also 59th with a -1.16dFSv%. Although the Sabres were a defensive mess, he still should have stopped many more shots than he did.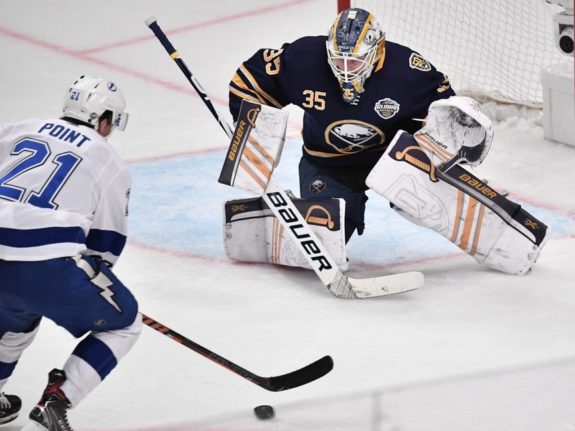 With the arrival of head coach Ralph Krueger in 2019-20 came a much tighter, conservative system that focused on defence. Because of that, Ullmark saw his save percentage jump from .905 the previous season to .915. Was this a signal that he was becoming the starter the organization envisioned?
Of 63 goaltenders, Ullmark ranked 37th with a -4.81 GSAx. He was 34th with a -.34dFSv%. So yes, there was an improvement. However, the results were still not where they needed to be. Although his save percentage ranked 19th in the league, Krueger's defensive system caused the team to give up much of their own offence and Ullmark underperforming in this system inflated his stats but didn't bring the team success.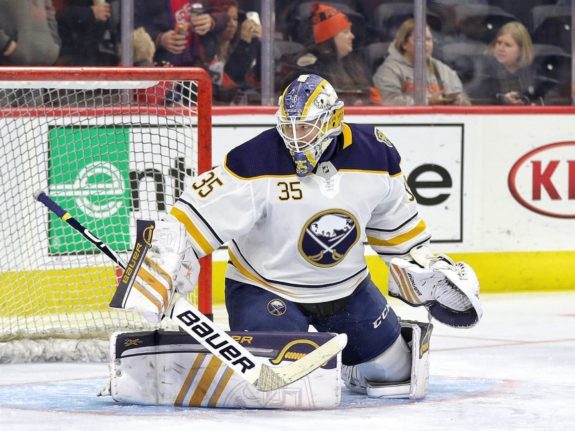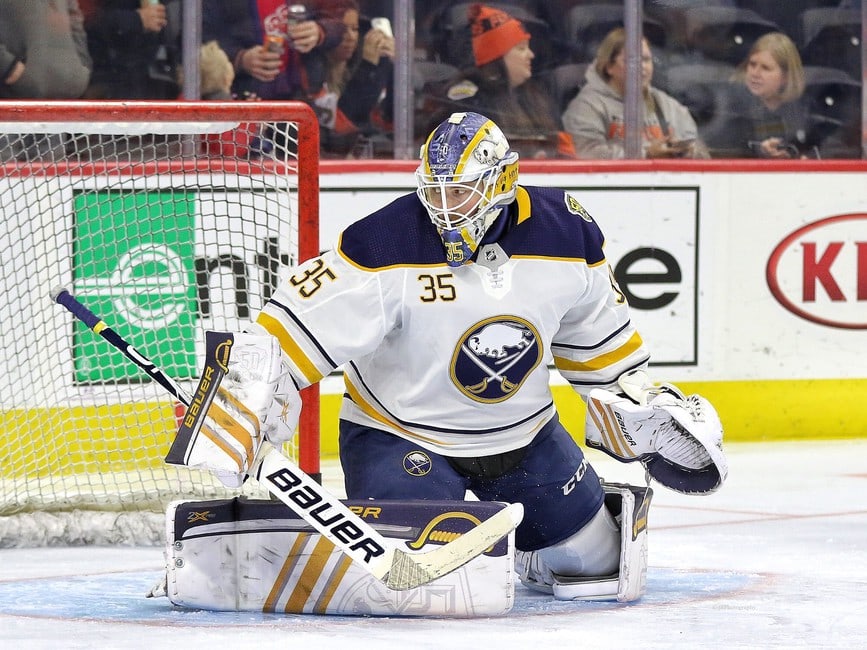 Ullmark is now is a 27-year-old goaltender who should be showing what he's made of in his prime. Could he eventually meet expectations? Possibly. But he hasn't, and patience is fleeting among the fanbase. The Sabres need to compete now and Ullmark isn't the piece to do it.
Creative Solutions For Hutton
There are many goaltenders on the market this offseason. On top of the crop of unrestricted free agents, many teams are rumoured to be open to making moves to fit under the flat salary cap or in preparation for the expansion draft in 2021-22 for the Seattle Kraken.
The first piece of business will be finding a way to move on from Hutton. One option for the Sabres is to buy him out. This will lower his cap hit from $2.75 million for one season to $916,667 for two seasons. This option is simple and helps the organization move on from him effectively. The unfortunate part is the cap hit that lasts two more seasons.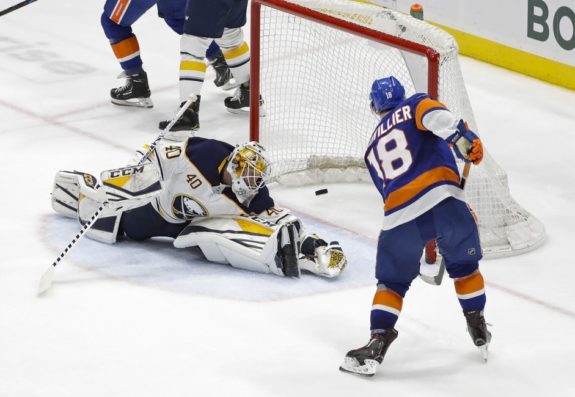 The second option is to bury his contract in the AHL. This will not eliminate his cap hit, but it would be $1.675 million for next season. This isn't the greatest option. Although he moves on from the team and the cap hit is lower, some players, including Hutton, may be disgruntled that a popular teammate is now riding buses with the Americans. The fact that he would still be so close to the big club could also be an unnecessary distraction.
The ideal scenario would be to find a team willing to trade a late-round pick to take Hutton's full contract and hope for a bounce-back season. The San Jose Sharks might consider him an inexpensive backup. Maybe the cap-strapped Ducks would move a player like Danton Heinen – who has a similar cap hit to Hutton – for Hutton to fill a positional need without changing their salary? Would Detroit Red Wings GM Steve Yzerman be interested in bringing in Hutton and a defensive prospect like Casey Fitzgerald to play one season when they aren't expected to contend?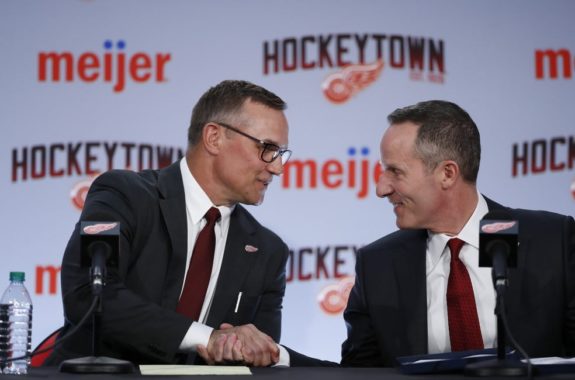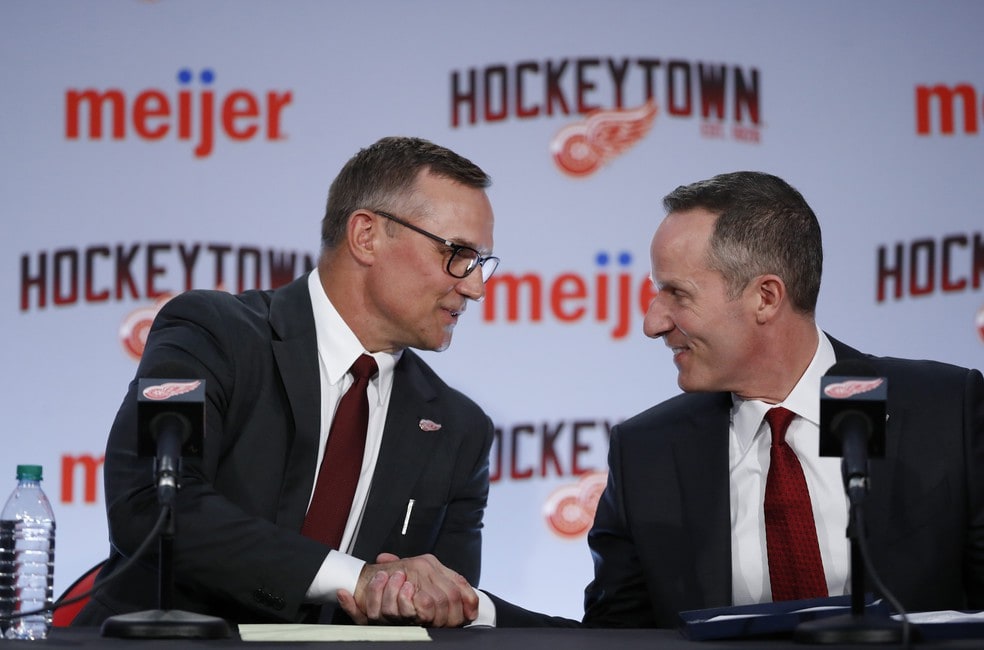 The fact that Adams completed the Staal trade seemingly out of nowhere shows that he can think outside of the box. Perhaps he can sell Yzerman on the idea that Hutton needs a fresh start and will be an excellent teammate on a struggling young team. Adding a defensive prospect like Fitzgerald will help the Red Wings fill an area of need while not affecting the Sabres pipeline as he doesn't look to be a big part of their future plans.
This last option will take some creativity and more work than the first two, but finding a trading partner can be done. It removes a possible distraction while respecting a league veteran.
Move Ullmark For an Upgrade
The Arizona Coyotes are in a difficult situation. They have just over $1 million in cap space for next season with three restricted and three unrestricted free agents to decide on. Additionally, they have been handed a penalty for violating the combine testing policy and lost a second-round pick this season and a first-round pick next season.
New general manager Bill Armstrong has his hands full and needs to cut salary in a hurry. He has the luxury of having one of the top goaltending duos in the league with Darcy Kuemper and Antti Raanta, yet rumours have speculated that both goaltenders have been made available.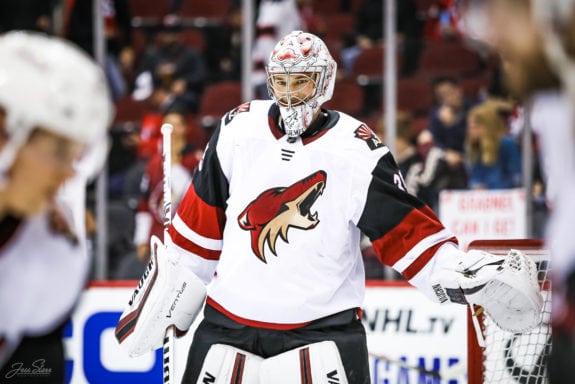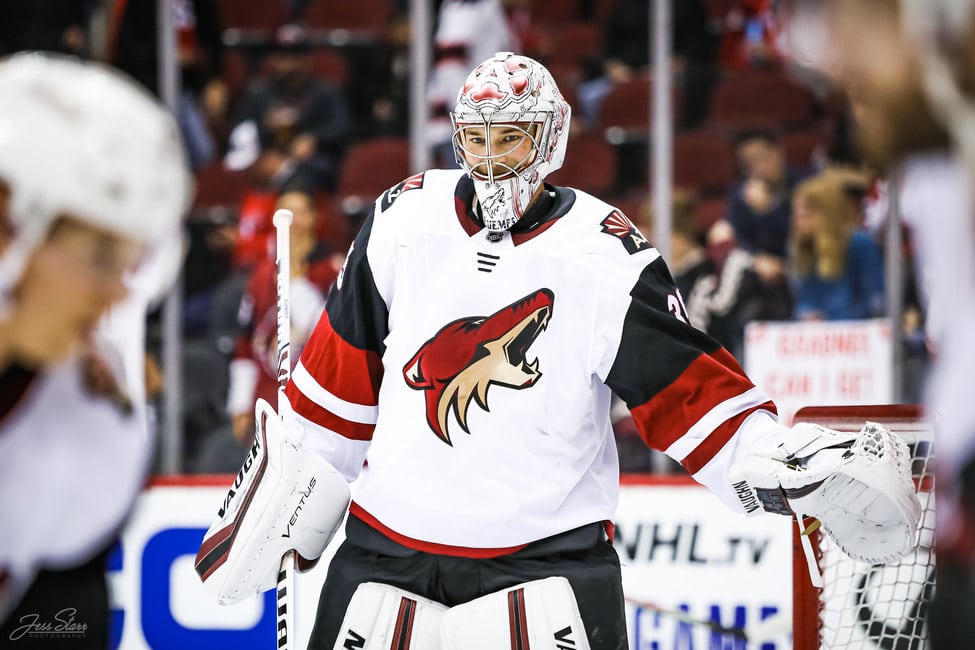 If the Sabres have even a remote chance at acquiring Kuemper, they need to explore it. He has been one of the best goaltenders in the league over the last couple of seasons. Last season, he ranked fifth in the league with a 0.7dFSv% and second with 8.71 GSAx. He is an excellent goalie who outperforms according to expectations and would be the perfect piece for the Sabres to acquire.
In return, management could offer their second-round pick this season, 38th overall. It's a high price to pay, to be sure, but adding an elite goalie who is signed for two more seasons at $4.5 million would be worth it. The price would also give the Coyotes a pick they had lost. However, it's more likely a contending team or a team with multiple first-round selections may be more willing to part with a high draft pick.
Even if Kuemper is traded elsewhere, the Coyotes will still need to shed salary, in which case, the Sabres could make a push for Raanta. Trading both goaltenders may seem far-fetched, but the Coyotes can replace him with a cheaper veteran. Buffalo could trade the rights to Ullmark for him in a deal that would help both teams.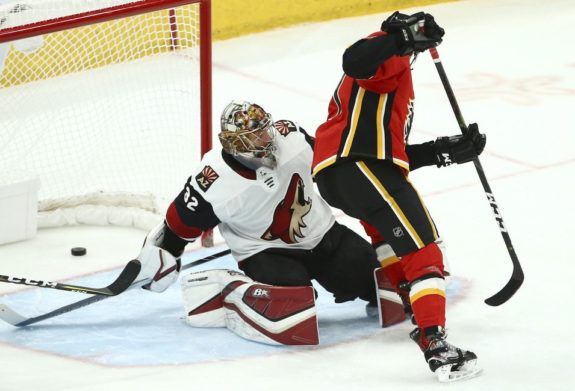 This would bring the Sabres a proven veteran goaltender who can produce. Raanta was 10th in the league last season with a 0.4dFSv% and 11th with 5.64 GSAx. While he's not elite like Kuemper, he still has proven that he can exceed expectations and propel a team forward rather than drag them down. The main concern is his injury history. However, if the Sabres use a platoon system, the risk for one season at $4.25 million is minimal.
For the Coyotes, they will get to replace an older, expensive goalie with a younger, cheaper option. Ullmark requires a new contract and should be paid under $3 million. Perhaps they see potential in him and feel they can extract more than the Sabres could. The deal would save them another $1 million or more and they would have a piece for the future.
Moving Ullmark may not feel like a strong move, and maybe in the next five seasons, it will prove not to be. At this stage, the Sabres need to build a winner now. They can't afford to wait two or more seasons to find out what they have in him. If they can add a proven netminder like Raanta, they should do it.
Finding the Lead Goaltender
To this point, the Sabres have unload Hutton and brought in Raanta in exchange for Ullmark. As stated, Raanta's injury history means that he can't be relied on for 50+ games. The team will need to find their lead goalie who can play more often.
The Colorado Avalanche are rumoured to be moving a goaltender. Pavel Francouz would be the perfect running mate for Raanta to bring the Sabres the success they have strived for.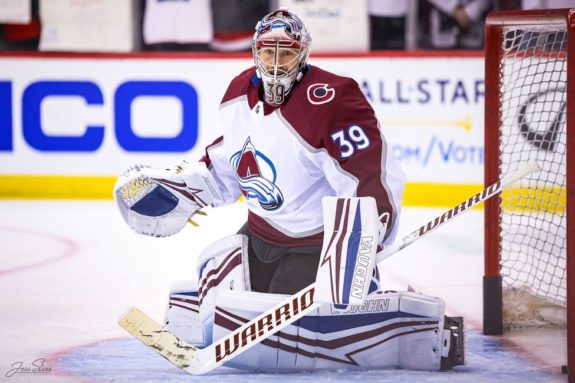 Francouz is a 30-year-old netminder from Plzen, Czech Republic. He is considered a late-bloomer; never drafted, he spent five seasons in the Czech league and three in the KHL before signing with the Avalanche. In his first full season in Colorado in 2019-20, he played in 34 games, collected 21 wins and had a .923 save percentage.
He was also 17th with a 0.21dFSv% and 18th with 2.68 GSAx. Although he played for a very strong Avalanche team, he was a key contributor to their success and was arguably stronger than his partner Philipp Grubauer who finished 31st in each category.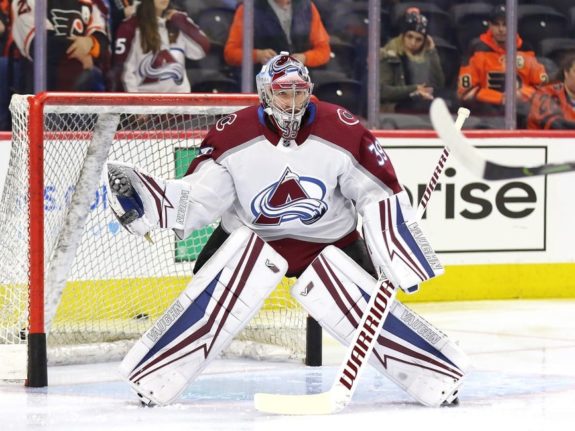 Francouz is signed for two more seasons at $2 million. The main reason the Avalanche would move on from him was his lacklustre performance during the Return to Play, with two wins, four losses and a .892 SV%. If they are looking to shake things up, the Sabres should be first in line to make the move.
If the Sabres need to move their second-round pick for Francouz, it would be difficult but a price they should pay. The team's goaltending has been that bad. Francouz would provide the club with an opportunity to have a solid option in net for the next couple of seasons as they wait for Ukko-Pekka Luukkonen to take over. Or, perhaps they would find a diamond in the rough with Francouz. It wouldn't be the first time they've found success with late-blooming Czech goaltenders wearing No 39.
New Goaltending Outlook
With Raanta and Francouz in the fold, the Sabres would be strong in net for years to come. Next season, they would have two above-average to nearly elite goaltenders for a total of $6.25 million against the salary cap. That's only $2.175 million more than they spent on their dysfunctional duo in 2019-20.
These moves would also allow Luukkonen to use the upcoming season to hone his craft with the Americans. At the end of next season, management would have the opportunity to decide what they want to do with Raanta. Perhaps he's a great fit and he's re-signed. Or maybe they decide to move on. The flexibility is an added bonus to his record of play on the ice. Bringing in a goaltender with only one season remaining makes sense for this team, as having more long-term commitments could leave them hamstrung in the next couple of seasons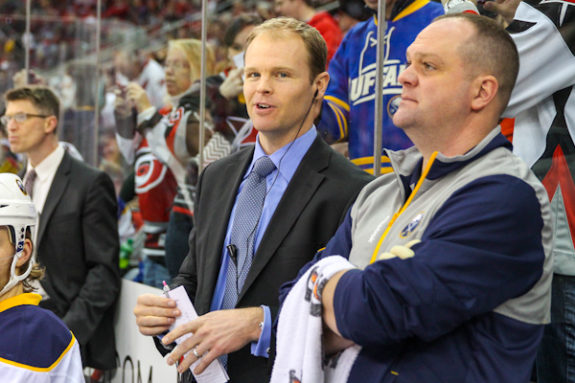 If Luukkonen blossoms in the AHL, the Sabres could take a good season from Raanta, promote Luukkonen and then have a season with a goaltending duo making less than $3 million combined in 2021-22. With a flat salary cap, such an option is enticing. Trading for him also makes more sense as they can get an idea of how well he works with Krueger's system before making any kind of longer commitment they would have to give a free agent this offseason. It's a one-season trial without a prohibitive cost.
Related: One for the Ages – Tom Barrasso's 1983-84 NHL Season
The possible future of Sabres goaltending looks strong. The immediate future leaves much to be desired. Time and effort has gone into building the forward ranks and solidifying the defence. While there is still work to do, goaltending is the next most glaring need. With an active offseason, Adams can overhaul his goaltending and get his team moving in the right direction – now and for seasons to come.
---
---