Now that another Buffalo Sabres season is finished – and mercifully so – many are now conducting an autopsy of the past few months. To be sure, there was certainly more bad than good. Extending your franchise record non-playoff streak to nine seasons at a time when over 77 percent of teams made the postseason (not a typo), is something only this franchise can pull off.
While the wounds are still somewhat fresh, let's look under the hood to see what went right, what went wrong, and why. We will do this by looking at individual performances on the team on offence and defence as well as on special teams. We'll use stats from Evolving-Hockey.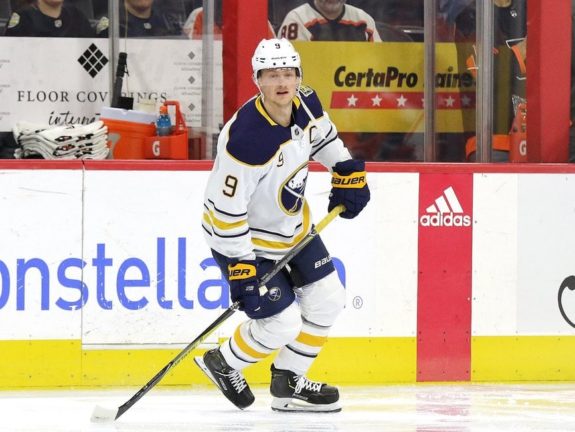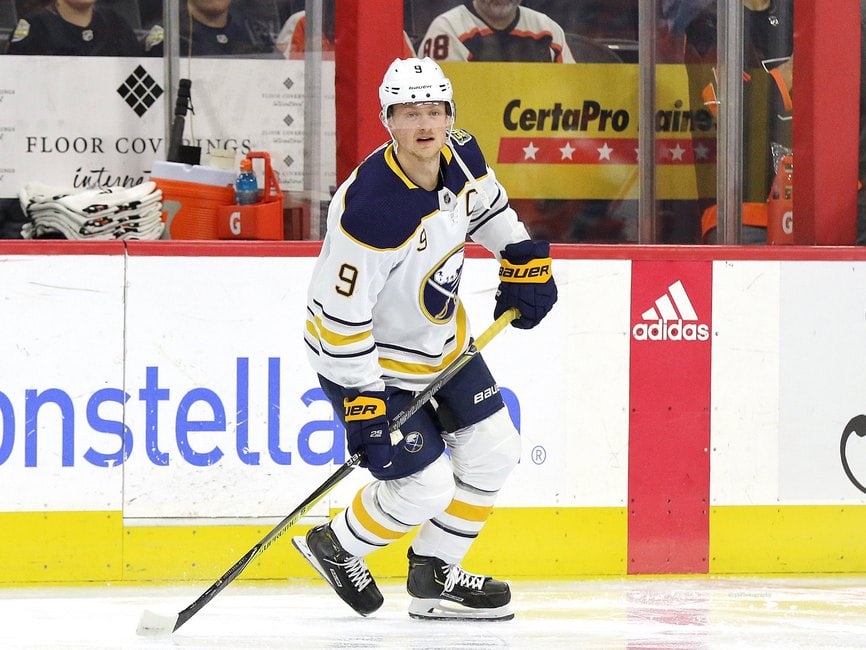 In these kinds of exercises, context is important. That being the case, we will assess forwards and defencemen based on the following on-ice stats: goals for and against (GF/GA), shots for and against (SF/SA), shot attempts for and against (CF/CA) and quality of scoring chances for and against (xGF/xGA). Players will be examined at even-strength and on special teams. At even strength, players will need to have played at least 300 minutes and on special teams at least 50 minutes. All stats will be score and venue adjusted. This will give us a good body of work.
We will look at the top five forwards in each category and award points based on where they finish (first is five points, second is four points, etc). We will also be looking at what they accomplished for every hour they were on the ice to help us see which players made the strongest impact. This can help us get an idea of which players were the most effective in different situations and how they compare to their teammates. Without further adieu, let's dissect this thing and see what we have here.
Strongest Offensive Forwards
After reading this heading, you may feel like reading this section is a waste of time. Jack Eichel is the Sabres' offence. And to be honest, the numbers bear this out, too. But before you scroll on, there are a couple of interesting trends that appeared this season.
Even Strength
First off, at even strength, Eichel led all forwards in this assessment of the four categories with 15 points, followed by Jeff Skinner (12), Conor Sheary (10), Sam Reinhart (8), Evan Rodrigues (5), Victor Olofsson (5), Jimmy Vesey (4) and Marcus Johansson (1).
It's interesting to note just how strong Sheary was this season. When he was on the ice, the team had it's strongest ability to create quality chances. Unfortunately for him, he ranked ninth on the team in total ice time. Perhaps if he had been used a little higher in the lineup, he could have seen an improvement in his stats and the Sabres could have seen a marked increase in offensive production.
Eichel's strongest contribution was in goal-scoring. His on-ice 3.14GF/60 was the top mark on the team. In the league, however, Eichel ranked 65th. Given the amount of time he was on the ice at even-strength, he produced offence at a low-end top-line rate. That may seem disappointing, but when you look at what he did to get there, it's astonishing.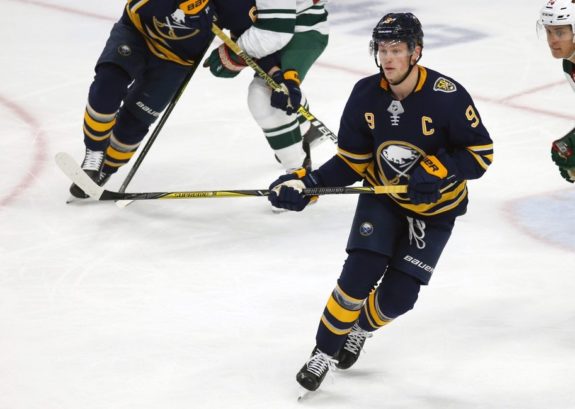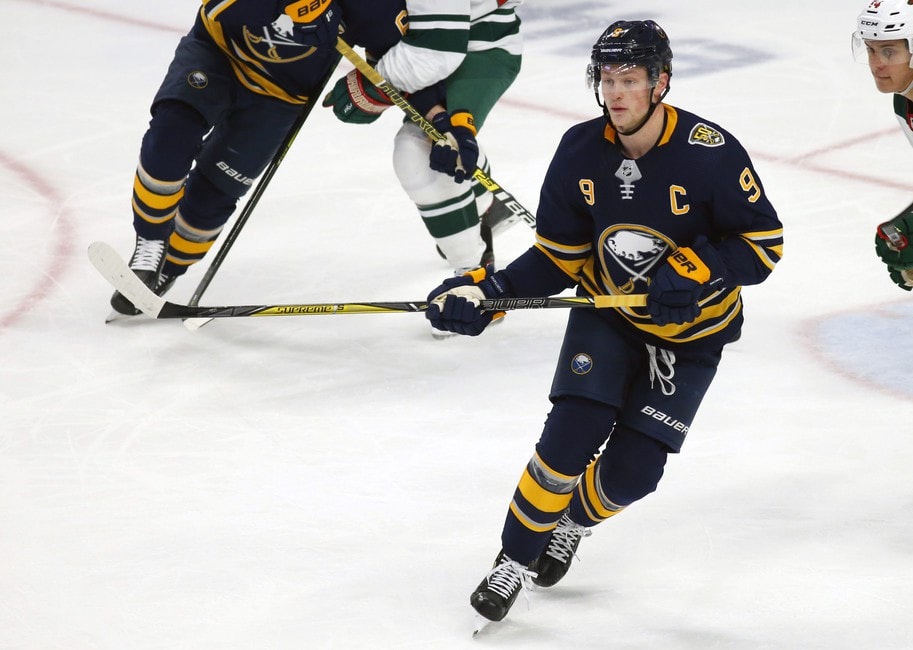 Skinner led the forward group in shots (30.31SF/60), Eichel led in shot attempts (54.3CF/60) and Sheary led in quality of chances created (2.29xGF/60). In terms of league rank, these stats saw them finish 213th, 231st and 241st. Most people can't even name that many players never mind rank them ahead of your $80 million player.
What these numbers show is that to be a leading producer on the Sabres, you need to average out at a third-line player on most teams. And to be clear, I don't believe the blame lies solely with the players in these stats.
When it comes to getting shots on net, sure, the players need to be stronger. Spend some extra time after practice perfecting your craft and just be better. When it comes to shot generation and placement, however, much of the blame must fall on the coaching staff.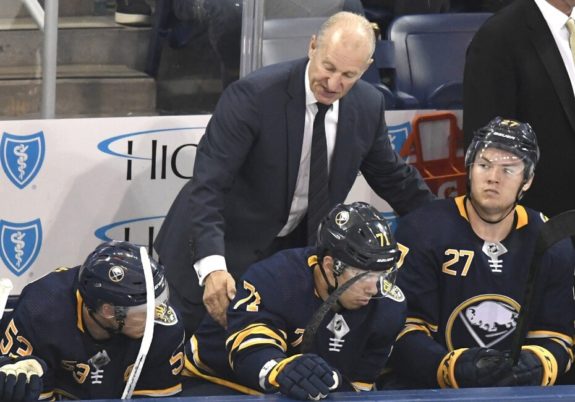 Ralph Krueger was lauded as an excellent leader and communicator when he was hired by the Sabres. I don't disagree with those sentiments. He's an engaging speaker and no doubt very motivating. The bulk of his coaching career, however, has been spent with teams that are less skilled. Terms like 'pesky', 'scrappy', and 'hard to play against' that described his teams can normally be exchanged for 'less likely to go bar-down'. They had to rely on taking fewer chances and playing a more sound defensive game.
The numbers show that Krueger was attempting to go all Austrian-National-Team on the Sabres this season. That needs to change. Eichel and Skinner are elite offensive talents and Reinhart and Olofsson show great promise of being contributors. When they are being coached to play like third-liners, it's like asking Secretariat to haul a load of hay to the barn. Could he do it? Sure. Is that what he's meant for? Heck no.
The fact that Eichel ranked 65th in output despite being coached to play as a third-liner is astonishing. This guy is special. Let him do what makes him special. Leave the hay hauling to the experts and let him, Skinner and Reinhart rip around Belmont Park. If Krueger wants this group to find success, he needs to do a better job of assessing their strengths and leveraging those strengths into goals.
Power Play
The power play saw an interesting shift in our points system. If you had to guess who the most important forward on the power play was, who would you guess? Eichel? Incorrect. Olofsson? Nope. Appraising players by the same four categories, they finished Reinhart (18), Eichel (16), Olofsson (12), Skinner (9), Johansson (4) and Casey Mittelstadt (1).
Reinhart jumped from fourth-most points at even-strength to first on the man advantage. Olofsson led in goals (7.67GF/60), Reinhart in shots (53.08SF/60), Eichel in shot attempts (95.45CF/60) and Reinhart in quality of chances created (6.21xGF/60). These numbers look much stronger. Surely they must be better than even-strength.
There were 252 players in the NHL that spent at least 50 minutes on the man advantage. The Sabres' leaders in these categories would rank 100th, 138th, 126th and 166th.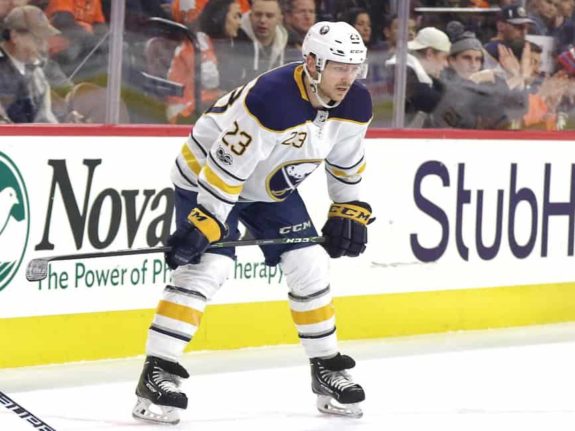 Again, to be a leader in production on the Sabres' power play, one needed to be little more than a middle-of-the-pack performer in the league. The frustration lies in the fact that the power play does not consist of middle-of-the-pack players.
On top of Eichel, Reinhart and Skinner, the Sabres also boast a hired gun in Olofsson. Olofsson will never win the Selke Trophy and is certainly not a complete player. He possesses an elite shot, though, and is an absolute weapon on the man advantage. The fact that his goals per hour were the highest-ranking league stat on the team confirms it.
It doesn't take a rocket scientist to figure out what was wrong with the Sabres' power play. They found success early with bombs from Eichel and Olofsson but went back to the well too many times without creativity. All too often, the puck would be pushed to the point when those options were not available, leading to a much less dangerous chance.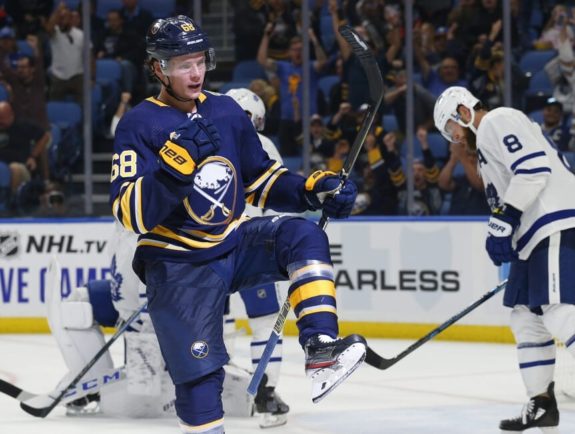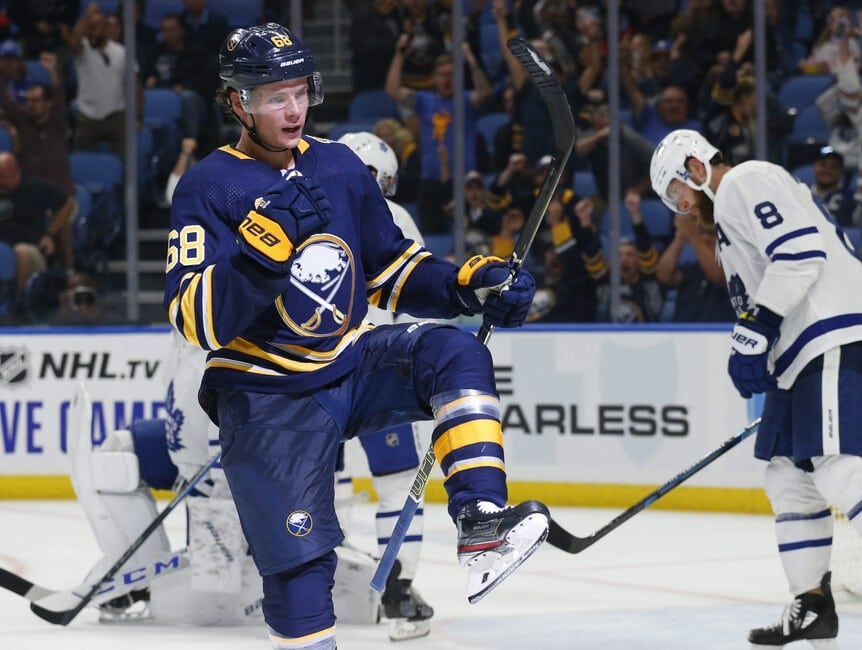 The players would pass too much, leading to significantly fewer shots (leader ranking 138th in the league). Then, when they would finally decide to shoot, it would be from a terrible position (leader ranking 166th in the league).
This one is not on general manager Jason Botterill. It's not on the players. It's on the people telling the players what to do. While they certainly need more depth in the lineup, the Sabres should be able to take on anyone on the man advantage given the personnel they have. There is no excuse that this should not be a top-5 power play in the league – or, at the very least, top-10.
Krueger and his staff (who are all returning) need to go back to the drawing board on this one. They need some more creativity. When Eichel and Olofsson are able to bomb away, beautiful. When they're not, you need to have a better backup plan than simply 'pass it until they are open'. With the dynamic arsenal they have at their disposal, they need to look at driving more play from down low and getting more pucks in front of the net.
Top-5 Offensive Forwards
In the end, the best offensive forwards when you combine even strength and power play are not that shocking. Using our point system, the top-5 were Eichel (31), Reinhart (26), Skinner (21), Olofsson (17) and Sheary (10). The numbers and the 'eye test' really meet up in this regard.
What is obvious here is the lack of depth. The fact that the difference between first and third is 10 points shows that the Sabres need more offensively skilled players to push the envelope and create better chances.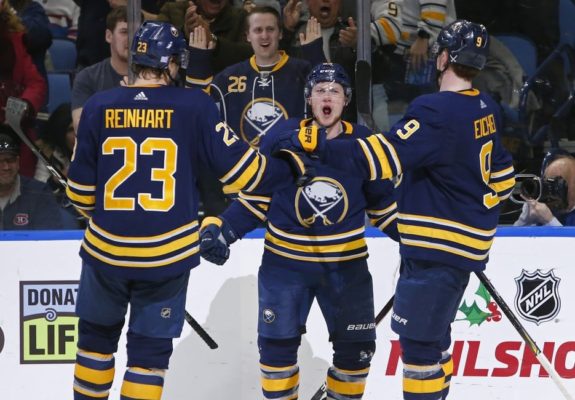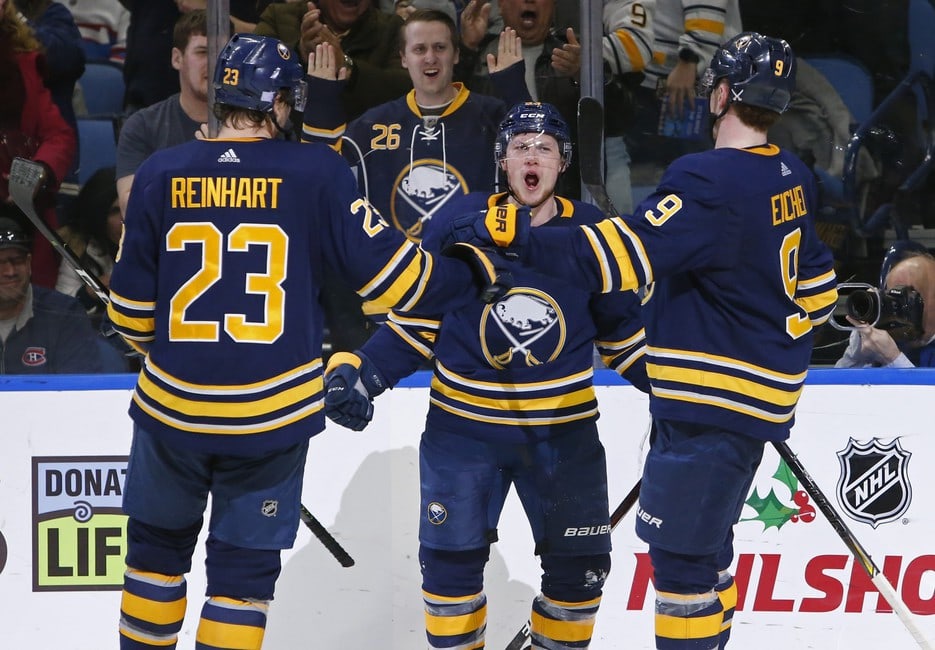 At the same time, players need to be leveraged and used in roles where their strengths will blossom. This isn't Team Switzerland. There is some serious skill at the top end of this lineup and it needs to be used that way. Unfortunately, with the way this team was 'designed', not everyone is equal. There is absolutely a hierarchy and those few skilled forwards they have need to play a system separate from the depth of the lineup.
Add more skill to your lineup and opportunities will open up for the top-line players to flourish. Not adding is not an option at this point. A lot of jobs are on the line. It's imperative that Botterill builds on the offensive foundation he has here.
Strongest Defensive Forwards
Like Strongest Offensive Forward, the defensive side of the offence feels like a runaway victory. For fans who trudged their way through the season with this team, they became enamoured with the line of Johan Larsson, Kyle Okposo and Zemgus Girgensons affectionately known as the LOG line.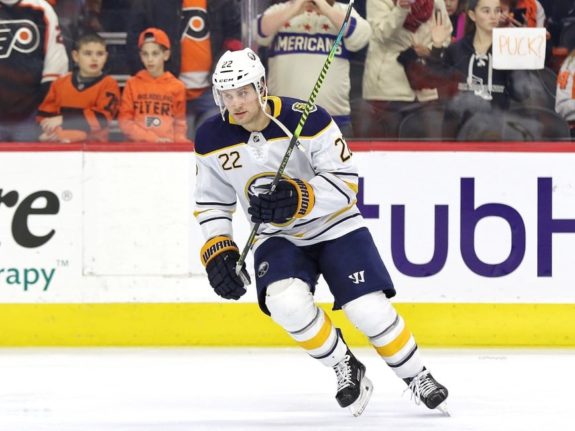 Sure enough, when assessing the same four categories at even strength and on the penalty kill, it was a member of this line that came out as the strongest performer on the defensive side of the puck. Again, some strong performances emerged from this investigation as well as some insight into the coaching methods this team is using.
Even Strength
To begin, no one will be shocked by how the players ranked in our points system based on their defensive play at even strength. Okposo led the way with 17 points followed by Larsson (13), Girgensons (11), Curtis Lazar (9), Jimmy Vesey (6), Sheary (2), Eichel (1) and Reinhart (1).
The LOG line certainly was dominant at controlling the puck whenever they were on the ice and that is clear to see in these results. As a team, Vesey led in suppressing goals against (1.92GA/60), Lazar led in limiting shots against (26.22SA/60), Okposo led in limiting shot attempts (46.13CA/60) and quality against (1.79xGA/60).
What's particularly encouraging is where these numbers have them sitting in the league. Those stats would rank 62nd, 25th, 3rd and 10th in the NHL. There were some elite defensive performances put up by this roster this season.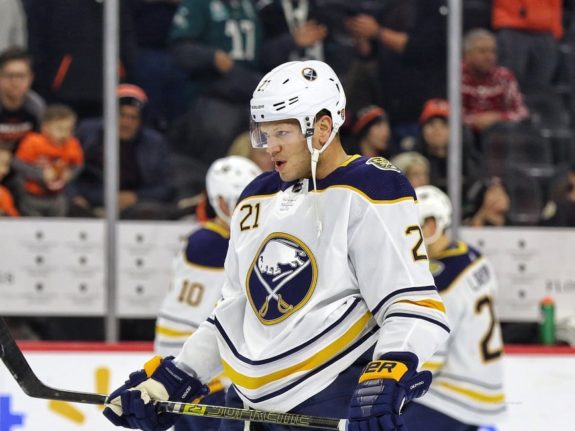 What's more encouraging is that there is still room for improvement. The leaders on the team limited scoring opportunities at a stronger rate than the goals against would tell. Should a stronger solution be found in goal, the results portion of these stats could begin to more closely mirror the process portion.
What Krueger did with the forward group from a defensive perspective was solid. In particular, the personnel that he had makes it a little more impressive.
Lazar, Vesey and Okposo are players who were more lauded for their offensive contributions earlier in their careers. As the offence began to dry up, they could have easily been relegated to relatively useless roles that would have seen them continue to play the style they prefer, albeit less effectively.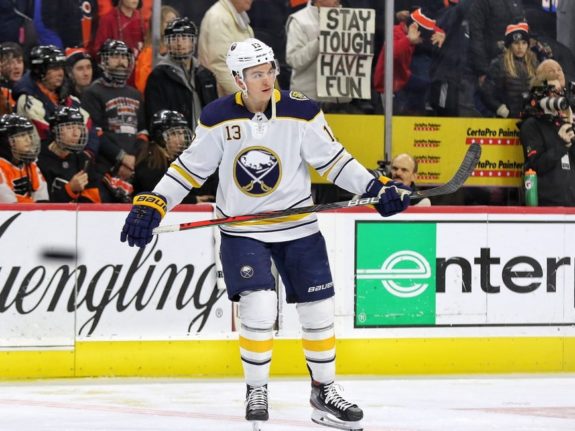 Instead, Krueger and his staff were able to get these once offensive players to get out of their comfort zones and try something new. When they did that, they were able to develop a style of game that was effective in many ways and elite in others.
In Vesey's case, the only situation where he excelled was in simply not having goals scored against while he was on the ice. In the other three categories, he only finished in the top-5 one other time, placing fifth in quality of chances against. His success was great but the process he took to get there is questionable. Is such a performance repeatable for him?
In terms of the rest of the lineup, the Sabres look to have three elite defenders and another very good one. The LOG line finished in the top-5 of every category and was top-3 in suppressing shot attempts and quality of chances. Lazar was top-5 in four categories in addition to his strong faceoff play.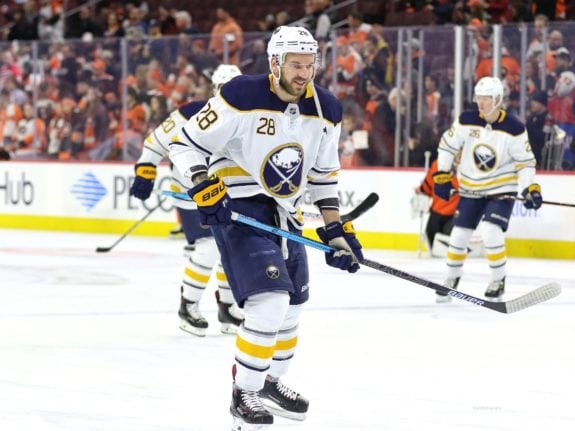 This is one instance where Krueger and his staff played to their lineup's strengths. Going all Austrian-National-Team on the bottom half of your lineup is certainly not a bad thing. They were able to own puck-possession and eliminate opposing chances. At the same time, Girgensons and Larsson were having some of their strongest offensive campaigns when the season ended.
This was something they had that was working. It should not be changed. What the Sabres did from a defensive perspective with the depth of their lineup should look to be repeated next season.
Penalty Kill
The penalty kill is an area where we saw the possible emergence of a defensive star. Okposo did not qualify to be judged as he spent less than six minutes killing penalties. More on that later.
Let's play this game again. Who would you guess was the Sabres' most important forward on the penalty kill. Larsson? Incorrect. Girgensons? Nope. The most important player in this assessment didn't finish the season on the team. He didn't even finish the season in the league.
Rasmus Asplund led penalty-killing forwards with 18 points followed by Vesey (13), Larsson (12), Girgensons (9) and Lazar (8). Lazar finished first in minimizing goals against (6.19GA/60), Asplund in lessening shots against (52.76SA/60), Vesey in shot attempts against (90.26CA/60) and Asplund again in mitigating quality against (6.4xGA/60).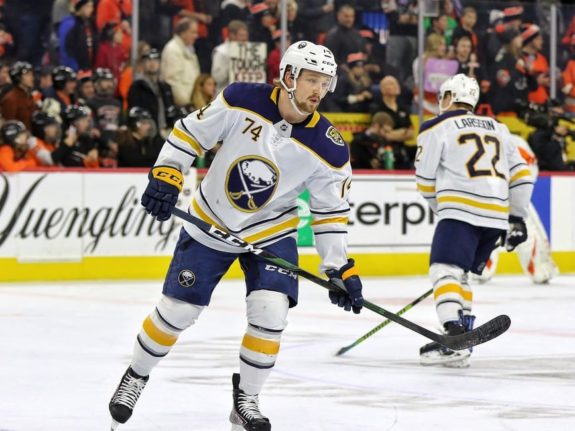 Of the 164 forwards that spent 50 minutes killing penalties, the Sabres' stars ranked 66th, 87th, 60th and 73rd. Certainly not terrible but also not as effective as they were at even strength.
The rarely heralded Asplund was a very bright spot for this unit. Although the team gave up the second-most goals per hour in the league when shorthanded, he did his part to keep them out of last. He finished top-2 in each of the four categories we looked at as a rookie. That gives us some hope.
The problem with this is that the system they are running on the penalty kill is obviously not working. Again, this blame can't all go to the players. They are effective at even-strength but are not being told to run the proper system to effectively kill penalties. With the same coaching staff returning next season, will we see the required changes to help them be successful?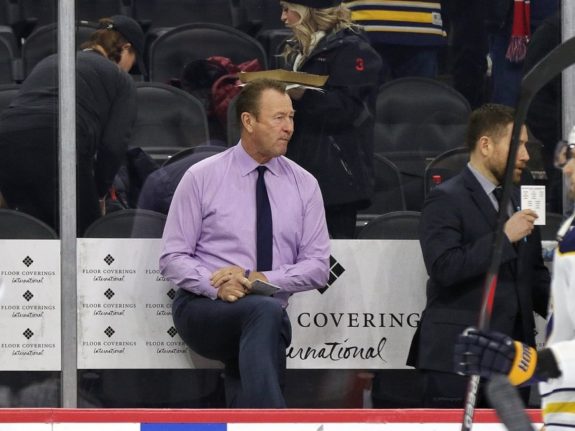 Digging into these numbers also opened up some questions. Should Okposo be used more on the penalty kill? He was a defensive juggernaut at even-strength this season but had the 10th-most ice time among forwards. Could he be given some more responsibility and translate some of that success to the penalty kill?
What should be done with Jimmy Vesey? He offered little in the way of offence and not much even-strength defence but was admirable on the penalty kill. He was the second-best forward on the team in this exercise. Is he worth re-signing in hopes he can build off his success on the penalty kill and translate it into more offence and stronger defence? I find that hard to believe.
What can be done to help Asplund flourish? He was very effective when killing penalties but nearly invisible at even-strength. Is there a better deployment or opportunity that can help him succeed? He had the least amount of ice time among forwards this season and did little with it. It will be up to Krueger and his staff to find a way to utilize his skillset properly.
Top-5 Defensive Forwards
The top-5 defensive forwards were less predictable than the offensive forwards. Combining even-strength and penalty kill, the forwards finished Larsson (25), Girgensons (20), Vesey (19), Asplund (18) and Okposo and Lazar tied (17).
The LOG line wasn't a huge surprise here. I don't think I would have predicted Asplund and Lazar being as impactful as they were. I know I didn't think Vesey would finish as strong as he did either. The price Vesey had to pay was his offence which was completely obliterated by his defensive deployment.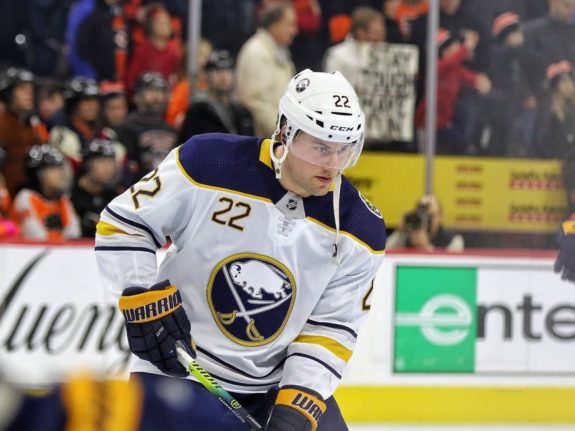 The structure and utilization of the lineup seem stronger from a defensive perspective than an offensive one. That's an understatement. There was one elite offensive contributor without much support and a solid group of defensive forwards who left their egos at home and went to work.
That's really the true calling card of a Krueger-coached team. They believed in the philosophies and found success in mitigating the opponent's offensive attacks. Bringing back Larsson and Girgensons next season to further build on the defensive prowess they displayed this year makes total sense.
Sabres Top-5 Forwards
This extensive exercise has shown us much. It has helped explain some of the deficiencies we witnessed on the offensive side of the puck. It's clear that the coaching staff was ill-prepared to help push the high-end players in this lineup to produce to their full potential. While that is concerning, it's also encouraging considering the seasons that Eichel and Olofsson had.
This deep-dive also highlighted the strength of this coaching staff. They took the bottom-six and turned them into solid defensive contributors. The catch is that most of them had to sell their soul to Ville Leino and pledge to rarely put a puck in the net.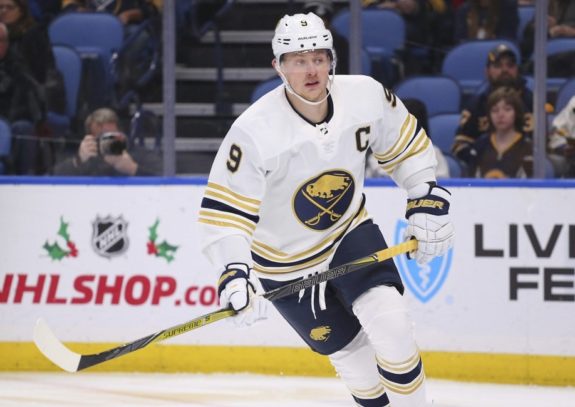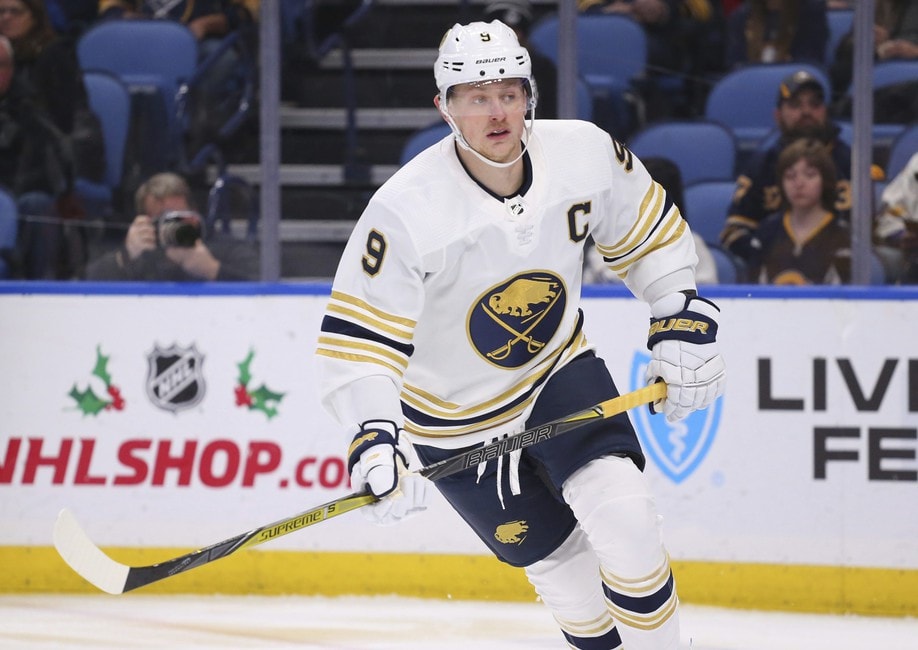 Combining the scores from all categories over all situations, we have the definitive list of the Sabres top forwards. The top-5 were Eichel (32), Reinhart (27), Larsson (25), Vesey (23) and Skinner (21). That Vesey made this list is really quite something.
This exercise is by no means the be-all-end-all determination of quality Sabres. What it does though is help break things down situationally to see where each player lies. I, for one, was ready to just let Vesey leave. I didn't see nearly enough from him. His strength on the penalty kill may give him some value to the Sabres – at a greatly discounted price, of course.
Asplund's inability to put the puck in the net gave me the feeling that he would not amount to much in the NHL. He too showed great ability on the penalty kill. It will be crucial that this coaching staff find a way to use him effectively.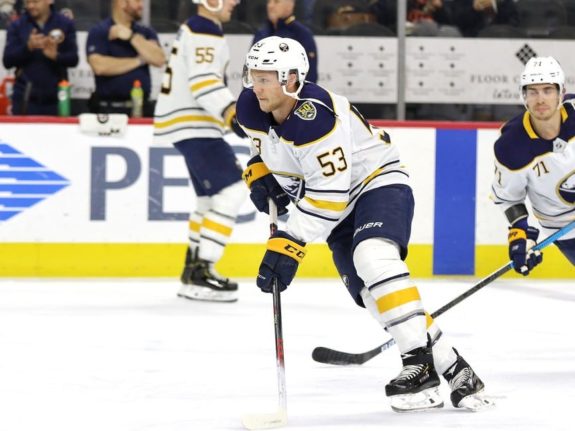 As tough of a season as Skinner had, it's encouraging to still see that he was having an impact on creating offence. I'm not interested in paying $9 million a season for someone who only looks good with "fancy stats" but the fact that he did have a strong season in that respect leads me to believe he can bounce back with a little help. Make no mistake, this was a bad season for him. Still, there's a light at the end of the tunnel.
Finally, Larsson needs to come back next season. I was of the belief that he should be moved on from simply to help change the lineup a bit, to give a fresh face and a reinvigorated attitude. This could not be further from the truth. The Sabres should be able to bring him back at a reasonable cost and will get good bang for their buck. It's imperative that he is re-signed.
Coaching Critical to Improvement
Botterill shares a bulk of the blame for the Sabres' poor offence in the last few seasons. His inability to bring in depth skilled forwards has crippled this team and caused them to spin their tires on their quest for relevance.
Botterill can bring in all the skilled forwards he wants. But if they are being coached to dump the puck in or play a conservative, low-risk style, they will never realize their full potential on the scoresheet.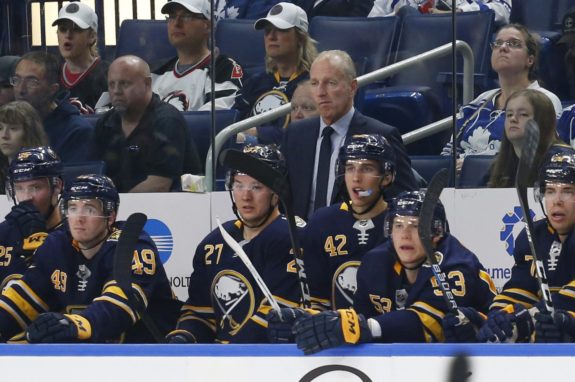 The Sabres will have nine months or more between games given the pandemic we are currently facing. The players will be stewing and channelling that anger toward making a difference next season. Botterill will be (or at least, should be) working towards adding skill to this lineup. The Sabres could really use a player or two that could be in the running for both offensive and defensive player of the team (see Ryan O'Reilly). The group with potentially the most work, though, could be the coaching staff.
These months will be critical to Krueger and his staff growing as a group. Hammering the same message into the lineup when the puck drops will not be enough. They need to go back to the drawing board and reassess their approach to offence from the forward position.
If the coaching staff can improve the offence at even-strength and overhaul their approach to special teams, there could be hope for next season. There are important pieces in place and players that can be effective when used properly. Let's hope they can get things figured out and produce a season worth remembering for this fanbase.