Ukko-Pekka Luukkonen is the Buffalo Sabres' goaltender of the future. The 21-year-old prospect was a second-round pick (54th overall) by the Sabres at the 2017 NHL Entry Draft and split time with the AHL's Rochester Americans and ECHL's Cincinnati Cyclones this season. Currently on loan to HC TPS in the Finnish Liiga, it is expected that Luukkonen will return to North America and suit up for the Americans again when the AHL returns to play for the 2020-21 season.
Related: Sabres With 100-Point Seasons
Even at such a young age, the Finnish goaltender has already compiled an outstanding list of accolades, including three international medals (two golds, one silver), while also becoming the first-ever European to win the Red Tilson Trophy in 2018-19 as the OHL's Most Outstanding Player of the Year in his first season of North American hockey. Additionally, he represented the Cyclones at the 2020 ECHL All-Star Classic as a rookie. Needless to say, the future looks very bright for Luukkonen as the Sabres' soon-to-be franchise goaltender.
An International Hero, Two-Time Gold Medalist At 20 Years Old
Luukkonen won his first gold medal just a month after turning 17 years old while competing for Team Finland at the 2016 IIHF World U18 Championships. He was called in as the starting goaltender after Leevi Laakso was ruled out due to illness and went undefeated (3-0-0) with a .917 save percentage (SV%), leading Finland to their first gold medal in the tournament in 16 years. The following year, he won a silver medal at the 2017 IIHF World U18 Championships.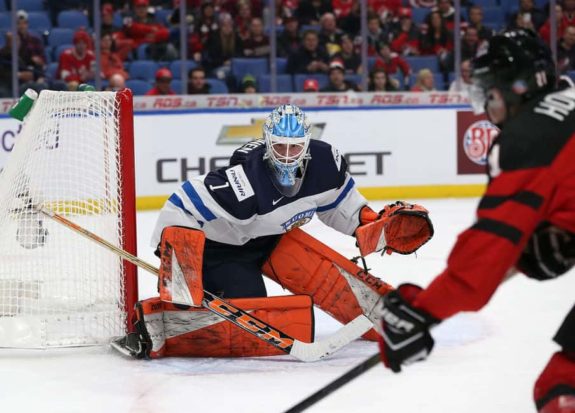 The young Finnish goaltender brought home his second gold medal at the 2019 World Junior Championships, recording an incredible .932 SV% and 1.80 goals against average (from 'Luukkonen wins world junior gold with Team Finland,' Sudbury Star, 01/05/2019). He was also named as the media's pick for best goaltender of the tournament. Akin to Sabres goaltending legends Dominik Hasek (Czech Republic) and Ryan Miller (USA), it seems highly likely that Luukkonen will also suit up for his country at the senior level and continue to lead Finland to international success for many years to come.
Four Years of Professional Experience
Luukkonen began his professional hockey career with HPK Hameenlinna in the Finnish Liiga during the 2016-17 season, playing in five games over the course of two seasons. In 2017-18, he signed with LeKi Lempaala in Mestis, the second-highest men's hockey league in Finland. In 24 games played, he recorded a .908 SV%, a very impressive feat for an 18-year-old goaltender playing against men. His first professional game in North America came with the Americans during the 2018-19 season when he posted a .941 SV% in a 4-2 win over the Belleville Senators (from 'Luukkonen's AHL debut is 32-save win for Amerks,' Buffalo News, 04/14/2019).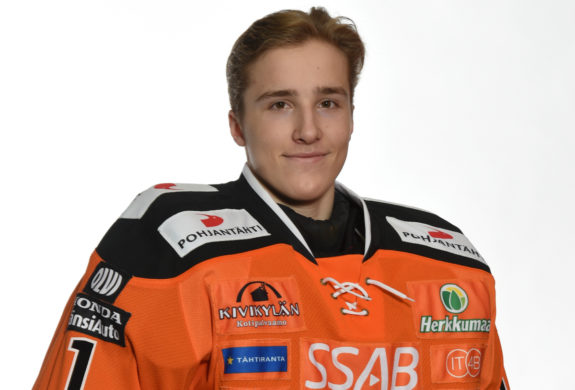 After recovering from a double-hip surgery, Luukkonen played his first season of professional hockey in North America between the Americans and Cyclones in 2019-20, putting up a .874 SV% in 10 AHL games and a .912 SV% in 23 ECHL games. Although he had weaker numbers with the Americans, he still showed lots of promise with the Cyclones, earning himself ECHL All-Star honours. With more than a year gone by since his major surgery, expect Luukkonen to return to full form with the Americans next season as he continues on his development path to NHL stardom.
Related: Sabres Jersey History
It may still be a couple more years before we see Luukkonen donning blue and gold full-time, but if all goes to plan, he may be next in line to someday join the likes of Hasek and Miller as one of the Sabres' all-time greatest goaltenders. The future of Buffalo's crease is in good hands.
---
---