What began as a quiet week for the Ottawa Senators following an eventful draft has begun to pick up leading into the weekend. In the past two days, the team signed one of the biggest free agents remaining and also re-signed a pair of crucial depth players. There's also been a flurry of activity in Europe, where several prospects have started playing their 2020-21 seasons. With the Senators selecting the third-highest number of players at the 2020 draft with 10, there are more prospects than ever to keep an eye on. Here are some of the most noteworthy stories from this week.
Item One: Stutzle to Undergo Surgery
After becoming the face of the franchise overnight, helped in no small part by the draft-day announcement by Jeopardy host Alex Trebek, the entire organization held their breath when it was reported that third-overall selection Tim Stutzle required surgery on his arm. The injury allegedly occurred during practice when he ran into an Adler Mannheim teammate during a one-on-one drill, fracturing his hand.
Thankfully, it doesn't look to be very serious. The surgery was scheduled for Thursday, Oct. 15, and has been reported to have gone successfully, and he is expected to miss eight-to-ten weeks, a quick recovery for a potentially devastating injury. Both Stutzle's agent and Mannheim's general manager don't expect this to hold back his development and have no concerns for the future. However, he will be unable to take part in training for the upcoming DEL season during his recovery. In three international U20 contests so far this season, Stuetzle had a goal and two assists.
Related: Senators Add Skill, Size & Grit on Day 1
It's still unclear whether Stutzle will be joining the Senators for the 2020-21 season. While Alexis Lafreniere, Quinton Byfield, and Tyson Foerster have signed their entry-level deals, Stuetzle remains under contract with Mannheim. Whether he has an out clause to come to North America when the NHL season starts is unknown. At the very least, he'll likely be a core member of Team Germany at the 2021 World Juniors in Edmonton.
Item Two: Olle Alsing Loaned to Graz99ers
With several European leagues having started their 2020-21 seasons, several NHL clubs have loaned their top prospects overseas to continue their development. Swedish defenseman Olle Alsing has become one of the most recent loans, joining the Graz99ers of the Austrian ICEHL. This will be his second loan; last season, he was loaned to the Swedish Hockey League's Djurgårdens IF club, where he scored 20 points in 36 games.
Alsing was signed as a free agent in May 2019 after putting up 15 points in 49 games, plus another eight in 18 playoff games with Djurgårdens, helping them to an SHL Final. He attended the Senators' development camp prior to the 2019-20 season but was returned to Sweden rather than assigned to the AHL. Although slightly undersized at 5-foot-11, he possesses an intriguing skill set that could see him in the NHL before too long.
The assignment makes Alsing the sixth Senators' prospect to be loaned overseas, joining Erik Brannstrom, Filip Gustavsson, Vitali Abramov, Lassi Thomson, and Filip Chlapik, and the first to be loaned to the Austrian ICEHL. Abramov and Thomson have been assigned to the Finnish Liiga, Gustavsson to the Swedish Allsvenskan, while Brannstrom is playing in the Swiss National League.
Item Three: Järventie Off to Hot Start
While it may have seemed to be a reach to take Roby Järventie with the 33rd overall selection at the 2020 Entry Draft, early reports could change that perception. Playing in Finland's Liiga, the teenager has a goal and four assists in five games. It's one of the hottest starts among teenagers in Finland's top league – Florida Panthers' first-round pick Anton Lundell also has four points (three goals and an assist), but has played two more games that Järventie.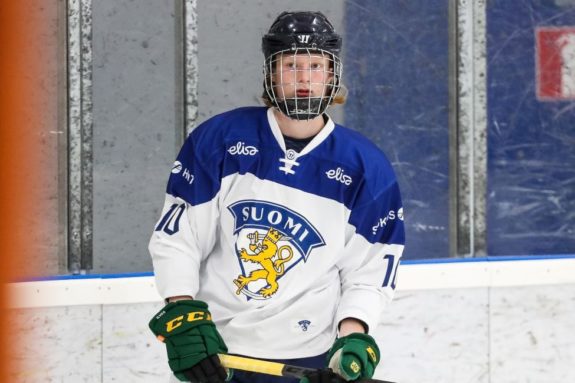 The Senators will have to wait some time before the goal-scoring winger comes to Canada, however. It's expected Järventie will spend at least two more seasons in Finland, as he just signed a one plus one year contract with Ilves. That will hopefully give him some time to round out his game and develop into a second-line, 30-goal threat in the NHL, which the Senators will need down the road.
Järventie is not the only 2020-drafted prospect to have a strong start to the 2020-21 season. Third-round selection Leevi Merilainen has already started six games in net and posted a 2.17 goals-against-average and a 0.917 save percentage with Kärpät U20. His performance has earned him a call-up to the Liiga parent club, giving him his first appearance in the men's league. Abramov, a 2016 third-round pick, also has had a hot start, scoring two goals in his first game with Jukurit.
Item Four: Melnyk Back in the News
Owner Eugene Melnyk is back in the news after filing a $500,000 defamation lawsuit against Rick Gibbons, a reporter for the Ottawa Sun. The lawsuit is in regard to articles published by Gibbons regarding the controversy surrounding Melnyk and the Ottawa Senators Foundation back in June 2020 and alleges that the comments made by the journalist damaged the Senators owner's reputation.
While the Ottawa Senators Foundation was not associated with the NHL team, they were under the same ownership group, Capital Sports & Entertainment, and have had close ties to the franchise. Several Senators' alumni have served as board members, which currently includes Brendan Bell and Tara Borowiecki, wife of Mark. It was founded in 1998 and focused primarily on supporting children and youth by providing them with access to sport, recreation, healthcare, and educational opportunities.
However, when Melnyk and the Senators asked the charity to take on other initiatives, specifically regarding Melnyk's own charity on organ donation awareness, they refused, opting instead to cut ties with the organization. They have since been renamed the Ottawa-Gatineau Youth Foundation. After the unexplained separation, some details emerged that caused some, including Gibbons, to question if there was more to the story than met the eye. Unfortunately, that seems to have landed him in hot water with the Senators owner.
Senators' fans are sadly not surprised with this latest interaction – last year, Melnyk was named the worst owner in sports thanks to a history of controversies dating back to 2003-04 when he purchased the franchise. Even the German media raised some concerns after Stuetzle was drafted (link is in German). Hopefully, this is sorted out soon, as the Senators may not be able to handle another long, drawn-out controversy.
Item Five: Dadonov Joins the Senators
Ending on a cheerier note, the Senators addressed their weakened offense and lack of depth on the right wing on Thursday, signing three-time 25-goal scorer Evgenii Dadonov to a three-year, $15 million contract. Last season, Dadonov scored 25 goals and 47 points in 69 games on an offense-starved Florida Panthers' squad. The season before, he had 70 points, a career-high.
The right-winger fills an immediate need for the team on the right side, replacing Bobby Ryan on the first line, who signed with the Detroit Red Wings this offseason. Dadonov also becomes one of the most talented offensive players in the lineup; no player surpassed 50 points in 2019-20, with the two highest totals coming from Brady Tkachuk and Connor Brown. The contract is far cheaper than many predicted, too, making this signing a big win for the Senators.
Nick Paul and Rudolfs Balcers also re-signed with the Senators this week; Balcers to a one-year, two-way deal valued at $735 000, and Paul to a two-year deal at $1.35 million per season. It's Paul's first one-way deal and well deserved after recording a career-high 20 points last season. His rights were acquired in 2014 from the Dallas Stars in the Jason Spezza deal. Balcers also had a career year in 2019-20, albeit in the AHL, where he scored 36 points in 31 games, his highest point-per-game pace since going pro in 2017-18. He was also acquired through the departure of a star, coming from the San Jose Sharks in the Erik Karlsson deal.
What's Next for the Senators?
Although signings have slowed down, don't expect the Senators to be finished quite yet. Ottawa Sun columnist Bruce Garrioch claims that the team is working on a few other deals to bolster the roster.
The Senators also have several RFAs who still need contracts: J.C. Beaudin, Connor Brown, Chlapik, and Chris Tierney. It's been mostly quiet on that front so far, although Brown filed for arbitration and has his hearing scheduled for Oct 22. The team is already much more competitive than they were last season, but it has yet to be seen if that will translate into more wins. No matter what happens, though, the Senators will be a team to keep an eye on in the coming weeks, as there are still several roster holes to fill.
---
---