Is it October Yet? The answer we've all been waiting for has finally come, October is here and the 2015-16 season is right around the corner. With that being said, it's time to ask an even bigger question – can the Rangers go all the way this season and take home the Stanley Cup? With new trade acquisitions and rookie call ups, expectations are high for the Rangers, as they were close to having back-to-back Stanley Cup Final appearances and a chance to claim what could have been theirs back in the 2014 Stanley Cup Final and a shorter 2015 post season.
Your New York Rangers
The Rangers have trimmed the fat and set the roster for their season opener against the current Stanley Cup champion Chicago Blackhawks.
Here's a look at what the roster will look like:
Goalies Henrik Lundqvist and Antti Raanta;
Defensemen Ryan McDonagh, Marc Staal, Dan Girardi, Kevin Klein, Keith Yandle, Dan Boyle, McIlrath,
Forwards Derek Stepan, Chris Kreider, J.T. Miller, Rick Nash, Derick Brassard, Mats Zuccarello, Kevin Hayes, Jesper Fast, Jarret Stoll, Oscar Lindberg, Viktor Stalberg, Dominic Moore, Glass, Etem
The Rangers enter this season without two of their stalwarts from a year ago. Martin St. Louis whom retired and Carl Hagelin whom was traded to the Ducks. The front office also decided to keep 14 forwards, not 13.
"You need young players to force your hand sometime," Vigneault said of McIlrath. "Diaz did everything we expected, he was very good on the power play, but when we discussed it, we felt that Dylan deserved to start here with us. Selfishly, we're hoping that Diaz will clear waivers."
Rangers confirm D Raphael Diaz and F Jayson Megna are on waivers. If cleared, can be re-assigned to Hartford. That puts roster at max 23

— Andrew Gross (@AGrossNewsday) October 2, 2015
McIlrath Makes It
Rookie Dylan McIlrath, 23, the team's first-round draft pick in 2010, made the cut as the seventh defenseman, and defenseman Raphael Diaz and forward Jayson Megna were placed on waivers.
McIlrath's frame might make him the strongest player on the roster. At 6'5″ and 220 lbs the 23-year-old is one of the biggest skaters on the roster and the biggest defensemen.
"It's been a pretty long road to get to this point. I worked really hard and that makes it more gratifying. I couldn't be happier. They (the coaching staff) said I made the team based on playing a simple, competitive game. The way I'll stay up here is if I continue doing that." said McIlrath
Oscar Lingberg
Ranger rookie Oscar Lindberg has a lot to feel good about as he was awarded the top Rangers rookie in training camp with just one NHL game under his belt. The former second-round pick is a skilled finisher who netted 28 goals in 75 games for Hartford in the AHL last season.
"There's no doubt that tonight is the better of the two and for a first time in a while for him on wing," Vigneault said. "He made some plays and he certainly played a strong game in a back-to-back situation for him, and it was very positive to see."
Lindberg signed a two-year, one-way deal worth $650,000 in average-annual value on July 14. He would need to clear waivers to be sent to the minors and with trade rumors floating around the Rangers to clear up cap space, Lindberg would certainly be picked up in a heart beat by another team.
Not Enough From Etem
Emerson Etem may have survived the Rangers training camp but he surely didn't thrive. According to Rangers GM Jeff Gorton, Etem had nothing short of an "average" camp and has much to improve on.
"His camp has been pretty average, and I think he knows that, I think we all know that," Gorton said. "We've known him for a long time. We know the player, we scouted the player, we've liked what we've seen. He's yet to show that to maybe all of you guys, but we have faith that in time he's going to show us that."
We've seen that he can skate and has shown offensive flair, particularly at the AHL level but now he needs to win over the Rangers coaching staff at the NHL level.
The Luxury of Lundqvist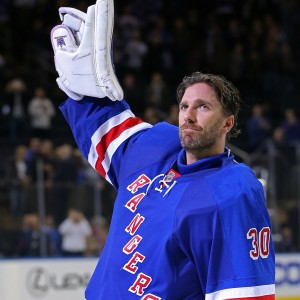 Working through a new roster and figuring out who plays best with certain players on certain lines is often something that can take a toll on a team and make things scattered, but when you have an élite goaltender in Henrik Lundqvist who gets progressively better every season you have a sense of security in being able to juggle your team around.
Over the past six seasons, his save percentages have been .921, .923, .930, .926, .920 and .922. Over his last four postseason runs, his save percentage has consistently been in the .927 to .934 range. His career goals-against average is 2.26 in the regular season and 2.22 in the post-season. It's easy for a team to remain as a cup contender and make roster moves when you have a goaltender posting numbers like that.
Looking Ahead
The Rangers most important offseason signings are veterans who — not to brag or anything — have won three Stanley Cups combined. Center Jarrett Stoll (2012, 2014) won twice with the Kings, and winger Viktor Stalberg (2013) won once with the Blackhawks.
"Their focus in practice and their attitude towards getting on the same page with everybody, it's better than I've seen, when you have new guys coming in," says McDonagh
The Rangers also need to work on their power play which ranked 21st in the NHL last season due to their 16.8% success rate. With the amount of skill acquired and already on the team their numbers should improve drastically in this department.
The Rangers have the best combination of goaltending and defense in the Eastern Conference.  Gorton inherited a well-constructed team from Sather and with continued development have everything they need in front of them to bring home the Stanley Cup to New York.