The New York Rangers managed to get themselves out of another tight cap problem by offloading their two longest-tenured players, defenseman Marc Staal and legendary goaltender Henrik Lundqvist. These two moves were the true signal of the ending of an era in New York. Staal was sent to the Detroit Red Wings along with a second-round pick for future considerations and "King Henrik" was unceremoniously bought out. Both players were heading into the last year of their contracts. It was another set of tough moves the Rangers had to make because of the salary cap situation they put themselves in. The team cannot afford to keep playing cap gymnastics every offseason — they need to get smarter with spending their cap. 
Related: The NHL's Exclusive 13×30 Club
During Glen Sather's tenure as general manager, the Rangers had a tendency to give out big contracts to the top veteran on the market, like how they gave 31-year-old Brad Richards a nine-year, $60 million deal and inked Chris Drury and Scott Gomez the same summer. There has been a list of contracts that end up looking bad that the Rangers have dug themselves into. They have to start to learn from that mistake — it will often lead to low-balling players, but it also allows them to fit everyone into the cap easier and retain players. Many of these Cup contenders have had their core around for several seasons. 
Why is it a Problem Now?
The Rangers have gotten quite trigger happy with buyouts in recent years. They have only used six buyouts in team history, but they have all come in the past eight seasons and they have used three of them in the past four seasons. They save money in the short term but will account for losses while they are paying the player after the original contract was set to expire. Then they also were forced into making trades with the sole purpose of dumping cap. They dumped Vladislav Namestnikov's salary to the Ottawa Senators for a small return, then the Staal trade for essentially nothing. This has all been done to try and make up for giving out too many high-salary contracts.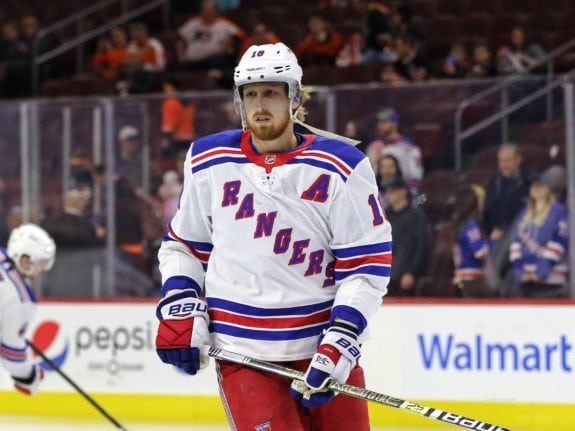 The Rangers were projected to go into the offseason with just about $13 million in free space with the fact the salary cap was set to stay flat due to the COVID-19 shutdown back in March. They currently have $23,091,867 in free cap space. They now have 13 players under contract at the NHL level, with eight pending free agents. Ryan Strome and Tony DeAngelo can easily command upwards of $5 million each, which would leave the Rangers with just about $3 million to re-sign six more roster spots, and that would not have been enough.
Speaking of $13 million, that is also the amount the Rangers will be paying to players who will not even be on their roster this season. That is all in buy out money as well. The team paying the second most in buy out money is the Anaheim Ducks who will pay Corey Perry $6.6 million. The only other team paying over $10 million in dead cap is the Chicago Blackhawks, who have most of their dead cap on long-term injured reserve.
All of that money could have been used to make some nice improvements in areas of need. For example, they could have signed stopgaps at the blue line to hold down the fort until the prospects are ready or have more security in re-signing key players. Last season, the Rangers had to qualify Tony DeAngelo, a guy who should have been making at least a couple million due to their minuscule cap. 
It Will Become an Issue Again in the Future
In the coming seasons they will also have some more key players in need of a contract. After this season, Filip Chytil, Julien Gauthier, Brett Howden, Ryan Lindgren and Igor Shesterkin all come off their ELC's and will need raises, especially Shesterkin. Pavel Buchneivich's deal will also expire. Then the season after that, the Rangers need to prepare to give Mika Zibanejad a big raise from his current $5.35 million bargain. His deal can easily find itself in the double digits.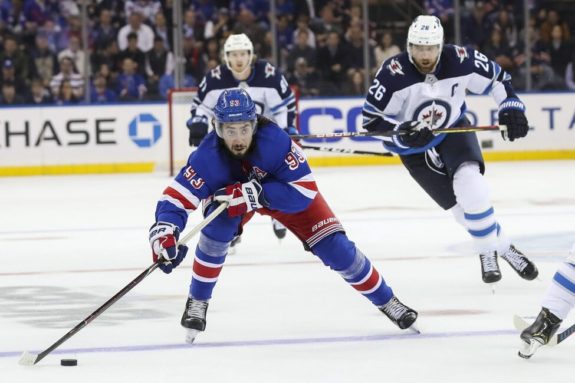 If the Rangers keep dishing out these bad contracts they will have to continue buying out contracts or dumping them to another team for scraps. A perfect example of why a team cannot invest too much money into just a few players is the Toronto Maple Leafs. They have $30 million going to only three players. When a team only pays their star players, they cannot afford to pay other good players. They have to resort to cheap players, entry level contracts and depth guys who make pennies compared to the stars. The team's depth suffers as a result and the bottom lines become a revolving door of players.
Related: Henrik Lundqvist – By the Numbers for No. 30
The silver lining for the Rangers is that this season is the big hit in dead cap space, in 2021-22 they will only be paying $4 million in buyout money. Still that would be the fifth highest contract on the team at the moment. The buyout of Lundqvist seemed to signal the dawn of a new era in New York and hopefully for them, it also signals smarter cap spending.
---
---