The New York Rangers' prospect pool is the deepest in the NHL, with a plethora of youngsters poised to make an impact for the Blueshirts. As has been the case for the last few seasons, when the annual World Junior Championships come around, the Rangers' pipeline will be well represented at the tournament.
Despite withholding both Kaapo Kakko and Alexis Lafreniere from the tournament for obvious reasons, the Rangers still have a good group of youngsters competing for spots on their respective nations' squads. Let's look at which Rangers' prospects received invites to WJC preliminary camps:
Team Canada: Matthew Robertson (D), Braden Schneider (D), Dylan Garand (G)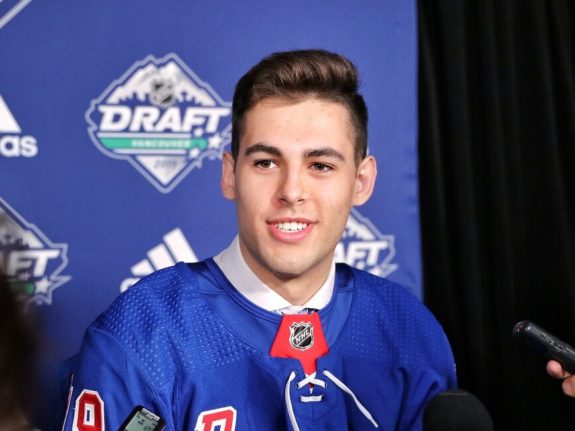 Team USA: Hunter Skinner (D), Brett Berard (F)
Team Finland: Leevi Aaltonen (F)
Team Sweden: Karl Henriksson (F)
Like it has done to seemingly everything else in 2020, COVID-19 has impacted the upcoming World Juniors Tournament as well. Already restricting fans from attending these terrific games, some teams and prospects have been hit hard by the virus, particularly the Rangers.
Matthew Robertson and Karl Henriksson
Earlier this month, a COVID outbreak swept over Team Sweden's camp, forcing their head coach, Tomas Monten, and Rangers' prospect Karl Henriksson, among two others, to be deemed unfit to travel to the tournament.
Henriksson, who had four assists in 20 games for Frolunda HC, was slated to be on Sweden's top line at the tournament with top prospects Alexander Holtz and Lucas Raymond. A second-round selection by the Rangers in 2019, Henriksson had three points in seven WJC games a year ago and was set to improve his output this year.
Team Canada also had their fair share of trouble with COVID-19 during their preliminary camp, as they had to close shop for two weeks after a series of positive test results. Unfortunately for fellow 2019 second-round pick, Robertson, like Henriksson, was deemed unfit to play and could not return to camp.
The 6-foot-4 defenseman had 47 points in 60 games for the Edmonton Oil Kings of the WHL and climbed up the Rangers' prospect rankings as of late. We knew coming into this WJC that COVID would have an impact, and it has done damage so far, to the Rangers' youth in particular.
Rangers on Team Canada
Two Rangers' prospects will be dressing for Team Canada this WJC, as goaltender Dylan Garand and defenseman Braden Schneider have made the squad. Rangers' fans became familiar with Schneider after general manager Jeff Gorton shockingly traded up to select him in the first round of the 2020 Draft.
Schneider is a physical defenseman who is still polishing his two-way game but possesses an ability to control his gaps and separate the man from the puck. At 6-foot-2, he has an NHL-ready build and should showcase to Rangers' fans and scouts why the front office so coveted him.
Making the team is no small feat for Schneider, who hopes to prove he has what it takes to compete for a spot on the Rangers' roster as well. As for Garand, well, he is just another talented netminding prospect on a team that seemingly always has a deep goaltending pipeline.
Garand is 18-years old and was a fourth-round selection in this year's draft. He went 28-10-3 with a 2.21 goals against average for the Kamloops Blazers in 2019-20, and has all the makings of a talented young goaltender.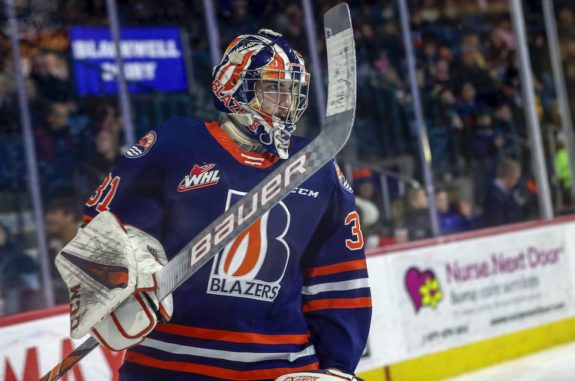 Arguably the hardest position to predict at the WJC due to limited playing time and young players' inconsistency, Garand will hope to see the net throughout this tournament.
Berard and Skinner Fight to Make USA
Starting with Hunter Skinner, who Team USA named as a replacement to their preliminary roster, the odds of him making the team outright are slim. They selected him with a group of players added to fill the void left by those who were unable to participate in the tournament (from 'U.S. adds Rangers' Skinner, Senators' Kleven to early world junior roster' – SportsNet, (12/6/20).
With that said, the 2019 fourth-round pick has been given a chance at camp and could play well enough to earn a blue line spot. Skinner had 32 points in 62 games for the London Knights in the OHL and has been a solid defender since the Rangers drafted him.
Fellow Rangers' draftee Brett Berard, selected in the fifth round of this year's draft, made the preliminary roster outright. He has played two games with Providence College this season without registering a point, but the undersized forward hopes to showcase his talents at the WJC.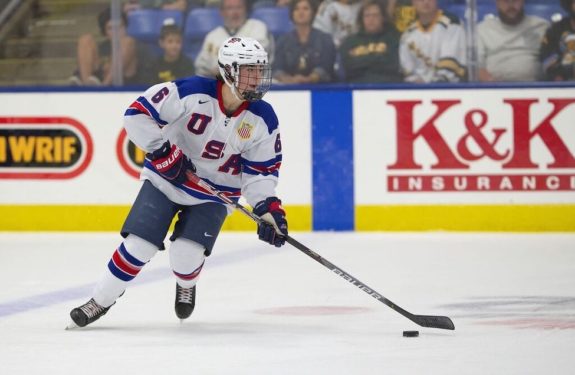 He is gritty and determined despite standing at just 5-foot-9 but also possesses the ability to contribute offensively. As part of the U.S. Development Program since 2018, Berard has paid his dues with the program and deserves a spot on this roster.
Leevi Aaltonen
Another 5-foot-9 forward selected in the fifth round by the Rangers, Leevi Aaltonen was one of the best skaters available in the 2019 Draft. Team Finland named him to their preliminary roster, and he appears set to make his first WJC appearance since playing in the WJC-18 in 2018-19.
He registered a goal and four assists in that tournament but has played at every level of the Finnish professional leagues since then, gaining valuable experience. This season he has split time between Liiga and Mestis, the two highest leagues in Finland.
He had two assists in 10 games for KalPa in the Liiga, and since being loaned to IPK in the Mestis, he has three goals and three assists in five games. He continues to improve, and I expect Aaltonen to open up the eyes of Rangers' fans who have yet to see him play.
Overall, the Rangers should have various talents at different positions playing in the tournament for three different countries. Yes, most fans are excited to merely watch meaningful hockey for the first time since the NHL's restart, but for Rangers' fans, this tournament provides a deeper glimpse into the future.
---
---