A deep pool of high-end prospects? The New York Rangers boast one that's the envy of the NHL, a feat made all the more impressive by the fact that several of their best young players have made the jump from prospect status to the big club over the past several seasons.
Amid the wealth of youthful future assets, there are some players the Blueshirts simply aren't going to be interested in trading, with the organization firmly believing that a place on Broadway awaits for the select few. So we took a look at the Rangers' five most untouchable prospects going into the 2020-21 season.
Intentionally left out is 2020 top overall draft pick Alexis Lafreniere, who is expected to be in the opening-night lineup and thus would be skipping the "prospect" phase of development that almost always includes time in the minor leagues or an overseas league.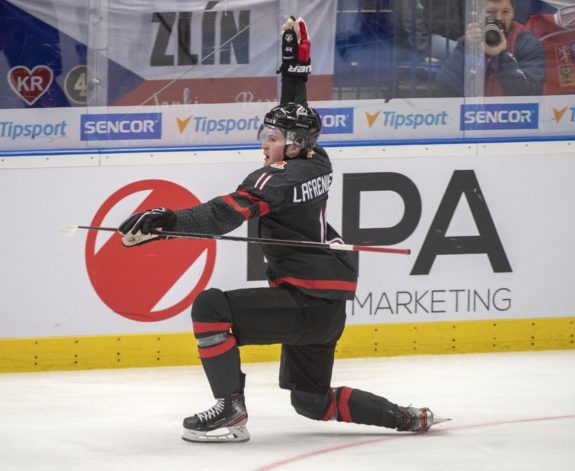 Even if Lafreniere somehow doesn't make the team out of training camp, it should go without saying that he'll maintain untouchable status for the foreseeable future.
Without further ado, the list.
Nils Lundkvist
The Rangers have certainly taken admirable steps to stock up on one of the biggest commodities in hockey: right-shooting defensemen. The group includes big Jacob Trouba, expected to anchor the top defense pair going forward; rising star Adam Fox, whose mobility and instincts resulted in a breakout rookie season in 2019-20; and Braden Schneider, who the Blueshirts traded up to grab in the first round of the draft this year and whose game resembles Trouba's.
There's also Tony DeAngelo, the offensively talented but often defensively deficient blueliner who may or may not be part of the long-term picture.
Despite all that right-side depth, the Rangers fully expect fellow right-hander Lundkvist to become a key part of their defense over the next few seasons. Drafted 28th overall in 2018 with a pick acquired in the blockbuster Ryan McDonagh-J.T. Miller trade with the Tampa Bay Lightning that February, Lundkvist made a quantum leap playing for Lulea of the Swedish Hockey League in 2019-20. The 20-year-old's versatile all-around game was on display as he totaled 11 goals, 20 assists and a plus-18 rating in 45 games playing in his country's top league.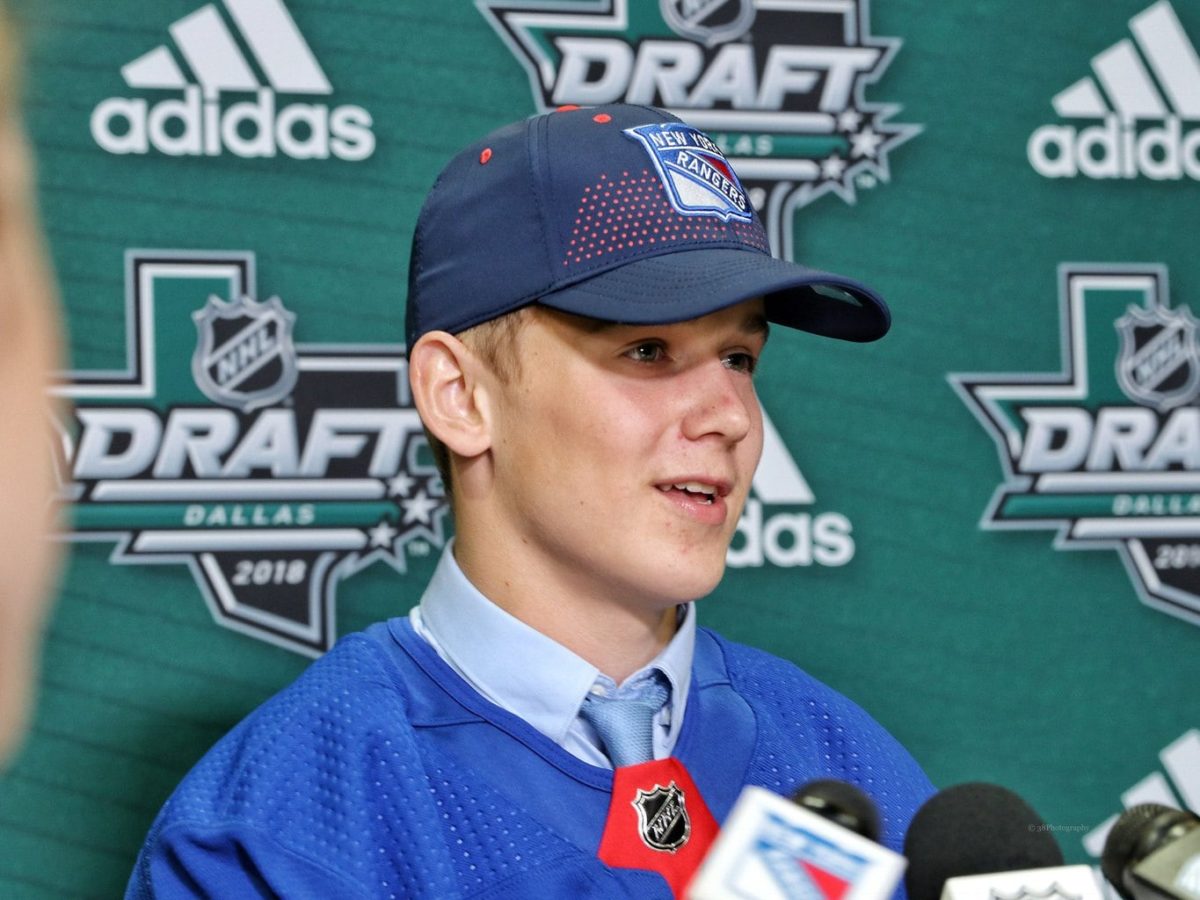 Lundkvist's rise has continued this season, with five goals and four assists in 16 games for Lulea while averaging more than 20 minutes of ice time. He's coming off a dominant two-game stretch in which he recorded three goals and an assist last weekend.
The Rangers have yet to sign Lundkvist, who wisely chose to return to the SHL this season amid the COVID-19 pandemic. That's not an urgent issue just yet, with the Rangers holding his rights through June 1, 2022. The club, however, certainly wants to get Lundkvist's name on the dotted line ASAP.
Lundkvist, in fact, likely played a role in the Rangers committing to only a two-year, $9.6 million contract for restricted free agent DeAngelo this offseason, with the team not wanting to lock up the right side of the defense long-term and thus leaving no room for the Swede. (From 'Nils Lundkvist Dilemma Pushing Rangers to Trade Tony DeAngelo', New York Post, 9/12/20)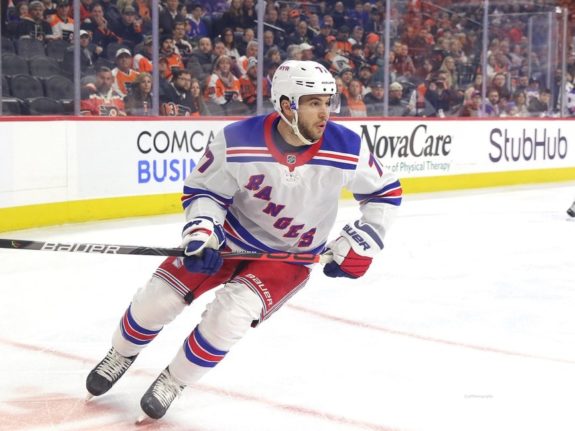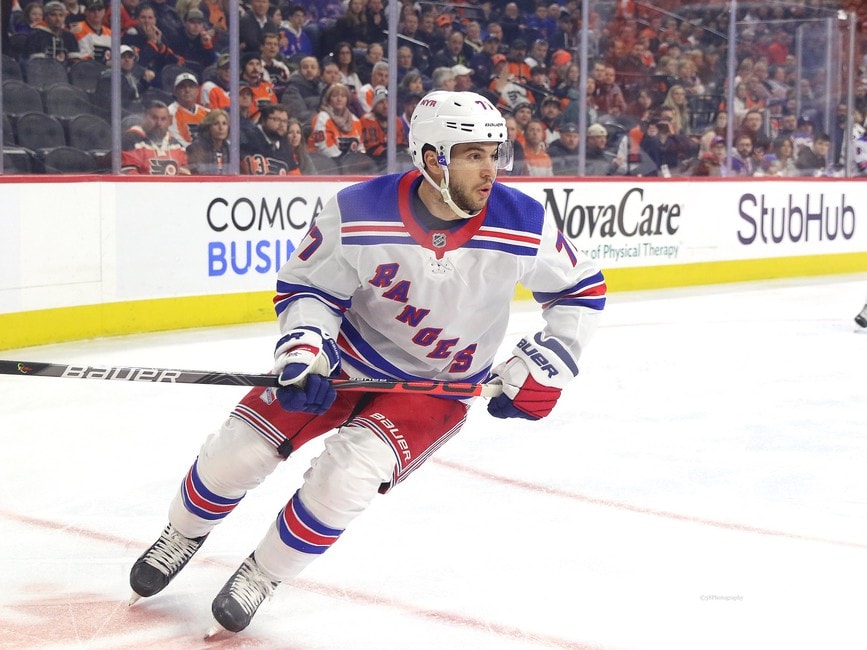 As far as the Rangers are concerned, Lundkvist's future presence on their blue line is all but assured. As a result, the same can't be said for DeAngelo.
K'Andre Miller
The big guy isn't going anywhere – especially after the Rangers traded the 48th overall pick to move up four spots and take him 22nd in the 2018 draft. Miller's tantalizing range of skills might prove a bit raw for him to make the team next season, but the Rangers are more than willing to wait.
The 6-foot-4, 210-pounder is a powerful and swift skater who excels at denying zone entry and joining the rush. The Blueshirts are happy to provide him time and space to let his play in the defensive zone and physical game round out, as a season in the AHL could do wonders as Miller looks to begin fulfilling his considerable potential.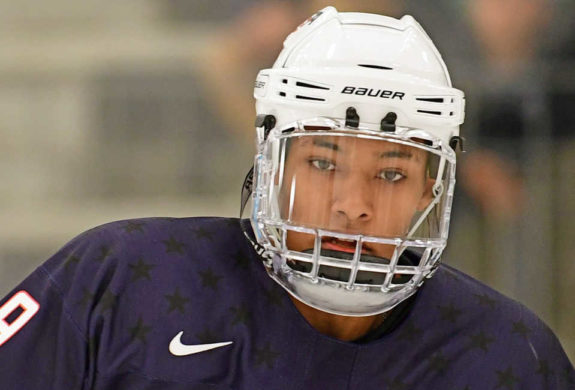 Miller didn't have as good a season in 2019-20 at the University of Wisconsin as he did the previous one, recording four fewer points in 10 fewer games while finishing a minus-7 after being a plus-7 in 2018-19. No matter. The Rangers have big plans for this huge, athletic prospect who switched from forward to defense in high school, perhaps as the future left-side partner for Trouba on the club's No. 1 pairing.
Vitali Kravtsov
It's already been quite the journey for 20-year-old Kravtsov. He's gone from a somewhat unknown prospect to being the ninth overall pick in the 2018 draft, to excitedly being compared in style and potential to a current NHL star, to being a "bust," and now to a prospect the Rangers won't trade.
The big Russian forward has cemented his status on this list by revitalizing his standing in the organization over the past year after it looked like his chances of making it to Madison Square Garden were growing bleak. That time was last fall when Kravtsov failed to make the Rangers roster and was sent to the AHL, where he struggled before exercising a European Assignment Clause in his contract to return to the KHL that October.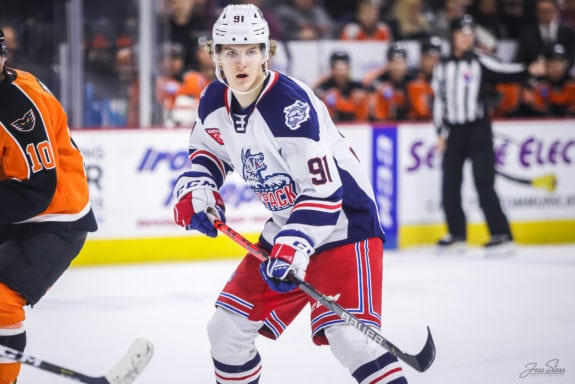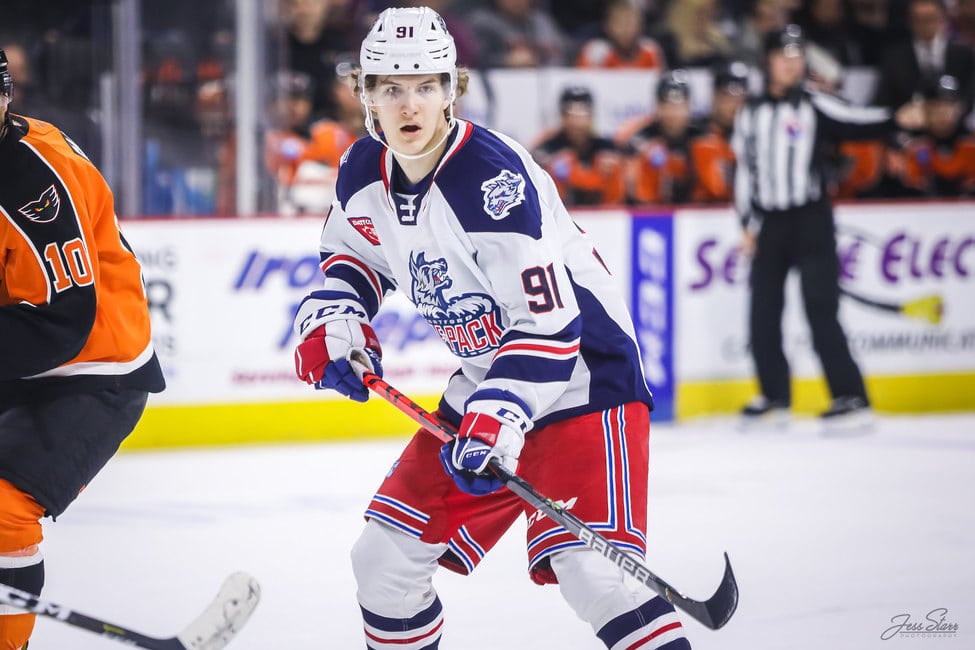 As most fans remember, it went downhill from there, with Kravtsov playing so poorly that he was demoted to a remote Russian minor league. His demeanor seemed sullen and he often looked disinterested on the ice.
The Rangers, caught off guard by a situation that appeared to get away from them, stepped in to bring him back to the AHL.
That's where Kravtsov's road back to the Rangers' good graces began. He was better playing for the Wolfpack after returning in December, finishing the season with six goals and nine assists in 39 games while playing with a renewed energy and exhibiting a better all-around game.
It's the past three months, however, that have the Rangers really encouraged. With the pandemic upending the NHL and AHL schedules, the front office decided to loan Kravtsov to the KHL in order to continue his development. The results have been night and day from last year's experience.
Kravtsov has recorded eight goals and four assists in his first 23 games for Traktor, looking every bit the offensive talent the Rangers thought they were drafting two years ago. The right wing is clearly more confident and relaxed, perhaps more mature and better prepared after playing far from home as a teenager for part of last season. His game has become more north-south and he's attacking the net consistently.
Not wanting to halt the momentum, the Rangers plan to let Kravtsov play the full KHL season before possibly recalling him. That season ends Feb. 27, and the playoffs run until April 30. With the NHL season not starting before Jan. 1, and likely after that date, there could be half the Rangers schedule or more remaining for him to make an impact, should the front office deem Kravtsov ready to make his debut. (From 'Rangers' Plan For Vitali Kravtsov Could Work Out For Everyone', New York Post, 11/11/20)
General manager Jeff Gorton took a risk on Kravtsov in drafting him in the top 10, betting on a potentially high ceiling as he foresaw a future fixture in the lineup. Now that Kravtsov is starting to show signs of possibly becoming just that, the Rangers won't be trading him – something that plenty of fans were calling for in Kravtsov's dark days of fall 2019.
Tarmo Reunanen
Reunanen's inclusion on this list comes with considerably less fanfare than his fellow "Untouchables," but he's made it impossible for the Rangers to ignore him. The fourth-round pick in 2016 has been on a steady rise in his native Finland over the past two seasons and looks like a serious candidate to grab a spot on the left side of the Blueshirts' defense next season.
Reunanen has been excelling in Liiga, his country's top professional league. The 22-year-old recorded six goals and 19 assists in 58 games for Lukko Rauma in 2018-19, then followed it up with five goals, 14 assists and a plus-17 rating last season. Moving back to Liiga after a brief loan to Finland's second-highest pro league, Reunanen is being leaned on as the top defenseman for HPK while getting heavy ice time.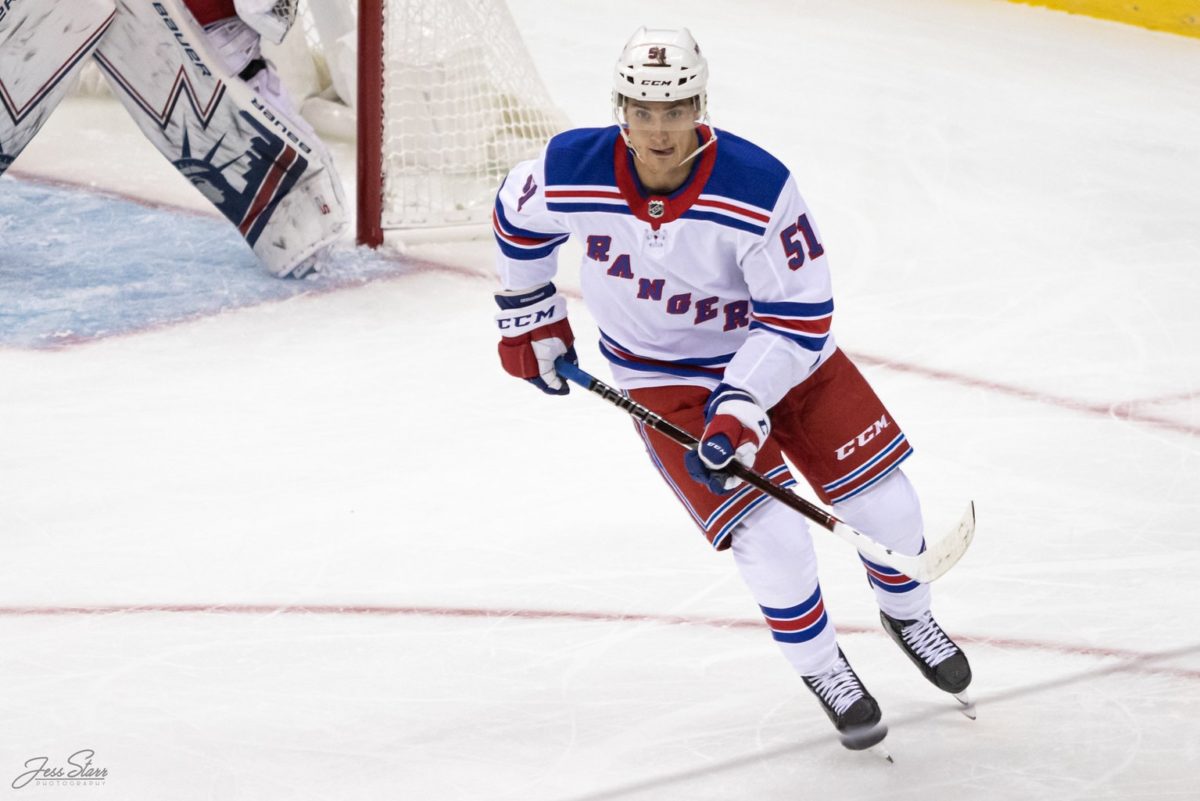 Playing 25-plus minutes per game in a men's pro league might give the solid, steady Reunanen the inside track over Miller for a roster spot, at least for now. Might the Rangers have a left-handed version of Anton Stralman on their hands?
Time will tell. The Rangers, though, appear to have every intention of finding out.
Braden Schneider
Like fellow young defenseman Miller, the Rangers didn't move up in the draft to grab Schneider 19th overall this year to trade him. Fearing the rival New Jersey Devils were going to take the Brandon Wheat Kings star with the 20th pick, the Blueshirts sent a third-round pick to the Calgary Flames to jump from the 22nd spot into position to take Schneider.
Team president John Davidson pumping his fist as Gorton completed the deal also speaks well, to put it mildly, of a player's status within the organization. The Rangers badly wanted the 6-2, 209-pound right defender with the rugged game and the developing offensive ability.
Schneider's addition spoke to a theme the Rangers followed throughout much of the 2020 draft: A desire to get bigger and tougher, reflected in Gorton and Davidson's selections.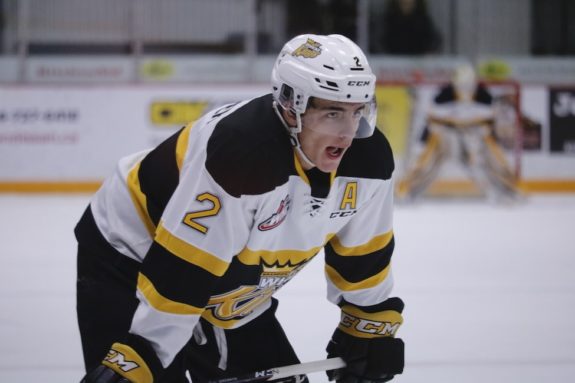 A breakout 42-point season with the Wheat Kings in 2019-20 – not to mention not wanting to face Schneider with a division rival for years to come – only cemented the Blueshirts' interest. They foresee a nasty presence on the blue line, perhaps one whose offensive upside proves to be higher than expected.
Schneider will probably spend the season developing in the AHL, though he might not be too far away from making an impact in the NHL. The Rangers won't rush him, and they won't be entertaining any trade offers for him either. After all, it doesn't seem like the team president would stand for it.
Rangers Might Have More "Untouchables" On the Way
The way prospects are viewed within organizations can change quickly. Players can fall out of favor while other youngsters rise fast. The Rangers' prospect pool is particularly strong at defense, for example, and Zac Jones, Matthew Robertson and maybe Libor Hajek (who might have enjoyed "untouchable" status not too long ago before a rough 2019-20 season dropped him down the ladder) could be pushing Miller and Reunanen for a spot on the left side sooner rather than later – and "untouchable" labels of their own.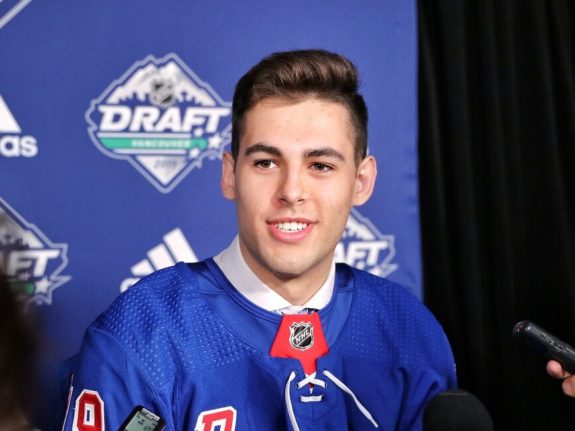 For now, the Rangers probably wouldn't consider trading any of the aforementioned five prospects. Yet in building up so much young depth, they've created healthy competition throughout the ranks – meaning one of these current "Can't-Miss Kids" might not be seen that way a year or less from now.
---
---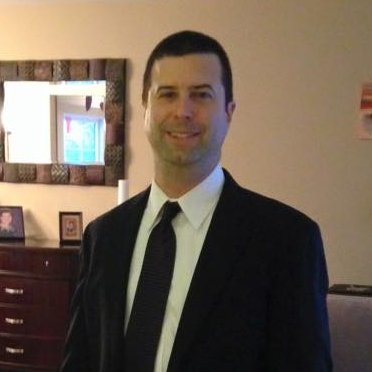 I'm a resident of the Chicago area by way of White Plains, NY. I worked for the Associated Press sports department in New York City for 10 years before moving to the Midwest in 2005, when the AP's then-internet division entered into a joint venture with STATS LLC. I worked for STATS for 11 years, until 2016. I'm very excited to be a part of The Hockey Writers.