In this four-part series, we'll take a look at all 30 NHL goaltender tandems and rank the partners-in-crime based on skill, usage, and potential. Since all three of Roberto Luongo, Cory Schneider, and Eddie Lack are gone from Vancouver, bromance won't be factored into the rankings.
Though goalies' resumes may be mentioned, these standings won't be based on prior accomplishments. This list is purely to rank the goaltenders as they are today heading into the 2016-17 campaign.
Let's see how these 16 Metropolitan Division masked men stack up.
8. Hurricanes: Cam Ward & Eddie Lack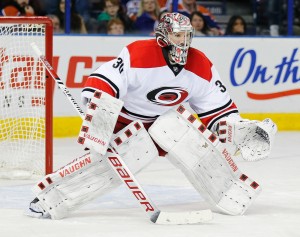 Can you believe it's been over 10 years since Cam Ward won the Conn Smythe Trophy? Now on the wrong side of 30, Ward is still somewhat effective in net for Carolina. His biggest flaw is getting out of position. Sometimes he rebounds to make a highlight reel save, but often times, he gets scored on. Regardless, he's prone to compensating too far in one direction when play can go multiple ways.
Don't be surprised if Eddie Lack starts the majority of games in Carolina this season. Lack is a prototypical Swedish butterfly goalie but moves around well for a tall goalie. However, his angles are not the best.
7. Blue Jackets: Sergei Bobrovsky & Curtis McElhinney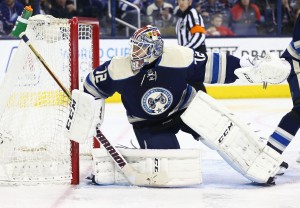 Over the past two summers, the Blue Jackets have made efforts to help Sergei Bobrovsky with conditioning and strength training so he can make the lion's share of starts for Columbus. Bobrovsky has tremendous lateral movement and rebound control. However, he is prone to overcorrect his positioning when moving from side-to-side.
If Bobrovsky goes down once again, the Blue Jackets will likely call up either Anton Forsberg or Joonas Korpisalo to start. Regular backup Curtis McElhinney is a decent option for spot starts, but not the goalie to turn to if "Bob" gets hurt.
6. Islanders: Thomas Greiss & Jaroslav Halak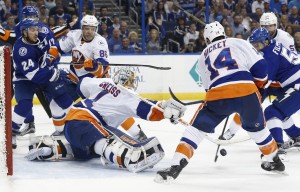 The Islanders have a crowded crease up in Brooklyn. Thomas Greiss, Jaroslav Halak, and J.F. Berube each played well at times to become the Islanders' starter, but Greiss ultimately started in the playoffs with Halak out. Entering the 2016-17 season, each will have the chance to earn the starting role.
Each goalie is average at best and also has their own flaws. Greiss figures to be the favorite to start given his playoff performance but isn't a goalie capable of leading a strong team to the Stanley Cup. But neither is Halak or Berube.
Jack Capuano's best option is to play both Halak and Greiss—provided they're both healthy—and not commit to a full-time starter.
5. Flyers: Steve Mason & Michal Neuvirth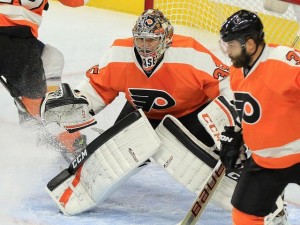 After his first-round matchup against the Capitals, Steve Mason's stock can only go up. He'll look to build on a strong 2015-16 regular season and regain the starter form that made Mason look like a Vezina finalist at points. Mason has great crease movement and makes himself big when the shot comes in.
On the other end of the spectrum, there's not much Michal Neuvirth could have done better against the Capitals. He's the perfect backup and has the talent to take over when needed.
4. Rangers: Henrik Lundqvist & Antti Raanta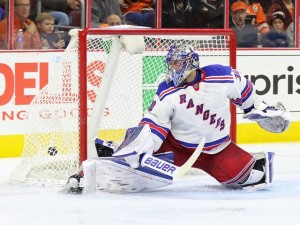 Following the 2016 playoffs, Henrik Lundqvist will look to rebound after a disastrous first round matchup against the Penguins. But even at 34-years old, Lundqvist is capable of another stellar season. His reflexes are still strong and his deep stance still works for him. If Lundqvist played less than 65 games, perhaps he could remain fresh for the 2017 playoffs.
A nice surprise for the Rangers last season, Antti Raanta came into his own as Lundqvist's backup. Now, he'll need to build on an impressive 2015-16 season. Raanta plays smaller than he is but is very strong positionally. It remains to be seen if Raanta can carry the Rangers if Lundqvist goes down.
3. Devils: Cory Schneider & Keith Kinkaid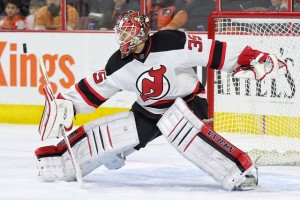 Watch out for a truly elite season from Cory Schneider. Though the Devils missed the playoffs last season, Schneider is capable of carrying a contending team to the finals. If Schneider had been on the Rangers last year, he would have helped New York defeat the Penguins in the first round. Schneider's style is incredibly efficient and maintains strong positioning moving around the crease.
As Schneider's backup, Keith Kinkaid had an unimpressive season last year. But, with Schneider's talent and ability to play most nights, Kinkaid doesn't need to see the ice very often. The former Union College standout has fantastic lateral movement and tracks the puck well during his rare starts.
2. Capitals: Braden Holtby & Philip Grubauer
Don't be fooled by the Capitals' potent offense and solid defense, Braden Holtby and Philip Grubauer contributed their fair share to the best record in the NHL. As the 2016 Vezina Trophy winner, Holtby was an absolute monster for the Capitals this past season. He tied Martin Brodeur's record for most wins in one regular season (48) in the process. Holtby is exceptionally efficient in the net and does not get out of position very often. He also makes a few highlight saves in the process:
As Holtby's backup, Grubauer enjoyed a solid first full season in the NHL. Once other Capitals goaltending prospects develop, look for the Caps to move their young backup, just as Los Angeles and Anaheim have done recently.
1. Penguins: Matt Murray & Marc-Andre Fleury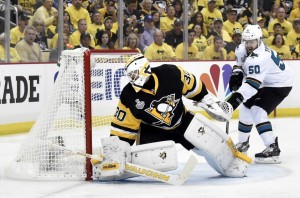 It's pretty impressive when both goalies on a team have their own Stanley Cup rings. Marc-Andre Fleury (2009) and Matt Murray (2016) have been instrumental to the Penguins in the championship runs. And while Fleury isn't the player he once was, he and Murray combine for the best duo in the Metropolitan Division.
It will be interesting to see how Mike Sullivan handles the two goalies once the 2016-17 season starts. Fleury was having an All-Star-caliber year before sustaining a concussion. Then, Murray took over and the Penguins didn't look back.
In terms of talent, Sullivan has the best one-two punch in the division. Both are capable of starting for a franchise and leading their team to the playoffs. And with the expansion draft coming up next offseason, these two will likely be split up and doing just that in different cities.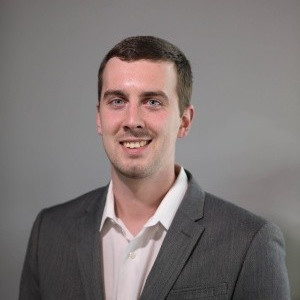 Tony Wolak is based in the Washington D.C. area and covers the Detroit Red Wings for THW. As a former junior and college hockey player, Tony has a unique perspective on Red Wings topics.