In the coming weeks, we will be looking at a few things within the Central Division and handing them rankings heading into the 2015-16 season. These categories will include starting goalies, individual defensemen, individual forwards, overall team defensemen and overall team forwards. First up we have the starting goalies for each team in the Central. For a lot of the teams in the Central, goaltending is a position of strength as evident by four of the top ten teams in goals against per game being from this division. A quick note before these rankings begin. As the NHL is a "what have you done for me lately" type of league, these rankings will reflect that notion. What these goalies did and how they played three years ago isn't much of a factor, the rankings will reflect a lot of last season and their status heading into the new season. Let's get started.
#7 – Kari Lehtonen – Dallas Stars
To Lehtonen's credit, he faced more shots and played more games than any goalie in the Central last season. Unfortunately that is about all the credit I can give, as Lehtonen had his worst season in Dallas and as a result, the Western Conference's best offense missed the playoffs by seven points. Of the seven starting goalies in the Central, nobody was even that close to Lehtonen's .903 save percentage. He gave up 40 more goals than the closest goalie to him in that category. Only Brian Elliott had a worse save-percentage on low-danger shots than Lehtonen did (you can read more about what qualifies as a "low-danger" shot here). The ultimate problem with Lehtonen heading into 2015-16 is what is going on mentally with him. He was unable to hold leads and come out ahead in third periods often in 2014-15.
No goaltenders in the Central gave up more goals while holding a lead than Lehtonen did this past season. He gave up 91 goals while the Dallas Stars had a lead, the next closest goalie to him is Pekka Rinne with 63. As a result, the Dallas Stars were one of the worst teams in the NHL in terms of holding third period leads. Lindy Ruff even called Lehtonen out on his play on several occasions in 2014-15. Evident by the signing of Antti Niemi, Lehtonen will be on a short leash in this upcoming season and he does not have much room for error.
#6 – Brian Elliott – St. Louis Blues
Although Jake Allen was the starter for the Blues in the playoffs, I'm ranking Elliott as the starter because he played in more games than Allen last season. Even if Allen was here in place of Elliott, he would have come in ranked in the same spot.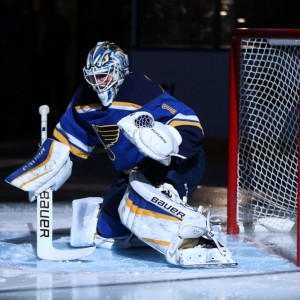 The Blues have concerns over their goaltending due to the inconsistencies of both Elliott and Allen last season. Elliott had the second lowest save-percentage of all starters in the Central, finishing the season with a .917 SV%. This is troubling considering he played in fewer games and faced far fewer shots than any other goalie in the Central. Much like Lehtonen, Elliott struggled to come up with big saves at big moments and gave up a lot of "bad" goals. As I mentioned above, Elliott had the worst save-percentage of low-danger shots of all goalies in the division. Despite facing far fewer low-danger shots than any starter in the division, Elliott still gave up 18 low-danger goals. Only four goalies in the division gave up more and they all faced at least 250 more shots against.
There are benefits to Elliott being the starter in St. Louis. He is the cheapest starter in the Central, as his contract only comes with a $2.5M cap hit. He also isn't asked to be a hero in net, as the Blues throw out a fantastic defensive team in front of him and were one of the better possession teams in the league last season. The Los Angeles Kings were the only team who gave up fewer shots than the Blues this past year. If Elliott can eliminate the bad goals against, he will be rising on this list in the future.
#5 – Ondrej Pavelec – Winnipeg Jets
In one of the best surprises of the 2014-15 season, Ondrej Pavelec bounced back from years of bad goaltending to help the Jets get into the playoffs. Like Elliott, Pavelec isn't asked to do as much as some of the other starters in the Central. He played in 50 games, the second fewest total of the starters in the division. His .920 save-percentage in 2014-15 was the best of his career and good for 5th among starters in the Central. Although he posted the best statistics of his career, there are several reasons why he isn't higher up on this list heading into next season.
Part of Pavelec's excellent 2014-15 season can be attributed to how good the team in front of him was at suppressing shot totals. The Jets were a top-ten team in terms of giving up the fewest shots against. Pavelec also had a very capable backup in Michael Hutchinson, allowing for some pressure to be lifted off of Pavelec's shoulders and letting him get the necessary rest.
All that being said, Pavelec had a great 2014-15 season and will look to continue that success. The Central Division has some really quality goaltenders, so Pavelec coming in at #5 is a huge improvement from where he would have been in seasons past. We'll see what he can do to back up his success from last season.
#4 – Seymon Varlamov – Colorado Avalanche
There may not be a goaltender that does more with less in front of him than Seymon Varlamov. Colorado is one of the worst teams in the NHL in terms of giving up high-quality scoring chances and total shots, but Varlamov has consistently found a way to keep the Avalanche alive throughout the season. Although he wasn't able to lead the Avalanche to another division title, that was hardly on him. His .921 SV% was fourth in the division among starters despite facing the third most shots in the Central. His high-danger save percentage was second to only Dubnyk despite Colorado giving up over 1000 high-danger scoring chances.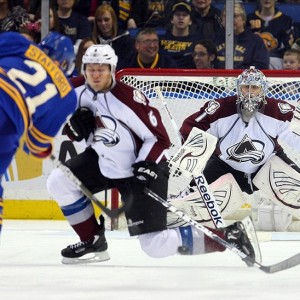 While being excellent against the top-end scoring chances, Varlamov had a down year with low-danger attempts at him. Only Pekka Rinne and Lehtonen gave up more low-danger goals and Rinne's can be explained by sheer volume of low-danger shots against. Only Lehtonen and Elliott had a lower save percentage when up against those low-danger chances.
Varlamov also struggled to keep his team in games when they were battling in a tight contest. Whether they were leading by one or trailing by one, Varlamov had the second-lowest SV% among Central starters while their teams were within a goal of the lead or giving up the lead. You hear all the time about needing a goalie to make "that save" while they are in a close game and often Varlamov was not able to come up with that save. His performance in close games will need to improve if the Avalanche are going to have a shot at the playoffs in 2015-16.
#3 – Corey Crawford – Chicago Blackhawks
Corey Crawford may be the hardest goalie to figure out in the NHL. There are times where he shines and moves towards elite status, like in the 2015 Stanley Cup Playoffs. And then there are times that make you question why he is even starting, like in the 2015 Stanley Cup Playoffs. Although he makes questionable decisions with the puck at times, overall Crawford is an above-average goaltender. He has a great team in front of him but he shouldn't always be penalized for that. Let's look at some of the statistics.
Crawford gave up the fewest low-danger goals out of any starter in the Central last season. He was behind only Devan Dubnyk in overall save-percentage among division starters. While leading the game, only Varlamov had a better save-percentage and only Elliott gave up fewer goals.
One category he did struggle in was giving up tie-breaking goals. While he only gave up the fourth-highest total of tie-breaking goals among goalies on this list, he gave up at least 18 more than the top-three goalies in that category. Crawford also gave up the third-highest amount of even-strength tallies, a number that will have to be better in 2015-16.
When all is said and done, Crawford doesn't deserve a lot of the criticism he takes. While he is prone to mistakes, what goalie isn't? Year after year, especially when it comes to the postseason, he posts above-average statistics and that is really all he needs to do. He is ranked third on this list only due to the fact that two other goaltenders in the Central stole the show in 2014-15. If this was a postseason ranking, there wouldn't be a goalie I would pick in the Central over Crawford.
#2 – Devan Dubnyk – Minnesota Wild
What a season Dubnyk had in 2014-15. The Minnesota Wild were desperate to solve their goaltending issue and find a way to get back into the playoff race so they traded for Dubnyk in January. What followed was one of the best runs of goaltending that the NHL has ever seen. He finished behind only Carey Price in goals against average and save-percentage in the entire NHL. He finished third in Vezina voting behind Price and a goalie you will be seeing shortly. There wasn't much to knock Dubnyk for this past season and he will enter 2015-16 as one of the most anticipated goalies to watch.
Devan Dubnyk wins the Masterton Trophy. 2nd #mnwild player in 3 years to win the award (Josh Harding).

— Michael Russo (@RussoHockey) June 25, 2015
There isn't a lot of bad to say about Dubnyk right now. He was the best starter in the Central in terms of save-percentage and goals against average. Only Elliott and Pavelec gave up fewer total goals than Dubnyk this past season and they played 12 and 8 fewer games than he did, respectively. Dubnyk had the best save-percentage when facing high-danger chances. He held leads very well, as only Crawford and Varlamov had better save-percentages while their teams were leading. Dubnyk was the reason that the Wild were able to get into the postseason.
When it comes down to choosing the best goalies in a division, you have to start nitpicking. Although it certainly isn't Dubnyk's fault he is fortunate enough to play for a great team, it does lower his overall ranking a little. The Wild gave up the third-fewest high-danger scoring chances in the NHL and the fourth-fewest amount of overall shots. That fact alone makes the next goalie on this list the most valuable in the Central division.
#1 – Pekka Rinne – Nashville Predators
After an injury-plagued 2013-14 season, Pekka Rinne returned with a vengeance in the 2014-15 campaign. He appeared in 64 of the Predators' 82 regular season games, only Lehtonen appeared in more games in the Central. He faced almost 200 more shots than Dubnyk did and still managed to post the third-highest save-percentage in the division. Vezina voters recognized his tremendous value, voting him second behind Carey Price in the final Vezina standings.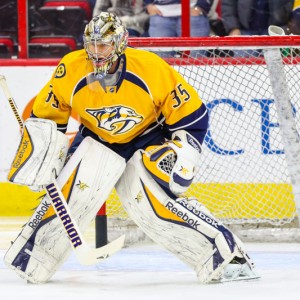 One of Rinne's greatest assets is his ability to keep his team in games. While trailing, no starter even came close to matching Rinne's save-percentage. Keeping your team in the game and making big saves while they are down by one or two can be an enormous confidence boost to the players in front of him.
Overall, the battle between Dubnyk and Rinne for the top spot on the list was a tight one. I went back and forth several times as both goaltenders posted incredible seasons and look to be elite heading into next season. Rinne's experience and the amount of games he played last season are the reason he is number one for me. Dubnyk will have to prove that last season was not a fluke while Rinne just has to keep doing what he is doing. We will see how this battle shapes out in 2015-16.