Stars coach Lindy Ruff is known as a hard-nosed, straight shooting, former NHL tough guy from Western Canada.  He's also had the pleasure of coaching one of the best goalies of all time in Dominik Hasek.  So he knows a little something about quality goaltending.
He said it: Coach Lindy Ruff blames goaltending for Stars' 5-4 shootout loss to Colorado Friday | @dallasnews http://t.co/BrCganwDtl

— Mike Heika (@MikeHeika) February 28, 2015
Therefore, it wasn't necessarily a surprise when Ruff's post game press conference last night focused on  Kari Lehtonen's performance.  As reported by Mike Heika, when Ruff was asked about the team's trend of 3rd period collapses, he replied: "There's one thing I see, and I know this is hard, but the goaltending performance doesn't match the effort of the team. You need goaltending, it's as simple as that. I know that's hard, and it might be harsh from me, but you're only giving up seven shots after 30 minutes, and your team hasn't given up any chances, and the first shot goes in and it's not a goal you like…We're not going to win those games."
Those comments make you wonder if Ruff would rather have the retired Hasek between the pipes for Dallas.
Kari Lehtonen
Kari Lehtonen has the 2nd highest cap hit on the team at $5.9M, trailing only Jason Spezza ($7M).  He is signed through 2017 and has a no trade clause thru the end of this season.  Kari will be 32 next season and I can't imagine there will be much interest from other teams willing to take on his $5.9M cap hit through 2017.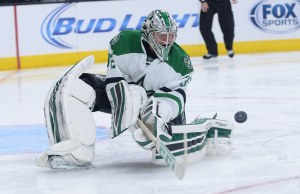 Lehtonen is a former 1st round pick drafted 2nd overall by the Atlanta Thrashers.  In Lehtonen's best season with the Thrashers he won 34 games with a 2.79 GAA and a .912 Sv%.  Kari is in his 6th season with Dallas and surprisingly has never won more than 34 games in a season.  Kari also has only 2 career playoff wins.
In his defense, much of Kari's career has been spent backstopping weak Atlanta Thrasher or Dallas Stars teams.  However, currently, Kari has a career low .905 Sv% which is good for 57th in the NHL!  He's never been considered very durable with only 3 seasons of 60+ games played in 10+ seasons.  This accentuates the need for a quality backup or co-goalie to share the workload.  This season Stars backups have combined for a 2-12 record between the pipes.
 Other Options?
The Stars recently traded for current backup goalie Jhonas Enroth who played for Ruff briefly in Buffalo.  Enroth, 26 years old, is from Stockholm Sweden, he is a bit undersized at 5'10 165lbs.  He was a 2nd round pick of the Sabres in 2006.  This is Enroth's 6th season in the NHL.  He's spent the majority of his NHL career as a backup.  At this point, it seems the Stars are willing to give Enroth a chance to grab playing time from Lehtonen.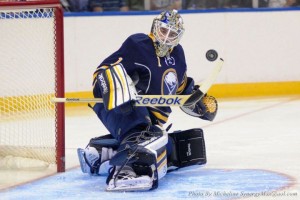 Texas Stars goalie Jussi Rynnas spent 3 seasons in the Toronto Maple Leafs system before returning to his native country Finland last year.  Rynnas, 27 years old, is 6'5 205lbs, and has made 2 appearances with Dallas this season.  He gave up 7 goals in 92 minutes of NHL ice time.  However, he has done well in the American Hockey League with an 18-5-7 record and a 2.47 GAA and a .921 Sv%.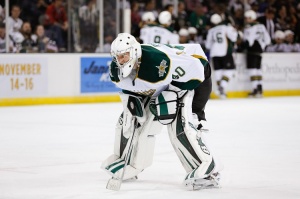 A Look Towards The Future
In 2010 the Stars selected American born goalie Jack Campbell in the 1st round (11th overall).  After an impressive run with the United States Development program, Campbell, 23 years old and 6'3 185 lbs, decided to continue his development in Canadian Junior A.  Initially Campbell struggled with the adjustment.  This season marks his 4th as a professional with the Texas Stars.  He started slowly and lost playing time to Rynnas.  Campbell was briefly demoted to the Idaho Steelheads of the ECHL.  The good news is he played well in the ECHL.  In 7 games he allowed only 12 goals and had a phenomenal .945 Sv%.  Perhaps he can build on that success now that he's back with Texas.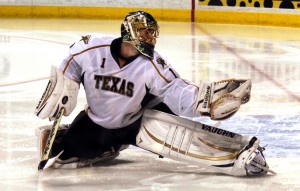 Stars 2013 2nd round pick Philippe Desrosiers is in his 4th season with Rimouski of the QMJHL.  Desrosiers, still just 19 year old, is 6'1 and 190 lbs.  He had 31 wins and 5 shutouts in 52 games last season.  In 2014-15 Desrosiers has 23 wins and 4 shutouts in 37 games.  Desrosiers is an athletic butterfly style goalie whose game is still a work in progress.
http://youtu.be/kBiKdN67laE
Stars Notes
The Stars placed defenseman David Schlemko on waivers today.  They are close to activating Texas Stars defenseman Patrik Nemeth as well.