Every sports fan long for a championship team. With the business being what it is, teams spend more time climbing to the top than being there. Every move under scrutiny, it only intensifies as the team gets better. "Why aren't you dominating?" "Why haven't you won yet?" "Why aren't you as good as I think you should be?"
The season's length tortures fans looking for instant gratification, making them angry and dissatisfied. In a fishbowl market like Montreal, an emotional twist of Isaac Newton's third law of physics is in full force. For every action, there is an equal, opposite reaction. For every game played, every interview given, a lot will be said back. Public relations are down to a science in the NHL. Interviews are polished and sanitized in a way that very little factual information leaks through the clichés. In return, what is being said back is mostly speculation.
Controversy Creates Cash
This opens the window for falsities and myths. Some people state their opinions, some people listen to them. Sometimes those opinions are right, sometimes they're wrong. Sometimes analysts steal a page or two from the Fox News playbook and will use half-truths and distort quotes to accommodate their agenda. Sometimes just good ol' opportunism, like predicting a loss after a 7-game winning streak.
The Great Enemy of the Truth is Not the Lie but the Myth, Persistent, Persuasive and Unrealistic.
Those myths tend to stick around. Looking to generate publicity and make a name for themselves, those myths are stated and stood by some with the fervor usually found in political partisanship. People who drink the proverbial Kool-Aid do so not out of a lack of intellect or critical thought. They do it because the 21st century life is a busy one, and there's more to it than hockey. Most people spend a few hours a week to their favorite team, and if a guy with a suit says something convincingly enough, it will be taken as fact.
A few of those myths have floated around the Montreal Canadiens this season. Many of them without much retort. This isn't about changing anyone's mind. It is merely shining a light on the unstated flip side to the coin. At the end of the day it is your enjoyment. If you have more fun believing any of these, please, indulge yourself. If it makes you realize something you haven't before, makes you see things differently and it enhances your enjoyment, great.
Let's start with the biggest, more often stated myth out there.
Myth Number 1: Michel Therrien Is a Bad Coach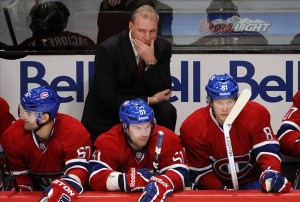 Montreal love their goats. From Vladimir Malakhov to Sergei Samsonov, Scott Gomez to Rene Bourque, Patrice Brisebois to José Theodore, Habs fans are equal opportunity haters. Players picked out at the beginning of the season earn a derisive following. Bad moves are exaggerated and ridiculed, good moves are dismissed as flukes or completely ignored.  With the Canadiens having the most raw talent since the early 90's, the ire of fans has fallen on the bench boss.
Institutionalized
Convicts learn to accept their surroundings and find comfort in it. Being a prisoner is now part of their personality and dread the outside where they have no idea who they would be or what they would do.
20 years of mediocrity has conditioned Montreal Canadiens fans to find controversy and disappointment comforting. Quite frankly, things seem boring without it. A losing streak jolts the interest, a trade even more. A change in coaching staff, now that's the shocker.
'Tis the Reason for the Season
Michel Therrien is in the middle of his third season behind the bench and historically speaking, this is when the wheels were supposed to come off the wagon. Because of the lock-out season of 48 games, Michel Therrien has coached 180 games at the time of this writing. The two and a half season mark is 205 games.  His predecessor Jacques Martin was replaced after 196 games. Guy Carbonneau was replaced after 230 games, before him, Claude Julien was replaced after 164 games. Back to Therrien who was fired in 2003 after 190 games.
Alain Vigneault is the last Montreal Canadiens' coach to have stayed behind the bench to start a fourth season, a season he did not finish. Vigneault was fired after 266 games.  In fact you have to go all the way back to Hall of Famer Pat Burns to find a coach who finished a fourth season in Montreal. If you're looking for a coach who started a fifth, then you have to go to the 1975-76 season when Scotty Bowman was behind the bench.
It's simply playing the odds to say that Therrien would be fired this season.
But the Problems Are Real
It is more than sheer habit that makes fans dislike Therrien. The Montreal Canadiens are not playing a perfect game by any stretch of the imagination. Problems have surfaced at the beginning of the season and are lingering to this day. The two biggest problems this year have been the power play and zone entries, which causes low shots on net numbers and poor puck possession numbers.
Dead Puck Era Shenanigans
People mistake this has being a "system" problem. In this day in age it would be hard to believe that a coach in the NHL would impose a etched-in-stone system. Because if you win by a system, you will inevitably lose by that system. The most famous of systems is of course the New Jersey Devils' Trap which the league went to great length to reduce its efficiency.
Advancement in technology helped scouting so much that makes it very hard to keep up a system. You might be able to fool them for a bit but eventually it will catch up to you. Just ask Guy Boucher and what happened to his 1-3-1.
It's rather 82 individual game plans. What needs to be done to beat the Tampa Bay Lightning is not the same as what's needed to beat the Boston Bruins. After that its player micro management. Compliment them, bench them, time on the power play, healthy scratches, more ice-time, less ice-time, first line, fourth line. Anything that might light a fire under a particular player's ass to get the most out of him when things get stale and void of any emotional motivation. Like, let's say, a game against a last place team in Febuary.
Zone entry issues aren't coaching issues or game plan issues. They're play reading issues, player issues. Players are checked at the blue line and the neutral zone more often than not. Then they panic and do the only thing that can prevent a turn over and a subsequent two-on-one, the dreaded dump-and-chase.
The 20's All Backed Up
Michel Therrien has been publicly critical of his players and it cost him a job before. Now when he's not happy, he keeps his criticism short and vague. Back in January, he did give some insight to NHL.com's Arpon Basu about how he thought his team was playing.
Michel Therrien's analogy of why the #Habs power play isn't working. pic.twitter.com/ZSf37lfsDw

— Аrpon Basu (@ArponBasu) January 13, 2015
Although not the most eloquent analogy, it is representative of his team's play. Michel Therrien can come up with 25 different ways to score a goal on the power play but if the player who has the puck is confronted with two options, and chooses the wrong one, they won't be successful.
NHL players are not pawns on a chess board. They are very much their own man deciding their actions on the ice.  Young men, learning on the job. Therrien can hammer the point home as much as he likes but it will always be up to the player with the puck to decide what is the right thing to do.
The Numbers
Advanced stats have been around for a few years now but after a few basement teams hired analytics bloggers last off-season, it has become the Klondike for hockey talking heads this season.
This is not to say that analytics are useless. To the contrary, puck possession numbers are quite useful. As a retrodictive tool, not a predictive one. The examples of Corsi or Fenwick or PDO being predictive of what's ahead are murky at best. You can anticipate, have a good idea of what's ahead, but you never know.
Fenwick is Not the Hockey Equivalent of Counting Cards
What these numbers give you is a head's up. How a certain player tends to play in a certain situation or against a certain team. But too many variables come into play. It tells you where to look and what to look for but in no way does it tell the whole story. This example has been used before but here it is again; Benoit Pouliot was awarded a 5 year contract, at 4 million per based on his advanced stats. People who saw him play in Montreal and Boston know that's absolutely laughable. He has 17 points in 33 games this season and maybe you've heard, the Oilers aren't doing so well this season. Here at home, P.A. Parenteau has decent possession numbers, but look at him play and you'll see that he loses 8 out of 10 battles along the boards and causes more turnovers than bed sores.
The Canadiens have had poor possession numbers all season, yet they win more than they lose. They have flirted with team records established in the 70's, 80's, and 90's multiple times. Whether it's starting the season winning 16 straight games when scoring the first goal, winning six straight game on the road or keeping their opponents to two or fewer goals for ten straight games, the Habs are definitely doing something right. .
Many people use Carey Price's play in the crease as a blanket excuse for all that – Another myth for another column – But the truth is Carey Price isn't a one-man-band carrying the team on his shoulder like Cristobal Huet once did. He remains the best player on his team and his play correlates that, making key saves to keep his team in the game, but making 32 saves in a game isn't too much. It leads to a chicken or the egg type of conundrum, is Carey Price bailing his teammates out or are his teammates allowing him to get enough shots to get a feel for the game and feel comfortable? Not to say that the players in front of him have never taken a night off. There is no black and white answer as each game is different. Remains that to say the Montreal Canadiens are where they are in the standings because of Carey Price is like saying the New York Islanders are where they are because of John Tavares. Partly true but there's more to it than that.
Too Many Line Changes
Line shuffling has rubbed many fans  the wrong way this season. Somehow it makes sense to people to stubbornly beat your head against the wall when something is not working instead of trying to change it. Players are human, not mechanical beings keeping rhythm like a metronome. They get hot, cold, tired, energized, lucky and unlucky. They get engaged and they get bored.
Scotty Bowman is regarded as the greatest hockey coach of all time. Often fans will criticize a coach and add: "That's not what Scotty Bowman would've done." Or "Scotty Bowman would've done this or that." Bowman coached his last season in Montreal in 1978-79.  36 years ago. After that much time, people tend to romanticize or embellish. Here's what Scotty Bowman actually did in the matter of line-up changes, as written in one of sports writing's sacred texts; The Game by Ken Dryden
He believes that while he can set a constructive tone for the team, and can prepare these [established stars] physically and tactically, reminding them from time to time to their annoyance that they are not playing as they can, ultimately what drives them is them.

Not so the marginal player. Young players whose styles are not yet set, older players on the other side of their careers, their egos battered until they're willing to listen: these players are vulnerable and can be manipulated. So Bowman manipulates them -Tremblay, Chartraw, Larouche, Larocque, and others- sometimes cruelly. Benching them, ignoring them for long periods of time, he makes them worry, and makes them wonder why. Then the team hits injuries or a slump and he uncovers them again. He works them hard in practice, watching them, telling the press how hard and well they are working, making them feel they are earning their place on the team. Given a chance, usually at home, they give back an inspired game. A few games later, the inspiration fades, and it all starts again. He holds them by their emotional strings, often for many years, manipulating them until he gets out of them what he thinks is there; then, when he gets it, when he feels it is grooved into place, he stops.
Daniel Brière anyone? Dale Weise? Jiri Sekac? Michel Therrien has come under a lot of criticism over ice time, especially what he gave to P.K. Subban prior to this season. This year it's Alex Galchenyuk's ice time. The truth is Michel Therrien inherited a very talented team but a very young team. Each, count them, each young player has flourished under Michel Therrien. Max Pacioretty is now a two-way player without sacrificing his goal scoring ability. David Desharnais, undrafted, and Gallagher, 5th round draftee, are now top 6 mainstays. P.K. Subban has become a top 5 defenseman in the league. Alex Galchenyuk is becoming a bigger offensive threat each year. Only Lars Eller and Alexei Emelin have not grown as players as much as the others but the team has not thrown in the towel yet.
It would've been easy to predict back in 2012 that one out of Subban, Pacioretty, Galchenyuk or Price would falter and even regress. In fact many said that exactly, especially in Subban's case. But the players only grew better. You can give the credit to the players themselves, or the scouts, or the GM, or the former GM but you have to at least give some props to the guy who's been coaching them for the last three years, keeping the team's win percentage at .656, .610, and .670 in the process.
Also a question: How can the GM be so liked and the coach so disliked? Do people think they work independently from each other? You gotta know that the GM and his assistants meet the coach and his assistants on a regular basis and that no decision is made on a whim by one man.
Myth Number 2: Dale Weise Doesn't Belong on The First Line
It seems to bother a lot of people that a player the type of Dale Weise gets first line minutes. People seem to think that a first line is superstar territory and should be reserved for the best players. Dale Weise shouldn't be playing with Max Pacioretty.
Bob Errey is an NHL veteran who piled up 382 points in 895 games. His career best in points was 58 in 1988-89, 16 more points than his second career best of 42. Two years later, he won his first of two Stanley Cups, on Mario Lemieux's left-wing.
Still in Pittsburgh, Pascal Dupuis has played to the right of Sidney Crosby since 2008. Nobody believes he would be a first line player anywhere else in the league. Crosby and Malkin are only paired together when they are in trouble and need a quick goal. Same for Toews and Kane, and Datsyuk and Zetterberg. Nikita Kucherov has 43 points so far this season yet Ryan Callahan is playing on Steven Stamkos' right wing.
Get the Puck
Sometimes when you get too many superstars on a same line they just skate around and pass incessantly trying not to step on each other's egos.
Max Pacioretty is the goal scorer on that line, just get him the puck. Dale Weise is a fast skater, can dish out big hits, and isn't afraid to go in the corners to retrieve the puck. He has also shown that given the right set up, he has a shot that can beat NHL goalies. Most of all, he has an energy that is constant game after game. Something you can't say about many other players on that team. Except maybe the guy he trades places with, Brendan Gallagher.
It is better to have a guy like Weise play with Pacioretty and distribute your offensive players on every line. Then when you need it you can whip out a super line with all your best players to get a goal.
Pacioretty and Weise have a good chemistry. Everyone knows their role and what they have to do and that's the make up of a good line.
You Read the Whole Thing and It's Not Even Finished
There is a few more myths out there to tackle in coming columns. Including a few about a couple of masked men. Stay tuned, same bat-time, same bat-website. Tananananana