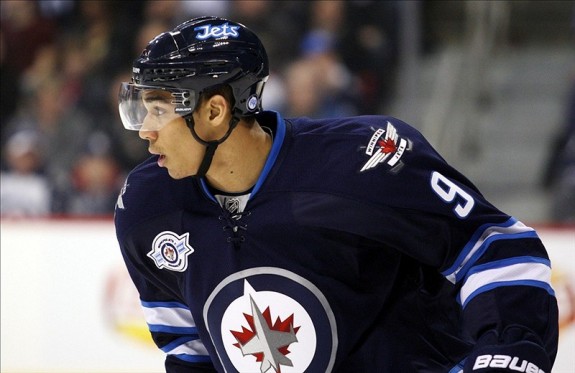 Jim Rutherford tells it like it is.
Unlike his predecessor, former Pittsburgh Penguins GM Ray Shero, Rutherford says what he's going to do…and then he does it.
Shero was more of a modern-age GM. He managed the message, strategically leaked information to the rest of the league and always presented his best poker face. The only way to learn his strategies was to watch how he played his hand at the table.
Rutherford doesn't care about that element of the job.  It's worth paying attention to everything he says.
Sportsnet's Mark Spector had a great piece on Wednesday that touched on Rutherford's perspective on the upcoming March 2 trade deadline:
"We haven't seen this team yet," Rutherford said. "We've managed to stay near the top of the East with all the adversity that we've dealt with, and all the different players who have come in. Now, I'm hoping we get to see our team. And even with that, Maata won't play 'til training camp, and Dupuis is a top-six forward."

Rutherford's dad was in the car business, and that's a good thing. Because in his first year as Penguins GM, there will be some wheeling and dealing to do prior to the deadline. He wants a defenceman for sure, and a left-winger to put next to Malkin is also a priority.
The last line caught my attention. While it wasn't a direct quote, it still seems like something Rutherford passed along to Spector and isn't too different from what he's been saying all year.
Prior to Pascal Dupuis' blood clot issue, Rutherford was already looking for a top-six winger.  Dupuis' situation just meant there was probably a need for two.
Easier said than done, of course, but David Perron certainly fills one of those holes.  Now we know that Rutherford is targeting a left wing that can play alongside Evgeni Malkin.
In light of Evander Kane's bizarre situation in Winnipeg, I'm starting to think there's a possible deal to be made.
Would I do it?  No.
But I think Jim Rutherford might.
Gary Lawless at the Winnipeg Free Press wrote on Wednesday that Kane was scratched the night before against Vancouver for violating a dress code.
The version I heard was a bit more nuanced than Lawless' account, but nonetheless I agree with his conclusion that this feels like the end of the road for Kane as a Jet.
Why Evander Kane?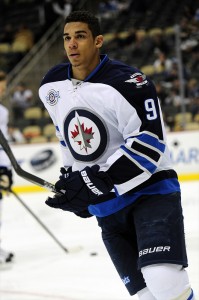 There will be dozens of articles this week promoting the value of Kane to all 29 NHL teams not named the Winnipeg Jets.
Evander Kane is a goal-scoring, power forward.  He scored 30 goals in just 74 games of the 2011-12 season, but critics point to the rest of his résumé that doesn't include another 20 goal season.
Some in Winnipeg are convinced he's overrated — a high-flying player that stands out with his physical edge but is missing key skills like vision and playmaking abilities.
Lawless recently argued that Kane wasn't a natural goal scorer, or even top-six talent.
Fortunately, From the moment Kane started playing in Winnipeg up until now, he's 53 goals in 3315 five-on-five minutes. This places Kane 44th in the entire NHL in goal scoring pace, and second of any Jet (FYI: Andrew Ladd is 43rd, Mathieu Perreault is 45th, and Blake Wheeler is 125th). Keep in mind that there are 90 players in the NHL on a first line, and 180 players in top six positions. For more context, Sidney Crosby is at 42nd and Patrick Kane is 41st." Garret Hohl at NHLNumbers.com put together a statistical counter to this notion that's more than just throwing advanced stats against a wall to see what sticks.
From the moment Kane started playing in Winnipeg up until now, he's scored 53 goals in 3315 five-on-five minutes. This places Kane 44th in the entire NHL in goal scoring pace, and second of any Jet…Keep in mind that there are 90 players in the NHL on a first line, and 180 players in top six positions. For more context, Sidney Crosby is at 42nd and Patrick Kane is 41st.
That sounds like a natural goal scorer to me, especially in light of Evander Kane's middling linemates like Adam Lowry, Mark Scheifele, and Olli Jokinen, as Hohl goes on to point out.
Evgeni Malkin is one of the game's best playmakers. Creative players with good vision definitely succeed on his wings, but Malkin's best seasons have been when physical forwards like Chris Kunitz and Ryan Malone have been clearing space for him on the wing.
Kane definitely doesn't have the quick release of James Neal, who made a living finding the soft spots in coverage and waiting for Malkin to feed him the puck.  That's one significant concern I have with Kane's ability to mesh with Malkin long-term.
From a salary perspective, Kane is signed for three more seasons at a cap hit of $5.25 million.  It's not often that 23-year-old forwards with the potential to score 30+ goals on reasonable long-term contracts become available.
When they do, it's typically because they have warts.
I won't pretend to grasp the details of Kane's immaturity or behavioral issues.  I just know that Rutherford wants a left wing for Malkin's line and he wants a player that can score goals by going hard to the net.
Evander Kane seems like his fit.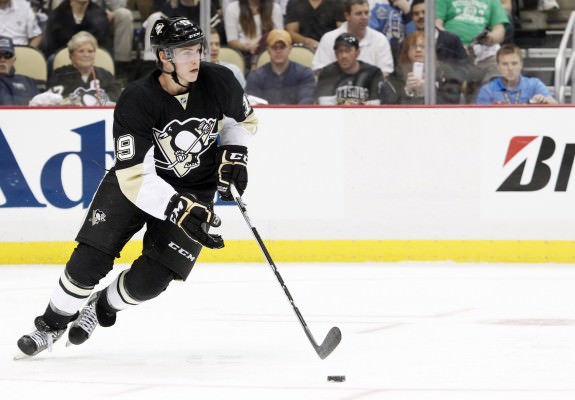 What Will Pittsburgh Give Up?
This isn't the first (or the second) time Kane's name has circulated in trade rumors.
I remember hearing a year or two ago that the Jets were asking for two top-six forwards, a good prospect, and a high draft pick in any deal for Kane.  That fits with the standard return for a top-line winger — Rick Nash fetched Brandon Dubinsky, Artem Anisimov, prospect Tim Erixson, and a first-round pick in a 2012 deal.
I'm not sure Kane is as highly-regarded (overrated?) as Nash, especially in light of his recent transgressions.
The Jets obviously haven't gotten that return for him yet, which means three of those four desired pieces is probably more reasonable.
Do the Penguins have what it takes to ante up for Kane?
I think so.
Remember the quote about Rutherford wanting a left wing for Malkin?  David Perron prefers the left wing, yet the Penguins shifted him to right wing on Sidney Crosby's line for the time being so Chris Kunitz could retain his spot on the left.
Why not shift Kunitz or Perron down to Malkin's line?
I'm not sure what's going on with Kunitz.  Something just doesn't seem right there.  He's been playing disengaged for most of the season.  There's been a recent undercurrent of speculation on social media that he could be (or wants to be) moved, but no one has gone on the record with details yet.
Either way, Kunitz seems like a logical centerpiece in any Kane deal.
In other scary news, the Pens have the 4th oldest team in the league at 27.99.

— 2021 Jim (@SportsingJim) February 5, 2015
The Penguins need to get younger and Kunitz's Stanley Cup resume is exactly what an inexperienced Jets team needs.
Perron would slide back to his preferred position at left wing. Patric Hornqvist would jump to Crosby's right side.  Kane and Blake Comeau would flank Evgeni Malkin on a second line.
That sounds like a good playoff fit.
Beau Bennett is the second piece I see being included in any potential deal. His career-long struggles with injuries, mumps, and most recently healthy scratches are no secret. Bennett seems like a player who just needs a change of scenery at this point to hit the reset button.
I think a handful of teams will be interested in taking a chance that the 2010 first-round pick can still evolve into a good winger.  Joffrey Lupul and Justin Williams are two players that battled the injury-prone label early in their careers only to later become successful in other cities.
As far as the third piece in the deal, that's tough to predict.
The Penguins already dealt their 2015 first round pick to Edmonton in the Perron deal.  They lost their third round pick in last year's trade for Marcel Goc.  I don't think Rutherford can afford to sacrifice a second rounder as well without giving the Penguins long-term depth problems.
From a prospect perspective, I wouldn't include Derrick Pouliot or Scott Harrington in any deal at this point.
Pouliot has looked very good at times this season and his potential as a Sergei Gonchar caliber defensemen seems great if he can find a way to play consistently on both ends of the ice.
Harrington hasn't been as impressive.  He seems overmatched as a 21-year-old right now but I think the tools are there for him to slide into Paul Martin's void in the coming seasons.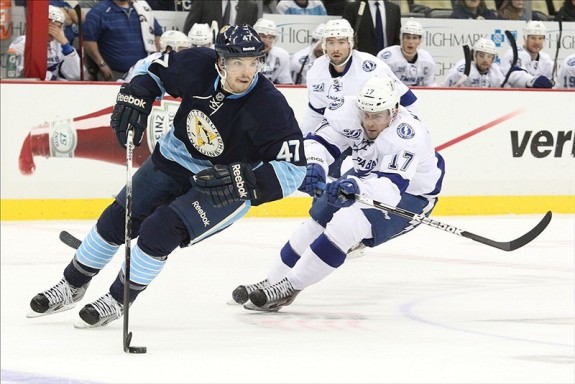 That leaves a player like Simon Despres, whose name doesn't come up nearly as much as it should in talks of potential trade pieces.  Despres has finally escaped the limitations of the Ray Shero / Dan Bylsma regime and become a solid #4/#5 defenseman this year.
I don't know that his ceiling is much higher than that though and his departure wouldn't leave a significant hole in the Penguins' defense, especially if Rutherford is also pursuing another defenseman.
The Jets have nine NHL-roster defensemen right now, so finding room for Despres might be a challenge.
That leaves me with Brian Dumoulin.  Rutherford drafted Dumoulin in Carolina back in 2009.  He's a big body that can skate and move the puck, yet his departure wouldn't be a big deal with the Penguins' defensive prospect depth.
Finally, what would the salary implications of a Kane for Kunitz, Bennett, Dumoulin trade look like?
Kane carries a $5.25 million cap hit, while Kunitz+Bennett total $4.75 million (Dumoulin is in the minors) — a net of +$0.5 million for the Penguins, who should still have over a million dollars of flexibility to work with.
I don't have a great feel for Rutherford's playbook yet, but he told Spector he doesn't like to wait for the deadline to pull the trigger.  His aggressive moves this year and in prior seasons confirms that.
Evander Kane just seems like his next deal to put the Penguins back in contention for a Stanley Cup.