The University of North Dakota Women's hockey team is playing well and is 8-1-1 since Dec. 12. During the month of January, UND had back-to-back sweeps against Ohio State University and Bemidji State.
Last weekend, UND continued their torrid play when they took five-of-six points from the University of Minnesota-Duluth Bulldogs at Amsoil Arena.
With their current streak, UND has improved (15-10-3, 11-8-3 WCHA). This weekend, #8 North Dakota is set to faceoff against the #2 University of Minnesota Golden Gophers (24-1-4, 17-1-4 WCHA).
This series will go a long way in determining where UND ends up in the final WCHA standings.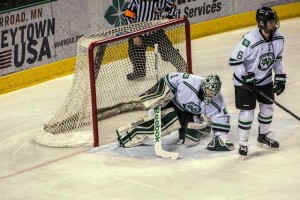 Amsley-Benzie's second half run
One of the reasons for UND recent success has been the play of junior goaltender Shelby Amsley-Benzie.
Since December 12, Amsley-Benzie has been rock solid going (7-0-1, 0.74 GAA, and a .969 SV%).
Amsley-Benzie's run is no fluke; she is also one of the top goalies in the WCHA. She's first in save percentage, third in goals against and fourth best winning percentage.
This past week, Amsley-Benzie was named the Western Collegiate Hockey Association's Defensive Player of the Week again for a second time in three weeks.
UND's resurgence a team effort
Junior forward Layla Marvin isn't surprised by Amsley-Benzie's late season surge.
"Shelby has been awesome for us," Marvin said. "I've played with her for many, many years now, going back to high school. It's no surprise for me. She's always been very good for us and she's stealing some game for us, which is awesome."
I asked Amsley-Benzie about her recent play and what's going right for her. The junior goaltender was quick to point out that her good fortune is a direct reflection of the players in front of her.
"I think it's been a team effort," Amsley-Benzie said. "The team as a whole is bearing down and taking a playoff mentality. That each game is due or die for us. Everyone is just kind of doing what it takes to win a hockey game."
Amsley-Benzie continued, "The team is bearing down now. Earlier in the season we weren't finishing out games like we should be.  Now we are. We know that we need to win every game from here on out and that's what our plan is."
Head coach Brian Idalski agreed with Amsley-Benzie's assessment.
"She's been playing at a pretty high level most of the year," Idalski said. "I think she's getting a little more support in front of her. Really, that's why her numbers are skyrocketing a little bit here in the second half. That's nothing new, she's kind of carried our club the last couple of years during the second half. We've kind of come to expect that from her."
It's UND vs. UMN week and there's a lot of excitement surrounding this weekend's series. The series against the Gophers also serves a measuring stick. Traditionally, the Gophers are one of the top teams in the country and teams elevate their play when the Maroon and Gold come to town.
"We just need to play our game," Amsley-Benzie said. "Obvious they're big games for us. Playing the Gophers is always fun.  It's going to be to be intense. We just need to go out there and play our game and do what we do best."
Amsley-Benzie has been at UND for four years. She redshirted her freshman season.  That experience is really starting to play dividends for the junior goaltender.
"That experience is helping me," Amsley-Benzie said. "I am getting older and more mature. I just feel more comfortable in the net and that's helping me as a whole."
In honor of a great father, friend and supporter of UND! Rick Kohler you will be missed! #UNDBeyondTheIce @beckohler pic.twitter.com/ty175Lggpr

— North Dakota WHockey (@UNDWHockey) January 24, 2015
Adversity Motivates UND Women
The 2014-15 UND hockey team has experienced their fair share of adversity and it appears to have brought them together. "I feel like It has been a tough year," Amsley-Benzie said. "I think it kind of brought us all together."
"I feel like It has been a tough year," Amsley-Benzie said. "I think it kind of brought us all together. There are a lot of people that we're playing for. We playing for ourselves, we're playing for Becca's (Kohler) dad. We're playing for Lisa (Marvin). So we're kind of playing together for ourselves."
The UND women's team knows that they have to win the WCHA's Final Faceoff to make the NCAA tourney. They're battle ready and up for the challenge. Finally, they're playing for themselves and they're loved ones.
On behalf of all of us here with @GopherWHockey we are praying for a speedy recovery for @UNDWHockey player @lisamarvin55

— Brad Frost (@FrostBrad) November 19, 2014