The Toronto Maple Leafs and Detroit Red Wings celebrated the Centennial season for the Toronto Maple Leafs in style. Though outdoor games are becoming a regular spectacle in the National Hockey League, there's still a level of glamour and prestige that go along with them. It isn't every day that players get to perform in front of crowds as big as the ones at outdoor games, and though they're becoming more of a frequent part of each NHL season, the production value that goes into each is simply amazing.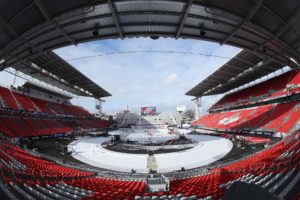 The Maple Leafs and Detroit Red Wings have played each other 658 times following the Centennial Classic, and though they've competed in many important situations – including 23 playoff series against each other, they've only played on such a grand stage once before. In 2014, the two clubs faced off in the Bridgestone NHL Winter Classic at Michigan Stadium with 105,491 fans in attendance that day. On New Years Day 2017, the two teams once again faced off to a large crowd with 40,148 in attendance at BMO Field in Toronto.
The game had goals, fights, history, and made memories that everybody in attendance could keep with them for a life time. Whether it's the players, coaches, fans, media, referees, or anybody else who was a part of the spectacle – the Centennial Classic certainly lived up to the hype.
---
First Period
The first period may not have had any scoring, but there was still no denying the atmosphere. Midway through the first frame, the Maple Leafs were outshooting the division rival Red Wings 8-2. While the Leafs got early looks and chances, the Red Wings did their best to stay in the game in the first 20 minutes. Their efforts were evident and though they were still being outshot at the conclusion of the period, they did climb their way back by outshooting the Leafs 7-1 in the latter half of the first.
End of 20 mins at BMO.

– Leafs outshot Wings 10-9
– Wings came on strong at end of frame
– Leafs had some early chances#NHL #MapleLeafs

— Andrew Forbes (@AndrewGForbes) January 1, 2017
Second Period
After both teams got their nerves out of the way, the second period finally saw some scoring. The Detroit Red Wings struck first courtesy of Anthony Mantha snapping a shot over Frederik Andersen's glove hand to give his team the 1-0 lead. Henrik Zetterberg and Tomas Tatar were credited with the primary and secondary assists respectively and officially got their names added to the boxscore for the Centennial Classic.
Anthony Mantha rips one high glove side, #RedWings take the 1-0 lead at the #CentennialClassic pic.twitter.com/Q21h4UzuhQ

— Marina Maher (@marinakmaher) January 1, 2017
Third Period
The Maple Leafs really took off in the third period. After being down 1-0 after the first 40 minutes, Toronto stepped up and scored four unanswered goals to win the Centennial Classic. The scoring for the Leafs was started by Leo Komarov who buried his sixth of the season with Jake Gardiner and William Nylander notching assists at the 1:23 mark of the third.
BMO Field comes alive as Leo Komarov finally puts the home side on the board, 1-1 now

— Pierre LeBrun (@PierreVLeBrun) January 1, 2017
The action wasn't limited to scoring, however, as Matt Martin and Steve Ott dropped their gloves at the 3:25 mark of the frame. Their differences didn't end once they were in the box, however, as they exchanged more words while serving their five-minute major penalties.
Matt Martin with the "come at me bro" pic.twitter.com/hi7tpLy281

— Pete Blackburn (@PeteBlackburn) January 1, 2017
Mitch Marner joined the scoring at the 8:23 mark of the third period with a wicked shot that beat Jared Coreau.
Mitch Marner, what a beauty. #Leafs pic.twitter.com/khXSFChg7u

— Marina Maher (@marinakmaher) January 1, 2017
Just 1:11 later, Connor Brown gave the Leafs the 3-1 lead with his seventh of the season. After a 1-0 lead, the Red Wings were chasing the score, and things would only get worse.
Here come the kids… 3-1 Leafs as Connor Brown scores.

— James Mirtle (@mirtle) January 1, 2017
At the 12:05 mark of the period, Auston Matthews scored his 19th goal of the season – good for first among rookies. Not to be left out of the fun, Matthews made sure to make his mark in the biggest game of his career to date.
No. 19 for Auston Matthews and you can tie a bow on this Centennial Classic, 4-1 Leafs. Let the New Year's Day party begin in Toronto.

— Pierre LeBrun (@PierreVLeBrun) January 1, 2017
The Red Wings did try for the comeback, however, when Jonathan Ericsson scored his first goal of the season with Mantha logging his second point of the game.
Ericsson scores for #redwings, narrows #leafs lead to 4-2. As the late Pat Quinn would say: It's Hudson Bay Rules out there! 5 goals in 3rd.

— Mike Zeisberger (@Zeisberger) January 1, 2017
The Red Wings cut the lead down to 4-3 with a Dylan Larkin goal, showing they still had life.
Larkin cuts #leafs lead to 4-3 with 1:46 remaining. #RedWings

— Mike Zeisberger (@Zeisberger) January 1, 2017
To add even more suspense, Mantha scored his second goal of the game to tie the game with just 1.1 seconds remaining on the clock. The league reviewed the goal and deemed it a good one, forcing the game into overtime.
ANTONHY MANTHA TIES IT WITH LESS THAN 2 SECONDS LEFT! pic.twitter.com/075Xmy23AK

— Marina Maher (@marinakmaher) January 1, 2017
Overtime
Overtime saw chances back and forth before Auston Matthews scored to win the Centennial Classic for the Toronto Maple Leafs after an entertaining game by both squads on New Years Day.
Auston Matthews in overtime. His first ever outdoor game.

— Chris Johnston (@reporterchris) January 1, 2017
---
Scoring Summary
FIRST PERIOD
No score
SECOND PERIOD
DET – A. Mantha (8) assisted by H. Zetterberg and T. Tatar
THIRD PERIOD
TOR – L. Komarov (6) assisted by J. Gardiner and W. Nylander
TOR – M. Marner (9) assisted by M. Rielly and J. van Riemsdyk
TOR – C. Brown (7) assisted by Z. Hyman and C. Carrick
TOR – A. Matthews (19) assisted by C. Brown and Z. Hyman
DET – J. Ericsson (1) assisted by A. Mantha and X. Ouellet
DET – D. Larkin (11) assisted by H. Zetterberg
DET – A. Mantha (9)
OVERTIME
TOR – A. Matthews (20) assisted by J. Gardiner
THW Three Stars
First: A. Matthews (2 goals – GWG)
Second: A. Mantha (2 goals, 1 assist)
Third: C. Brown (1 goal)
Up Next:
Toronto Maple Leafs at Washington Capitals
Verizon Center – 7:00 p.m. EST on Tuesday, Jan. 3.
Broadcast channels – TVAS, CSN-DC
2016-17 Season Series: 
Nov. 26 – Capitals 2 – Maple Leafs 4
Detroit Red Wings at Anaheim Ducks
Honda Center – 10:30 p.m. EST on Wednesday, Jan. 4.
Broadcast channels – FS-W, FS-D
2016-17 Season Series: 
Dec. 17 – Ducks 4 – Red Wings 6