The '12 Days of Christmas' is a classic holiday song first published in its current form in 1908. In a nod to the classic carol, join The Hockey Writers as we count down the 12 Days of Hockeymas. Each day, we will provide you with a piece of hockey history as we eagerly await the start of the 2020-21 NHL season.
The Detroit Red Wings, one of the league's most storied organizations, have won the Stanley Cup 11 times, third-most in the league. That's where we start today's countdown to Christmas.
1930s and 1940s – The Legend Begins
Detroit has a long, storied tradition of hockey, and it all began with its first set of championships in the 1930s and '40s. Champions in the 1935-36, 1936-37, and 1942-43 seasons, the Jack Adams-led Red Wings became the first-ever team to repeat as Stanley Cup Champions, just four years after establishing its current identity. The prior namesakes of the Cougars (1926-27 through 1929-30) and Falcons (1903-31 and 1931-32) failed to ever reach a Stanley Cup Final, but that all changed once the Red Wings were born.
The first championship team in franchise history, in 1935-36, featured four members of the Hall of Fame: Marty Barry, Herbie Lewis, Syd Howe (no relation to Gordie) and Ebbie Goodfellow. That team went 6-1 in the playoffs, sweeping the Montreal Maroons in a series that included a six-overtime game, before beating the Toronto Maple Leafs three games to one. John Sorrell led the way with seven points on three goals and four assists, and goalie Normie Smith posted a goals against average (GAA) of 1.34 with two shutouts.
The very next season, the Red Wings became the first team in the NHL to repeat as champions, defeating Montreal in the semifinals before topping the New York Rangers in the final. Barry led the way in the playoffs, recording 11 points on four goals and seven assists, and three goalies combined for a 1.47 GAA — Smith, Earl Robertson, and Jimmy Franks — to help capture the team's second title.
The team had one last dance — 1942-43 — with a team that featured six hall of famers. Syd Howe, Goodfellow, Harry Watson, Jack Stewart, Bill Quackenbush, and Sid Abel led the way, with Abel posting 13 points while goalie Johnny Mowers compiled a 1.94 GAA in 10 playoff games.
The 1950s Were a Decade of Dominance
The 1950s ushered in an era of pure dominance where the Red Wings captured four championships in six years. Winners in 1949-50, 1951-52, 1953-54, and 1954-55, each championship team featured at least seven members of the Hall of Fame, with different iterations made up of Abel, Ted Lindsay, Gordie Howe, Red Kelly, Jack Stewart, Harry Lumley, Terry Sawchuck, Alex Delvecchio, Marcel Pronovost, Keith Allen, Al Arbour, and Glenn Hall.
The famed "Production Line" led the way for Detroit, as Lindsay, Abel, and Gordie Howe dominated throughout the 1949-50 season. The three ultimately finished 1-2-3 in scoring that season with 78, 69, and 68 points, respectively, leading the team to two titles. After Abel was traded to Chicago following the 1951-52 season, Delvecchio joined in, and the Red Wings continued to roll.
That second iteration of the Production Line led the team in scoring for both the 1953-54 and 1954-55 championship teams, and put together some mind-boggling numbers along the way. In just 11 games during the 1955 playoffs, Howe recorded 20 points (nine goals, 11 assists), Lindsay followed with 19 points (seven goals, 12 assists), and Delvecchio rounded it out with 15 points (seven goals, eight assists).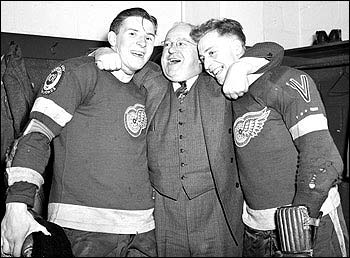 All of the era's championship teams were backstopped by a pair of Hall of Fame goalies, with Lumley chipping in first before the legendary Sawchuck helped deliver the final three titles.
The 1990s and 2000s Brought a Resurgence of Greatness
The Red Wings suffered through a 42-year championship drought after that 1955 title, a span in which they only appeared in six Stanley Cup Final series. However, memories of that futility faded quickly after the team rolled off four titles in 11 seasons: 1996-97, 1997-98, 2001-02, and 2007-08. Those championship seasons were highlighted by resilience, grit, and determination.
Twelve members of the Hall of Fame graced the roster during those championship seasons: coach Scotty Bowman, Brendan Shanahan, Steve Yzerman, Sergei Fedorov, Igor Larionov, Viacheslav Fetisov, Larry Murphy, Nicklas Lidstrom, Brett Hull, Luc Robitaille, Chris Chelios, and Dominik Hasek have all since been enshrined, and there may even be another in the future, once Pavel Datyuk becomes eligible.
Each championship was highlighted by its own unique sentiment. The 1996-97 team overcame years of doubt about its championship pedigree, highlighted by Bowman's effort to integrate the Russian Five's European style into North American hockey. The very next season the Red Wings repeated as champions with heavy hearts after star defenseman Vladimir Konstantinov and team masseuse Sergei Mnatsakonov were permanently injured in a car accident the previous offseason, helping fans and players heal.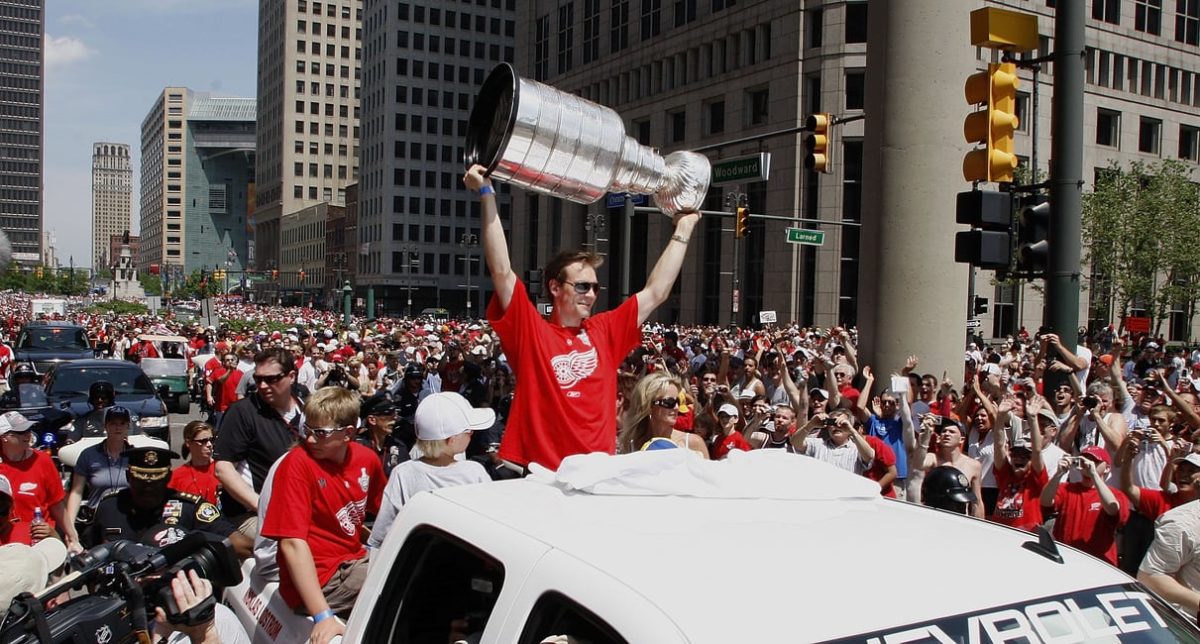 The 2001-02 team was a star-studded affair that featured 10 Hall of Famers on a single team, and aging stars such as Hasek and Robitaille had the opportunity to finally win a championship after years of coming up empty elsewhere. The 2007-08 team was a return to glory of sorts, and Lidstrom became the first-ever European-born captain to win the Stanley Cup on a team that showed you don't need to have a team filled with Hall of Famers to win a title (they had three).
The Red Wings have built memories for generations of fans, and with a seemingly solid rebuild now in place, it likely won't be too long before new ones are formed. The legacy of the great names to pass through Hockeytown will live on forever, especially as the organization tries to add to its 11 championship banners hanging from the rafters.
Catch Up on All 12 Days of Hockeymas:
12 Years Since Winning the Cup
---
---