Already being regarded as one of the best European prospects heading into the 2023 NHL Draft, Leo Carlsson caught some major attention over the course of the 2023 World Junior Championship (WJC). For the teams that might be falling low enough in the standings to warrant a high draft pick, he's certainly someone to be excited about.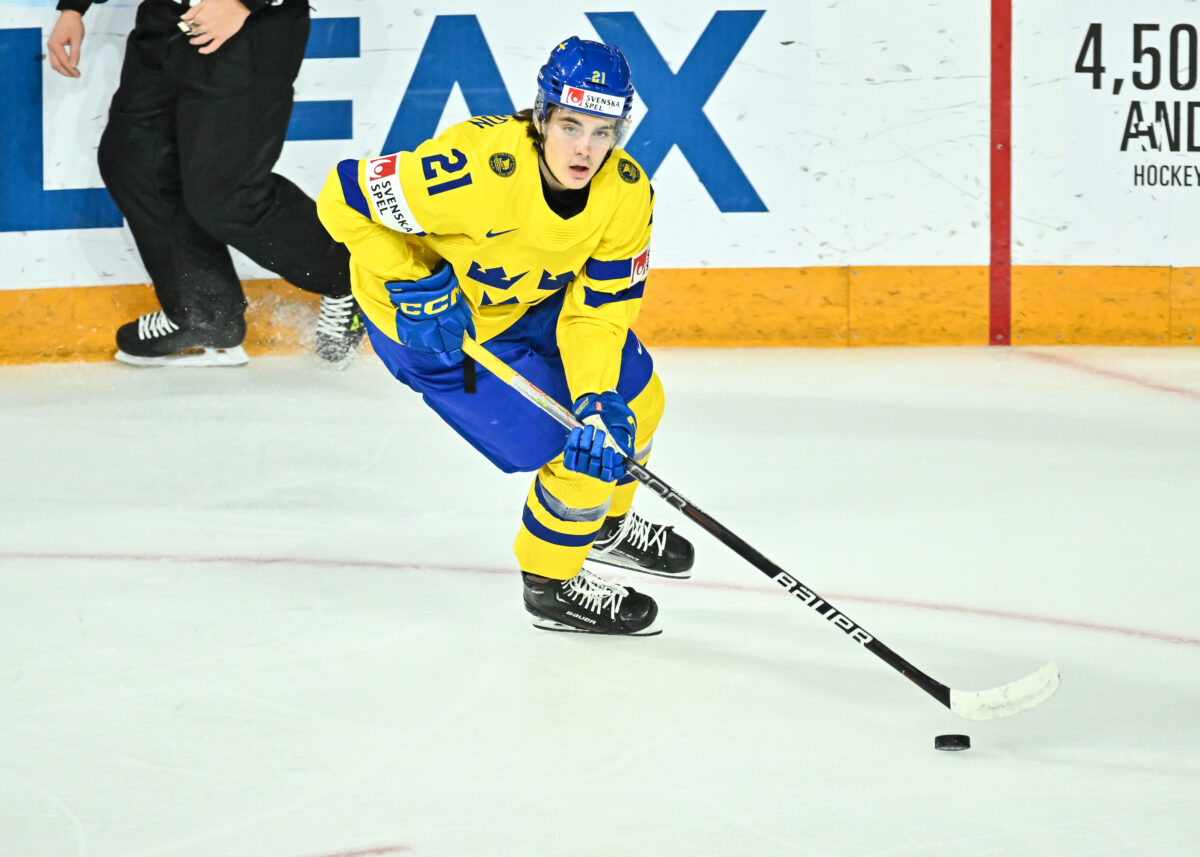 So, what about Carlsson is exciting regarding the Detroit Red Wings? He seems to be a perfect candidate for a first-round draft pick and they love going with Europeans in the early rounds. Here's a recap of his stellar WJC run and just what else makes him a desirable draft target for the Red Wings.
2023 World Juniors
Through Team Sweden's seven games at the 2023 WJC, Carlsson had three goals and three assists. This was his second appearance at the WJC with his last being with Sweden's U18 team in 2022. All eyes were on him each shift he played as he dazzled the hockey world with his understated talents. His most impactful moment of the tournament was when he scored the equalizing goal late in the final period of the quarterfinal matchup against Finland. He opened the scoring of that game and ended up having two of his team's three goals in what would be a huge win for the Swedes.
What stood out the most about Carlsson in the tournament was his playmaking ability and newfound confidence. He's a tough player to defend because he excels at passing under pressure or getting a shot off on goal. Pressure doesn't seem to have a hugely negative impact on his game as he maintains possession, makes passes through traffic, and gets scoring chances set up for himself and his teammates. His efforts for Team Sweden helped propel them to the semifinals where they lost to Czechia, only to then fall again to the United States in overtime of the bronze medal game.
Other Playing History
Carlsson is a 6-foot-3 center or left winger from Karlstad, Sweden. Currently, he is in his second season in the Swedish Hockey League (SHL) with Örebro HK. He has played with the club since he was at the U16 Division I level back in the 2017-18 season. In the 2022-23 season so far, he has played in 26 games with 14 points (four goals and 11 assists). 
Carlsson is a very disciplined player with an understanding of the game that players twice his age still might not have. The term hockey IQ is thrown around quite a bit but I think he's a great example of a player that truly understands his role on the ice. He is a playmaker but he can also be a finisher – he's essentially a multipurpose tool that can almost mold into whatever role you need him to fill.
To ice things off, his puck-handling skills help him create scoring chances for himself by dancing around defensemen, giving him ample space to set up a shot. He is a solid skater for his size and has moments where he can floor it and take defensemen by surprise. This paired with his puck-handling abilities and hockey IQ make way for plenty of opportunities for both himself and his teammates.
Fitting In With The Red Wings
As of right now, Carlsson is the top European prospect and one of the highest-ranked prospects overall heading into the 2023 NHL Draft. NHL Central Scouting just released their midterm rankings and he was the number one international prospect on the list. With how things are going, the odds are good that the Red Wings will fall into a high draft position and he might be a feasible option as the draft rolls around.
Related: 2023 Draft Eligible Leo Carlsson Is NHL Ready
---
Latest News & Highlights
---
There are six current Red Wings prospects playing in the SHL with the standout of the bunch being Marco Kasper – the most recent first-round pick for the Red Wings. These two are actually almost neck-in-neck in points so far this season with both having 15 points a piece. Out of all the current players in the prospect pool, Carlsson would rank 15th overall right behind Kasper.
So, what about him matches up with what the Red Wings need? To put it simply, a lot. Adding him into the prospect pool adds not only more talent, but another player who is genuinely ready for NHL action. He's a forward with size, which helps him get in the way of opposing goaltenders while also being able to set up and execute scoring plays. All in all, there are a ton of incredible prospects in the 2023 Draft class and there's no wrong option in nearly the whole group. However, it would be awesome to see Carlsson behind the winged wheel come next June.
Other Quotes
"I'm a big, strong player who sees the ice well and uses my size to have the puck a lot, while making plays and creating scoring chances for myself and my teammates." – Leo Carlsson
"Offensively skilled and versatile forward with great size and hockey sense. His combination of size and skill gives him a safe floor and he has the upside to develop into an impactful top-six forward in the NHL." – Nick Richard
"One thing that has really stood out this year, especially against competition his own age, is his confidence and willingness to take more risks with his creativity. He has shown flashes of creative genius when taking the puck up the ice, fighting his way through traffic with a quick deke to start a scoring chance." – Steven Ellis
---
---
Delaney Rimer writes about the Detroit Red Wings for THW who brings a new perspective to the hockey scene as a young female in the industry. Formerly, she wrote for Octopus Thrower- a Detroit Red Wings fan blog.