On the afternoon of April 14, the Detroit Red Wings' general manager (Steve Yzerman) and head coach (Derek Lalonde) met with the media to discuss their team's season as well as what the future may hold. That's right: the Red Wings' 2022-23 season is over and their offseason has officially begun.
The Red Wings took some steps forward this season. Their defensive numbers improved, some key young players took some big steps in their development, and they remained competitive throughout the season – they were not officially eliminated from playoff contention until April 7. Though their playoff drought has now reached seven years, there are plenty of reasons to be excited about what next season has in store for this Red Wings team.
But another year without playoff hockey means that this team still has its issues. When asked what area he would like to see his team improve heading into next season, Yzerman bluntly stated "every area". Though they had their moments of success, the Red Wings missed the playoffs by 12 points – that's not a difference that can be made up by one single player or one single position. Their GM recognizes this, stating that he'll be active in the offseason in trying to add players that can help make up that difference.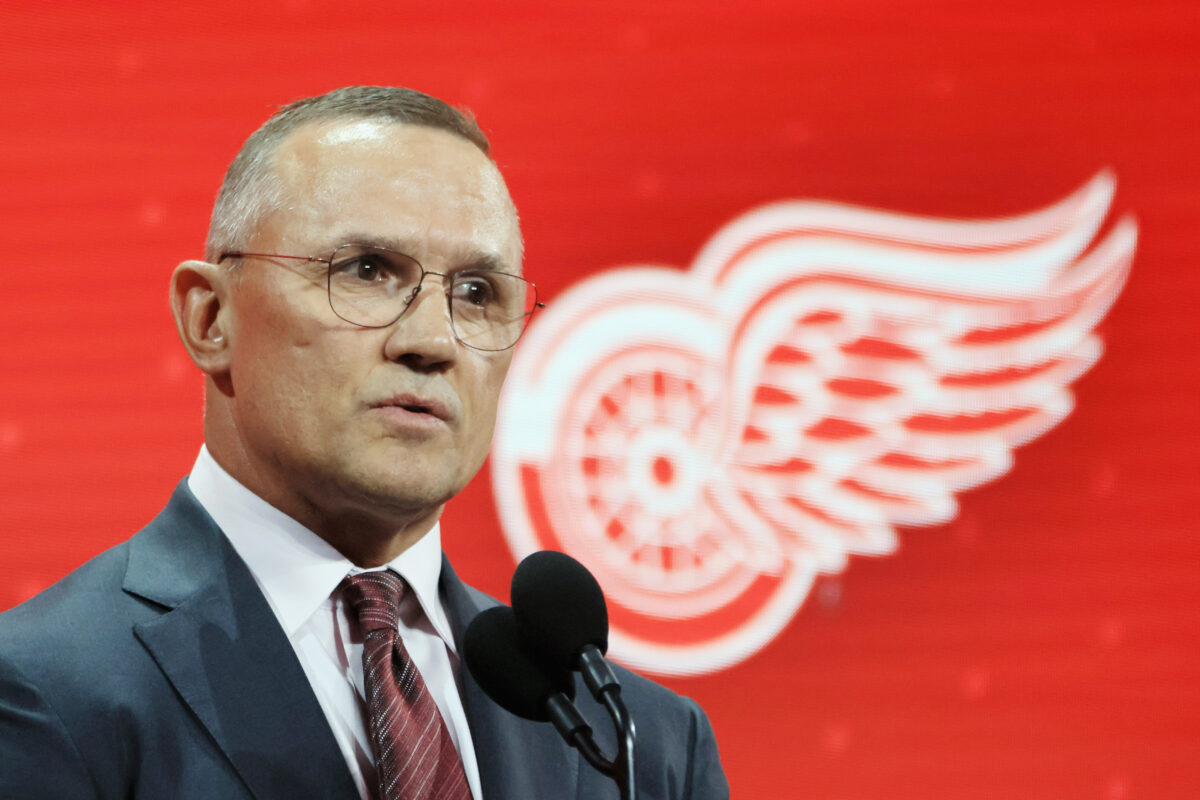 With the understanding that there are many needs Yzerman and his team will hope to address in the offseason, here are the three biggest needs they'll need to address in order to vault the Red Wings into the playoff conversation in 2023-24:
Red Wings Need a Proven Scorer
Despite their progress this season, the Red Wings' offense was carried this season by a handful of individuals. Dylan Larkin led the team in goals (32) and points (79); the next-highest goal scorer on the team was David Perron with his 24 goals this season. Larkin, Perron and Dominik Kubalik were the team's only 20-goal scorers this season. In comparison, the Buffalo Sabres – a team whose rebuild Yzerman labeled as being ahead of Detroit's – had five players with at least 25 goals, and four players with at least 30 goals.
Needless to say: the Red Wings have a goal scoring problem.
Related: Red Wings Could Target One of Maple Leafs' Core 4 This Summer
---
Latest News & Highlight
---
Some of it can be attributed to numerous injuries that handicapped the Red Wings' top six, especially in the first half of the season. Tyler Bertuzzi and Jakub Vrana missed significant time this season, and both of those players were penciled in for at least 20 goals this season. Instead, that duo combined for just five goals this season before they were dealt in separate deals ahead of the trade deadline. Lucas Raymond also missed eight games this season and that, combined with a sophomore slump, led him to finish with just 17 goals this season, six fewer than he had last season.
But their scoring woes this season were mostly because the team lacked a bona fide finisher – the type of player that is a legitimate threat to score every time they are on the ice. While Larkin is a highly capable goal scorer, he is not the type of player that should lead his team in goals. What the Red Wings need is a player that specializes in getting the puck on net and making good on the opportunities that playmakers like Larkin can create.
Luckily, the Red Wings should have some options this summer in terms of addressing this need. Though he's focused on a playoff run right now, winger Vladimir Tarasenko is a pending free agent that has seven 30 goal seasons to his credit. The former St. Louis Blue could be lured to Hockeytown thanks to some familiar faces in Perron, defenseman Jake Walman and goaltender Ville Husso. If Tarasenko isn't an option, the Red Wings may be able to snag a younger scorer from a divisional rival:
Regardless of how they go about addressing this need, it is clear that the Red Wings are not built to have success in high-scoring games. Adding a pure goal scorer would increase their margin of error on defense, and it would give Detroit's playmakers a primary target, especially on the power play.
Red Wings Need to Get Nastier
Let's face it: this isn't your parents' NHL anymore. Fighting is down, the league's average age is down, and speed and skill is paramount the same way that size and strength was decades ago. With that being said, every team still needs a bit of "old time hockey" in their lineup, and it is obvious when a team lacks that element.
The Red Wings had physical players on this season's roster. Bertuzzi is known to get involved in the physical side of the game. Givani Smith was the team's go-to enforcer before he was traded to the Florida Panthers. Players like Adam Erne and Michael Rasmussen weren't shy about throwing hits and playing hard, physical hockey along the boards. Moritz Seider is becoming known league-wide for his "reverse hits" and physical play, among other things.
But none of that matters if the other team knows they can push you around once the intensity increases.
In the final days of February, the Red Wings had back-to-back games against the Ottawa Senators. Detroit had won seven of their last nine, and they were in prime position to make a push for the playoffs as they entered the week of the trade deadline. But with that opportunity in-hand, the Red Wings were out-muscled and outplayed on their way to two losses by a total score of 12-3.
"I think in both situations….they were able to try to play a physical game with us and we didn't have much pushback at the time," Lalonde said.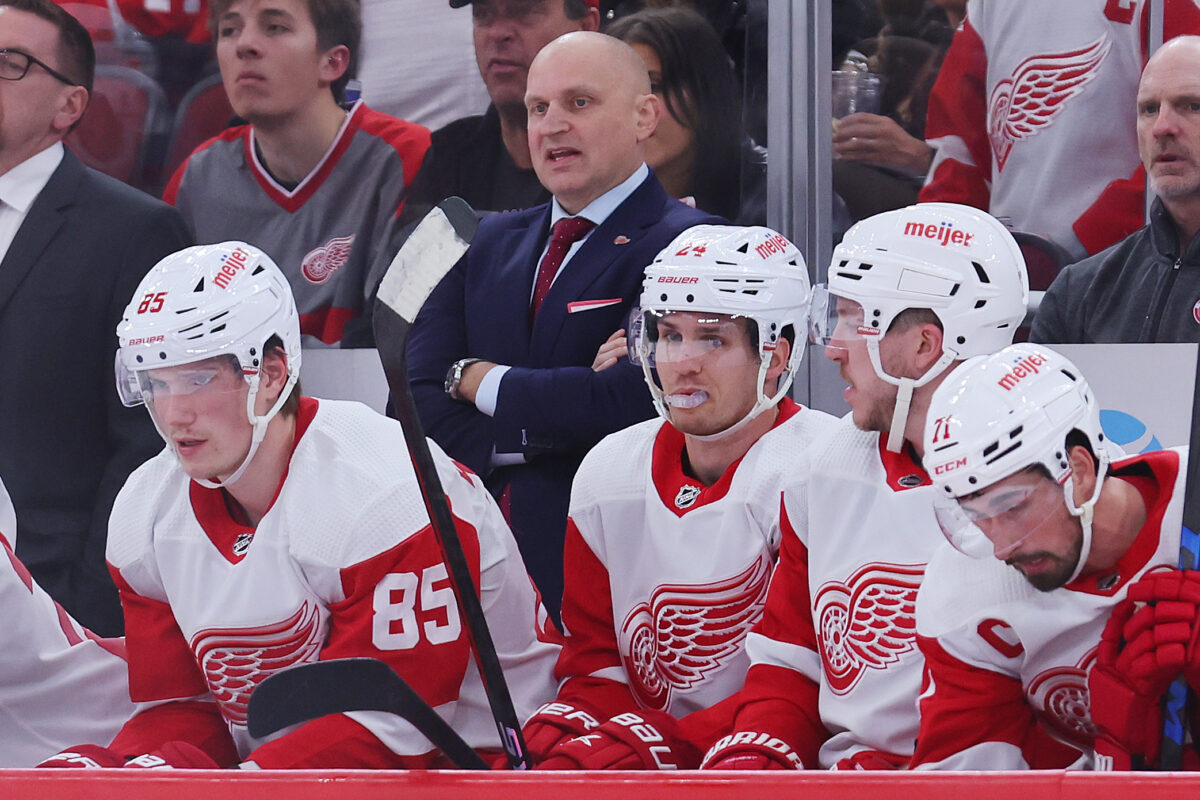 Yzerman also mentioned the team's lack of physicality, stating, "we [need to] be a more physical team….a more competitive team. That doesn't necessarily mean I [have got to] go out and get somebody [that is] 6-foot-6, 250 [pounds] to go out and beat people up…you have to win puck battles, you have to block shots, win faceoffs, all those little things that make a team more competitive."
It is important to note that Rasmussen, a key physical force for the Red Wings, was injured during those games against the Senators, but his presence alone wouldn't have prevented the Red Wings from looking weak against the Senators. It is also important to note that the Red Wings have a 6-foot-8, 250 pound player capable of bringing a physical edge in Elmer Söderblom, and he could play a bigger role for the Red Wings next season after playing 21 games for Detroit this season. There is also Carter Mazur, a 2021 third round pick whose scrappy game has already received rave reviews in his brief time with the Grand Rapids Griffins.
Externally, the Red Wings could target pending free agents like Radko Gudas and Alex Killorn to help make their roster tougher to play against. But if there's one thing worth noting here, it's that being hard to play against in the modern day NHL is more about heart than it is about muscle mass. To become a tougher, more physical hockey team, the Red Wings will need buy-in from everyone on the roster, not just players they could bring in.
Ville Husso Needs Help
For the second season in a row, the Red Wings' starter was a young, unproven goalie coming off of a breakout season. This year's model was Husso, a 28-year-old whose 56 games this season was a career high. The workload proved to be a bit much for him this season as he became the first Red Wings starter to post a save-percentage (SV%) below .900 since Chris Osgood recorded a .887 SV% during the 2008-09 season.
Entering the 2022-23 season, the Red Wings hoped to have a young but steady goalie tandem of Husso and Alex Nedeljkovic. However, Nedeljkovic got off to a horrid start and was eventually replaced by Magnus Hellberg, an unproven goaltender in his own right. All together, the three goalies combined for an overall SV% of .892, far below the league average of .904.
Husso has two seasons left on his contract, but that is not the case for his two counterparts this season. Both Nedeljkovic and Hellberg are pending free agents, and it may behoove Detroit to move on from both as they look to improve their goaltending situation. Husso showed that he can steal wins for his team, but he'll need reliable support if the Red Wings want to maximize his performance next season.
There are plenty of backups slated to be available in the free agent market, and there may even be some interesting names available in the trade market. Regardless of how they go about addressing this need, it is clear that the Red Wings won't be able to insert themselves into the playoff picture without receiving at least league-average goaltending.
Yzerman Will Be Busy Once Again
This season's results mandate change. The Red Wings, as currently constructed, are not capable of outscoring their mistakes, outmuscling their opponents, or giving their top goaltender the night off while still having a good chance at securing two points. Returning the same group is simply not an option.
While most excitement around the Red Wings pertains to the club's future, their present requires some attention if that future is going to arrive. They have key prospects at every position and a handful of them could be ready to contribute in the NHL starting next season. Despite that fact, Yzerman will undoubtedly do his due-diligence in determining whether or not there are external solutions to the team's biggest needs. After all, this is the same GM that went on a spending spree last summer with the intention of elevating the Red Wings' roster and making them more competitive.
We'll just have to wait and see whether or not Yzerman is ready to make an even bigger splash during this offseason.
---