The Detroit Red Wings have not kept the same goaltending duo from one season to the next since Jimmy Howard and Jonathan Bernier were the team's duo during the 2018-19 and 2019-20 campaigns. That fact is a sobering reminder that goaltending has not been a source of consistency for the Red Wings since general manager (GM) Steve Yzerman took over in the Spring of 2019.
Entering this season, the incumbent goaltender was Alex Nedeljkovic, a 26-year-old that was acquired a year ago in a trade with the Carolina Hurricanes. Joining him was Ville Husso, a 27-year-old that was sent to Detroit by the St. Louis Blues in a trade that was completed on the draft floor. Both were young, upstart goaltenders that together had the potential to become one of the better tandems in the NHL.
Just like in seasons prior, that is not what happened.
Instead, Nedeljkovic faltered early on in the season, recording a .880 save-percentage (SV%) in nine games played (GP). That prompted the Red Wings to claim Magnus Hellberg off of waivers from the Seattle Kraken in November, reuniting with the 31-year-old Swedish netminder after he played the final game of the season for the Red Wings last season. By the middle of January, Nedeljkovic found himself in the American Hockey League (AHL), and Hellberg found himself serving as the backup to Husso, whose play this season has made him one of the MVPs for the Red Wings.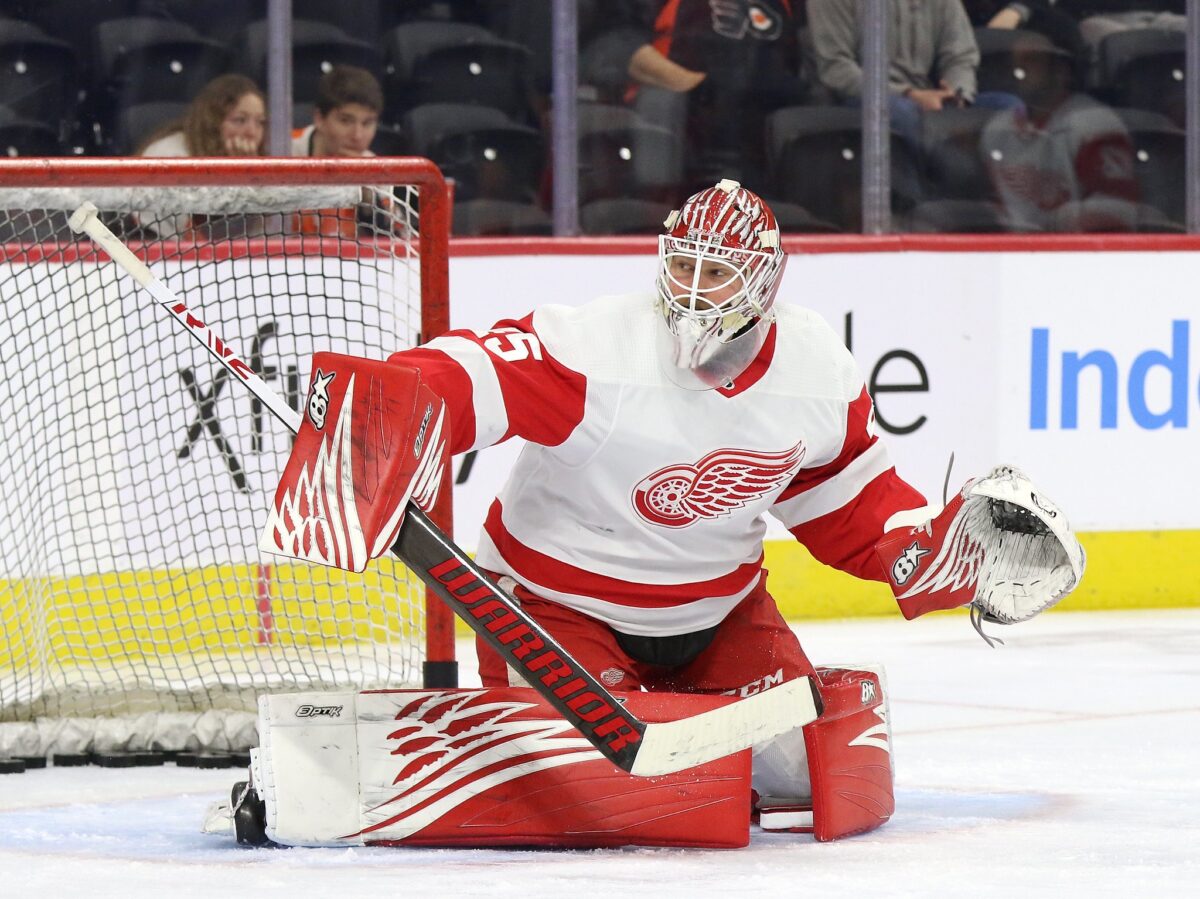 But now the season is just a month from its conclusion. The Red Wings are a longshot to make the playoffs, and that means that the front office is already looking ahead to the decisions they'll have to make in the offseason. Perhaps the biggest decision they'll have to make is who will join Husso in Detroit next season. While he has another two years on his deal, both Hellberg and Nedeljkovic are on expiring deals. This, of course, means that the Red Wings face the question of whether to bring either of them back or not.
If they ever want to return to consistency and continuity in goal from one season to the next, they'll have to choose carefully.
Run It Back with Hellberg
Perhaps it's his demeanor on and off the ice. Perhaps it's his ability to keep his team in games. Heck, it might even be because of how cool his pads are. No matter what the reasons are, Hellberg has certainly made a name for himself in Detroit.
Related: Red Wings' Hellberg Acquisition Starts Goalie Controversy
---
Latest News & Highlights
---
A former second round pick of the Nashville Predators back in 2011, Hellberg has played a career-high 13 games in the NHL this season, 12 with the Red Wings and one with the Ottawa Senators. For the most part he has been fine, if not a bit below average in his limited role as he holds a .898 SV% and a 3.11 goals-against average (GAA) in his time with the Red Wings. But perhaps his biggest accomplishment this season was settling things down during the time when Nedeljkovic's erratic play cast doubt on the Red Wings' chances this season. Hellberg's numbers may not be the prettiest, but he generally keeps his team in the games he plays in, and that's pretty much all his teammates expect from him: just give us a chance.
Also working in Hellberg's favor is his price tag. At just $750k, his league-minimum contract isn't breaking the bank, and a new deal more than likely isn't going to come in at a dramatically higher number. With Dylan Larkin's new deal set to kick in next season and key extensions for Moritz Seider and Lucas Raymond coming around the corner, Yzerman will want to leave himself as much money and cap space to work with as he shapes the Red Wings' cap structure for the foreseeable future.
The Red Wings could do better than Hellberg as Husso's partner in goal, but if they're comfortable with him for another year or two, it shouldn't be too hard to come to an agreement.
Jarry, Korpisalo, Others Available in Free Agency
Free agency typically isn't where you build a team, but it is where you can find missing pieces. While the free agency pool this year doesn't feature many high-caliber options like years past, there are more than a few goalies that could provide some serious value in a tandem with Husso.
Atop that list is Tristan Jarry, the current starter for the Pittsburgh Penguins. A second round pick back in 2013, he has been the Penguins' top option in goal for over three seasons now and has almost 200 NHL games to his credit before the age of 28. His stats this season haven't been his best (2.95 GAA, .910 SV%) but he will likely be heavily sought after on the open market if the Penguins allow him to get there – and that's a pretty big if.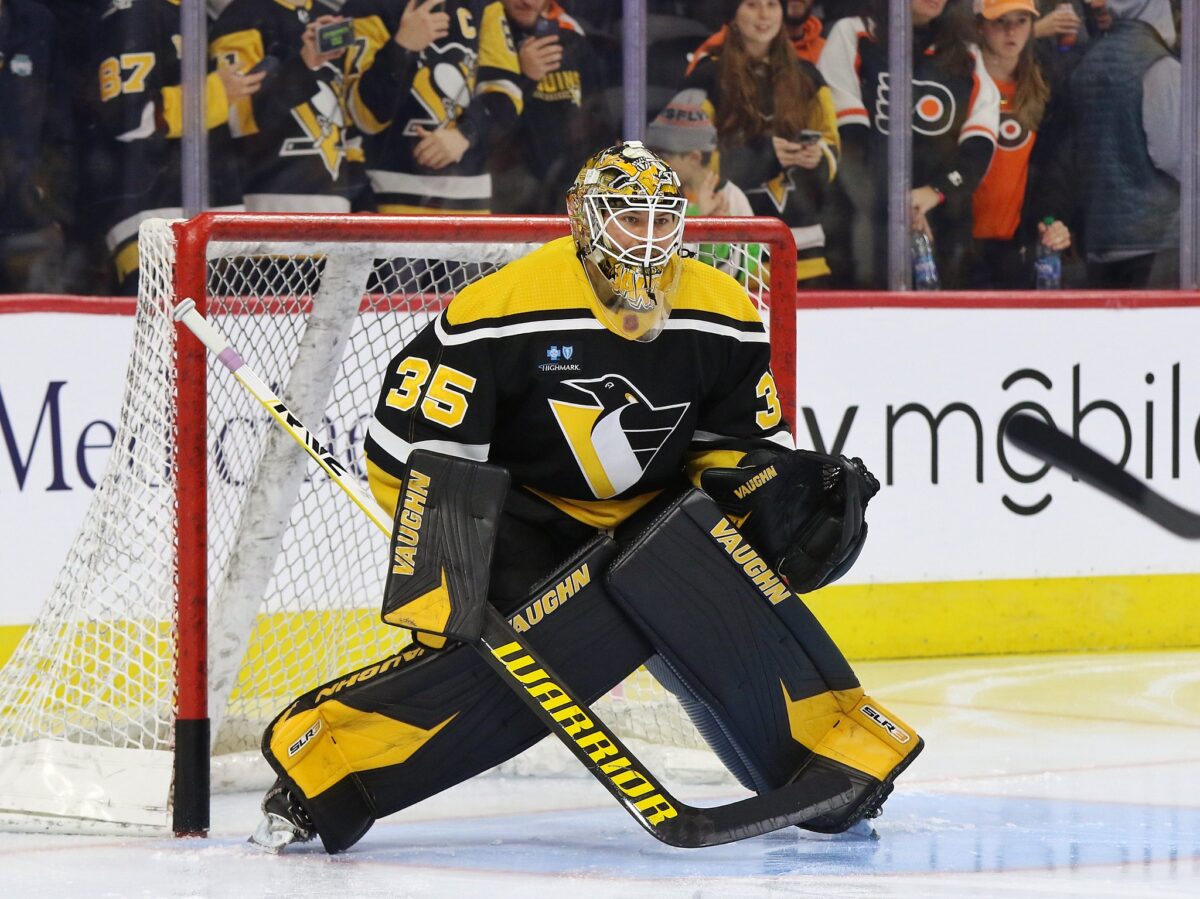 Another goalie the Red Wings could target is Joonas Korpisalo, a Finnish goaltender that will be 29 years old when free agency opens up. The former Columbus Blue Jacket was recently traded to the Los Angeles Kings and has won all three games he has played with his new team. Between Columbus and LA, he has a 3.05 GAA and a .913 SV%. He carries a $1.3 million cap hit this season, but could command upwards of $3 million on his next deal if his stay with the Kings goes well.
Other younger options include Adin Hill of the Vegas Golden Knights (26 years old, 2.45 GAA, .915 SV% in 27 GP) as well as MacKenzie Blackwood of the New Jersey Devils (26 years old, 3.04 GAA, .900 SV% in 17 GP). Veteran options include Semyon Varlamov of the New York Islanders (34 years old, 2.79 GAA, .910 SV% in 21 GP) and Frederik Andersen of the Hurricanes (33 years old, 2.41 GAA, .903 SV% in 25 GP).
If Yzerman decides to use free agency to address their goaltending needs, they'll have plenty of options available. None of those options are going to contend for the Vezina Trophy next season, and some of the options are certainly better than others, but there should be enough goalie talent available for the Red Wings to add somebody capable of partnering with Husso for the time being, and possibly even longer.
Red Wings Could Trade for a Goalie (Again)
Yzerman has traded a third round pick for a young, unproven goaltender in consecutive offseasons. The first time (Nedeljkovic) doesn't seem like it's going to pan out the way they had hoped it would, and the second time yielded this season's starter in Husso. Yzerman is clearly willing to go the trade route to address his goaltending situation, and he has already signaled that he may be willing to use his current collection of draft picks to acquire talent to help his team right now.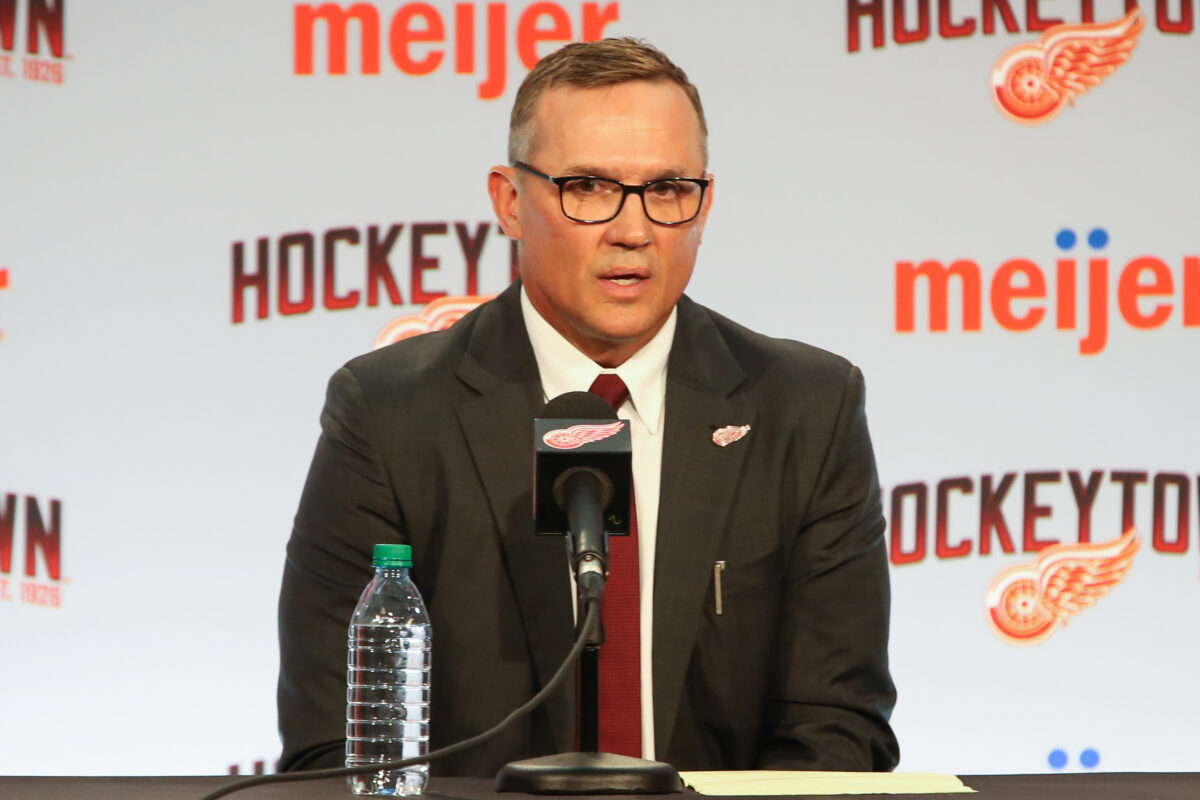 "It's important that our staff makes good decisions whether we use those draft picks…at the draft or we use them to acquire players," Yzerman said after acquiring two first round picks ahead of the trade deadline. "It gives you options. We'll see what comes up.
"Last year, we used a third round pick to get [Husso]. That…turned out, at least in my perspective, to be good for us. I would look at those opportunities in the future…to use our draft picks to get players."
In regards to who Yzerman could trade for, one name recently entered the rumor mill and it got a lot of people talking. NHL insider Elliotte Friedman recently stated on his "32 Thoughts" podcast that the Philadelphia Flyers will look to make 24-year-old goaltender Carter Hart available in the offseason after GM Chuck Fletcher was let go on Mar. 10.
Despite being young enough to still be on his parents' insurance in the United States, Hart already has nearly 200 games of NHL experience. This season is his fourth as the Flyers' starter, and the results have ranged from very good (2.42 GAA, .914 SV% in 2019-20) to very bad (3.67 GAA, .877 SV% in 2020-21). This season, he currently holds a 2.96 GAA, a .906 SV% and a quality-start percentage of .447 while playing for arguably the worst team in the Eastern Conference.
Hart, a second round pick in the 2016 draft, has one year left on his deal that carries a cap-hit of $3.979 million. The financials aren't a problem – the Red Wings currently project to have $32.3 million in cap space for next season and need to spend almost $10 million just to reach the cap floor for next season. He certainly fits the age demographic Yzerman intends to build around, and he could become a long-term solution for the Red Wings if there is a fit. What could be a problem is what the Flyers would seek in return for their young starter. If Husso went for a third round pick, Hart goes for at least a second and probably more depending on how many other teams are interested. The Red Wings have the assets to make the move, but the question is how much is too much for Hart?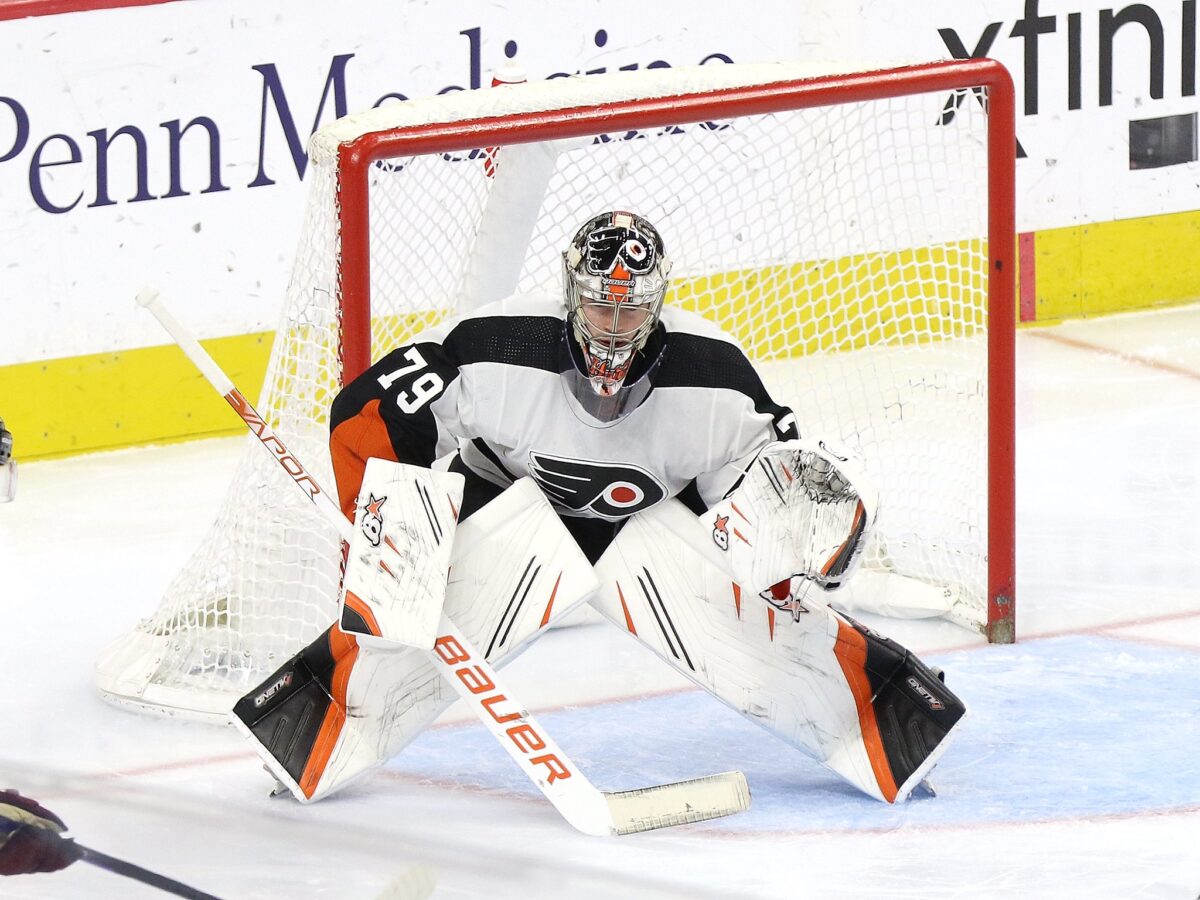 There are other potential trade fits out there (including John Gibson of the Anaheim Ducks and Thatcher Demko of the Vancouver Canucks) but none of them fit like Hart does. If Friedman's report about Hart being available is legitimate, then expect Yzerman to look into what it would take to bring Connor's favorite player to Detroit.
Where Does Cossa Fit In?
All of this is without mentioning that the Red Wings already have a blue chip goalie prospect in their system in Sebastian Cossa. Drafted 15th overall in 2021, he has spent most of this season with Detroit's ECHL affiliate, the Toledo Walleye. Though his first couple of months were a bit suspect, the 20-year-old seems to have taken his game to another level in the second half of the season.
It's safe to assume that Cossa and the Red Wings' front office expect him to take the next step and hold down a consistent role with the Grand Rapids Griffins in the AHL next season. Where he goes after that depends on him and how well he performs in that role. Meanwhile, the Red Wings still need to have two capable goaltenders in order to bridge the gap between now and when he's ready to push for an NHL job.
The route that Yzerman takes to address the Red Wings' goaltending situation will tell us a lot about what he expects from the Red Wings in the short term as well as what he thinks Cossa's timeline is. Does it make sense to give a free agent like Jarry a long-term deal if Cossa will be knocking on the door in two years? On the other hand, are the Red Wings comfortable with putting all of their eggs in Cossa's basket? If not, does a short-term solution make sense, or does it make more sense to pursue a young option like Hart?
These are all questions that Yzerman will have to find an answer for in the coming months. The only thing we can safely assume about the Red Wings' goaltending next season is that Husso will be a part of the equation. Maintaining the status quo is certainly an option, and it would address the consistency and continuity idea that began this article. But if Yzerman is serious about pushing this team forward and into playoff contention, the status quo has proven to not be good enough. How he decides to address that problem will be one of the biggest things to watch during the Red Wings' offseason.
---