It was the most eventful week of the 2022-23 season for the Philadelphia Flyers, but it wasn't because they lost the only two games they played. The organization fired President of Hockey Operations and general manager (GM) Chuck Fletcher on March 10. They promoted former Flyers forward Daniel Brière to become the interim GM, and they will look to make separate permanent hires for both roles.
Related: Flyers Fire Fletcher, Place Brière as Interim GM
The move seems like an indicator of bigger changes looming for a franchise that has reached the lowest point in its 56-year history. The Flyers have become the talk of the NHL for all the wrong reasons this week, and the rumor mill won't let up until future questions are answered in Philadelphia.
Flyers Organization in Flux
"Flyers fans deserve a better team than what they've seen on the ice over the past few seasons, and a clear plan to return this team to Stanley Cup contention. We know that this will be a multi-year process, and we are committed to doing it right, because we want to put this franchise on a path toward winning the Stanley Cup, period," franchise governor Dave Scott said in the official press release when the decision came down.
However, Scott might not stick around to see the outcome of the long-term plan. Comcast Spectacor appointed Dan Hilferty as their new CEO on Feb. 14. The move initially looked like a business decision that would only significantly affect Spectacor's other sports entities, but Elliotte Friedman spoke on the 32 Thoughts podcast about shifting influence within the organization.
"Whether his position is a retirement or whatever it is, I do think we're going to see that change too at some point," Friedman said about Scott's position with the Flyers.
Flyers Hall of Famers Bobby Clarke, Billy Barber, and Paul Holmgren along with long-time league executive Dean Lombardi make up a tight-knit, rigid network of NHL lifers within the brain trust of the organization. They prioritize the legacy of late franchise founder Ed Snider, a spend-happy owner who believed in relentless action in pursuit of winning every single season.
Jeff Marek spoke on Hockey Night in Canada about the Flyers entering a mode they've never experienced before. Instead of carrying Snider's legacy with a constantly aggressive approach, they're gearing up for a multi-year rebuild where all levels of the organization need to experience change.  
"Maybe, for the first time now, they're going to try more of a team-building concept with Briere."
Danny Brière, Rebuild
Brière didn't shy away from the word rebuild like Fletcher did for so long. He candidly addressed the state of the organization in his introductory press conference on March 12. 
"I believe it's needed. We have to be careful, and I want to make sure that rebuild doesn't mean firesale. There's a big difference between the two. I want to make that clear. We're not going to get rid of everybody. We have some good players here. Some players that are in certain roles that we're going to keep as well. We're going to look at every possible option out there to improve the team. I don't think this is a quick fix. That's my belief and that's why I'm not afraid to use the word rebuild. As long as you all understand, those little asterisks, that it's not a firesale," he said.
---
Latest News & Highlights
---
Brière sounded like a confident new hire with a long-term vision more so than an interim GM at the podium. It's likely he will either remain in the GM role or move to the President of Hockey Operations role on a full-time basis.
Friedman and Marek discussed the dynamic that's worked for the Boston Bruins and the Colorado Avalanche as successful models. The Bruins use Don Sweeney as GM handling most of the hockey decisions while Cam Neely is the President dealing with other matters within the organization. The Avalanche use Chris MacFarland as their GM and Joe Sakic as the President with similar split responsibilities.
The two SportsNet insiders believe Eric Lindros, Chris Pronger, Shane Doan, Ray Whitney, Robert Esche, and Eddie Olczyk are potential candidates to fill the second position if Brière remains the GM. Friedman believes that Philadelphia head coach John Tortorella might have a long-term interest in transitioning to a front office role, but the switch is not likely to affect the immediate changing parts.
Carter Hart on the Trade Block
Fletcher remained relatively inactive during the 2022 offseason and the 2023 NHL Trade Deadline considering the circumstances of his team. With a new GM in place, will the Flyers reconsider the way they value their own players and the asset management based on an adjusted timeline for contention? Could their prized franchise goaltender be a casualty of the rebuild?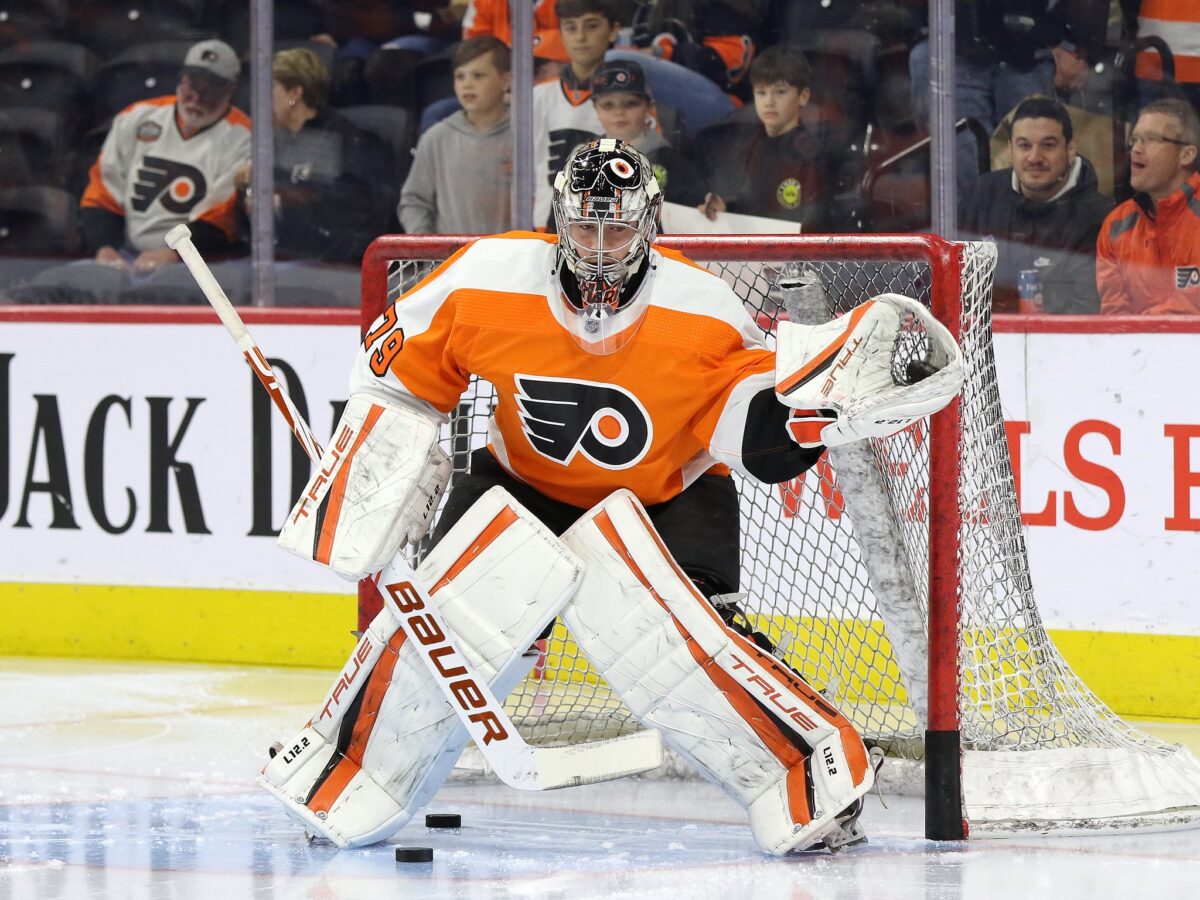 "We're really starting to wonder about Carter Hart. The presence and the emergence of Sammy Ersson, the netminder,…has really given the Flyers some options here," Marek said on Hockey Night in Canada with two key determining factors in mind. "What would they get for Hart on the open market? We suspect a lot…(and) does Carter Hart want to spend what would be the best years of his career in a rebuild?"
Hart made his NHL debut during the 2018-19 season when the Flyers broke the NHL record by starting eight different goaltenders. The franchise has a ludicrous recent history of missteps between the pipes, and the former top prospect was supposed to reverse the trend. Despite ups and downs throughout his first five seasons, Hart has become the best player on the Flyers in 2022-23. Moving the 24-year-old would signify yet another failure of fantastic magnitude for a struggling organization, but they might determine it as a necessary step in the bigger plan they will soon bring into action.
Couturier Back at Practice
Sean Couturier practiced with the team on March 14 with a yellow, non-contact jersey. He experienced pain and discomfort in his back just before training camp began, and he elected to have his second surgery in under a year span in October 2022. The 30-year-old center scored 252 points in 276 games in four seasons from 2017-18 through 2020-21. He last played an NHL game on Dec. 18, 2021.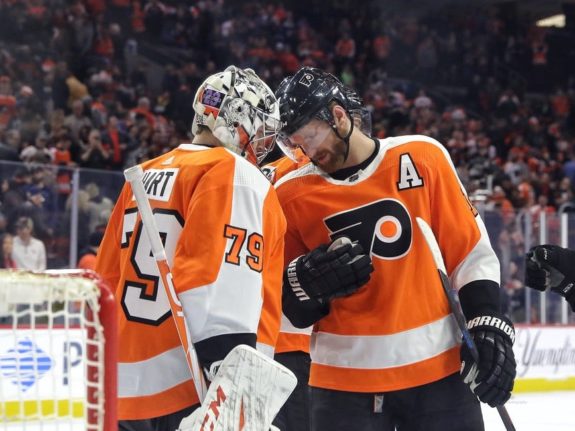 "It's night and day, it feels a lot better. Last time, there was always a little something kind of nagging me. I was kind of just pushing through it not really knowing what it was. We didn't really know, too, what it was. It was kind of just inflammation. It was said it would go away but kind of lagged for a while," Couturier said after returning to the team.
The Flyers have no realistic chance at a playoff berth with only 15 games left in the 2022-23 regular season. Tortorella said it was not important to him that Couturier comes back to get NHL games under his belt this season. However, the head coach also spoke about how he understands the mentality of a player itching to get back in the lineup after a long-term injury.
Kevin Hayes returned to the Philadelphia lineup in a similar situation for the final 28 games of the 2021-22 season with the team outside playoff contention. He finished with 22 points in 28 games after a whirlwind of emotions off the ice had destroyed the early part of his season.