This past October, Alex Cotton of the Lethbridge Hurricanes became a fifth-round pick for the second time in his young hockey career. The right-handed defender was taken 132nd overall by the Detroit Red Wings. With an abundance of 2020 draft selections, Cotton was the ninth of a total 12 Red Wing picks.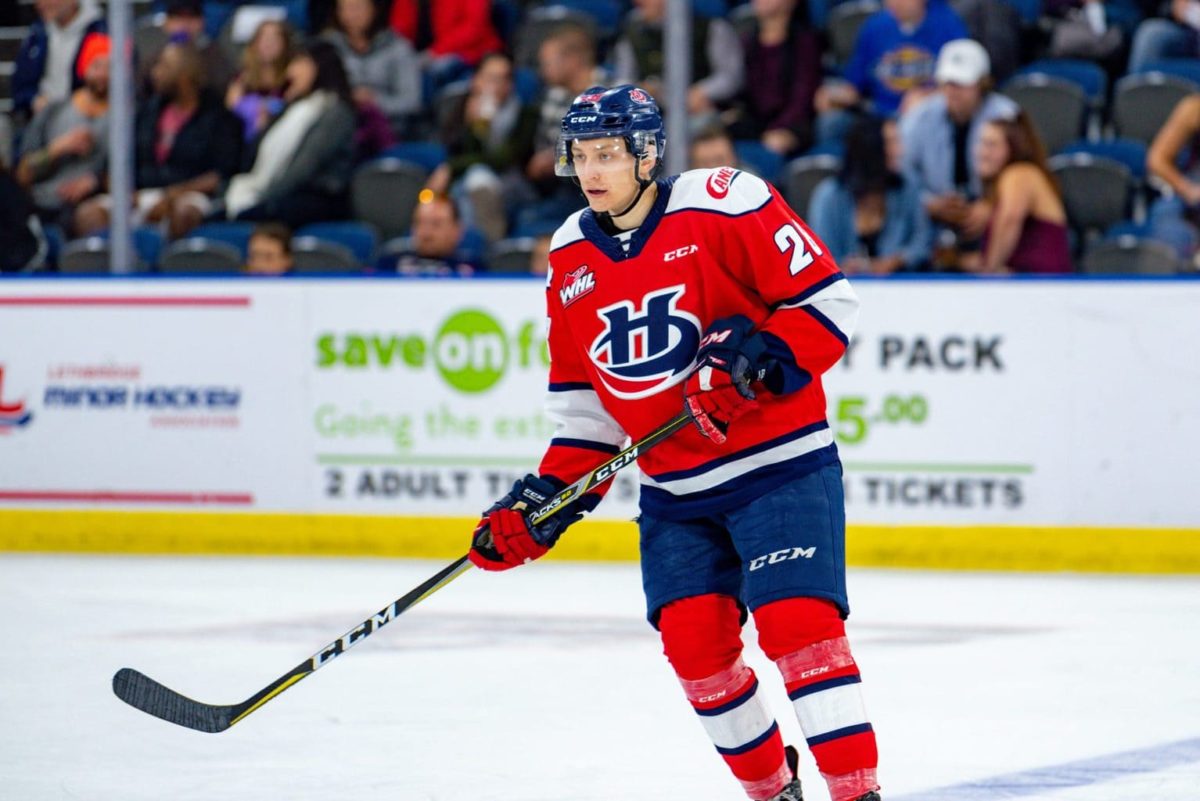 So, what did the organization see in this second-year draft-eligible player?
Cotton's History
First, rewind the clock to May of 2016 when Lethbridge selected Cotton as their fifth-round selection. Like most young players, the Langley, BC native had some flaws in his game during that draft year – mainly revolving around his foot speed.
He attended Yale hockey academy in Abbottsford, BC to continue his development. During Cotton's second midget prep season in 2017-18 he provided the first glimpse of his offensive potential by scoring 11 goals and adding 43 assists in just 32 games. This outburst came after a season where he had just six goals and eight assists in 30 games with that same Yale midget team. The foreshadowing is notable in this case.
The breakout would help solidify his roster spot with the Hurricanes for the season. As a May 2001 born player, the 2018-19 season was his rookie campaign and his first year of NHL draft eligibility. At 6-foot-3 and nearly 190 pounds, he may have appeared on some NHL radars, but went undrafted after a two-goal, nine-assist campaign in 54 games.
Second Breakout – WHL
Cotton's 2019-20 WHL season became the second offensive outburst of his career. As a close league observer, I can say that his season started hot and never let up finishing with 20 goals and 47 assists in 63 games. Regardless of the fact that it was his second year of eligibility, Cotton makes up a great draft profile: a still developing 6-foot-3, right-shot defenseman that clipped along at a point per game pace in his second junior season. The fact that this young man has now had this type of breakout action twice now seems to make it less of a fluke.
I might even go a step further in saying that it reveals a lot about the young man. The Detroit News' Ted Kulfan captured that same sentiment from Red Wing director of amateur scouting Kris Draper. "He was a good interview," Draper said. "He has a real good self-assessment of where he is as a hockey player, what he needs to improve on." (from 'Red Wings draft pick Alex Cotton prepared to show big season was no fluke,' The Detroit News, 11/16/2020)
Name of the Game
Hopefully, Cotton's story resonates with young hockey players – especially considering Draper's comments. Yes, the Red Wings saw a big frame, right shot, and some clear offensive upside from the back end, but most importantly they also factored in his self-awareness.
As noted, every young player will have areas to work on as they strive to reach the next level. Even the best players in the game need to continuously improve every aspect of their game to remain relevant. Many promising young athletes, parents, coaches, and even scouts get enamored with talent and lose sight of the principle of continual development – working on strengths and weaknesses.
Players who focus on continual growth are often prepared for opportunities and make the most of them accordingly. Based on recent history, this fifth-round selection seems to have a firm grasp on that concept. Red Wing fans will need to wait until 2021 to see how Cotton's next season might unfold. The WHL has postponed its season start date to Jan. 8, although there have been rumors of yet another delay.
Wanting to get a head start on his season, Cotton was loaned to the Canmore Eagles of the Alberta Junior Hockey League (AJHL) this fall. In two games with the Eagles, he chipped in a goal and two helpers before the season was delayed because of several team COVID-19 outbreaks in late November.
Stay tuned for more updates on Cotton and other North American Red Wing prospects waiting to get their junior seasons started.
---
---
Saskatchewan born, Alberta raised / Former dual sport collegiate athlete / Jack of all trades – master of none, but a Masters degree / Junior Hockey Scout / Most importantly, a Father.
Detroit Red Wings Coverage