This idea starts with the Chicago Blackhawks. Specifically, it starts with a recent report from Blackhawks reporter Scott Powers of The Athletic:
It's no secret the Canucks are trying to get out of a few contracts this offseason. If the Blackhawks took on one of those contracts and packaged a first- and second-round pick, maybe that would entice the Canucks to trade the No. 11 pick. There should be some really good players left on the board at 11 if the Blackhawks could do that.

– Scott Powers (from "What I'm hearing about the Blackhawks from Connor Bedard to free agency," The Athletic, 5/23/23
As Powers illustrates, the Vancouver Canucks find themselves in a bit of a salary cap crunch as the 2023 offseason approaches. The cap is currently projected to go up to $83.5 million for next season, a $1 million increase from this season (though there is talk that that figure may go up depending on how talks between the league and players union go.) Despite that, the Canucks currently project to be over $668k over next season's cap. As Powers states, it's no secret that Vancouver will be trying to offload a bloated contract or two.

While Powers mentions the Blackhawks as a team that could help the Canucks with their cap situation, I'm going to throw out another team: the Detroit Red Wings. While I'm at it, I'm also going to throw out a player that could make sense for both the Canucks and Red Wings as a "cap dump": defenseman Tyler Myers.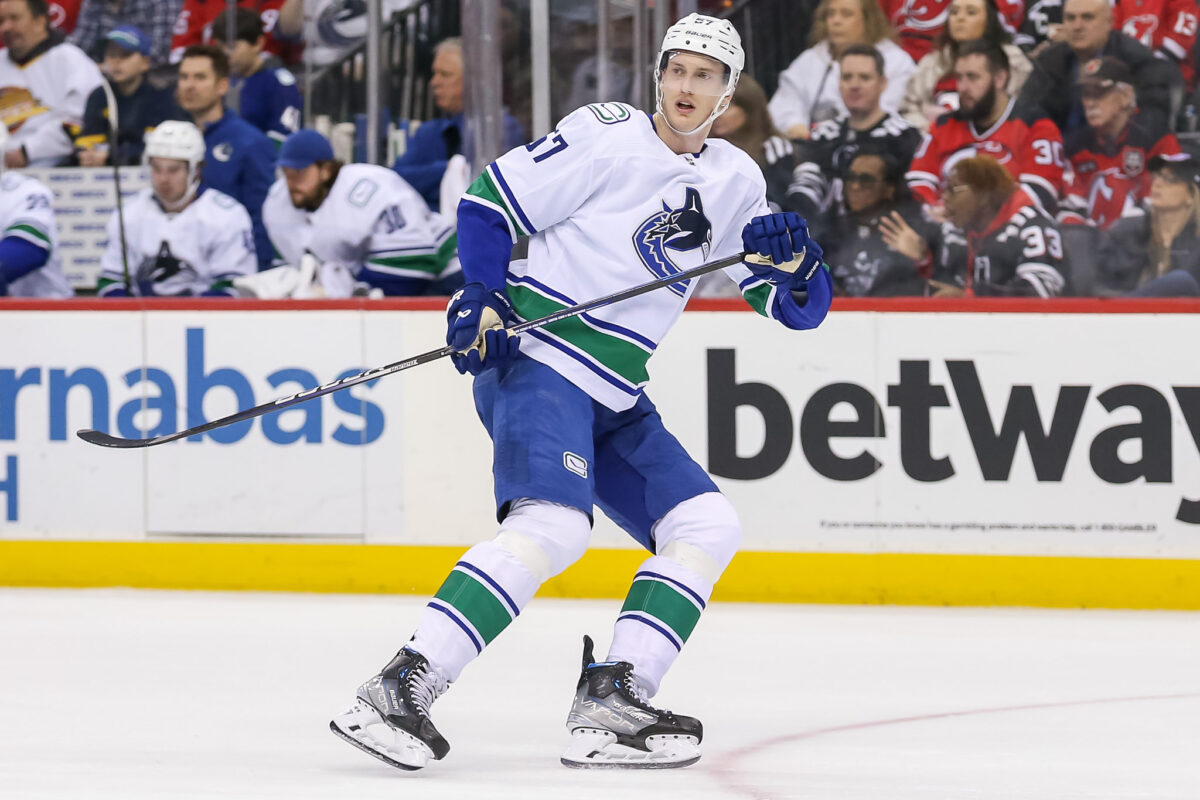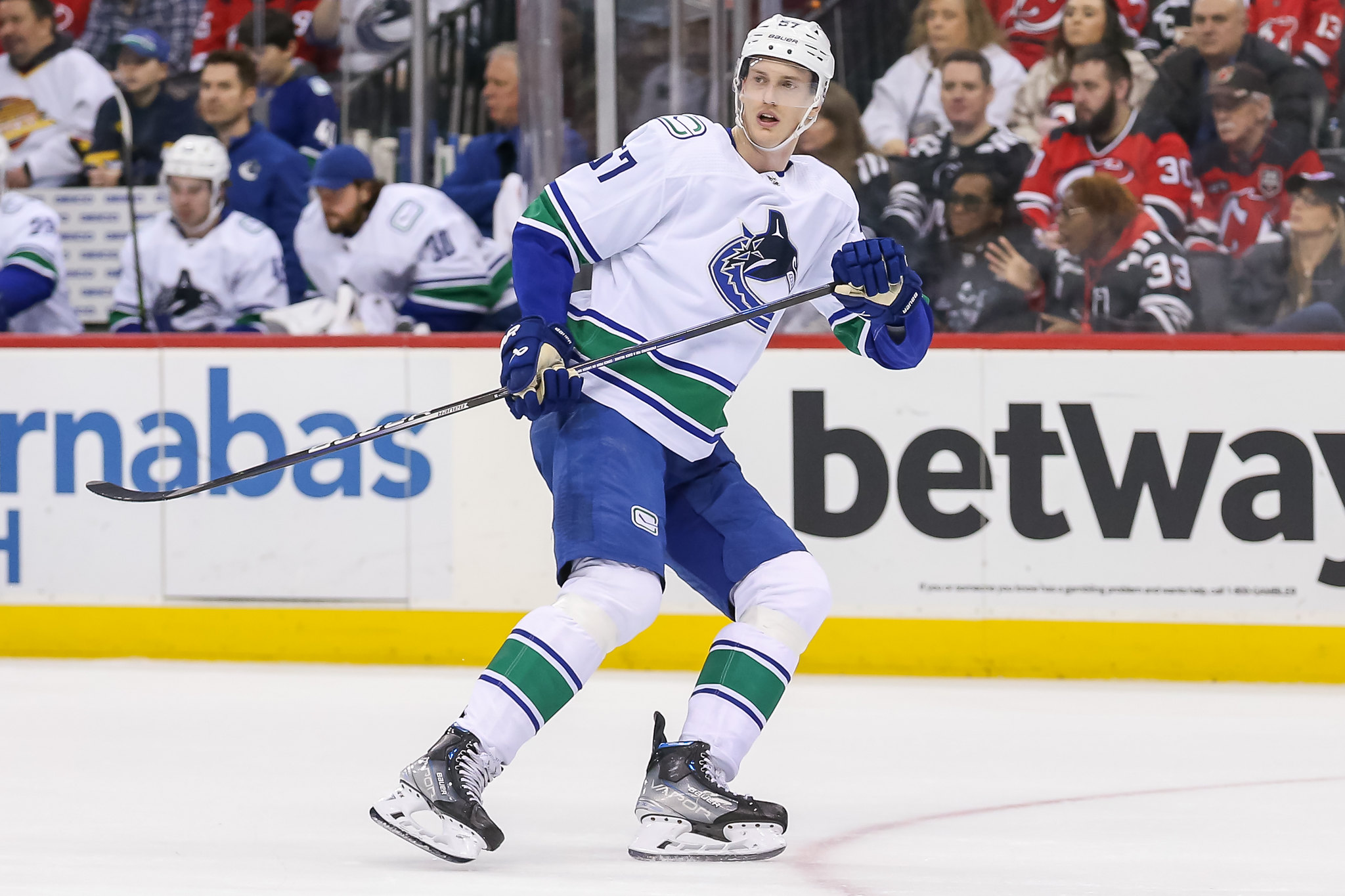 Myers has one year left on the five-year deal he signed with the Canucks back in 2019. With a cap hit of $6 million, the Canucks would gain some serious breathing room by moving out the towering defenseman, and the Red Wings could address a few needs of their own while potentially gaining another top-12 pick in the process.
Red Wings Need to Spend Money
CapFriendly currently estimates that next season's cap floor – the lowest amount a team can spend on their roster – will be $61.7 million. The Red Wings' cap hit for next season currently sits at $52.8 million with one notable restricted free agent to sign (Joe Veleno) and no goalie in place behind starter Ville Husso. Even after addressing those issues, Detroit will more than likely still be in a position where they need to spend some money to reach the cap floor.
Additionally, after trading Filip Hronek to the Canucks at the trade deadline, as well as the impending departure of Gustav Lindström, the Red Wings lack right-handed defenders on their roster. Moritz Seider is the lone right-handed defender projected on next season's roster as Detroit's prospect pool is thin on the right side of the blue line as well. The expectation is that Red Wings general manager Steve Yzerman will add at least one right-handed defenseman to his roster one way or another.
Related: Ranking the Red Wings' Offseason Priorities: Detroit's Needs & Targets
---
Latest News & Highlight
---
There is a possibility that the Red Wings elect to use one of their two first round picks in this year's draft to address the lack of right-handed defenders in their system. They currently hold the ninth and 17th selections in the first round; they acquired the 17th pick (along with pick 43) from the Canucks in the Hronek trade. The Red Wings seemingly ready to turn a corner in their rebuild, so this draft may be their last opportunity to add premium prospects that are usually only found towards the top of a draft class.
In this draft, the difference between 17th overall and 11th is the difference of having their pick of a number of quality prospects or taking whoever is left. Yzerman has already demonstrated that he understands an aggressive move up the draft board is sometimes needed to ensure he gets the guy he wants – he traded picks 23, 48 and 138 in the 2021 draft to acquire the 15th pick, which was then used to draft goaltender Sebastian Cossa. The Red Wings have three second round picks and other assets they can use to move up if there's a prospect Yzerman and his scouting team really want to add.
But this proposed deal with the Canucks isn't just a draft picks-for-draft pick trade. The Red Wings could move up the draft board while also addressing their need for a right-handed defenseman by taking on the final year of Myers' contract.
Myers Could Offer Value in Decreased Role
"I am probably in the minority, but I thought Myers was one of the Canucks' best defensemen this season," THW Canucks writer Matthew Zator revealed. "He played a lot of minutes, was physical and was even good defensively."
Since winning the Calder Trophy in 2010 as the NHL's top rookie, Myers has never quite been the same. The 6-foot-8 defender has never eclipsed the 48 points he put up in his rookie season with the Buffalo Sabres, and he hasn't put up a 30-point season since the 2018-19 campaign, his last with the Winnipeg Jets. Since signing with the Canucks, the 33-year-old has 77 points in 283 games while averaging over 21 minutes a night in ice-time. He hits (398 with the Canucks), blocks shots (474), and is one of few players that doesn't look silly while standing next to the Red Wings' Elmer Söderblom. Despite the things he does well, he simply isn't doing enough to justify the $6 million price tag he carries – especially for a team without cap space.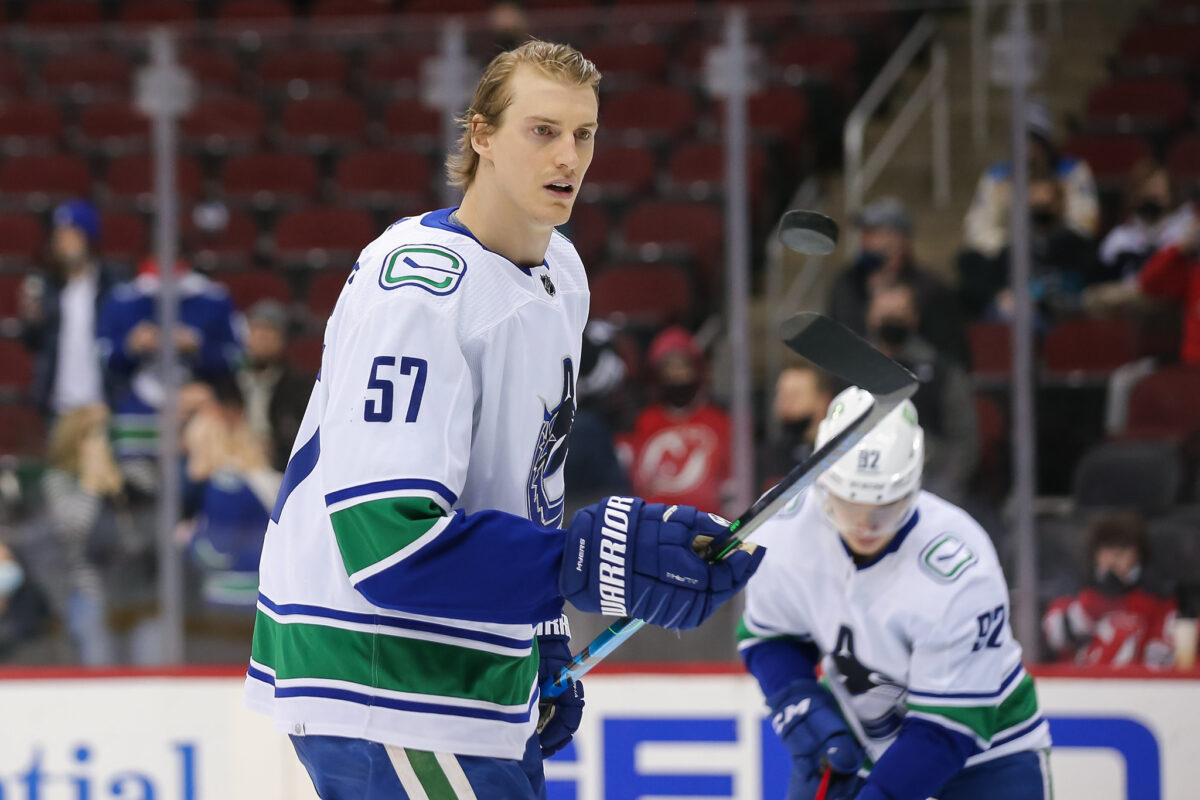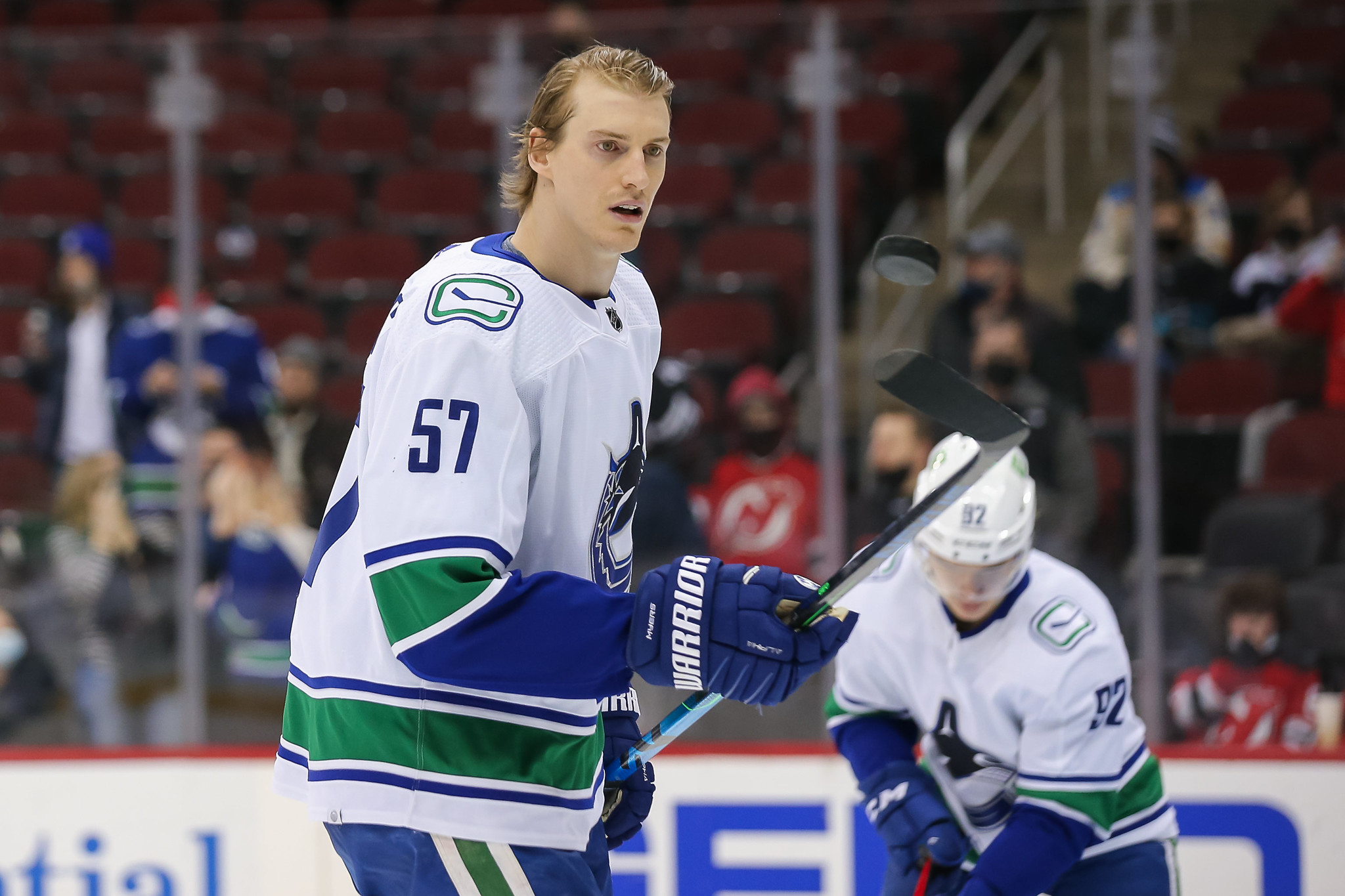 Only Quinn Hughes has played more minutes than Myers has for the Canucks over the last three seasons. The Texas-native posted mediocre possession numbers over that timespan (47 Corsi-for percentage at five-on-five according to Natural Stat Trick), though his role has shifted more towards being a defensive defenseman rather than a puck-mover over the last few seasons.
It's not all doom and gloom with Myers, though. One of the reasons he and Hughes have played so much is that they have spent a fair amount of time playing together as the Canucks' top pairing. In 604 five-on-five minutes together, the pair combined for a 52.19 Corsi-for% as well as a 50.9% control of shot-attempts (also per Natural Stat Trick). This offers the Red Wings a path forward if they were to take on Myers and his contract.
Seider and Jake Walman will more than likely be the Red Wings' top pairing next season, so Myers (or whoever they add) won't be expected to carry top pairing duties. Instead, Detroit could Myers with another offensive-minded defenseman: Simon Edvinsson. The team's top defensive prospect and top pick in the 2021 draft seems ready for the NHL after a nine-game audition late this season, and finding the right partner for him should be near the top of Yzerman and head coach Derek Lalonde's to-do list. Embracing a stay-at-home role, Myers could allow Edvinsson to flex his offensive abilities just like Hughes does for the Canucks. Plus Edvinsson's size (6-foot-6) alongside Myers would be a formidable duo for any opposing forwards to go up against.
Myers may be the "bad" asset that the Canucks pair the 11th pick with, but that doesn't mean he wouldn't provide some value to the team that acquires him – they just have to use him correctly.
Red Wings Need to Use Cap Space While They Have it
The Red Wings are in an enviable spot when it comes to their salary cap situation. They could spend upwards of $25 million this offseason and still have over $5 million in cap space leftover. That won't last long, however, as key players like Seider, Lucas Raymond and others are due for new deals after the 2023-24 season. In other words, if the Red Wings are going to be a landing spot for a "cap dump", this is likely their last offseason to do so.
This isn't unlike when the Red Wings acquired Marc Staal and a 2021 second round pick from the New York Rangers in exchange for future considerations – aside from the fact that the Red Wings would have to give up actual assets in this proposed move. With the Staal deal, the veteran defender went on to play two seasons with the Red Wings, including the 2021-22 season where he wore an 'A' on his sweater as an alternate captain. The Red Wings got additional value from that move outside of the second round pick, and that's exactly what could happen in this potential trade with the Canucks as well.
If the Red Wings can add a needed right-handed defender to their roster while also moving up six spots in the first round of this draft, that's an opportunity worth investigating. On the Canucks' side of things, freeing up $6 million in cap space while only moving down six spots (as opposed to the eight spots suggested in Powers' article) in the draft isn't anything to scoff at. Factor in additional assets the Red Wings would likely have to include, and the deal looks something like this:
Detroit trades: Picks 17, 43, 117
Vancouver trades: Pick 11, Tyler Myers
"I would go for that," Zator said.
What about you?
---