The Detroit Red Wings currently have a slim chance of making the playoffs this season, but that chance should completely evaporate in the next week or so. It is unfortunate given how much chatter there was in the offseason about the team taking the next step and becoming a legitimate playoff threat. Despite a number of quality wins and some promising play leading up to the trade deadline, Detroit's hockey club will once again be draft lottery bound as the another season goes by and another year is added to their playoff drought.
So what happened? How did the Red Wings go from spending over $24 million to add new faces to the roster in the offseason to where they are now? The truth is that there's not one single reason – there are many reasons why any team falls short of their goals. In the Red Wings' case, here are three of the reasons there won't be playoff hockey at Little Caesars Arena this Spring.
Red Wings Lost Key Players for Lengthy Periods of Time
General manager Steve Yzerman's offseason moves were designed to improve the Red Wings' depth in all areas of their roster. However, it became fairly obvious early on that the Red Wings still lack the kind of depth that helps contenders overcome the bumps and bruises of an NHL season.
Within the first month of the season, newly-minted head coach Derek Lalonde had to completely reshape his lineup as forwards Tyler Bertuzzi and Jakub Vrana were both missing from the lineup. Both wingers were expected to be key contributors in Detroit's top six with Bertuzzi, specifically, coming off of a career-best season in 2021-22. Last season, Bertuzzi and Vrana combined for 43 goals; this season they combined for just five.
Needless to say, Lalonde proceeded to experiment with a number of different combinations in the forward group, experiencing varying levels of success along the way.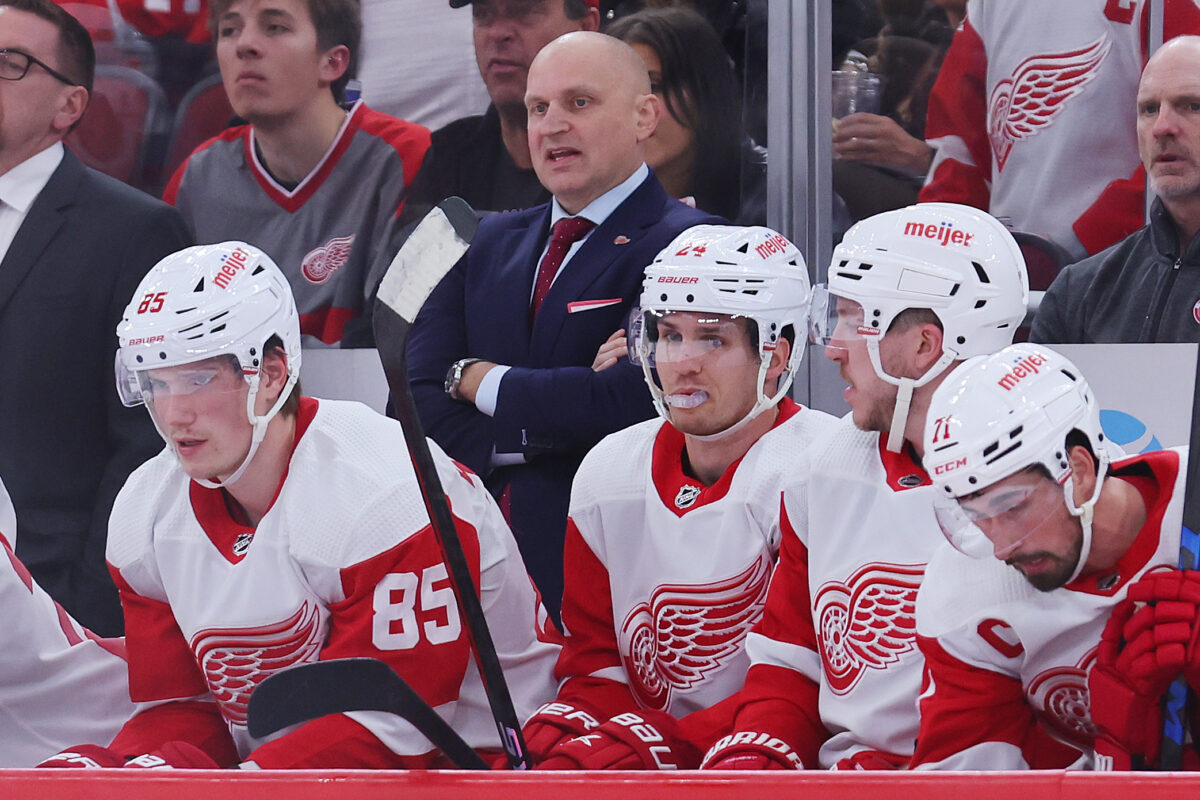 Those aren't the only players that were missing from the lineup at different times, however. Forward Robby Fabbri wasn't able to join the team until January as he recovered from an ACL injury. Defenseman Jake Walman didn't join the team until mid-November due to an injury of his own. Just when the Red Wings seemed like they were starting to gel throughout the lineup, somebody would go down with an injury and force the coaching staff to shake things up and disrupt any chemistry that might have been developing.
Every team goes through injury issues throughout every season. But even then, the Red Wings certainly dealt with their fair share of rotten luck when it came to player absences.
Vrana's situation was a unique one that doesn't come around every season.
Related: Blues Take Minimal Risk With Vrana Trade
---
Latest News & Highlights
---
Bertuzzi broke one hand early on in the season, and then broke his other hand shortly after returning from the first injury.
Mark Pysyk was signed in the offseason to add defensive depth, but he did not play a single game with the Red Wings this season due to an injury in the offseason and a setback in his recovery.
While these absences allowed for players like Jonatan Berggren and Elmer Söderblom to make names for themselves in Detroit, the Red Wings simply did not have enough quality in their lineup to overcome their depleted depth chart. It is no coincidence that their best stretch of games (Jan. 19 to Feb. 23 where they won 10 out of 14 games) came when their roster was almost completely healthy. If the Red Wings are going to push towards the playoffs next season, they'll have to find ways to improve their depth and provide "injury insurance" for their roster.
Red Wings Still Need a Pure Goal-Scorer
Circling back to Vrana, the Czech winger entered this season as the designated "sniper" for the Red Wings. Prior to this season, he had 21 goals in 37 games with the Red Wings after he was acquired from the Washington Capitals at the 2021 trade deadline. His goal-scoring metrics were off the charts, and it wasn't crazy to envision him putting up north of 30 goals with Detroit this season. It was going to be him to do it because the Red Wings have nobody else on their roster that is as capable of scoring on a whim like he can.
Of course, that's not how things played out.
The St. Louis Blues acquired Vrana ahead of the trade deadline in exchange for a minor-league player that was not sent to the Grand Rapids Griffins (the Red Wings' minor-league affiliate) and a seventh round pick in the 2025 draft. That return basically equates to a half-chewed stick of gum and a bucket of dreams – clearly the marriage between Vrana and Detroit soured to the point of no return.
Now the Red Wings have no choice but to renew their search for a bona fide scorer. Dylan Larkin currently leads the team with 26 goals, eight goals ahead of second place (Dominik Kubalik, 18 goals). While 26 goals is nothing to scoff at, consider that the Buffalo Sabres, one of the Red Wings' Atlantic Division rivals, currently have three players with at least 30 goals this season. Larkin has essentially carried the load for Detroit's offense while his teammates occasionally chip in. To that point, the Red Wings currently rank 23rd in the NHL with a goals-for per-game rate of just 2.90.
If the Red Wings are going to take the next step, they need to find somebody that will feast on the power play and is a danger to score every time they are on the ice. If they can't find that player, then they need some of their young players and prospects to take their offensive games to another level.
Red Wings Dealt with Below-Average Goaltending
If a team struggles to score a lot, they still have the opportunity to win games as long as their defense and goaltending are able to keep things under control. That being said, the average save-percentage (SV%) across the NHL this season is .904, the lowest the average has been since the 2005-06 season where the average was .901. Scoring is up, and that means top-tier goaltenders are as valuable as they have ever been.
Through 70 games this season, the Red Wings' team SV% is .893, well below the league average. This comes as a little bit of a shock because their starting goaltender, Ville Husso, has actually been a steady force for Detroit, making him one of the team's MVPs for the season. Despite that fact, he currently holds a below-average .899 SV% through 51 games this season.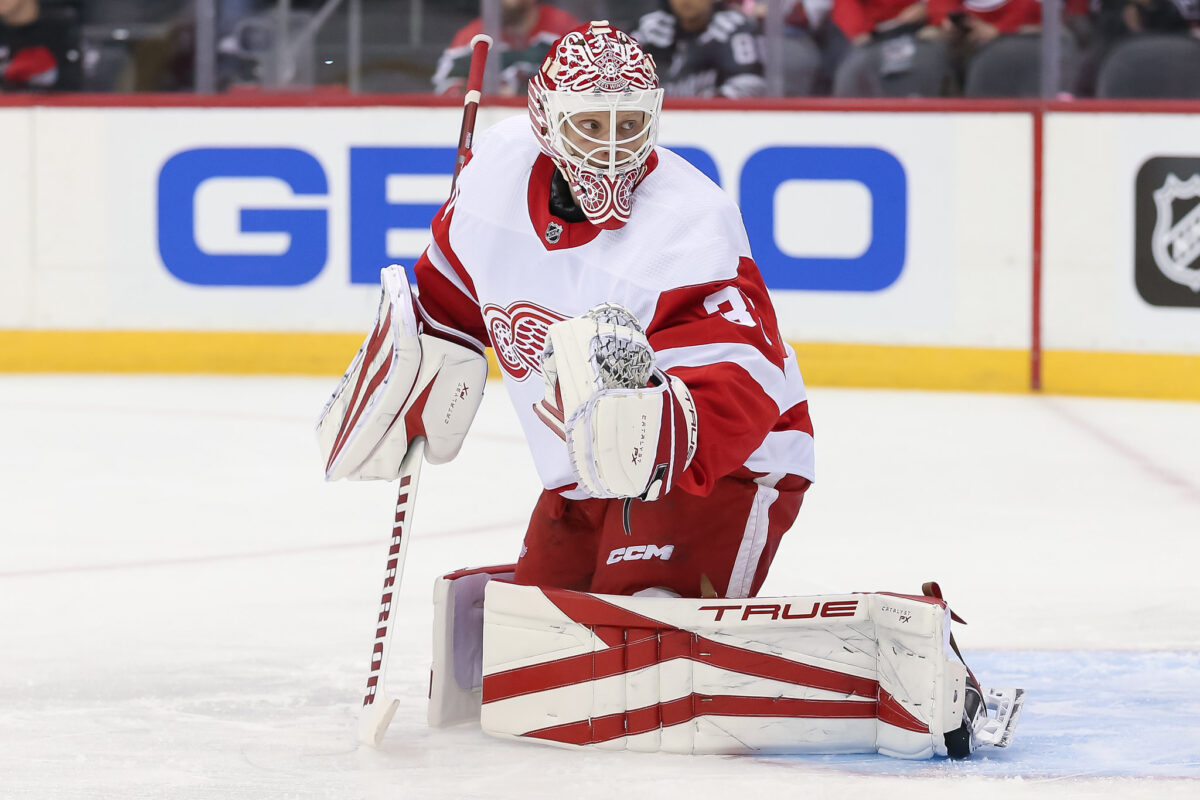 There is an argument to be made that Husso's numbers are where they are because he hasn't had much support behind him on the depth chart. Alex Nedeljkovic entered this season as Husso's tandem partner, but a horrid start and a .880 SV% led him to the American Hockey League in January and he's been there ever since. Magnus Hellberg, a veteran of just 20 games at the NHL level, has equaled Husso's numbers (.899 SV%) in 14 games with the Red Wings this season. Husso had to carry this team this season because nobody else proved they are capable of doing so.
Related: Red Wings Must Address Goaltending Situation Again in Offseason
Fair or not, the Red Wings are currently a team that must rely on their goaltenders to keep them in games more often than not. When their goalies aren't up to the challenge, games end in blow outs or tough losses where an extra save or two would have made all the difference. While goaltending has hardly been the Red Wings' biggest issue this season, it still isn't where it needs to be for this team to take the step they were hoping to take this season.
Red Wings Must Find Solutions
Once the season is done, the Red Wings will enter the season in prime position to boost the quality of their team. They currently project to have $30.6 million in cap space available and only a few players worth attempting to re-sign. They should have plenty of money to throw at their problems in the offseason.
Thanks to Yzerman's deadline dealings, the Red Wings also have two first round picks and three second round picks in this year's draft. They could certainly use those picks to plug some holes in their prospect pool, but they could also use them as trade bait to acquire immediate help to address some of the issues mentioned here. One of the most unenviable positions in sports is to have a lot of needs and limited ways of actually filling them. That is not the position the Red Wings find themselves in.
But make no mistake: if the Red Wings are going to become a perennial playoff contender in the loaded Eastern Conference, they need to address all of these problems, and even some that weren't mentioned here. That's why Yzerman, Lalonde, and the rest of the Red Wings' front office continue to preach patience as the Red Wings' playoff drought is about to hit seven seasons.
(All statistics are as of Mar. 22, 2023)
---