2008 was a great year for the Detroit Red Wings. They won the Presidents' Trophy as the league's top team (54 wins and 115 points), and the team seemed to be entering their prime. Henrik Zetterberg had 43 goals, Pavel Datsyuk was 2nd in the league with 66 assists, and he and Lidstrom led the league in plus/minus.
The team entered the payoffs as a juggernaut. They took down the 8th seeded Nashville Predators in 6 games, swept the 6th seeded Avalanche, knocked out the 5th seeded Stars in 6 games and made their way to the Cup Final in what was a very easy Western playoffs for the team. Beating out the Pittsburgh Penguins in 6 games means the Red Wings didn't play a game 7 at all during their Cup run. Regardless, they were crowned champions and looked towards the offseason to build on their successes.
In a draft that boasted talent like Steven Stamkos, Drew Doughty, Tyler Myers, Erik Karlsson, and Jordan Eberle (to name a few), superstars were ripe for the picking in Ottawa.
Round 1
As the Stanley Cup champions, the Red Wings picked 30th in overall. With Dominik Hasek retiring and Chris Osgood in his mid-thirties, the Red Wings needed to add the their goalie prospect pool. With Chet Pickard going to the Predators at #18, the Red Wings still had the #1 ranked goalie on the board. With the 30th overall pick in the 2008 NHL Entry Draft, the Detroit Red Wings selected Tom McCollum.
In 55 regular season Ontario Hockey League games, McCollum had a 26-18-3-7 record, with a 2.39 GAA and .918 save percentage.  He was named to the OHL All-Star Game and was nominated for OHL Goaltender of the Year, so his stock was high entering the draft. The Wings needed a goalie, and the next goalie wouldn't be picked until the end of the 2nd round, so they got their man just when they wanted to.
McCollum has had a rocky pro career, finding it very difficult to adjust to the pro game after putting up solid numbers in junior. He bounced back and forth from the ECHL and AHL from 2009-2012, and started the 2012-2013 season with Grand Rapids. He was beat out for the starting job by Petr Mrazek, but McCollum has kept putting in his time and has steadily improved his game year after year, ending this season with a respectable 2.40 GAA and 0.916 SV%, after setting career bests in every goaltending category the year before.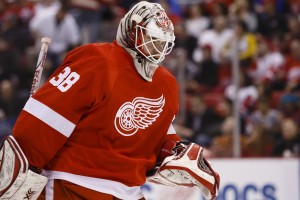 The biggest knock on McCollum was his lack of focus in big games. This season, he lead the Griffins to the Western Conference Final of the Calder Cup before falling to the Utica Comets. It's hard to grade a pick like McCollum, because he hasn't gotten a fair shake at the NHL just yet. He has just over one game (81 minutes, to be exact) of NHL experience, but was leaned on during his team's latest playoff run. Seven other goalies taken in the 2008 draft have seen more NHL ice time than him, however, only three of them are currently on NHL rosters full-time. McCollum now sits third on the Red Wings depth chart, so as soon as there is an injury to either Mrazek or Howard, McCollum will get the call to the big club.
Round 3
With no second round pick to speak of (the Wings sent it to LA, with a 4th round pick in 2009, for Brad Stuart) the Wings didn't pick again until #91. With their third round pick, the Red Wings selected Max Nicastro.
Nicastro played for the Chicago Steel in the USHL during his draft year, and the 6-foot-3 defenceman put up 20 points in 58 games, while totalling 78 PIMs and a +7 rating. He moved to Boston University a year later, had a strong defensive game for three years, but was dismissed from the school when he was charged with sexual assault. The charges were dropped in June 2012, and the Red Wings signed him to a two year deal in July of the same year.
Nicastro struggled to adapt to the pro game, putting up three points with the Griffins in 25 games, and then getting sent down to the ECHL for nine games. The next season, he had zero goals and went -18 with the Toledo Walleye, and the Red Wings let his contract run out. He last played for the Solar Bears of the ECHL and had 13 points in 32 games, with a -1 rating.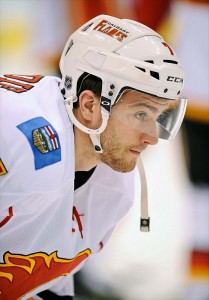 Braden Holtby was still on the board at this point, but the Wings had their goalie drafted already, so they passed on Holtby. There weren't many great defencemen taken after #91, other than Jared Spurgeon who is an up and comer, and TJ Brodie, both of which came significantly later in the draft.
Round 4
Teams never expect to find their diamonds in the forth round, but that's exactly what happened for the Red Wings in 2008. With the 121st overall pick in the 2008 NHL Entry Draft, the Red Wings selected Gustav Nyquist.
Nyquist's draft year playing for Malmo Jrs was a very good one. In a U20 league, Nyquist put up 31 points in 24 games (11 goals, 20 assists) along with 10 points in seven playoff games as an 18 year old. Nyquist then moved to the University of Maine to experience North American life and continue his education. He thrived at the U of M, racking up 32 points in 38 games in his 1st season, 61 in 39 in his 2nd, and 51 in 36 in his 3rd, for a 1.27 PPG average in college. Not too shabby.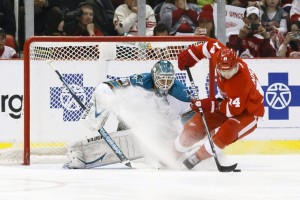 He leads his draft class in goals for anyone who has played under 200 NHL games, and is 12th in goals overall. In his NHL career, Nyquist has a 0.32 goals per game average, only Jordan Eberle (0.34) and Steven Stamkos (0.56) have a better goals per game average than Nyquist. The Red Wings were not shy about putting the "top-six forward" tag on Nyquist as a youngster, and he has turned into just that, with a 28 goal season and a 27 goal season under his belt. Nyquist is only 25 years old, so he's got lots left in the tank. The NHL.com re-draft of the 2008 draft has Nyquist going in the 1st round, which is not at all surprising considering his NHL production.
Round 5
With pick #151, the Red Wings selected Julien Cayer.
Cayer was playing at Northwood Prep School during the 2007-2008 season, and notched 56 points in 42 games. The reason that Cayer fell so far was his competition. He was only the 5th player selected from Northwood in the last 23 years. Cayer then enrolled at Clarkson University and played 4 seasons there, only eclipsing the 10 points mark twice. He then moved to the ECHL for two seasons, and scored 9 points, and 14 points respectively.  Cayer retired from professional hockey in 2014.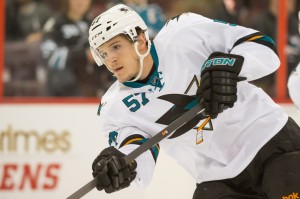 If the Wings had their hearts set on a centre, Tommy Wingels and Zac Rinaldo, were still on the board and were taken not long after Cayer.
Round 6
At #181, the Red Wings made a very curious pick: Stephen Johnson.
Johnson had 9 points in 56 games in his draft year for the Belleville Bulls. His hockeydb page is worth checking out, because he had some very interesting point totals over his junior career. Supposedly, he was a defensive centre who just never panned out. He moved to St. Mary's University in Halifax, Nova Scotia where his career high was 29 points in 26 games. Johnson finished his 4th year of college hockey this past year, with 25 points in 28 games. The Red Wings have not signed him to a contract.
Round 7
With the very last pick in the draft, the Red Wings selected Jesper Samuelsson.
If you're going to take a swing at a player in the 7th round, it may as well be a player who was the rookie of the year in his league. Samuelsson was playing in a Tier-3 Swedish league, but put up the most points by an under 20 player in the league that year, 62 points in 40 games. Samuelsson never made the jump the North America, but is still playing for the same team at 27 that he was at 17, so it may have been a stretch to get someone that loyal to come to Detroit anyways.
Draft Grade: B+
Yes, the Red Wings got Nyquist out of this draft. However, 4 of their 6 draft picks have not, and will not, sniff NHL ice. McCollum is still developing and may end up adding to his three games of NHL experience, but nothing is for certain, as he does not look like an elite goalie. The fact that the Wings landed Nyquist out of all of this is a big plus, and jumps the grade up significantly as Nyquist looks to be the next elite forward for the Wings, poised to break the 30 goal mark next season.