On August 5th, 2014, the Philadelphia Flyers signed Michael Del Zotto to a one-year, $1.3 million contract. This happened only hours after finding out that Kimmo Timonen had been diagnosed with blood clots. The idea was that even though Del Zotto could not replace what Timonen brought to the Flyers, he was the best available option for the price they were willing to pay.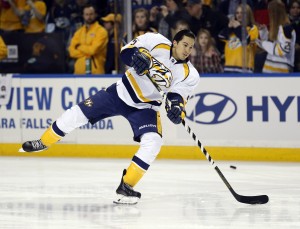 Having fallen out of favor with the New York Rangers and then the Nashville Predators, Del Zotto was not generating a lot of interest around the NHL. Therefore, the Flyers were able to find the once highly touted defenseman available on the Free Agent market as late as August.
This summer Del Zotto is a restricted free agent. Despite a slow start to last season, he was able to pull together a decent season and seems to have his career on track.
However, it would be wise for the Flyers to proceed with caution in re-signing Del Zotto.
How Good (Or Not Good ) Is Del Zotto?
Michael Del Zotto has a very defined set of strengths and weaknesses. He is a good puck mover, has an accurate shot, and is a good skater. On the other hand, he struggles defensively and allows far too many scoring chance/highs. Both of these factors must be taken into consideration.
In 2014-2015 he tied his career high in goals and had his most productive season since 2011-2012. His 32 points (10G, 22A) in 64 games and 21:55 TOI per game were both good for 2nd among Flyers defenseman (behind Mark Streit). In only one of the final 18 games did Del Zotto play less than 22 minutes (Feb. 22 vs WSH, he played 21:58).
When it comes to Del Zotto's advanced statistics they seem to be about average. I must admit, this surprised me. I had not looked deeply into his stats from 2014-2015, but had assumed he was doing well. For the season, Del Zotto's Relative Corsi percentage was -0.45% and his relative Zone Start percentage was -0.93%.
However, what is most surprising about Del Zotto's advanced numbers is that they actually got worse throughout the season. Prior to the trade deadline he had a +0.42% Corsi relative percentage, while after the deadline he was -3.58% in the same category. All stats are measured at 5v5 and can be found at war-on-ice.com.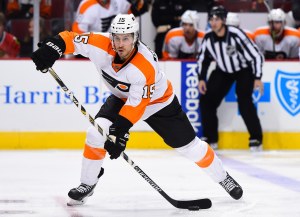 His zone starts remained constant throughout the season. Therefore, there are two factors that must have contributed to this dip in possession numbers: The loss of Braydon Coburn (who had been paired with Del Zotto leading up to the deadline) and the increased workload. As we discussed earlier, Del Zotto's playing time soared at the end of the season.
Conclusion: Michael Del Zotto is best suited to a sheltered, puck-moving role. He slots somewhere in the bottom half of the defensive line-up at even strength. He is also highly effective on the power play.
Long-Term or Short-Term
Because Del Zotto is a restricted free agent, the Flyers hold most of the power in contract negotiations. Whenever Del Zotto's next contract expires, he will be an unrestricted free agent.
The question is, do the Flyers view Del Zotto as a long-term piece on the blueline, or a short-term stopgap until their prospects are ready for the NHL? He should be the latter. There are a few reasons that the Flyers should be careful with his extension.
First, Del Zotto has had an up and down career. Although he pulled together a decent season last year, there is no evidence that he will not revert back to his old ways. The Flyers have given out too many extensions to average/below average defenseman based upon a small sample size of perceived good play (See: Nicklas Grossmann, Andrew MacDonald, and Nick Schultz), only to be burned when their play reverts back to normal. The jury is still our on what is "normal" for Del Zotto, so the Flyers should be cautious about a long-term deal.
Second, the Flyers have a good group of defense prospects who are only a couple of years away from being NHL ready. It is possible that none of Shayne Gostisbehere, Samuel Morin, Robert Hagg, or Travis Sanheim will be ready for the NHL in 2015-2016. However, it is likely that at least one, and potentially up to all four, will be ready by the 2016-2017 season. If the Flyers have too many players locked up in big money, long-term contracts, then there will be no room for the prospects.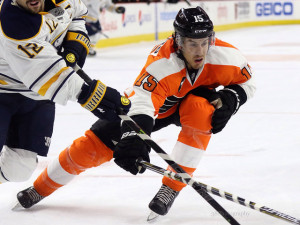 Finally, the Flyers do not have very much cap space. According to GeneralFanager.com, the Flyers are about $400,000 over the cap for the 2015-2016 NHL season. That number only counts 11 forwards and they still do not have a back up goalie. Granted, the Flyers can put Chris Pronger on LTIR and it is likely that one of the Flyers more pricey defensemen will be traded. Either way, they do not qhave a lot of money to throw at Del Zotto.
Trade Chip?
Because of Del Zotto's bounce back season, his age, and his RFA status, he holds a decent amount of value across the NHL. It was reported at the trade deadline that the San Jose Sharks and Tampa Bay Lightning had expressed interest in Del Zotto, along with some other teams.
Excluding Chris Pronger, the Flyers already have eight defensemen under contract for next season. Therefore, someone will need to be traded if the Flyers wish to keep Del Zotto. If the Flyers would like to give one of their prospects a shot out of training camp, then they will likely need to move multiple defensemen.
Del Zotto would not be my first (or even my fourth) choice to be traded. However, he is one of the Flyers defensemen who holds the most value. Therefore, assuming that the Flyers move one of Nicklas Grossmann, Luke Schenn or Andrew MacDonald, it might be wise to explore trading Del Zotto as well.
The Flyers hold 5 picks in the first three rounds of the NHL Draft. Pairing Del Zotto with a pick to move up could help the Flyers acquire another quality prospect.
Ultimately, Del Zotto is a decent NHL defenseman when playing sheltered minutes and with a good partner. He will never be the guy to carry a pairing and will never be a defensive stalwart.
If the Flyers extend Del Zotto, they should not give him anything more than two years and/or $3.5 million per season. If they decide that they cannot re-sign him, then they should pair him with either their first round pick from Tampa Bay or their second round pick from Chicago to move up in one of the first two rounds of the draft.