The Hockey Writers Nashville Predators staff writer Colin Fitts will evaluate the performance of each player on the 2014-15 Predators roster every weekday in alphabetical order. You can follow Colin on Twitter, @FittsTHW.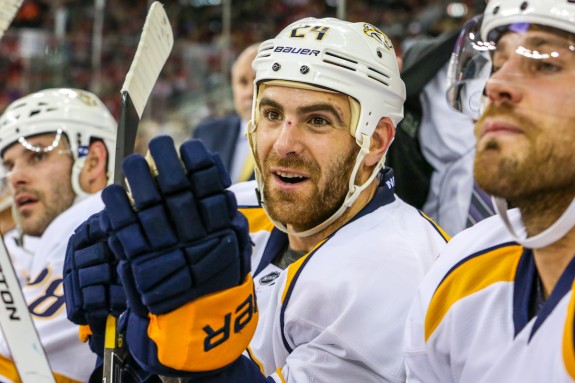 Eric Nystrom
Position: Left wing
Age: 32
Height/Weight: 6-foot-1, 193 lbs
Stat Line: 60 GP, 7 G, 5 A, 12 PTS, 0 +/-, 15 PIM, 104 hits, 29 blocked shots, 13:11 AVG TOI
Playoffs Stat Line: Did not play.
*Points at Home vs Away: Home – 5 G, 4 A | Away – 2 G, 1 A
*Giveaway/Takeaway Correlation: 11 giveaways, 9 takeaways
Contract Status: 2 years remaining on a 4-year, $10 million contract ($2.5 million cap hit in 2014-15)
Highlight of the Year: Nystrom began the year red hot leading the Predators in scoring with two goals and two assists in the first two games of the season. Nashville began the year on a winning note thanks to Nystrom's game-winning goal that helped the team to a 3-2 victory over the Ottawa Senators on October 9, 2014.

Strengths: There really isn't anything special to Nystrom's game. His best games are when he keeps it simple. Nystrom is a rugged fourth-line winger. His 104 hits placed sixth on the team last season. Relied upon to kill penalties, Nystrom logged the highest average shorthanded time on ice per game among forwards on the team at 2:16. Also, he was one of just four players on the team to score a shorthanded goal last season.
Weaknesses: Nystrom lacks scoring consistency. After tallying four points in the opening two games of the season, he went on a 15-game drought. This is not a big worry, however, since Nystrom's role is not to score an abundance of goals for Nashville.
What to Expect Next Season: Last season, Nystrom saw his year end on March 3 due to a lower-body injury. It kept him out the final 17 games of the regular season and the playoffs, though he was likely healthy enough to play had Nashville advanced to the second round. Hopefully, next season, Nystrom stays healthy and scores as much as possible since the Predators were 7-0-0 when he tallied in 2014-15.
Subscribe to our Predators stories to get email updates every time a new story is published.