The 2008-2009 season was a heartbreaking one for Red Wings fans. The Wings looked to be the first team to be back-to-back Stanley Cup champs since…well, themselves, back in 1997-1998.
The team was looking as good as ever, and had acquired star winger Marian Hossa after they beat his Pittsburgh Penguins the year before in the Stanley Cup Final. Chris Osgood was proving that he could be a starter after the retirement of Dominik Hasek (again), Zetterberg and Datsyuk were in full flight mode, but the team ultimately fell to the Penguins in a very memorable series that culminated in a game 7 that Red Wings fans still haven't forgiven Marc-Andre Fleury for.
The Red Wings were still a top contender in the hockey world at this point, and looked to restock the prospect shelf for the future. They were to pick 29th and were hoping to get an impact player to bolster their lineup for years to come. In a draft that boasted John Tavares, Victor Hedman, Nazem Kadri (who Toronto famously stole from Ottawa) the talent was abounding and was there for the taking.
Round 1

In typical Ken Holland fashion, the Wings traded down and had 0 picks in the 1st round. Tampa Bay offered Detroit their 2nd round pick (#32 overall) and a 3rd (#75 overall) for Detroit's #29 overall pick, and Holland took the deal. He knew full well who he was going to take, and Carter Ashton (who the Lightning took at #29) was not it. To this point, Ashton has 3 points in just 54 NHL games, and has bounced from team to team in the NHL.
Round 2
The Red Wings were on the clock almost immediately, as they picked 2nd in this round. The Islanders took goalie Mikko Koskinen who actually had impressive numbers in SM-liiga (1.91 GAA, 0.932 SV%) but only ever played 4 NHL games.

With the #32 pick, the Wings took Landon Ferraro. This pick made a lot of sense at the time, as TSN had Ferraro ranked at #26, and NHL.com had him as the 18th overall North American skater.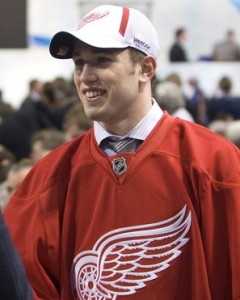 Ferraro had put up 55 points in 68 games as a 17 year old with Red Deer of the WHL, which isn't exactly 1st round pick numbers, but 37 of those 55 points were goals, and Red Deer wasn't exactly lightning up the WHL at that point, finishing last in their division, and 2nd last in their conference. Ferraro also had 4 points in 5 games with Canada's U18 team, and was heralded as being one of the fastest players in the draft. Being from the WHL, the kid could hit like a truck and was not a small guy at 6 feet, 174 lbs. The Wings drafted him for his overall game, and not simply his scoring ability, as seen by his play in the 2015 playoffs.
The Wings weren't done in the 2nd round, as they also picked at #60 where they got, very possibly, the steal of the draft, Tomas Tatar.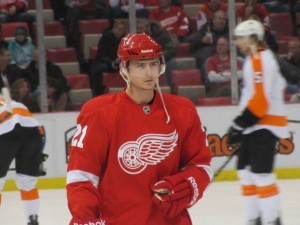 Tatar was playing in a Slovak men's league during his draft year as an 18-year-old. While his numbers don't jump off the page at you (15 points in 48 games), Jim Nill, who was the Red Wings Assistant GM at the time, said that Tatar looked like he belonged in that league; it was tough to tell that he was only 18 years old.

Tatar's coming out party, however, was the 2009 World Juniors where he put up 7 goals in 7 games for Slovakia, adding 4 assists to bring his point total to 11 in 7 games, tied for 4th in the tournament (ahead of highly touted Americans James van Riemsdyk and Jordan Schroeder). What really convinced the Red Wings to take Tatar, however, was his play in the playoffs for HKm Zvolen that season, where he had 8 points in 13 playoff games (5 goals and 3 assists). Many scouts had never heard of him before the WJHC, so they were questioning whether he could play that well consistently; the SVK playoffs answered that question.
Tatar now sits with 103 points in 182 NHL games and was a key piece to the Red Wings 2014-2015 season, leading the team in goals. He's also 14th in his draft class for NHL points, and 2nd among 2nd round picks.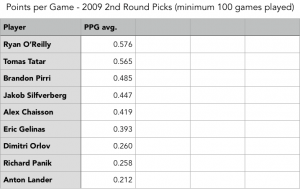 Round 3
The Wings held 2 3rd round picks, thanks to their trade with Tampa Bay, they received the Panther's 3rd rounder. At #75 they took Andrej Nestrasil.
Nestrasil played his Junior in the QMJHL and was 2nd in team scoring for the Victoriaville Tigers in his draft year. Thankfully, the kid played better than he looked and the Wings took a shot at him. Jim Nill thought he was the best player on the Czech team at the WJHC and was lucky to get him at #60.
While I had suspicions that he would be plucked from waivers this season I was hopeful that the Wings would hold onto him. The Hurricanes took a crack at him and he played 41 games for them after playing only 13 for the Wings (and registering only 2 assists). All in all, this was essentially Carter Ashton for Ferraro and Nestrasil, which is a win even though the Wings lost Andrej for nothing.
The next Red Wings pick is where I start to question the drafting during this year; up to this point, the Wings had knocked it out of the park. Obviously hindsight is 20/20 so I have a bit of an advantage here, but with the #90 pick, the Wings selected Gleason Fournier.
Fournier was an offensive defenceman, but had only 3 goals during his draft year with Rimouski. He had 0 points in the playoffs that year (while being swept in 4 games), and was generally underwhelming in most scouting reports. Many reports said that he had the potential to be physical, but questioned if his offensive skill could translate to the NHL.
His biggest knock? His defence. Hockey's Future had this to say about the Oceanic product:

"Talented offensively, the problem for Gleason Fournier is that he is a defenseman first and foremost, but sometimes he doesn't play like one. Able to make quick decisions with the puck and move it well, he sometimes struggles in his own end, especially when under pressure. A valuable tool on the power play, at 6'0 and 174 pounds, he would benefit tremendously if he can get larger and stronger on his skates in the coming years."
This doesn't seem like the typical Red Wings draft pick. If the Wings were hellbent on taking a defenceman with this pick, better choices would have been David Savard, Mattias Ekholm or Sami Vatanen, all of whom were available at #90 and were taken later in the 4th round. Fournier has yet to see NHL action, and the Wings didn't re-sign him after his entry deal ran out in 2013. He last played for the Everblades in the ECHL and put up 1 goal and 9 assists in 31 games with them.
Round 5
The Red Wings sent their 4th round pick to LA when they acquired Brad Stuart, so they didn't pick in the 4th, and didn't really miss out on anyone in the 5th. At #150, in the 5th round, the Red Wings selected Nick Jensen.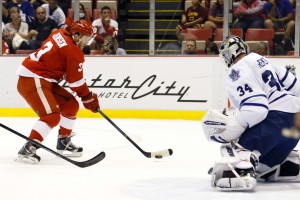 How Nick Jensen fell this far in the draft, is beyond me. His competition was good, as he played in the USHL and there were 4 players from the USHL drafted the first 2 rounds. In his draft year, Jensen played for the Green Bay Gamblers and lead the league in plus/minus while putting up 22 points in 52 games (5 goals and 17 assists) and committing to St. Cloud State for the 2010-2011 season (prior to being drafted).
He was always known for his smooth skating and puck handling, so playing professional hockey and being a stalwart defensively was a huge plus for Jensen. He was projected to fall to the 4th round, but was taken in the late 5th by the Wings. This past season may have been the biggest plus sign for Jensen, as he played 75 games in Grand Rapids, had 6 goals, 21 assists and a plus-15 rating. He's listed as Detroit's 8th overall defensive prospect, so he's got some work cut out for him, but another year or two in the AHL would really add to this experience and chances to make the NHL.
Round 6
Once you hit the 6th round, you can't really expect too many of these prospects to hit the big league. At #180, Red Wings chose a gritty player: Mitch Callahan.
In a stat that is awesome/scary, Callahan lead the WHL in fights with 23 in his draft season. He had 14 goals and 13 assists in 70 games, to go along with 188 PIMS, so he wasn't exactly a profiling scorer. However, in his next 2 WHL seasons, he had 47 and 54 points, respectively, so he started to score more once he had more WHL experience. His last season in Grand Rapids, he had 38 points in 48 games, so it seems as though he has grown into the pro game while toning down his stupid play (only 24 PIMs) and was playing on the top line in Grand Rapids. He may crack the NHL in a year or two, which would be great for a 6th round pick not named Pavel Datsyuk.
Round 7
With the second last pick in the 2009 NHL Entry Draft, the Red Wings selected Adam Almquist.
For any 7th round pick to play in the NHL is a bonus. The 7th round is a perfect place to take a swing at someone who will either be great, or be a bust. That's pretty much what Almquist is, considering he decided to defect to the KHL this past year. He was projected to have some issues with his skill translating to the North American game, however, that remains to be seen. Even though he put up 53 points in 73 games in the AHL, he decided to take off to the KHL since he was sick of playing the AHL. Almquist's season in the KHL was…less than spectacular. 4 points in 21 games with 12 PIMs. Will another year of pro do him well? Will he come back to the NHL?
Draft Grade: A-
As an NHL team, if you can get 2 or 3 solid NHLers out of a draft, you're doing well. 6 years after this draft, the Wings have 2 players from this draft playing in the NHL full-time. Tatar is an elite forward for the team, and Ferarro should play in the bottom 6 all season next year. There is also a small chance that another 1 or 2 of these players make the jump into the NHL, as small of a chance that it is. To get 2 NHLers out of the 2nd round and a few others in the pipeline, is a win.