What's The Grind Line? Apart from the once-famous line of Kris Draper, Kirk Maltby, and either Joe Kocur or Darren McCarty, The Grind Line is also The Hockey Writers' weekly column about the Detroit Red Wings. This week, Tony Wolak, Devin Little, Ian McNaughton, Patrick Brown, Peter Ploshehanski, and Ryan Guenter are the muckers who make up THW's forechecking unit and sound off on Red Wings topics.
With the 2020-21 season beginning to take shape before our very eyes, it's time to start setting expectations not only for the NHL, but for your favorite team and its players as well. With that in mind, let's take a look at the Detroit Red Wings' top line.
There is an argument to be made that last year was a bit of a step back for the trio of Dylan Larkin, Anthony Mantha and Tyler Bertuzzi. Larkin's scoring pace during the 2019-20 season was his lowest over the last three seasons. Mantha produced at a career-best pace, but injuries prevented him from establishing himself as a premier power-forward in the NHL. Bertuzzi was the Red Wings' representative at the All-Star game in St. Louis, but it's becoming evident that he is more of a middle-six forward rather than a top line one.
So what should we expect from these three ahead of the 2020-21 season? Our muckers weigh in:
Tony Wolak: True Top Line Status
Last season, Larkin, Mantha, and Bertuzzi combined to score 40 percent of Detroit's five-on-five goals. While the (lack of) talent behind them on the roster card had something to do with that number, that's certainly impressive for the trio.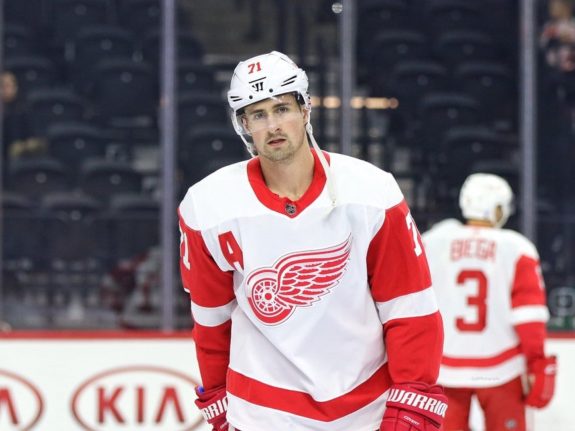 Looking forward to the 2020-21 season, Larkin, Mantha, and Bertuzzi need to go from a good Red Wings first line to a good first line. Ideally, you pencil the three forwards in as a contending team's top line and no one questions the decision. They already do a good job maintaining possession – attempting 52.8 percent of all shots on net while they're on the ice last season. The three also had a 56 percent expected goals rate, so there's a track record of dominating opponents.
If the Red Wings are to contend in the near future, they need Larkin and Mantha to establish themselves as elite, top-line forwards. Detroit also needs Bertuzzi to take another step as a top-six threat. And while the 2020-21 season may not produce a playoff team, we could see the Red Wings emerge having confidence in Larkin, Mantha, and Bertuzzi as a true top line.
Related: Red Wings & Lightning: Mock Salary Cap Trade
Devin Little: League-Wide Appreciation
For hockey fans that don't follow the Red Wings that closely, it is probably easy to look at last season's effort and just assume that the team from Detroit has absolutely nothing going for it. The "Hockeytown" faithful know better.
We've seen Larkin go toe-to-toe with some of the league's top centers and win the match-up. We've seen Mantha score at a 30-goal, 70-point pace. We've seen Bertuzzi do literally everything and anything you can ask for out of a hockey player. It's time for the rest of the league to see it too.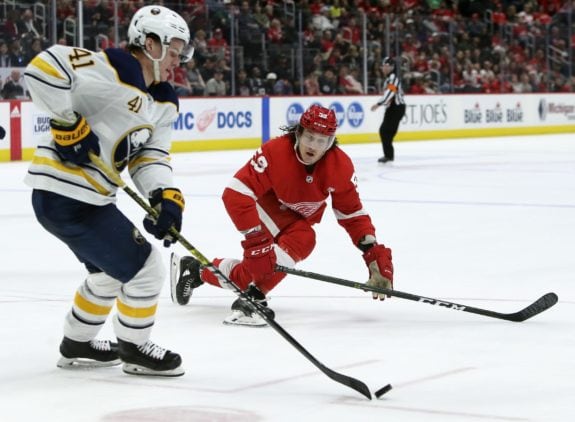 The only way for the league to take notice is if all three of them play up to their potential. What does that look like? It looks like Larkin cementing himself as a true top line center. When healthy, Mantha is one of the best power-forwards in the league; this is the season that he needs to make that fact clear to the rest of the league. For Bertuzzi, it looks like him eclipsing 50 points while continuing to outwork his opponents.
These three are the face of the team right now; it's about time the rest of the league appreciates their talents as much as we do.
Ian McNaughton: Offense/Setting the Tone
I touched on Red Wings center Larkin earlier this week and what my expectations were for him. He should be a point per-game player every year, especially in a shortened-season when he's had approximately 10 months in between NHL games. I love Larkin as much as the next person but being on pace for just 61 points as he was last season is not good enough. If he's the top line center that we all think he is, then those stats have to be better. Plain and simple.
Related: Red Wings Need More Production from Dylan Larkin
Since Mantha and Bertuzzi are the most likely candidates to play on Larkin's wings, I believe they'll produce at a similar rate. I'd argue that Mantha has the higher ceiling to score, but they're both coming in with high expectations to perform. As much as I would love for them to score at a point per game like Larkin, I would be happy if they scored anywhere between 35-45 points next season. Should neither player contribute to the level that they should, they can be replaced by other names further down the lineup.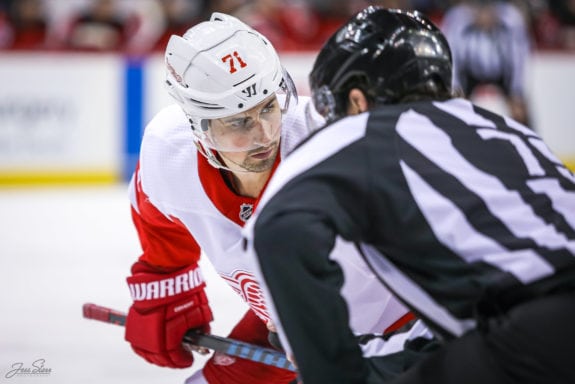 My biggest desire from this top line is to set the tone every night with goal scoring and a touch of physicality. They don't need to be throwing body checks all over the ice but I want to see them stand up for themselves. You have to be extremely motivated to play in the NHL and with how awful the Red Wings were last season, it's on the top line to motivate and set the tone for the rest of the team this upcoming season. I'm excited to watch Larkin, Mantha, and Bertuzzi on the same line again, and I'm really excited to see what kind of improvement we see from all three players.
Patrick Brown: Control the Puck and Play Defense!
At last, there are options. After years of being saddled with basically one top line, Red Wings head coach Jeff Blashill has the opportunity to solidify Larkin, Mantha, and Bertuzzi on the top line while knowing he has a little more depth on subsequent scoring lines.
Last season teams were able to effectively stack their lineups to contain Detroit's top line, and though the Red Wings won't exactly be an offensive juggernaut this year, opposing defenses will have to stay a bit more honest and respect the secondary scoring prowess of Robby Fabbri, Bobby Ryan, Vladislav Namestnikov, and (hopefully) Filip Zadina.
Both Larkin and Mantha are locked down for the foreseeable future, and after Bertuzzi's one-year deal earlier this offseason, expect this line to lead by example. The goals will come, but will ultimately be a product of how the line controls the puck. Mantha, Larkin, and Bertuzzi led the team last year with Corsi For Percentages of 54.1, 50.6, and 49.5, respectively, and their ability to control the puck and generate chances will be key to success this season. Effective cycling of the puck is contagious, and will create critical opportunities while keeping the opposition on its heels.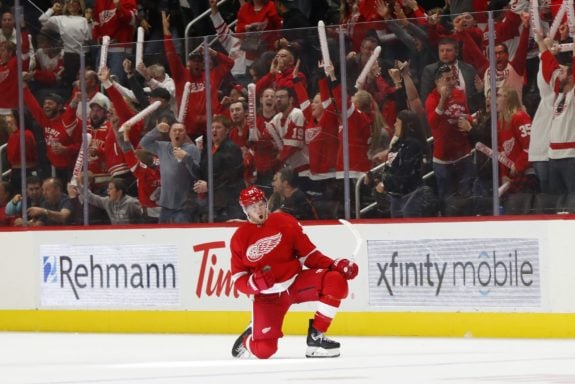 That said, the top line needs to play better defense to ensure it will have the puck more often. Last year's on-ice save percentages of 87.4, 88.7, and 89.6 need to improve, and better defense will equate to fewer goals allowed, more puck control, and ultimately more offense.
Ryan Guenter: Build Around the Youth
Given the current youth movement in Detroit, there is no better time to give young Zadina a chance to shine. The only drawback in adding him to the top line of Larkin and Mantha is that they are all lefties. Alternatively, the other option would be to add Bertuzzi to that line – also a lefty. 
Bertuzzi has recently had two productive seasons nearly reaching the 50 point plateau on both occasions – he would have broken that mark last year without the shortened season. That said, is he destined for a top line role in Detroit or is he more of a second line player? My opinion is that he is the latter. Plus, it also effectively spreads out the offence and gives Bertuzzi a chance to play with a great veteran like Ryan and the mystery second line center.
Zadina on the other hand is destined to be a top line player throughout his career.  While he lacks experience in the defensive zone, he has shown that he can produce at the NHL level. In 37 career games, the 21-year-old has accumulated nine goals and nine assists. Give the young guy a chance to prove himself with the big boys!
Peter Ploshehanski: Get Mean
Play like the Vladinator and hit anything. This is a generalized statement. I do not want to see Mantha fight. Although I am all for standing up for your teammates, finishing checks, and dropping the gloves, I don't want Mantha to have to do it.
Related: Top 10 Toughest Detroit Red Wings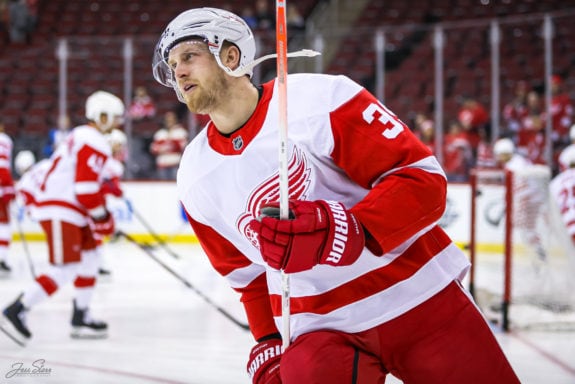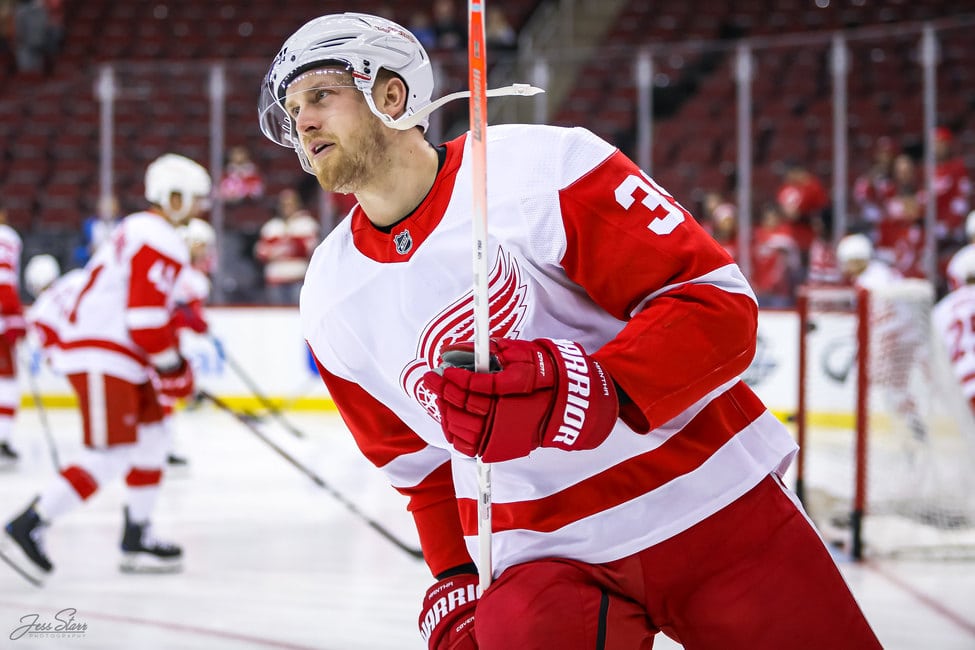 Every time he fights, he misses half a year. Bertuzzi is a scrappy player that does not shy away from physical play by any means and even Larkin has a temper and a bit of a mean streak. By going out early in the game and setting the tone with a good clean body check or finishing a check along the boards, it puts the hockey game in our control.
The opposition will tend to sit back a little bit and that's when we strike. There's no doubt the best feature of their top line is their ability to score. Larkin can dazzle from end to end, Mantha's rather large back end can't be moved off of the puck when he comes barreling in, and Bertuzzi cleans up all the garbage in front of the net à la Tomas Holmstrom or "Lucky" Luc Robitaille.
Larkin was scoring at a 60 point pace last year and that is not good enough, plain and simple. Like my friend Ian previously said, if he is the number one center we all believe he is, he needs to elevate his game. We need Larkin in the 80 point per-year tier. Bertuzzi was scoring at a rate of 55 points per-year and I for one am over the moon that a player who was thought to be a reach in the second-round is achieving those numbers.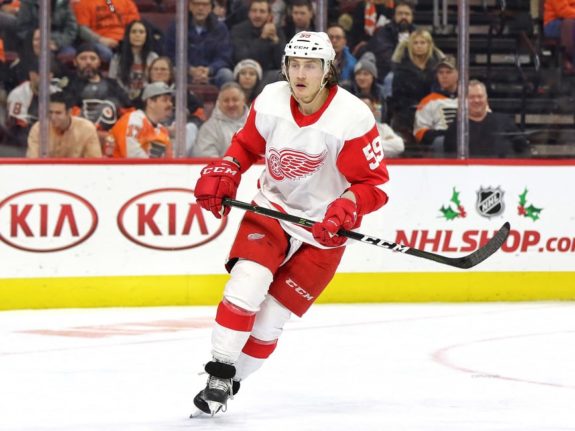 Finally, Mantha was scoring at a 72 point clip before the injury. This man needs to remain healthy so Detroit can get their worth out of the big Frenchmen. Adding Fabbri last year and nabbing Ryan and Nemestnikov in free agency should help take some pressure off the first line. This is going to be Zadina's breakout year. This is a hot take, but I'm predicting he scores 60 points – and yes, I know the season is going to be shortened.
Related: The Grind Line: Red Wings' Next Playoff Team
Stats courtesy of Money Puck.
More from The Grind Line
Want more Red Wings content? Tune into The Hockey Writers' Grind Line — a new weekly live show on YouTube and Facebook. We stream Friday nights starting at 8:00 pm ET on The Hockey Writers YouTube channel. Check out last week's show below, and make sure you subscribe to the channel so you don't miss any upcoming shows.
---
---