The New York Rangers had a handful of prospects competing for spots on their respective nation's World Junior's squad. 2020 first-round selection, Braden Schneider, was named to Team Canada, likely finding himself in their defense's top-four. The 6-foot-2, 209-pound defenseman plays a hard-nosed style of hockey, a trait that Rangers' brass and Team Canada's coaching staff has found desirable.
The physical 19-year-old had seven goals and 35 assists for the Brandon Wheat Kings of the WHL in 2019-20 while also collecting 42 penalty minutes. In 2018-19, Schneider competed for Canada at the WJC-18 tournament, recording a goal and two assists over his seven games.
Brett Berard Makes USA Roster
At 5-foot-9 and 163 pounds, 18-year-old Brett Berard is not going to wow you with his presence, but his determination to go to the net and his talent will. Team USA released their World Junior roster, with the Providence College forward's name smack in the middle of the lineup.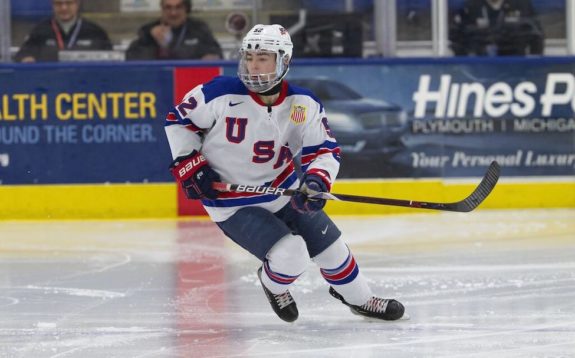 Berard has been a part of the USA's National Development Program, putting up 16 goals and 18 assists in 34 USDP games. The Rhode Island native tallied 18 points (seven goals) in 13 games for the USNTDP junior squad in the USHL. A fifth-round selection in the 2020 Draft, he will try to open scouts' eyes with his play at the WJC.
Notable Rangers' Prospects WJC Status
Notable Cuts
Matthew Robertson, a defenseman who was a Rangers' second-round selection in the 2019 Draft, was deemed ineligible for health-related reasons. Canada had a COVID-19 outbreak, which forced a two-week shutdown of its facilities. When that shutdown ended, Robertson, along with several other players, was not cleared to return.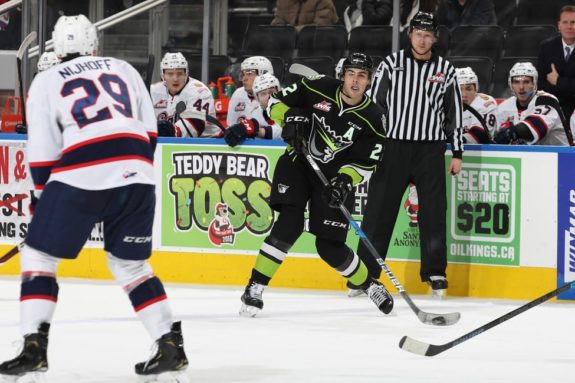 At 6-foot-4, Robertson is a behemoth of a defenseman and has quietly climbed up the Rangers' defensive prospect rankings. He will be spending this season with the Edmonton Oil Kings in the WHL, the same team he scored 47 points in 60 games with during 2019-20.
Karl Henriksson was a shoo-in for the Swedish WJC roster and would likely have played alongside Alexander Holtz and Lucas Raymond on a dynamic line. According to Sportsnet, a positive result for COVID-19 forced Sweden to remove him, head coach Tomas Monten, and three teammates from the roster.
Henriksson, from Malmo, Sweden, has played 20 games for Frolunda HC in the Swedish Hockey League, tallying four assists. It is important to note that his status, like Robertson, is not related to their on-ice performance, but rather the unique times we live in.
Lastly, Leevi Aaltonen, a Finnish forward who was a fifth-round pick in 2019, failed to make Finland's WJC roster. His play had been lackluster of late, forcing him to bounce from Finland's Liiga down to the Mestis on loan.
Aaltonen has great skating ability and good offensive upside but has yet to put the two together consistently at the highest levels. The 5-foot-9, 176-pound winger had six points in five games for IPK in the Mestis but only had two assists in 10 games for KalPa in the Liiga.
Notable Adds
Dylan Garand made Team Canada's roster as the third goaltender. Drafted 103rd overall in 2020, he has received high praise from scouts who have seen him play with the Kamloops Blazers. The Vancouver native isn't a towering goaltender, at just 6-foot-1, but still managed to post a 28-10-3 record last season.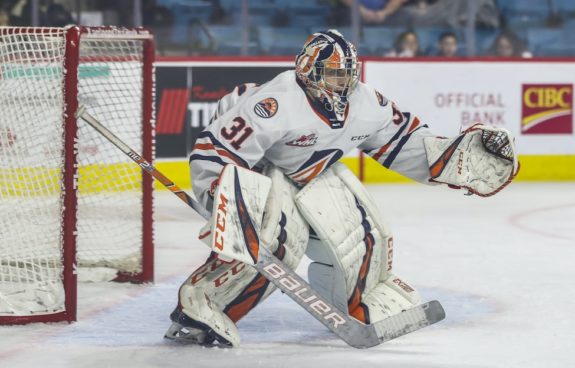 If he wants to play in this tournament, he will have to beat out Canada's other two netminders in Taylor Gauthier and Devon Levi. Garand is just 18 years old, so a good showing in practices and a solid impression with the coaches will go a long way towards his status as Canada's 2022 WJC netminder.
Hunter Skinner is the last Rangers' prospect to make a WJC squad, securing a spot on Team USA's blue line. Team USA added him to the roster after they had players opt out of the tournament, so he made the most of his opportunity and made the squad. The 6-foot-3 defenseman was a fourth-round selection of the Rangers in 2019 from the London Knights of the OHL.
The Michigan native had 32 points in 62 games for London in 2019-20, and hopes to show his growth at the WJC. It will be a tough blue line to crack, however, as the Americans have a lot of depth on defense.
WJC Tourney News
The World Junior Championships are set to begin on December 25th in Edmonton. There will be no fans in attendance, but the tournament will still display an array of talented prospects that could make up the next wave of great NHL players.
Group A features Canada, Germany, Finland, Slovakia, and Switzerland, while Group B features the United States, Sweden, Russia, Czech Republic, and Austria. Canada is the defending champion and possesses a roster primed for a repeat, even without the number one selection services, Alexis Lafreniere.
Rangers Likely to Return January 13
According to ESPN's Emily Kaplan, the NHL and NHLPA have moved past their differences and plan to start the season on January 13, 2021. Kaplan states that the approved plan will include divisional realignment, season schedule, and COVID protocols.
That return date means we are officially a month away from Rangers' hockey and the debut of phenom Alexis Lafreniere. The realigned divisions would see the Rangers face-off against the Devils, Islanders, Capitals, Flyers, Penguins, Sabres, and Bruins next season.
The Rangers will get a good look at four prospects in this year's WJC, a number that would have been higher had it not been for COVID-19. Schneider and Berard highlight the prospect pool heading to the tournament, which paves the way to the NHL's start date upon completion.
---
---