Joe Hicketts faces another year of uncertainty heading into the 2020-21 season. The Kamloops, British Columbia native becomes a restricted free agent after next season. Given the ubiquitous uncertainty surrounding, well everything, I wonder aloud what the future holds for Hicketts and the Detroit Red Wings?
Before looking ahead, it might be useful to look back on Hicketts' career. Full disclosure, I have known Joe since he was 14. Our first meeting was the training camp after he was selected 12th overall by the WHL's Victoria Royals in 2011 – a scouting staff I belonged to from 2009 to 2019. Needless to say, Hicketts' story since that day was fun to watch.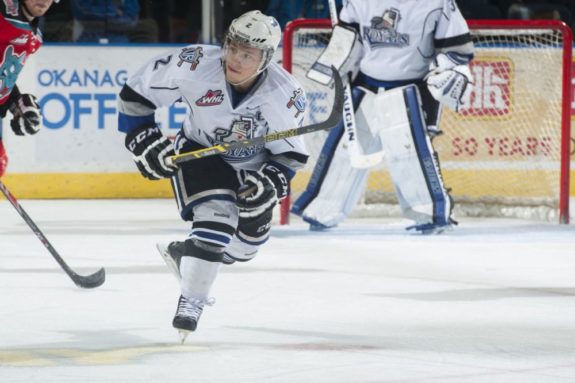 Fast forward to the 2013-14 Victoria Royals season, which happens to be Hicketts' first year of NHL draft eligibility. The undersized defender is a fearless and rugged player, but suffered a triceps injury in the first half of the season. He missed three crucial months and came back too heavy for his 5-foot-8 frame, trying to overcompensate for his injury. Despite his 24 points (6G, 18A), and plus-25 rating during 36 WHL games in 2014, he went undrafted.
2014 Journey
The disappointment of not being drafted led to a remarkable transformation that summer. Instead of sulking, he went back to Kamloops and decided to prove something. Long story short, he committed to Detroit and attended each of the camps, from development to rookie to main. From what I gathered at that time; the impression Joe made upon the organization had a big factor in Detroit's decision to sign him to an NHL entry-level contract in October of 2014.
Contract in hand, his play only got better after that point eventually earning a spot on the Canadian World Junior gold medal team in 2014. To be clear, Hicketts' spot on Team Canada was out of left field. It was a rare but deserved ascension onto a team that every Canadian player dreams of – he also played on the 2015 Canadian junior team in Finland.
Hicketts play during his last year at the junior level was amazing to watch. That year he scored eight goals and added 53 assists over 59 games. He was on another level compared to his peers at this stage in his junior career and it was clear he was ready for the next challenge.
Pro Transition
Hicketts' four-year professional career has been consistently solid. In 254 career AHL games with Grand Rapids, he has accumulated 100 points (15G, 85A). As a result of these minor league contributions, he has also been called up for 22 games with Detroit spanning three seasons. His NHL numbers during those games might be telling: five assists and a minus-nine rating.
At the NHL level, depth defensemen must first prove themselves defensively before they get offensive opportunities. As such, the minus-nine hurts his chances of becoming a regular NHL player. At 24, it is not too late to make the defensive area of the ice his main priority.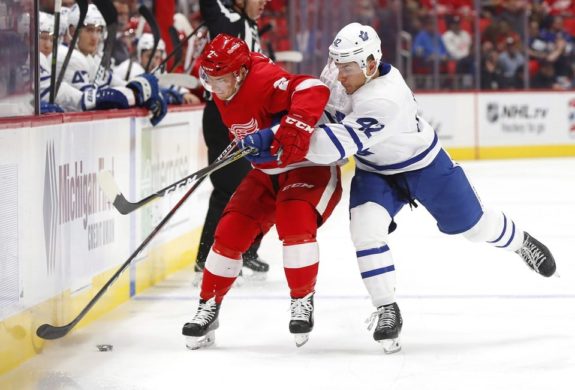 The challenge for Hicketts is the growing group of priority Red Wing D prospects including Moritz Seider, Dennis Cholowski, Albert Johansson, Gustav Lindström, and Jared McIsaac. That list makes it hard to figure where he might fit in Detroit.
If not Detroit – a rebuilding team – where else might he find a home? 
Easy to Root for
Most individuals who meet Hicketts instantly become a fan. From my understanding, his personality was a factor in the Red Wings decision to sign him to an ELC. He is a gracious, inquisitive, intelligent and humorous individual. More than that, he is a resilient, courageous and always positive person who is easy to root for.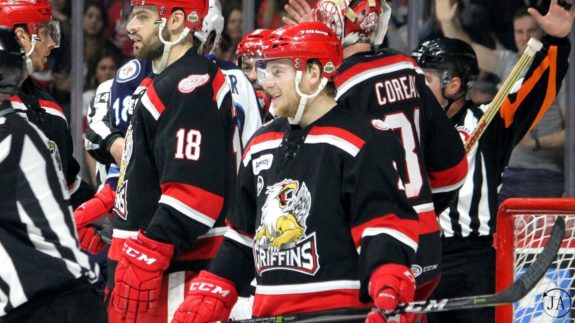 Those are only a few of the intangibles Hicketts possesses – he is a top-quality human being. If Detroit signs him to another two-way contract, then he is committing to another term of mostly AHL service, but then what? The alternative will be measured by interest from NHL teams that believe in his play and positive intangibles.
If there is any professional player that can rise and meet these challenges it is Hicketts. He is the classic case of a good player but a far better person with a great perspective on life. His number one goal was always getting better – the process.
Let's just hope that players like Hicketts – two-way players dependent on a minor league salary – have an opportunity in 2020-21.
---
---