With the pandemic still looming, not much hockey is being played in North America right now. Luckily for the Vegas Golden Knights, the NCAA started their college hockey season, which will allow their first-round draft pick, Brendan Brisson, to get some playing time. He is currently a freshman at the University of Michigan.
First Line Winger
Brisson has played six games at Michigan so far. In all of these games, he has been on the first line playing left wing. This is an impressive feat as the Big Ten is a powerhouse in college hockey. This a great sign for Golden Knights fans as it proves that they are getting a top-tier winger in the future.
The first-round draft pick has helped Michigan to a 4-2 record. The Wolverines have been dominant so far with wins over Arizona State and Wisconsin, while their only losses are to another strong team in Notre Dame. Brisson has been a big part of this success. He has shown his playmaking ability throughout these games.
Performance
So far, in the six games he has played, Brisson has recorded one goal and four points for Michigan. It is not surprising that he has been able to produce immediately. He is incredibly skilled with and without the puck, which allows him to find open space and capitalize on the chances he is given. This can be seen on his first career collegiate point as he was able to find the open ice on the power play and deliver a strike to his teammate for the goal.
Brisson's game is not all just passing. He is also able to fire the puck into the net. On his goal, he rifled a one-timer past the goalie. Once again, this should make Vegas fans happy as this shows that he has the ability to score at higher levels. His ability to put up points and his continued ability to produce on the Wolverines' top-unit marks the sign of a great pick from general manager Kelly McCrimmon.
However, despite his current success, Brisson still needs to improve his discipline. He was the culprit of a dangerous hit during a game against Wisconsin. He hit the opposing player from behind and they went headfirst into the boards when trying to retrieve the puck. Although it was most likely an accident, he will need to be more aware of the situation as in the Big Ten, one bad penalty can significantly alter the outcome of the game. He also took the Wolverines off the power play in their most recent game with a hooking penalty. 
Time Until NHL
Right now, it seems as if the Golden Knights are set for a few years to come. The team has a solid youth core while their older players will still be productive later in their careers. Brisson most likely will not be donning a Golden Knights jersey for at least three years. However, if he either explodes offensively over the rest of the season or the Golden Knights make a trade or get bit by the injury bug, he could make his NHL debut much sooner.
Regardless of the situation, the Golden Knights should allow Brisson to develop at Michigan. It is one of the best college hockey schools in the nation as they were ranked fourth in the nation as of Nov. 23. As of right now, it seems that the coaching staff has shown promise in the first-rounder as he has been an integral part of their system. If he is to keep his current path of development he could have the chance to win the Hobey Baker in a few years' time.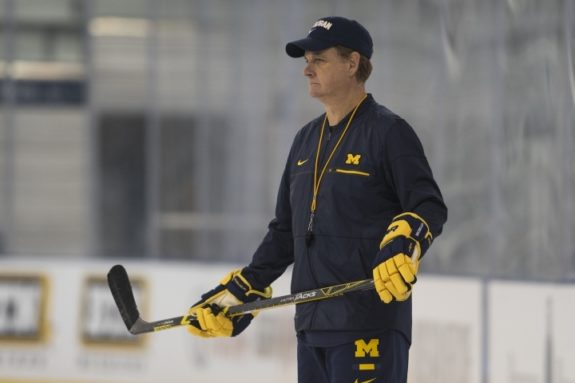 Overall, Brisson's start at Michigan is promising for the Golden Knights. Fans should be excited to watch him develop in the NCAA. Although he might not yet be NHL-ready, he is in a position to make an impact in Las Vegas sooner rather than later.
---
---