There was never any significant sign that Steven Stamkos would be a Detroit Red Wing on July 1 and all rumors and "insider info" was put to rest on Wednesday when he was extended for eight years by the Tampa Bay Lightning, the only organization he has ever played for.
On draft day, when general manager Ken Holland worked some magic and traded away Pavel Datsyuk's contract, Red Wings fans leaped with excitement about the extra $7.5 million in cap space Detroit gained—ignoring the LTIR arrangement of Joe Vitale who the Red Wings received in return.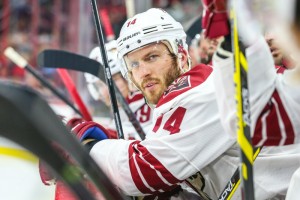 While analysts and reporters pointed to Detroit as the frontrunner, Stamkos never actually met with Red Wings brass, toured the sight for the new arena, saw the city or any of that wine-and-dine stuff he reportedly did with other teams. Depending on whom you ask, that could be an indictment to the organization or mean nothing at all.
Making a pitch to Stamkos was just a week away. But like every other significant player in the salary-cap world, Stamkos never even made it to Canada Day. Cue the surprise, the heartbreak and the loss of words 29 other fandoms felt when Bob McKenzie broke the news.
Cancel the Stamkos Sweepstakes, he has decided to return to the Tampa Bay Lightning. #TSN

— Bob McKenzie (@TSNBobMcKenzie) June 29, 2016
Now what for the Red Wings?
Now, with free agency hours away, Holland must restrain himself on the cap space he had felt was going to Stamkos. Stamkos was Detroit's ideal catch; a proven center, a goal-scoring threat every shift and a big body. But that doesn't mean there aren't other players that can improve Detroit's top six.
Their names are all over the place, swirling in rumors, analytics, stats sheets and every hockey website every day. To name a few though, Andrew Ladd, Frans Nielsen, Milan Lucic, Loui Eriksson, Mikkel Boedker, Kyle Okposo, David Backes, David Perron, etc. It's a big list of big names with a mixture of 20-somethings and 30-somethings, power forwards, hitters, playmakers, centers, wings, etc., etc., etc., blah, blah, blah.
The scary part is the other names Detroit has been linked to, such as Matt Martin and Darren Helm. Martin, as Micah Blake McCurdy of HockeyViz put it, is a true fourth-liners fourth liner. Martin, 26, uses his 6-foot-3, 220 pound frame to consistently lead the NHL in hits while playing 10 minutes a game and chipping in 19 points a year—which was a career high in 2015-16.
Helm, 29, is a familiar face to the Red Wings organization having spent all eight seasons on his career in Hockeytown. He's been an effective part of the team with third or fourth line production of 10-plus goals and between 20 and 35 points regularly.
Red Wings still in talks with Darren Helm. If deal can't get done, he's UFA tomorrow.

— Craig Custance (@CraigCustance) June 30, 2016
The problem with Helm is he averages comparable ice time to that of Gustav Nyquist, Tomas Tatar and Dylan Larkin this past season while paling in comparison offensively. He would be a tremendous third line player if Detroit had the room or actually chose how they wanted to distribute ice time.
The 2016-17 Roster
With the top-six being Nyquist, Tatar, Larkin, Henrik Zetterberg, Justin Abdelkader and most likely Anthony Mantha, Holland has room to add a true top-six player—see the aforementioned list—and create more depth by shuffling a Nyquist, Tatar or Abdelkader down to third line duty.
The bottom six is all but set in stone as well with Riley Sheahan, Luke Glendening, Drew Miller, Andreas Athanasiou, Tomas Jurco and Teemu Pulkkinen, should Jeff Blashill and company choose to a) use him and b) misuse him in a bottom-six role.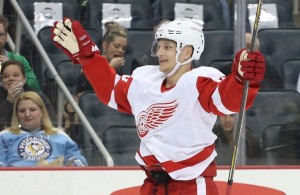 Should Detroit sign two forwards, fans may be in for another season of Pulkkinen and Jurco in the press box. Other forward options nclude Martin Frk and Mitch Callahan, whose two-way deals expire and will require waivers to be sent back down to Grand Rapids.
Meanwhile, other Griffins will push to make the starting roster such as Tyler Bertuzzi, Tomas Nosek and 2015 first-round pick Evgeny Svechnikov.
In the end, Holland needs to be careful with his cap space. There's an abundance of forwards, a need on defense and free-agent prices have skyrocketed with Stamkos being taken off of the market.