Ever since being drafted 4th overall at the 2006 NHL Draft by the Washington Capitals, Nicklas Backstrom has been one of the focal points of the team's offense. Coupled with Alex Ovechkin and several other young guns that have come and gone, he has played a major role in the run and gun style that has powered one of the highest scoring offenses almost every year. Next year, for the first time in over half of a decade, he might not start the season as the Capitals' first line center. And that's perfectly okay.
The reason for this is the quick and powerful emergence of Evgeny Kuznetsov. Touted as an extremely talented prospect before being drafted by Washington in 2010, he followed up an impressive playoff performance in the 2015 Stanley Cup Playoffs with a remarkable 2015-16 campaign on the Presidents' Trophy-winning Capitals. Not only did he more than double his point total from the season prior, he was the leading scorer on his squad, registering 20 goals for the first time in his career and adding 57 assists. He was named to his first all-star game which, ironically, was inexplicably Backstrom's first appearance in the mid-season festivities as well.
An Enviable Problem
Essentially, the Capitals have a problem – a good one, at that – which a very select few teams have around the NHL. After years of searching for a long-term solution regarding the revolving door at their second line center position, they now have more of a 1A and 1B system. They are in good company, because the most successful hockey teams in recent memory have been very strong down the middle from the top of their lineup to the bottom.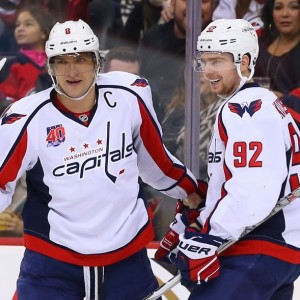 Take the most recent Stanley Cup Champions, for example. Unfortunately for Capitals fans, it means looking at one of their biggest rivals and the team that recently crushed their most promising post-season run in a long time. However, there is no denying that the one-two punch of Sidney Crosby and Evgeni Malkin is one of, if not the best, center tandems in the league.
It is important to point out that none of this is an indictment on Nicklas Backstrom. With 642 points in 652 career games, he is basically a lock to be a point-per-game player each and every season. What sets Backstrom and his fellow center apart, however, is age. At 28, Backstrom is far from old. In fact, he will arguably still be in his prime for several more seasons.
Kuznetsov is four years younger, and despite the promise that the organization knew he had, his developmental explosion last year really makes you wonder what his ceiling actually is. Though he undeniably hit a wall as the season winded down and in the playoffs, it wasn't for a lack of trying. Despite only scoring one goal in 12 playoff games, he got off 39 shots for a paltry 2.9% shooting percentage. His linemates, Andre Burakovsky and Justin Williams, also struggled to score, despite posting a 61.9 Corsi For Percentage at even strength.
The TKO
In reality, with the talent that the Capitals have, they could essentially roll out two top lines each and every night. While Alex Ovechkin's line will always be labeled the top line, imagine what a trio of Nicklas Backstrom, Justin Williams and a constantly-improving Andre Burakovsky could do with significant time together. If the team is looking to change it up, Marcus Johansson could move up to the second line in Burakovsky's place at any time. Either way, the team has plenty of options.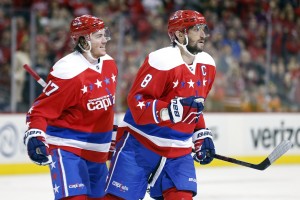 The reason for this is because of the success of the "TKO" line. That is, T.J. Oshie, Evgeny Kuznetsov and Alex Ovechkin. In a tad under 180 minutes together at even strength last year during the regular season, they posted a 54.7 CF% at evens. Along with that, Kuznetsov adds a different element to the top line. He shoots the puck a lot more than Backstrom does, which keeps goaltenders on their toes when normally they would be focused on Ovechkin with the top line on the ice.
Backstrom is, of course, coming off of his third 20-goal season, but with someone like Oshie capable of scoring 20 or 25 goals himself, you would have three great players who are unafraid of pulling the trigger on their own. At Kuznetsov's current trajectory, it wouldn't be surprising to see him become a perennial 20 or 25-goal scorer on his own. The more shots, the better.
Interchangeable Parts
With two great centers in the lineup, Capitals Head Coach Barry Trotz has a lot more flexibility with his lineup. Nicklas Backstrom and Alex Ovechkin have been linemates for a very long time, and even if they are split up, they can always be reunited to shake things up. No matter which way the team goes, there is a high probability of success with either of these two top centers on the ice.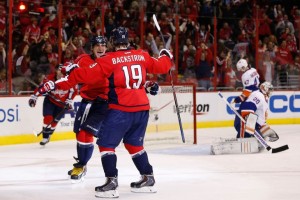 It is always a smart idea to spread talent throughout the lineup. However, with this group of top-six forwards, you don't really lose much with one combination compared to another. That is a testament to just how stacked the Capitals' lineup is.
Each of these players brings something unique to the lineup, and over the course of an entire season and through the playoffs, different times will call for different strategies. You also have to take injuries into account here, which is why the strong center depth after recently adding Lars Eller to the mix is even more important. Luckily for the Capitals, health usually isn't an issue for these dynamic players.
The Capitals are going to be entering another year of "win now" mode, and they are going into the season with possibly their strongest one-two punch at center in team history. Both Evgeny Kuznetsov and Nicklas Backstrom will need to build on strong campaigns in 2015-16 to lead their squad to their first ever Stanley Cup.
Brad is a recent graduate of Salisbury University in Maryland and is pursuing a career in sports journalism.