Detroit Red Wings fans have seen several glimpses of Gustav Nyquist thanks to the injuries that have plagued their regular roster members this season. Currently with the team, he's accumulated 6 points in his last 10 games while seeing frequent time alongside the man who handed him his first NHL goal on a platter, Pavel Datsyuk.
Now fighting for a secure spot in the Red Wings lineup as they grow healthier and the playoffs loom, Nyquist began the season in a very different place.
After 3 years at the University of Maine, Nyquist chose to forgo his senior season, signing a 2 year entry-level contract with Detroit last March. The contractual reward came as a result of his 144 points in 113 games, a feat which also earned him 2 Hobey Baker nominations. The one time 4th round (121st overall) draft pick was already exceeding expectations, but excitement about the now 22-year-old really came to a boil after a promising training camp and preseason spent with the Wings.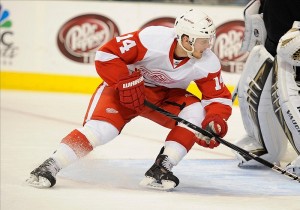 The excitement and promise weren't enough to earn Nyquist a spot on Detroit's roster to start the season. Yet the young Swede didn't let that deter him from performing to the best of his abilities. He took his placement with Griffins as an opportunity to learn and grow.
"Obviously everyone wants to be up there. That's the biggest goal you have, to play in the NHL, and obviously for a team like the Detroit Red Wings. But they're pretty stacked. There's still a long ways to go for us prospects, you need to learn how to play the game and to be able to play for Detroit. I don't think most people understand that a lot of guys can play in the NHL, but you've got to be able to win in the NHL to play for the Red Wings. That's the toughest part, and it demands real hard work."
His maturity level coupled with his already proven skills helped him shoot up the depth charts and into Detroit's lineup at any sign of injury, but not before he blazed a trail of success in the AHL during his rookie campaign.
In 56 games with Grand Rapids, Nyquist amassed 22 goals and 58 points, both good enough for the team lead. In fact that point total places him 15th in the league in scoring; 4th amongst rookies. His incredible numbers first earned him a spot at the AHL All-Star Game in January. On Wednesday his play was further recognized with a place on the 2011-12 AHL All-Rookie Team.

The honor, given to Nyquist as well as 5 others (Eddie Pasquale, Matt Donovan, Cade Fairchild, Cory Conacher, Tyler Johnson), is decided annually by coaches, players, and media from around the league. Past selections for the All-Rookie team include 3 familiar faces in Jimmy Howard (2006) and Justin Abdelkader (2009), and Brendan Smith (2011) as well as big names from around the NHL like Zdeno Chara (1998), Bobby Ryan (2008), and Logan Couture (2010) to name a few.
Nyquist's selection points to one thing; His skills have been noticed by nearly everyone. Opponents, teammates, fans, commentators, and analysts alike have realized his explosive potential. So has Red Wings coach Mike Babcock, who earlier in the year stated:
"He's been a dominant player as a rookie in the minors. Most teams would have that guy on their team already…This kid seems to know how to play without the puck, so he gives you confidence."
Along with that of coach Babcock, Nyquist has earned confidence from fans as well. So much so that when Nyquist was moved to the 4th line as the team got healthier, Babcock drew intense criticism.
There hasn't been this much excitement about a Red Wings prospect since Johan Franzen or perhaps even Henrik Zetterberg. Those 2 players now sit tops on the team in goals and points respectively, and while one would hope that Nyquist takes more after Zetterberg than Franzen (who has been frequently accused of lazy play), there's no denying the potential for Gustav to become one of the next great Swedish players to call Detroit home.
With his selection for the All-Rookie Team, one has to wonder if Nyquist will be awarded the Dudley "Red" Garrett Memorial Award (AHL rookie of the year). He'll have stiff competition no doubt, but as the clear MVP for Grand Rapids he'll certainly garner some votes. Of course that will be the last thing on Nyquist's mind. He just wants to earn himself a playing spot on Detroit's playoff bound Red Wings.
Andrew is a passionate hockey fan at heart, and has been since a very young age. Residing in Michigan, he grew up with the team he currently covers at THW, the Detroit Red Wings.