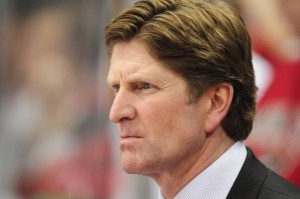 2011-2012 has been a roller coaster of a year for the Detroit Red Wings. Streaky would be an understatement for a team that's seen winning stretches reach 5, 6, and 7 games as well as 2 losing streaks of 6 games.They've beaten some of the league's best teams (Canucks, Predators, Flyers, Blues) and fallen to some of its worst (Islanders, Maple Leafs, Canadiens, Blue Jackets). The ups and downs have been tumultuous, and the outrage from the ever-passionate often over-reactive fans has seen boiling and freezing points in accordance. Wednesday night's loss to the Columbus Blue Jackets (the 30th place team Detroit routed 7-2 just 2 nights prior) once again brought things to a boil for Wing Nuts.
In past years this criticism has been primarily focused on the players themselves. Johan Franzen's seemingly lackadaisical playing style and Jonathan Ericsson's penchant for bad turnovers among the most common targets of fan unrest. While those criticisms remain common, this season the jabs seem to have sharply shifted focus to the man in charge; Coach Mike Babcock.
Following Wednesday's loss the critiques were decidedly turning towards Babcock once again. The main points of contention? His placement of rookie forward Gustav Nyquist on the 4th line, and the handling of a timeout called early in the game.
Nyquist, who has 6 points in his last 8 games, was relegated to the 4th line Wednesday after spending most of his time on the 1st line with Pavel Datsyuk and Todd Bertuzzi. The reason for the demotion was the return of 1st line regular Johan Franzen. Many (including myself) felt it was the wrong call. Nyquist is built for a top 6 forward role and doesn't fit the grind it out style of the 4th line. Yet it seems to be where every Red Wing newcomer winds up. The ordeal brings to light one question: Does Mike Babcock know how to properly integrate new players into his lineup?
As for the timeout call, Babcock used his opportunity to motivate the team to not say a word to them. The timeout was called, and spent in silence. There are 2 ways the decision can be taken. Either Babcock believes his message is clear and he doesn't have to speak for his players to know it, or Babcock doesn't know what to say because the players have stopped listening. While I firmly believe it's the first of those 2 suggestions, the question is still raised; Have the players stopped listening to Mike Babcock?
Mike Babcock: The Prospect Killer?
Since taking the reigns in 2005 the Red Wings have seen several of their forward prospects join their ranks. Valtteri Filppula, Jiri Hudler, Johan Franzen, Justin Abdelkader, Darren Helm, Jan Mursak, and Cory Emmerton have all spent a reasonable amount of time playing in the NHL. More recently we've seen looks at Gustav Nyquist, Joakim Andersson, and Tomas Tatar. Because the last several additions have been players suited better for 3rd and 4th line roles than top 6 forward duties, fans seem to have forgotten the 3 earliest additions under Babcock who now sit in the top 5 on the team in points and the top 3 in goals.
The Red Wings lack of developing a goal-scoring phenom in recent years rests on the lack of drafting such a talent. Helm, Abdelkader, Mursak, and Emmerton were never destined for goal-scoring point-accumulating roles. In addition, the propensity for injuries playing the grinding style on the 3rd and 4th lines is why we've seen more looks at a specific type of player over the last several seasons.
Babcock's supposed "overconfidence" in his regular lineup is justified by their success. Yet players of scoring caliber like Nyquist and Tatar are still receiving their opportunities to prove themselves, as well as learning valuable lessons by partaking in multiple styles of play with several different linemates.
Yet there's still something to be said for the frequency in which call ups find themselves on the 4th line. Babcock typically slides players up lines to fill holes, rather than placing a call up into the vacant slot directly. Nyquist bucked that trend, proving that if Babcock sees the right talent, he's not afraid to place him above others on the team, but his decision to return the young forward (who was enjoying great success on the top line) to a 4th line role then becomes a bit puzzling.
Mike Babcock: The Substitute Teacher?
No class listens to a substitute teacher, at least not well. Does Mike Babcock find himself in such a place with his team?
There's no question that after a while players will stop listening to the same message being pounded in game after game. Babcock has spoken of this reality several times in the past. There's a time to scream and shout, and there's a time where players have to figure things out for themselves. He's balanced both sides of the coin well during his time with Detroit, but the incredibly streaky behavior this season could point to a lack of listening from the players.
It could also point to a lack of interest. The Red Wings seem to have trouble getting motivated for certain games during the season, and lose confidence quickly, resulting in slumps. Is that behavior the result of management failure?
Following Wednesday's defeat, Babcock appeared at a loss for words.
"Our effort was … I was surprised, to say the least. We obviously weren't prepared to play today so as a coaching staff we didn't do a very good job, for whatever reason."
His lack of an explanation may be the most telling nuance to this entire discussion. Does he no longer know how to get through to his team or understand what is going on? Or is it simply that he has no idea why the team failed to execute what they've clearly proven they're capable of?
The Bottom Line
These criticisms have been flying all season long. Red Wings fans appear dissatisfied with their team's performance, and the blame has begun to shift to the coaching staff.
The loss to Columbus, at this point in the season with 2 valuable points on the line, is definitely cause for some concern, but what it's not cause for is pressing the panic button Red Wings fans so readily use. The dominate winning ways Detroit fans are accustomed to may have taken a significant hit over the last month, but let's remember that they've also been dealing with injuries to an extreme extent over that stretch.
While I've yet to hear anyone call for the removal of the head coach, things could be trending in that direction, especially if Detroit makes another early postseason exit. In my opinion such a move would be a gigantic misstep.
What do you think? Has Mike Babcock made a few too many mistakes this season, or are Red Wings fans overreacting as they often do?