With just five wins in their past 13 games, the Detroit Red Wings have not had a strong December. Injuries have decimated the team, and they've struggled to score, which has resulted in the Red Wings sporting the league's worst power play (12.0 percent).
While the team as a whole hasn't been anything to write home about, there have been a few bright spots. In this week's edition of The Grind Line, we highlight our Player of the Month for December.
Tony Wolak: Anthony Mantha
During an abysmal December, Anthony Mantha was a bright spot for the Red Wings. In 13 games, Mantha scored four goals and added four assists. His goal against the Panthers was a beauty and perhaps something Red Wings fans will see more of in the future.
In addition to his eight points, Mantha also registered a plus-9 rating for the month. While the value of the plus-minus statistic is debated, Mantha's positive standing shows that he's right at home on Detroit's top line and can perform well against opponents' best players. His plus-9 rating also was a team-best for December.
After being recalled from Grand Rapids on Nov. 11, the 6-foot-5 power forward has not disappointed. Mantha's 0.62 points per game rank third on the Red Wings, trailing only Thomas Vanek (0.80) and Henrik Zetterberg (0.69). Additionally, Mantha has seen his ice time gradually increase as he gains Jeff Blashill's trust.
As Detroit gets healthy, Mantha should remain with the Red Wings, given his performance this season. He's earned it. Another strong month should solidify Mantha's spot in Detroit's lineup.
Tom Mitsos: Henrik Zetterberg
The 36-year-old captain continues to produce for the Red Wings. Zetterberg scored four goals and added six assists in 13 games in December. Overall, he leads the team in points with 25 and is tied for third with seven goals.
He's averaging 19:17 minutes per game, which is third on the team behind Mike Green (24:26) and Danny DeKeyser (22:27).
He's also helping sustain offensive pressure, with a five-on-five score-adjusted shot attempts percentage of 56.68 in December, which is best on the team for players who have played at least 100 minutes, according to Corsica.
It's great to see Zetterberg continue to produce at this stage of his career, but with the number of minutes he is getting, it's only a matter of time before he starts to fall off like he has during the past two seasons.
Last year, Zetterberg had nine goals and 26 assists after January. In the final three months of the regular season, he had four goals and 13 assists. During the 2014-15 season, Zetterberg had 15 goals and 31 assists after January. In the final three months, he had two goals and 18 assists.
Zetterberg said he would be open to fewer minutes and rest days should coach Blashill decide he needs it, but so far this season, we haven't seen it.
The problem is Zetterberg is one of the few sources of offense for the Red Wings, so Blashill has been forced to use him as much as possible. If the Red Wings find themselves far from a playoff spot near the end of January, it would be in the team's best interest — as well as Zetterberg's — to limit the Swede's minutes in order to avoid fatigue for a meaningless season.
Brandon Peleshok: Thomas Vanek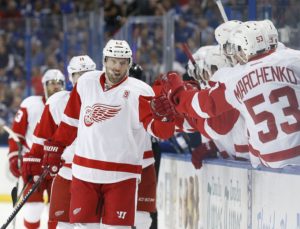 While it might not reflect on their win-loss record during the month of December, the Red Wings missed Vanek's offensive contributions over the three to four weeks he sat out with a hip injury. The 32-year-old winger returned to the lineup Nov. 20, but it took him a handful of games to get back on track and produce close to the 0.8 P/GP pace he has maintained this season.
In December, Vanek accumulated 10 points through 13 games, tying him with Zetterberg for the team lead. Eight of those 10 points came at even strength, with the Red Wings' anemic power play (2 for 45 this month) doing little to help boost point totals across the board.
Vanek also led the Red Wings with 44 shots on goal during the month, more than doubling the 19 shots he directed on net over the course of his first 12 games of the season. With the Red Wings struggling to generate shots this year, it is interesting to see the Austrian forward play a more aggressive game. His willingness to adapt his game to suit the team's needs is a welcomed sight, and others are going to have to follow suit if Detroit intends on squeaking into the playoffs.
Tom Mitsos is a writer from Michigan who covers the Red Wings and the Red Wings' AHL affiliate, the Grand Rapids Griffins, for The Hockey Writers.