To say Brendan Gallagher is struggling to score this season would be a massive understatement. He finally got his first goal since Nov. 26 against the Florida Panthers to tie the game for Montreal but Gallagher currently only has two goals in his past 30 games. For much of this season, Gallagher seems off his game and in the wake of all the injuries, the Montreal Canadiens need their spark plug to start scoring again.
Where in the World Is Brendan Gallagher?
Goals aside, Gallagher's game looks different this year. His impeccable work ethic is still there but there are less instances of him playing that pesky brand of hockey, camping out in front of the net and whacking away with the opposing goalie and defenceman. For whatever reason, Gallagher hasn't been doing that on a consistent basis or getting in someone's face as often.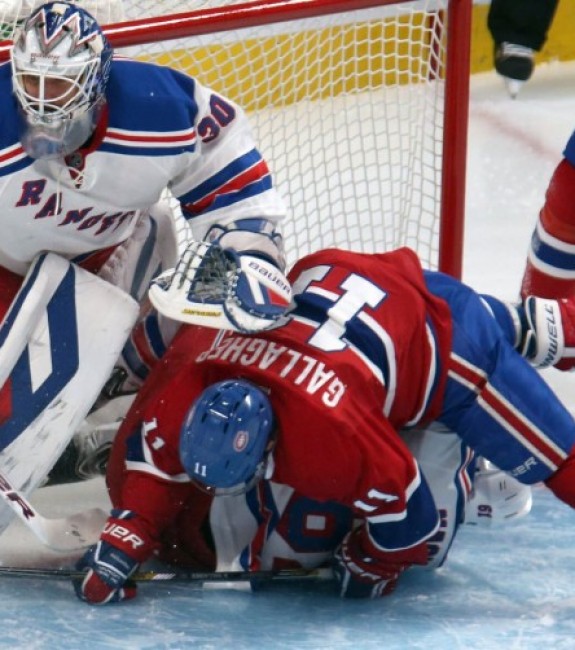 Since he came into the league, he has been Montreal's Energizer Bunny but as of right now, Andrew Shaw seems to be filling that role more. Shaw has brought his agitating game over from his days with Chicago and is seen to be more of a pest than Gallagher these days.
Perhaps the coaching staff wants Gallagher to be less of a pest and more of a scorer. Simply put though, Montreal is a better team when Gallagher is scoring and agitating.
For Gallagher, he either comes painfully close to scoring or he shoots from the outside, making it easier for the goalie to see it. Gallagher has always played the same style of hockey from junior to the NHL and it has been his recipe for success.
So what is the reason for the drought? Is it bad luck? Could it be that toning down the peskiness is hindering his game? Maybe an injury? It's not unusual for players to go five, 10 games without scoring but this drought is a little concerning. Either way, whether it's a physical issue or a mental one, something is off with Gallagher.
Gallagher's first goal since November 26 is a big one. pic.twitter.com/hSyRKyk2yQ

— Marc Dumont (@MarcPDumont) December 30, 2016
Not Enough
Tomas Plekanec has received a lot of flak for not scoring this season and rightfully so considering his salary ($6 million) and his role on the team. However, Gallagher's production is also unacceptable especially with key players being lost to injury and the team needing its leadership group to step up. He is working hard but it isn't enough as two goals in 30 games is not going to cut it.
Hopefully for Gallagher, that goal against the Panthers gets him back on track. While the Habs are scoring more this season, it isn't because of Gallagher. If he can find his game again and put some pucks in the nets, the team will be more formidable up front.
As much as the team missed Carey Price last year, Gallagher's absence was felt too. Other players have stepped up during Gallagher's drought this season but now it's time for him to be the scoring pest Habs fans are used to seeing.