The Pittsburgh Penguins are on the verge of finishing the best December the franchise has ever seen. They started the month with a seven-game win streak and currently sit 11-1-2 through 14 games played. They've scored greater than five goals in a game on five separate occasions and lead the NHL in total scoring for the month with 60 goals. To put that number in perspective, the closest team in terms of goals scored throughout December — the Columbus Blue Jackets — have netted 45.
Tough to imagine this roster still has holes to fill, right?
There are a few Penguins, though, who haven't been able to find their game just yet. You could argue that certain individuals may not fit the system any longer. When head coach Mike Sullivan came on board, Pittsburgh's philosophy changed. The Penguins are a team that bases their attack on speed and there are remnants of the Mike Johnston era — as short as it was — that may not be set up for success any longer.
In other cases, it's simply been a disappointing season.
Here are three Penguins that need to improve this season:
Eric Fehr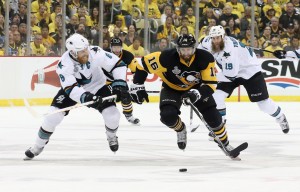 I once wrote that the perfect scenario for Pittsburgh was trading Brandon Sutter and signing Fehr when he hit unrestricted free agency. Interestingly, that's exactly what happened. Except, I assumed Fehr would take over Pittsburgh's third line center role.
No one imagined the return for Sutter would be a player like Nick Bonino — who had a huge impact on the Penguins winning the Stanley Cup — but that trade worked out for Pittsburgh. As far as signing Fehr goes, it's been the opposite.
Through 32 games this season, Fehr has four goals and only six points. More concerning is that his underlying numbers — specifically his defensive numbers and shot attempt differential — have been far below what's expected from a defensive-minded forward.
[irp]
He currently boasts the lowest Corsi-For percentage on the team with a 39.04-percent, according to Corsica.Hockey, and he's had a negative impact on nearly every player that shares the ice with him at even-strength.

(Courtesy of Corsica.Hockey)
Fehr was recently scratched from the lineup, and he hasn't lit the world on fire since returning from the press box. He's a good hockey player with plenty of upside but he isn't pulling his weight. Is it Pittsburgh's system that's hurting him? Maybe.
Whatever the issue is, he needs to be better when the calendar turns to 2017. Or, Pittsburgh may need to find a trade partner prior to March 1.
Scott Wilson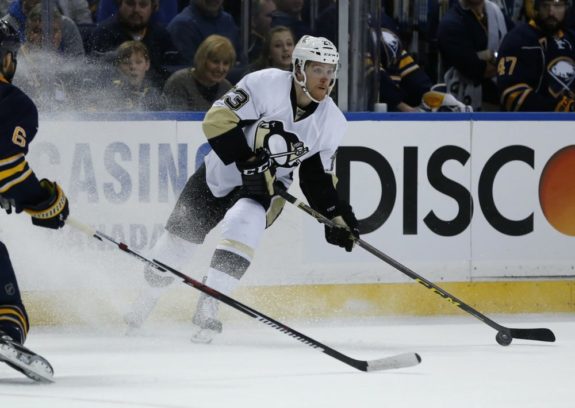 Wilson entered training camp as a potential top-six forward, slated to flank Sidney Crosby on the top line. Instead, he's playing fourth line minutes and looks as if his development has stalled. With only 10 points (4 goals, 6 assists) in 34 games, he's hardly making a case for an increased role.
And even worse, he's one of the reasons for Pittsburgh's somewhat ineffective fourth line.
Alongside Matt Cullen, Wilson and Fehr have primarily anchored the Penguins' fourth line and so far, they've been a liability. When you dig into the numbers the burden falls mostly on Fehr, as there's a significant increase in possession numbers when he's swapped with Tom Kuhnhackl. However, Wilson should be a driving force for
However, Wilson should be a driving force for offense on the trio, and he isn't right now. He's expected to be on the same plain as Bryan Rust and Conor Sheary. With injuries almost guaranteed to occur down the stretch — and Wilson's services needed in an increased role at some point — the Penguins need him to find the scoring touch he's shown glimpses of.
Derrick Pouliot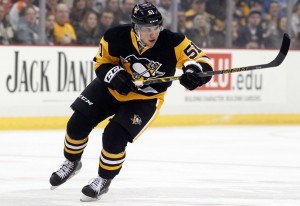 Why is it important for a bubble NHL defenseman, a 22-year old still developing his game at this level, to be better in the upcoming calendar year? Well, that's a loaded question.
Pouliot needs to start showing progress for his own personal gain, as well as that of the Penguins. It seems that every time he's given an opportunity to prove he's making strides in his development, he fails to impress. With Kris Letang, Trevor Daley and Olli Maatta all sidelined with various ailments, Pouliot was again given the chance to show he's capable of contributing but it was more of the same.
[irp]
His indecisive play and costly turnovers are worrisome. While he boasts impressive underlying numbers in most cases, the end result is not acceptable and now — while Steve Oleksy and Chad Ruhwedel remain with the Penguins — Pouliot has again been reassigned to the AHL.
Round-and-round we go.
At 22-years old, Pouliot is not a bust and shouldn't be considered one. However, his lack of progress is concerning and at some point, he needs to shift the conversation to something more positive. The only way to do that is improved play for Pittsburgh's brass to show more confidence in him. Aside from needing him down the stretch in injury situations, the Penguins have some decisions to make in the upcoming offseason for their defensive group and if Pouliot wants to be considered a long-term fixture, signs of consistency are long overdue.