The Detroit Red Wings play their first preseason game on Monday, which means the regular season is just around the corner. Detroit was in Traverse City this weekend for their training camp. Part of the camp invitees will stay in Traverse City to practice, while some will fly to Pittsburgh to face the Penguins.
The Red Wings were unable to find their right-handed shooting defenseman in free agency, so they decided to re-sign Kyle Quincey to a two-year $8.5 million deal and hope the young talent in Grand Rapids pushes the Red Wings starters to improve. This year's team closely resembles last year's team, minus the departures of Mikael Samuelsson, Cory Emmerton, Jordin Tootoo and Todd Bertuzzi.
Let's take a look at the forwards, defensemen and goalies for the 2014-15 season.
Forwards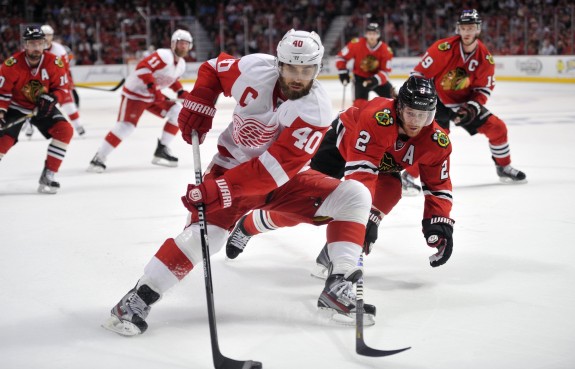 The Red Wings had their share of injuries at the forward position. Well, they had their fair share of injuries at every position, but their top two forwards in Henrik Zetterberg and Pavel Datsyuk were out for about half of the season.
Everyone who was hurt last year was healthy for training camp: Datsyuk (knee), Zetterberg (back) and Weiss (sports hernia) all looked healthy in camp. However, training camp is one thing. We won't know how they are really feeling until they suit up for that first preseason game.
Weiss, in particular, will be key for the Red Wings heading into the regular season. He signed a five-year $24.5 million in July 2013 and played just 26 games, notching two goals and two assists. He has to stay healthy, and he has to contribute offensively.
The younger players will also be key. They were the ones who helped the Red Wings reach the playoffs for the 23rd consecutive time, and they will be the ones who have a say in whether they reach it for a 24th consecutive time.
With Daniel Alfredsson's return still unknown, Tomas Jurco could slide into the opening day lineup. He's got a lot of raw talent, but he isn't quite as polished as Gustav Nyquist or Tomas Tatar. However, that will come with time and experience.
On Friday, coach Mike Babcock told me how important it is for everyone, especially the kids, to take a step forward this season.
If every player just gets one degree better, we're a better team. So, that's our focus is just keep getting better. They're young kids, they are earning confidence, they worked hard this summer.
Defensemen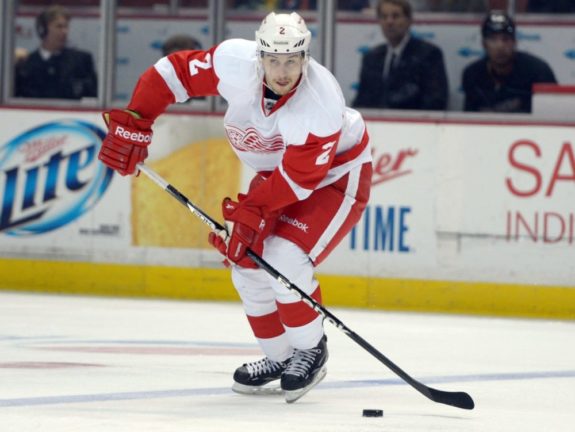 This was the main storyline heading into the offseason. It's no secret by now the Red Wings do not have a right-handed shooting defenseman, and general manager Ken Holland was looking to fix that in free agency.
He wasn't able to lure any free agents to Detroit, so he'll have to lean on the same D-pairings he did last year. However, the Red Wings have a plethora of young guys in Grand Rapids ready to take the next step, including Ryan Sproul, Alexey Marchenko, Xavier Ouellet and Mattias Backman.
Of the four listed, I liked Sproul the most when he made his debut with the Red Wings. He's got a hard shot and he's right-handed, exactly what the Red Wings have been looking for. In addition to his right-handedness, I thought he made good decisions with the puck, knew when to jump into the play, and at 6-foot-3, he's a big body.
Niklas Kronwall and Jonathan Ericsson most likely will still be the top D pairing, but we've seen Babcock split them up in order to give younger guys like Brendan Smith a chance to play with Kronwall.
On Sunday, Smith told me about being paired with Kronwall last season and how it improved his game.
For me to watch him and play with him, I think it helped my progression. That is something you want to do as a professional athlete, you want to continue to get better. You don't want to plateau — I think that's something you continue to strive to get better, and I think I did that.

I was playing my best hockey in playoffs.
Danny DeKeyser, who signed a two-year $4.375 million deal last week, has taken major strides since joining the Red Wings as an undrafted free agent in the spring of 2013. He could be another late bloomer Holland has snatched away from the competition.
The great thing about DeKeyser's deal is he will remain a restricted free agent, which will give Detroit an opportunity to make him a Red Wing for life.
Goalies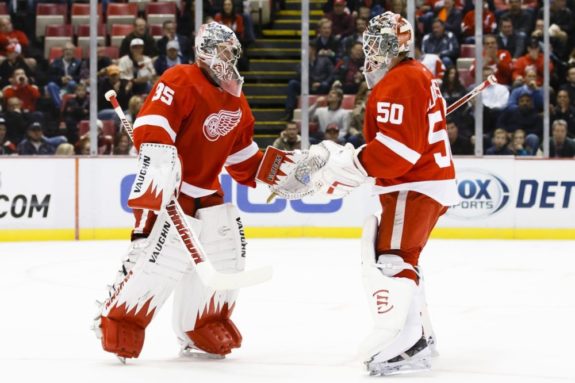 After signing Jonas Gustavsson to a one-year $1.85 million deal during the offseason, the Red Wings will be using the same goalies they used last year, which isn't a bad thing.
I would have preferred if Petr Mrazek got the backup nod over Gustavsson, but at 22 years old, Mrazek has plenty of time to make his way to the big club. He can grow another year in the minors and be ready to take over the backup position behind Jimmy Howard in 2015-16.
As far as Howard goes, he didn't have his best year last year. He was 21-19-11 with a .910 save percentage and 2.66 goals-against average. He played in just 51 games because of injuries.
Howard was very inconsistent last year, but it wasn't all on him. His defense hasn't been kind to him at times, as it is still trying to establish an identity after losing Nicklas Lidstrom, Brian Rafalski and Brad Stuart in recent years.
However, according to The Detroit News' Ted Kulfan, Howard is taking all the blame for his down year.
From night in to night out, it wasn't up to my standards. I set the bar pretty high for myself and I want to push that a little higher each year.

I'm very excited. I can't wait. Like I've told you guys, this is the best I've felt in two or three years heading into training camp. I'm excited to get going.
If Howard truly is feeling the best he's ever felt in years, that could be a good sign for the Red Wings. Two season ago, Howard posted career-best numbers of 2.12 GAA and .920 save percentage and sported a 35-17-4 record. He would have garnering some Vezina Trophy consideration if not for a late-season injury.
Prediction
The Red Wings were near the top of the Atlantic Division last year before the injuries piled up, and I believe they can be competing again this season if they stay healthy.
The Eastern Conference is wide open yet again. Boston, Tampa Bay and Pittsburgh should continue to be the cream of the crop, but other than that, any team could make a run and gather some valuable points.
The Red Wings have a solid team, but they will need to make a move at the trade deadline for another scoring forward or an upper echelon defenseman to compliment Kronwall and Ericsson.
Here's my prediction for the opening day starting lineup.
First Line: Henrik Zetterberg-Pavel Datsyuk-Darren Helm
Second Line: Johan Franzen-Stephen Weiss-Gustav Nyquist
Third Line: Tomas Jurco-Riley Sheahan-Tomas Tatar
Fourth Line:  Justin Abdelkader-Luke Glendening-Daniel Cleary
Scratches: Drew Miller, Joakim Andersson
First D Pair: Niklas Kronwall-Jonathan Ericsson
Second D Pair: Danny DeKeyser-Brendan Smith
Third D Pair: Kyle Quincey-Jakub Kindl
Scratch: Brian Lashoff
Season Prediction: Red Wings finish second in Atlantic Division, lose in Eastern Conference final.